In previous articles we have explored some amazing places in Kyrgyzstan. It is an established fact that Kyrgyzstan is a paradise or heavenly place on earth in other terms. Issyk Kul Lake would always come on top when talking about the best places in Kyrgyzstan to visit. But you should also be aware that places around Issyk Kul Lake are equally nature's gift to humans on this planet. One who loves to ZigZag on earth, finds Kyrgyzstan a nature's wonder and the place we are going to explore in this article is no less than a visitor's delight, a nature's gift as mentioned. This is a Canyon near by Issyk Kul Lake and this is called as Fairy Tale Canyon. So this Fairy tale canyon is a must see place when you are on a Kyrgyzstan tour or you took Kyrgyzstan tour package. Canyon fairy tale is an unusual place in itself and so it delights the viewers in the very first view. Spending some time here is worth to feel this place. Let us explore Canyon fairy tale a bit more.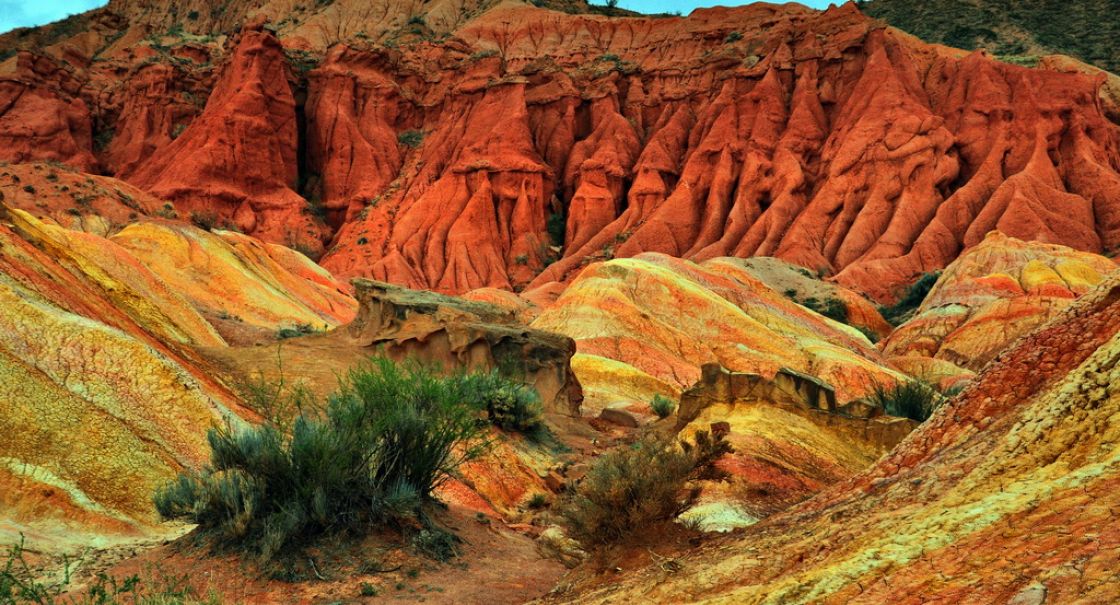 Canyon Fairy tale is on the southern shore of Lake Issyk Kul and 4 KM from the village of Tosor. Also when you move along the south coast of Issyk Kul from Karakol town then you happen to meet this beautiful mountain landscape on the way before you reach a small village known as Kadji-sai. So it is magical when you move towards Terskey Ala too mountains where you see that mountains part and you see that you are in some kind of valley of fairy tale. Fairy Tale canyon is originally named Skaza canyon. Because in Russian language Skaza means "Fairy Tale" and also because this place is magical, so it is popularly known as Fairy Tale Canyon. It is known that tourism is growing in Kyrgyzstan and so people here are finding more amazing and attracting places as the country is loaded with natural wonders. Just on the south shore of beautiful Lake Issyk Kul is this beautiful formation of shapes and color. Fairy Tale canyon is representation of the red stones which have been eroded and shaped by the elements. You can see multiple and large variety of shapes which looks like towers, waves, crest like rocks and more. Some people even see Castle form probably that is also one reason why the place is called fairy tale canyon. Another interesting fact about these shapes formed over time is that they are not man made but these creations are carved out of the rock by the effect of natural elements like weather, wind, ice and water.
These red colored differently shaped rock formations demand some quality time of yours and some caution from your side as well. Caution because walking along these rocks can be tough as the land is not plane all along so good footwear is required. These rocks also vary in colors as they are red somewhere and yellow to orange at other places. You will barely see some plant covered here just the occasional trees which are mainly gorse and alpine ferns. The Skaza or the fairy tale canyon has some historical stories going behind it as well. When you are there you should explore from the locals about those stories. Some formations in the canyon have names because of their similarity to well known objects. One of those set is known as the "Chinese Wall" because it looks similar to the Great Wall of China. To your surprise you will find formation of rocks which appear to be statues of a hippopotamus, snake, dragon, sleeping giant and even whole castles. Because the different rocks have amazing colors, the rocky statues not only have unusual shapes, but also magical colors.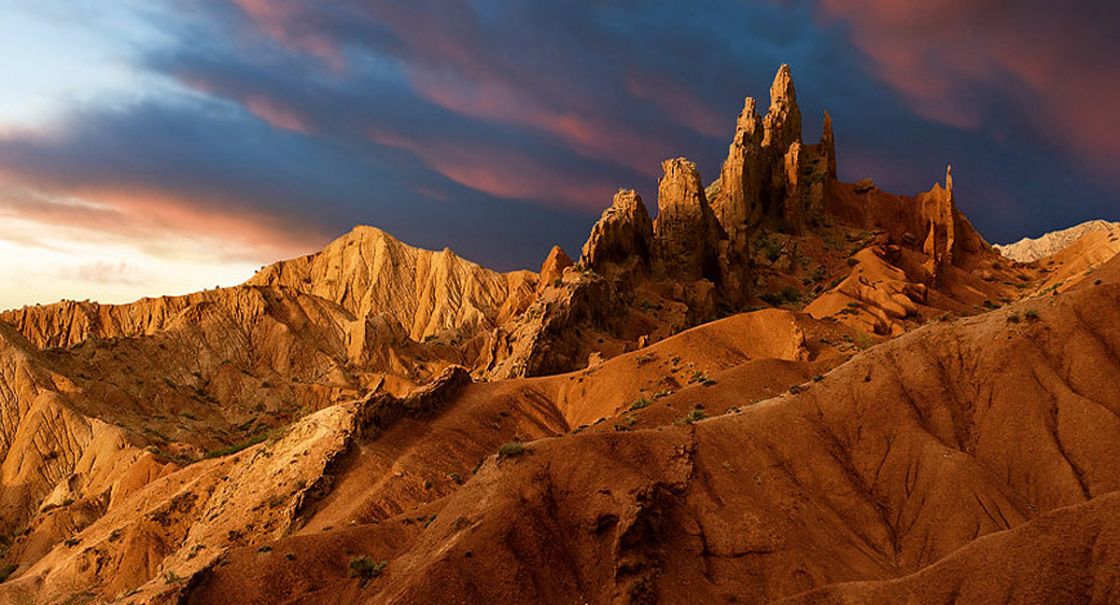 You can reach Skaza Canyon or Fairy Tale Canyon in Kyrgyzstan with 20 minutes drive west of Tamga on the south shore of Issyk Kul Lake. You can take taxi and they will take you there to Tamga and wait for you. On a cloudy day the visit to the canyon be even more adventurous and romantic. So when you are on a Kyrgyzstan tour package you should not miss visiting this Fairy Tale canyon as it is beautiful and in close proximity to the beautiful Issyk Kul Lake.
Explore Kyrgyzstan Tour Packages with Dook International, check our Kyrgyzstan holiday packages as below –
Bishkek 3 Nights and 4 Days
Bishkek 4 Nights and 5 Days
Bishkek 5 Nights and 6 Days
Bishkek winter 3 Nights and 4 Days
Bishkek Winter 4 Nights and 5 Days
Bishkek Winter 5 Nights and 4 Days