Budget-friendly International Destinations to Celebrate New Year 2024
The New Year calls for a new start- people make resolutions for the rest of the year, plan vacations, try new things, and enjoy it with their loved ones. As new year is around the corner, trip planning is on the go. The world has some of the best international destinations for new year celebrations that everyone wants to check out. For most people, the best way to celebrate the new year is to leave for a new destination and give a pounding start to the year.

Everyone has something special planned to ring in the new year. Whether it is an intimate holiday, candlelight dinner, or a family gathering, it calls for a special day. Nothing can be more special than celebrating new year in a new destination with your close friends and family amidst the beautiful landscapes sparkling with firecrackers and filled with chants of "Happy New Year".

The celebration gets doubled when it is budget-friendly. So, if you don't know the best places in the world for new year at budget-friendly prices, you are at the right place. We have included all the stunning destinations for your New Year 2024 in this post. Skim through them one by one.

10 Best Places to Celebrate New Year 2024

Give a pulsating start to the New Year 2024 with pocket-friendly destinations. Here is the list of all those places you can visit this new year:

1. Azerbaijan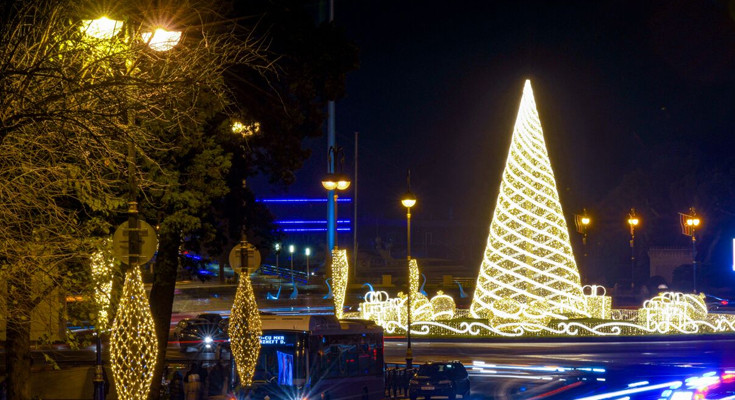 Azerbaijan is undeniably one of the best places to celebrate the new year in the world. The Azerbaijani New Year is observed on Novruz, which falls in March. However, most people still celebrate Christmas and New Year with the world. Everything is hued in the celebration of New Year- the hotels, streets, homes, resorts, clubs, and wineries.

The carnival starts from the last few days of the year and continues till the first week of the new year. Everyone remains delighted throughout the celebration and welcomes the new year with dazzling fireworks, glasses of wine, grooving beats, and singing out loud. New Year is one of the best things to experience in Azerbaijan.

Explore: Top Azerbaijan Packages

2. Turkey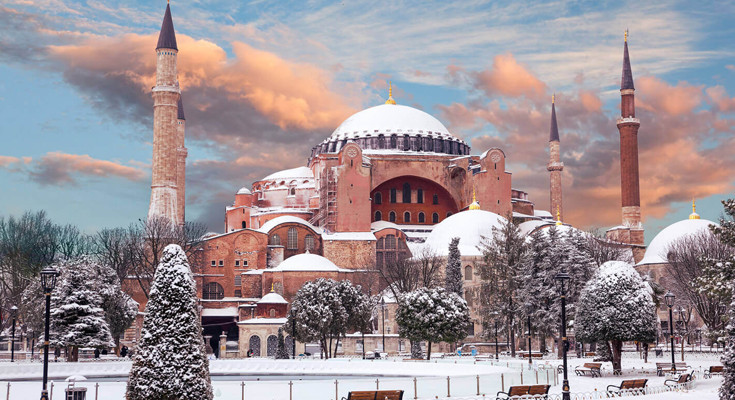 Like any other festival, the New Year in Turkey is celebrated with much enthusiasm and delightfulness. Turkey is one of the best international destinations for New Year celebrations. The country is enriched with various decorations, offering never-before allure that captivates everyone. While some are busy making resolutions, others jump over different food, and some admire the decorations. Overall, Turkey exudes magic everywhere.

The celebration starts a week before Christmas when the streets and shops are lit up with fairy lights, and Christmas trees stand in the middle of the market, all decked with beautiful ornaments. The best places to celebrate new year in Turkey are Istanbul, Ankara, Bosphorus, Cappadocia, Antalya, and Bodrum.

Book: Turkey Tour Packages

3. Russia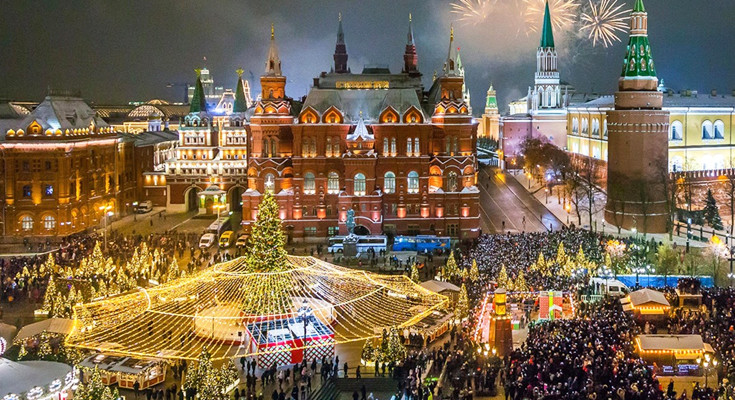 Russian new year celebration is one of the most exciting things to experience at least once in a lifetime. Russia is one of the best places in the world for the new year festival. This largest country in the world has so much in its bucket for all folks celebrating new year. Covered in the blanket of snow, Russia offers the best feeling of the holiday season with a Christmas tree dressed with white snow & fairy lights, the markets adorned with hues of new year celebration, and Churches lightened with the magic of festival season.

People in Russia have their way of celebrating new year- some host family & friend gatherings, some watch movies, some attend Christmas carnivals, and others dance & sing in clubs all night. If you don't know where to head for this New Year at budget-friendly rates, you should visit Russia right away.

Book Tour: Russia Holiday Package

4. Kazakhstan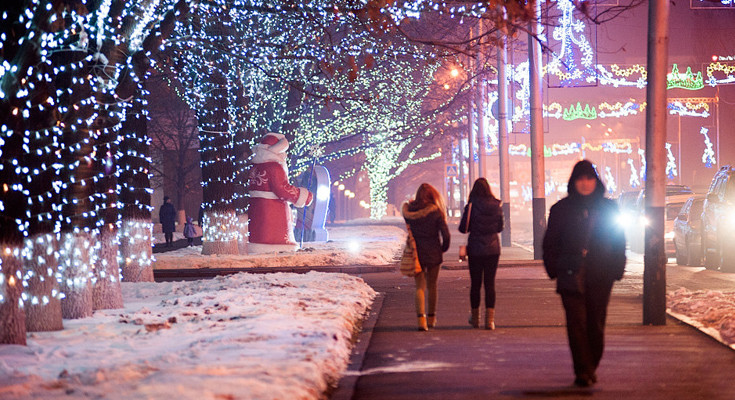 The joyous vibes of the holiday season don't lie, and it says Kazakhstan is one of the best places to celebrate new year in the world. This Central Asian Country is a budding new year destination that offers the fun & enjoyment that tourists want to experience. Every corner of the country gets enlightened with decoration, offering the pleasure and comfort everyone looks forward to during the new year. People can be seen partying all night at clubs and carnivals, toasting the new year with new enthusiasm.

The local people decorate their homes, bring the Christmas tree to carry on with the celebrations, make delicious feasts, and host gatherings. If you are in Kazakhstan during the new year, you can celebrate in Almaty, Astana, and Karaganda.

Explore: Top Kazakhstan Packages

5. Uzbekistan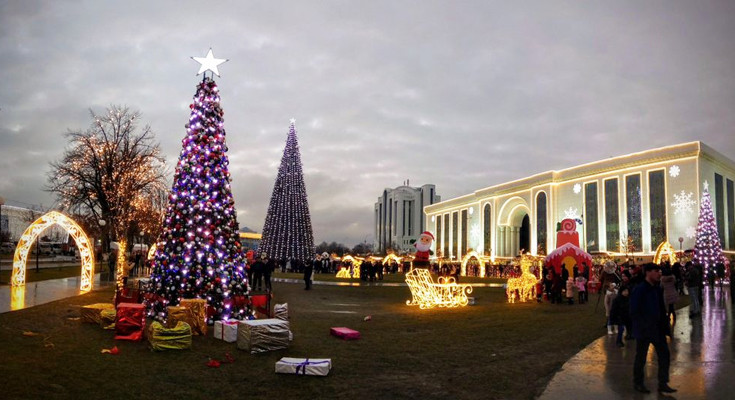 Uzbekistan is another place on the list of best international destinations for the new year celebration. Christmas and New Year are no longer associated with holidays. It has become a festival now. The celebration is all about feasts, decorations, goodies, gifts, friends, family, laughs, dance, singing, and partying. The country starts to get ready a month in advance, making streets twinkle, parks lit up with Christmas trees, houses shining brightly with decorations, and shopping plazas garnished with hues of garlands.

Various places in Uzbekistan are filled with enthusiasm for Christmas and New Year celebrations. Those are Tashkent, Bukhara, Samarkand, and Zaamin. Uzbekistan is the best country to head to during New Year for a budget trip.

Book Package: Top Uzbekistan Tour Packages

6. Kyrgyzstan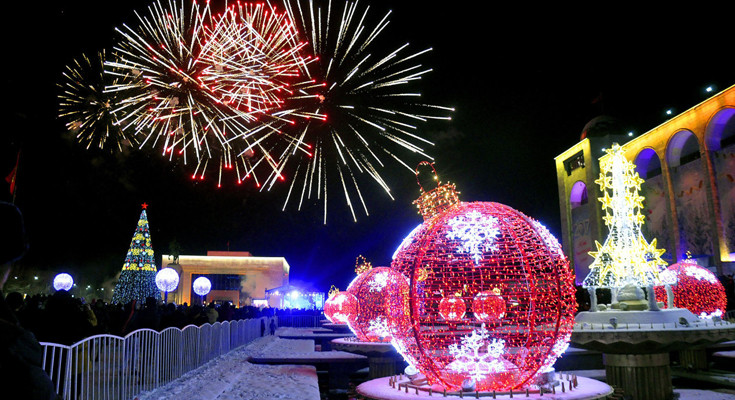 Kyrgyzstan locals celebrate the new year officially in March as Nowruz (the Eastern New Year). But most people still celebrate new year when the world celebrates, making it one of the best international destinations for the new year. Most like other countries, Kyrgyzstan envelops into joy and a festive vibe. Locals decorate their homes and host parties & family gatherings to mark the arrival of the new year. The country's streets are filled with music and local dance, which everyone enjoys throughout New Year's Eve. Kyrgyzstan has many places that celebrate New Year, such as Bishkek, Issyk-Kul Lake, Karakol, Tian Shan Mountains, Osh, etc.

Book Tour: Best Kyrgyzstan Packages

7. Armenia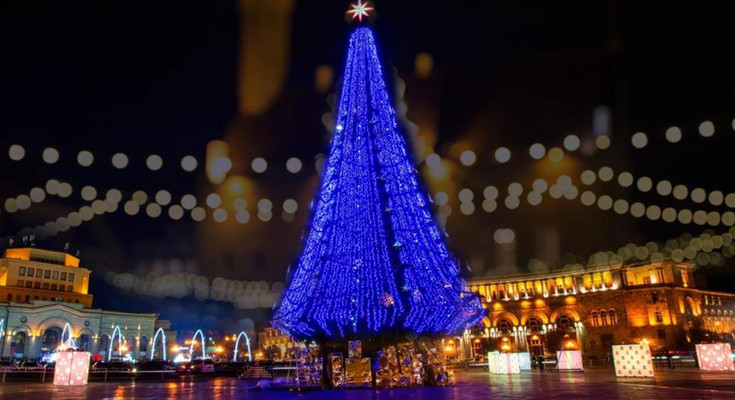 Armenia is another gem in the list of best places to celebrate the new year in the world. The people of Armenia start their New Year celebration early by decorating their houses, deciding on feast recipes, and making a list of guests for get-together. Armenians follow the tradition of visiting their friends and family on New Year's Eve to start the new year with new energy, leaving negativity behind. The country also hosts many events that add more charm and allure to the New Year festivity. Tourists in Armenia enjoy their new year at ski resorts by enjoying winter sports, strolling around the bustling markets, and dancing their night away at local events.

Explore: Best Armenia Packages

8. Belarus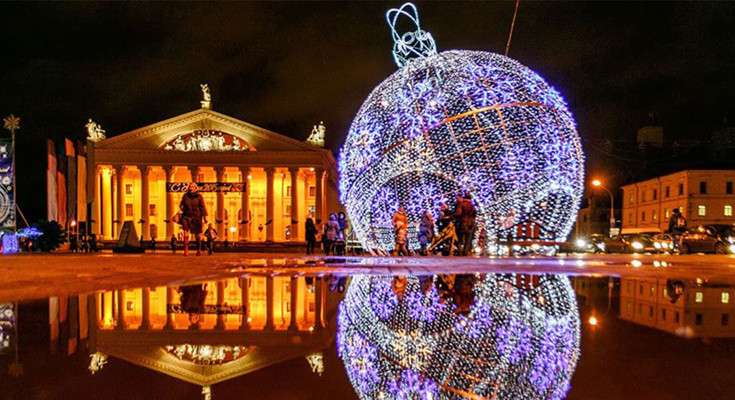 Belarus is one of the best international destinations for the new year and attracts tourists from all over the world. Every corner of the country fills with joy, lights, food, and happy faces during New Year celebrations. You will be surprised to know that Belarus celebrates two new years- old and new. The Old new year is celebrated on 13th January as per Julian's calendar. Due to this, the new year celebrations extend to a longer period than usual. It gives you more time to enjoy and revel in the joy of welcoming the new year with positivity and prosperity.

The local people believe that "the way you celebrate the new year is the way you spend it". Therefore, if you choose to celebrate the new year in Belarus, you will get to see so many unique and beloved traditions.

Book Package: Top Belarus Packages

9. Serbia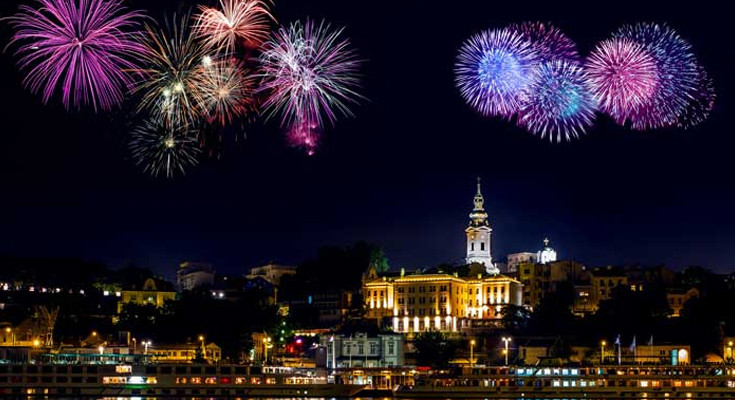 Serbia, a Balkan country, is a thriving place to celebrate the new year. It is among the list of best places in the world for the new year. During this time, the country shimmers with joy, events, skyshorts, Christmas trees, and traditional occasions. The new year is the time of the year in Serbia when everyone comes together, enjoys each other's company, eats together, dances their hearts out, and welcomes the new year with joy. If you travel to Serbia during the new year, you will find streets filled with lights, sky adorned with fireworks, and markets packed with traditional food.

Book Tour: Top Serbia Packages

10. Georgia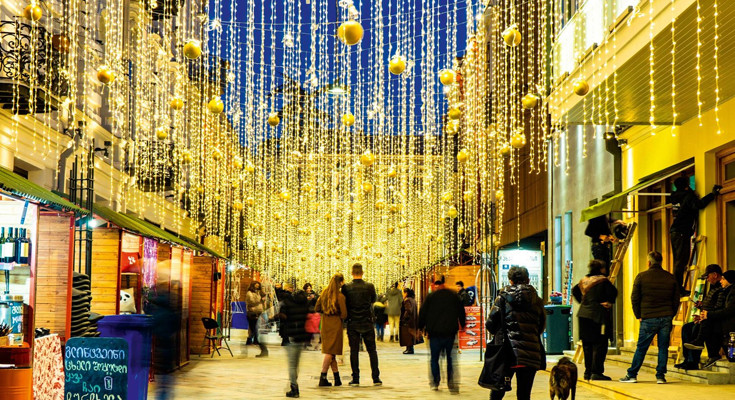 Georgia is one of the best international destinations for New Year celebrations. It is the most exciting yet happiest time of the year when everyone gathers to welcome the new year. There's no better time to kick off your Georgia trip than during this time. Some prime locations for New Year celebrations in Georgia are Tbilisi, Batumi, Kutaisi, Borjomi, etc. If you are wondering what you can enjoy during New Year in Georgia, it is wonderful New Year decorations, Georgian feast, New Year traditions, winter sports, and much more. Make sure you add Georgia to your places to visit in New Year 2024.

Ready to Welcome the New Year 2024 with Dook?

We are sure that the above list of best places to celebrate the new year in the world enthralled your wanderlust. If you plan to visit any of these places, you can approach Dook International. We offer special International tour packages to these countries, coupled with your every travel need. You can even personalize your travel experience with our customized holiday packages as per your travel preferences. Our travel executives assist you throughout the trip and ensure a stress-free vacation by taking care of your time-to-time needs. So, look no further than Dook and get ready for an incredible holiday experience.