5 Best Beaches of North Goa
Beaches all over the world attract tourists, especially those which are lively. Goa is a state in India which has some beautiful and lively beaches. Goa is probably the coolest place in India for travellers from outside. It has been ranked as the best place for its infrastructure and quality of life in India in recent years. Goa is quite popular for its beaches which is why Goa is visited by large number of international and domestic tourists every year. Goa has got a look and feel that attracts visitors for fun, relaxation and party. With rich flora and fauna on Western Ghat range Goa is a biodiversity hot spot. Anyone from outside on an India tour or on Goa tour must spend few days here to explore the beaches, great hospitality, awesome food, old buildings, nightlife and much more. Goa has over 35 beaches. We will see
5 Best Beaches of North Goa
in this post.
Goa beaches
offer lot more than the expectations of tourists. Great stretch of sand, beautiful backdrops, high sea waves, great sea food, lot of water adventure, world class facilities, restaurants, and pulsating music, relaxing under sun bath and what not. all these and much more you get when you visit Goa, a lively and most popular tourist destinations in India.
5 Popular Beaches of North Goa
1. Calangute Beach
This is the place to be, the
most popular beach of Goa
. Thousands of tourists arrive here for the entire year. You can simply wash away your city blues in the high rising waves and so the caution should be on top for the swimmers as the height of waves sees sudden drop and rise of it. High wave or low wave experienced swimmers revel here. All the water sports are available here for the delight of travellers. Parasailing is quite popular ans hundreds of people go for it. You will see all the facilities here are tremendous. Hotels, restaurants, guest houses, tour operators, bank offices, foreign exchange offices, all kinds of bars and restaurants are available here along with medical facilities. Showrooms are filled with handicraft products from Kashmir, Tibet, Indonesia, Rajasthan and other national and international places.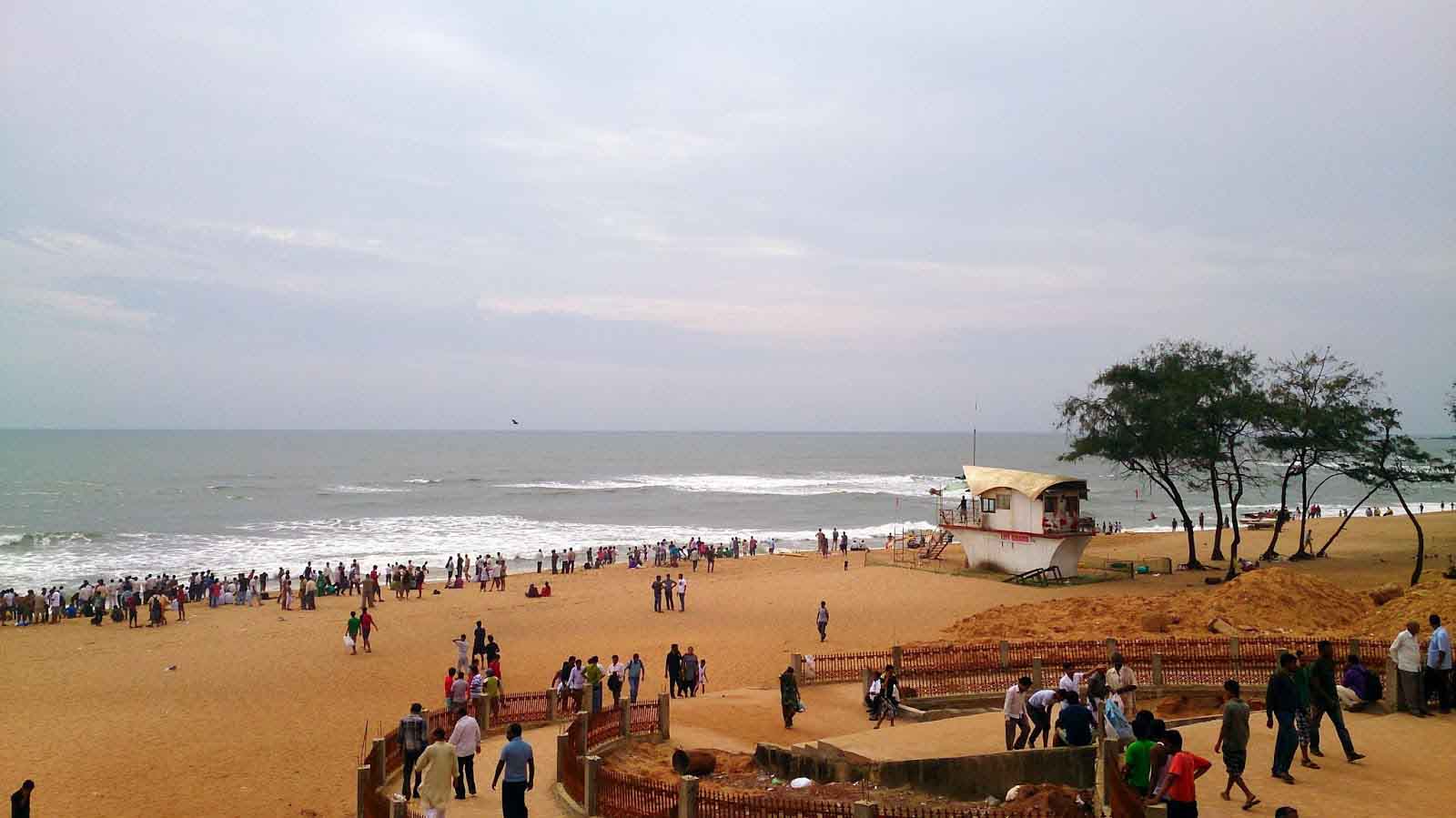 2. Baga Beach
If you compare Baga beach with Calangute then it is quitter but it sees huge number of foreign tourists here. What make the beach popular are its water ports, night parties along with great night life combined with great and delicious sea foods. All those who love water sports and like to dance on pulsating music must be here. Mouth watering sea foods gives you more reasons to be here and enjoy your time. And all these you get against a beautiful backdrop. You must indulge in a salt bath here because
Baga beach
is famous for its huge and powerful sea waves. Authenticated sea foods served by shacks along with local drinks and feet tapping music let you sink in the mood joy and excitement.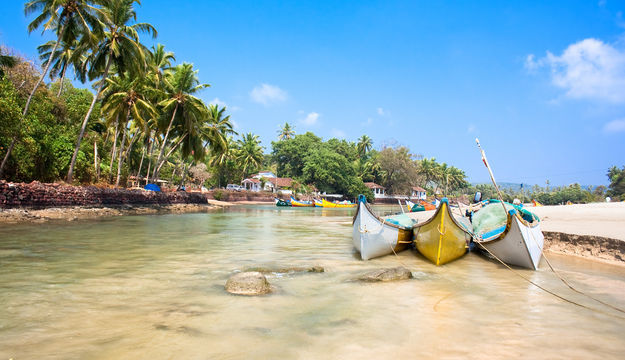 3. Sinquerium Beach
This is the best beach for all those who love water sports. Sinquerium is one of the finest beaches that offer world class facilities for water sports like water skiing, parasailing, fishing, scuba diving, wind surfing and banana boat riding. The beach has vast expanse of golden sand and in the imposing backdrop is Aguada fort. The Aguada fort can be easily said to be one of the finest piece of engineering marvel. The beach is located only 13 KM away from Panaji. One gets tempted here to walk upto Baga beach with uninterrupted stretch of firm sand from Sinquerium beach to Baga beach. You are guaranteed to have a great time here.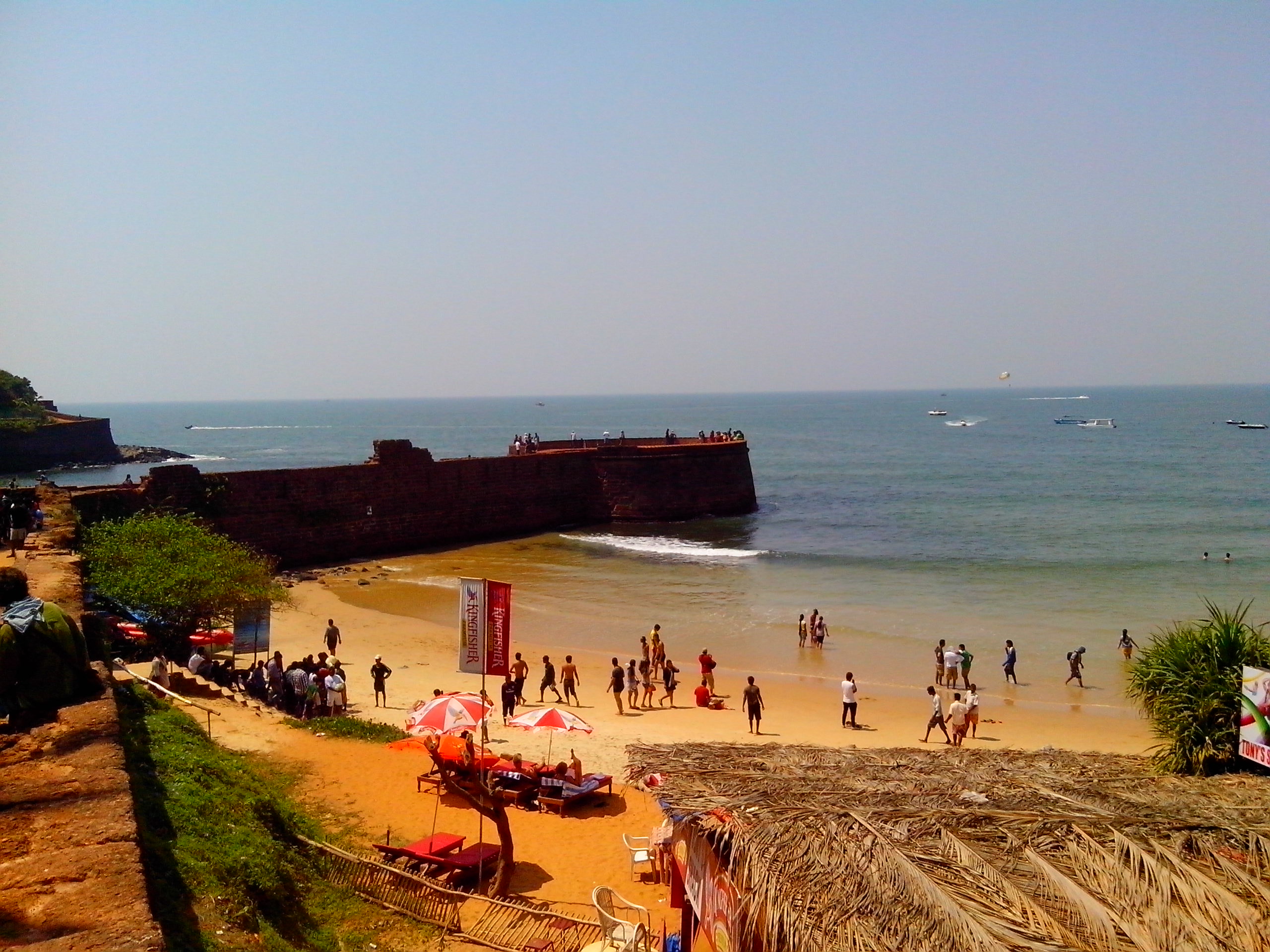 4. Anjuna Beach
Anjuna beach is quite popular among foreign tourists. Night parties, curlies and lot of eating junctions keep the place lively all time. One can enjoy peaceful seashore, western sea foods and soothing music all the time in all the restaurants here. It was made famous in late sixties and early seventies by the 'flower power and peace' generation of that time. The beach is only 18 KM away from Panji. The beach is famous for its breeze catching palms, soft sand and rock formations which are unusual which overlie a cove of whitish sand. The beach is also famous for its weekly flea market where you can bargain for apparels, footwear, jewelry, chess sets and yak cheese. You should also enjoy Anjuna village which is a five square mile enclosure between the Arabian sea and the hill that overlooks the Anjuna beach.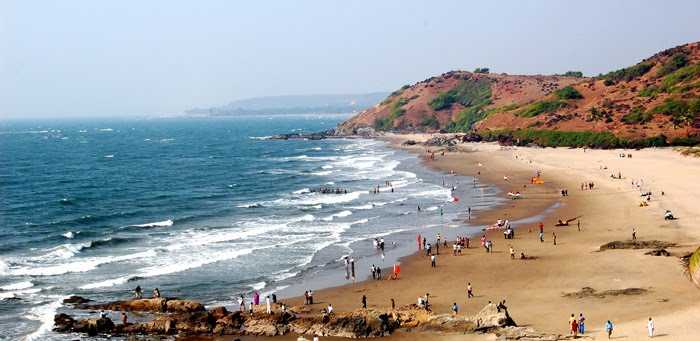 5. Ashwem Beach
This is also known as Ashwem beach. This is on the northern part of Goa and it is close to the capital city Panji. The beach is said to be one of the best kept secrets of North Goa. You can for sure see the vastness of ocean but in addition green fronds of the sway coconut pals that pepper the shore are super delight for the onlookers. The length of the beach goes from the northern bank of Chapora river and extends up to the northern most Querim beach which is near the Terekol river. You just need to travel for 30 KM from Panji and only 19 KM from Calangute, one of the most popular tourist locations in Goa. The exciting part of the beach is that it has the long, pristine stretch of sand but it is still away from crowds and so it is quite an ideal place for those who quietly want to sit under sun, sand and surf. Water sports are not available as they are at other beach. But you can enjoy swimming in the ocean or in the river nearby. You can also enjoy your day with spa at nearby resorts where you get a relaxing Ayurvedic massage.
These are only 5
beaches in the Northern Goa
. When you are on a India Travel Package or Goa Travel Package you should be at these beaches. But as mentioned there are more
beautiful beaches in Goa
. So the story of
beaches of Goa
will continue.