8 Lakes Resort Almaty: Perfect Place for Recreational Activities
8 Lakes Resort is the spectacular construction situated only 30 minutes from the beautiful city of Almaty. The special and remarkable highlights of 8 Lakes Resort in Almaty are that it provides numerous recreational activities.
Eight Lakes Park resort is the best hangout destination for the family get together, spending quality time with your loved ones, partying with your friends or you just want to chill out alone in the serene complex. So this place welcomes people of all ages.
Once you enter this beautifully crafted resort you are warmly welcomed. Eight Lakes Resort provides comfortable stay with the availability of all types of cuisines, activities, and assurance of a memorable experience. Even you are staying alone in this arena, you don't have to worry about your safety as your safety and security is this complex's prior responsibility.
So this splendid resort can be called your second home, which provides you comfort, happiness, safety and lots of pleasure. If you are looking to relax, chill or just want to take a break from your busy life schedule then visiting this resort is a must for you.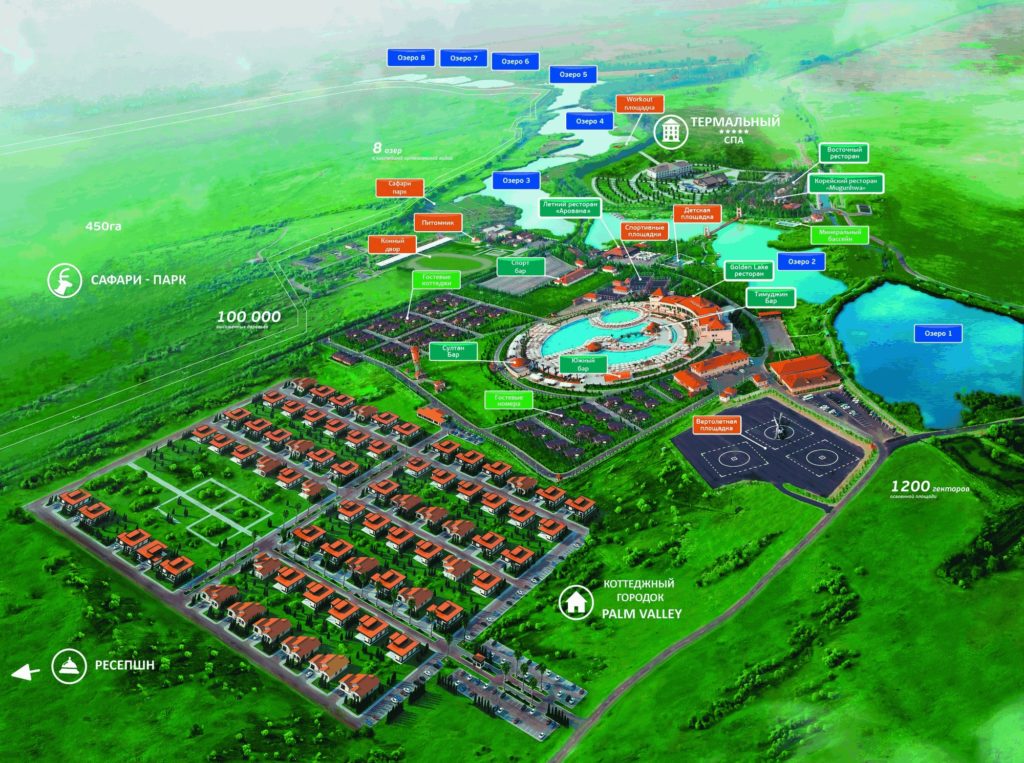 Recreational Activities in 8 Lakes Resort
This place is a heaven on earth as it's full of recreational activities along with arrangements that soothe your mind, body, and soul. Fun-loving activities in this resort are Horse Stables, snowmobiles, ice rink, and electric cars, bicycle walk and rowing boats. You can also billiards, mini football, volleyball, basketball, table tennis and mini-golf.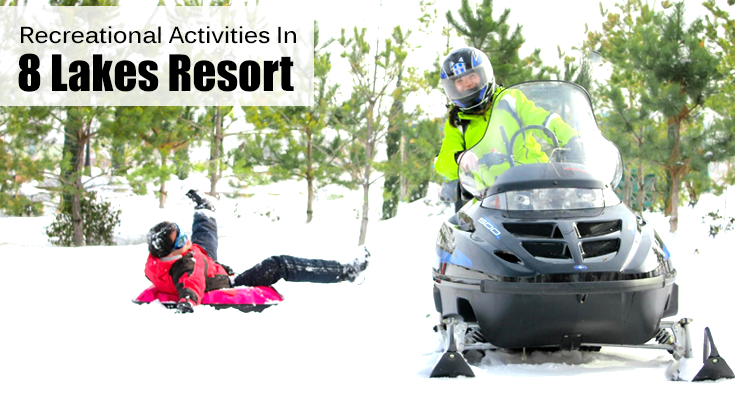 Eating Joints
1. Golden Lake
Looking for a luxury restaurant for a romantic dinner, family get together or even for a conference? Then the Golden Lake is the best place for you. This eating joint is opened 24x7. Mouthwatering Mediterranean & Italian cuisine is served here. In summers, you can enjoy your meal by viewing Altai Mountains and spent your winters getting cozy with your partner while having your supper.
2. Arovana
Arovana eating joint offers outdoor seating arrangements for the meal. So just visit this beautiful restaurant with your peers and enjoy your day to the fullest while having the delicious food. Even children can have fun, as there is a separate area for them. It is a family or friend's best eating-place at the resort.
3. Mugunhwa
This restaurant is closed on Wednesdays and Thursdays, offering food for the rest of the days. This place is opened by chef Li Sun Do in 2012. You are welcomed pleasantly and served authentic and mouth-watering Korean cuisine, which is prepared from the Korean ingredients only.
4. Oriental
This awesome restaurant is situated on the wooden bridge over the lake. This beautiful eating-place is covered with beautiful trees. You can enjoy food from Central Asia in this arena from nine am to nine pm. There is no comparison of having tasty food with music, drinking fountains and a unique swing named Altybakan, and the best place to spend time with near and dear ones.
5. Sports Bar
It is situated near Arovana Restaurant and one of the best destinations for playing American pool and Russian billiards. Enjoy watching sports with your friends on the Led screen. The working schedule of the bar is 9 am – 9 pm; where you can have snacks with drinks.
6. Sultan Bar
It is the landmark restaurant of 8 lake resorts. Oriental style interiors accompany tropical plants that make this place the must-visit for pizza lovers. You can taste 7 types of pizza, which are authentically cooked through Italian cuisines. Have a memorable experience with your peers of drinking and having tasty grilled burgers, kebabs, and different cuisines from the Mediterranean by enjoying the sunset. The timings of this restaurant are 12 pm till 11 pm.
7. Timujin Bar
Visit and experience a wonderful landscape of Tein Shan Mountain and pool while having different kinds of beverages. You will be thrilled to watch the mixing style of cocktails by barmen. The guest cherishes the shape of this bar, which offers a feeling of Hawaiian.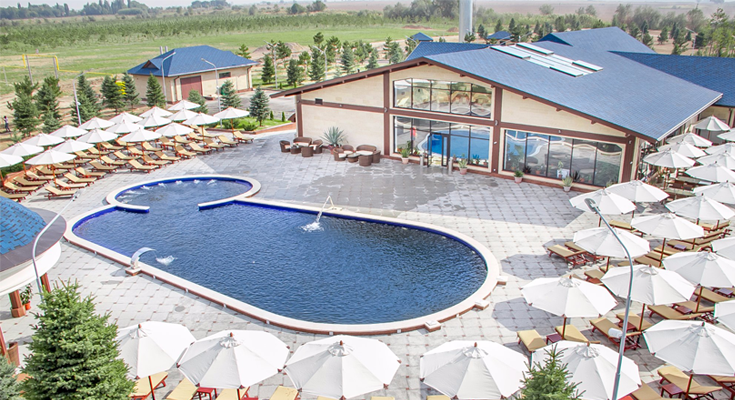 The Beach Club
It is located in the midst of Eight Lake Resort and encompasses Central Asia's largest swimming pool, which covers an area of 20000 sqm and perfect for 2000 individuals. This club has a sunbathing area, totally 3 swimming pools encompassing two adults and one kid's pool, changing rooms, renowned Timujin & Sultan Bars. After enjoying swimming you can also hit the floor on the stage above the pool area.
The Thermal Spa
Tired from recreational activities and swimming, then its time to relax your body and mind, nothing can be refreshing than the thermal spa. Its special kind of spa as its warm water consists of raw minerals of magnesium, iron, and sodium, which are anti-aging products. If you are a sauna fan then you can experience Turkish, Russian and Finnish Sauna. After a massage, you can have vitamin tea from a snack bar named Fitobar.
Experiences in Eight Lakes Park Resort
You can enjoy some unique experiences on you stay in Eight lakes park resort. There is a Safari park for animal lovers within the vicinity of the resort. Spreading around 450 hectares land, this Safari park is the home for different types animals and birds. You can explore the park with the help of a local guide and have a lifetime experience. There is also a mini zoo, which you can visit with your kids.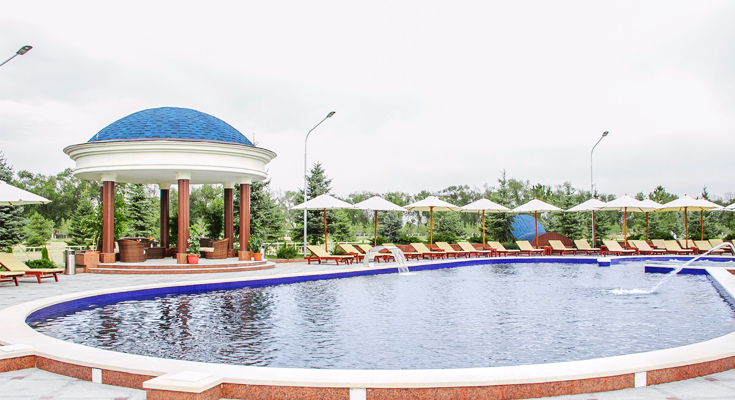 As the name suggests, the 8 lakes resort has 8 beautiful lakes with mountain steam water and eight different types of fishes. If you love fishing, then 8 lakes resort is the place for you. You can relish some quality time by fishing in this resort.
The resort also has a dedicated kids club, which offers variety of recreational programs and activities like Puppet Theater, safari, badminton, mini golf, swimming pool etc. Kids can also enjoy different logical thinking and cognitive developmental games in the resort.
Almaty becomes one of the most sought after travel destinations in recent times. And 8 Lakes Resort should definitely be in your must-visit bucket list while traveling Almaty. Plan your Almaty Tour with Dook International today and get the best deal.
Know More: Attractions in Almaty