10 Best Places to Visit in South Korea
Taking The Road Less Traveled: 10 Underrated Places In South Korea
Admit it – a part of you, if not all, has joined the Korean Wave craze. South Korea's entertainment industry, which has taken on the global stage at lightning speed, has found its way to our hearts and households without us realizing. Binge-watching Itaewon Class and Crash Landing On You and dancing to Blackpink's Kill This Love have become more than a hobby, but a lifestyle we've unashamedly adapted.
With the K-pop culture invading our senses, it's not anymore surprising that we have South Korea on top of our travel bucket list. After seeing all those endearing centuries-old palaces and dazzling landscapes from our favourite dramas and music videos, don't we just want to experience this most talked-about country ourselves?
The capital city of Seoul, one of the largest and most advanced cities in the world, holds charming contrasts that make even the most discerning traveller fall in love with it instantly. Here, you can easily spot postcard-worthy temples and imperial gardens built in the fourteenth century standing proud beside meticulously constructed skyscrapers and the edifice that epitomize the nation's undeniable economic superiority. But while the multifaceted city of Seoul is enough to mesmerize you, there are still so many places in the Land of the Morning Calm that are more than worth visiting and discovering.
If you're keen on knowing South Korean on a deeper and more authentic level beyond what you've seen on Netflix and YouTube – and yes, away from the maddening crowd, read on. This list takes you to 10 of the most underrated and unexplored places that offer an incredibly diverse range of experiences and wonders that will leave you in awe.
Top-Rated South Korea Attractions
1. Windy Hill in Geoje Island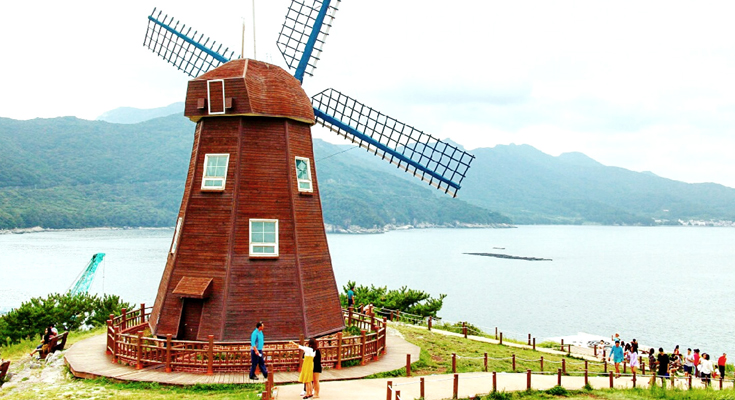 The island of Geoje in the southeastern tip of the peninsula is a hidden seaside paradise just an hour car ride from Busan. The glittery seas and golden sandy beaches make for a relaxing holiday destination. But what makes Geoje more special is the Windy Hill – an Instagram-worthy huge wooden windmill in the middle of a vast plain!
To reach the giant windmill, you need to do a short 400-meter hike from the ferry terminal. Don't worry, the way up is easy and safe, you won't probably even break a sweat! Once you reach the top, you'll see a refreshing piece of paradise untainted by over-tourism. The windmill perfectly complements the sprawling lalang fields, clear waters and jagged mountains across.
You can hardly find tour guides or commercial activities close to the area so you can easily find a perfect spot to sit on and just gaze at nature's most stunning gift presented right before you.
2. Buam-dong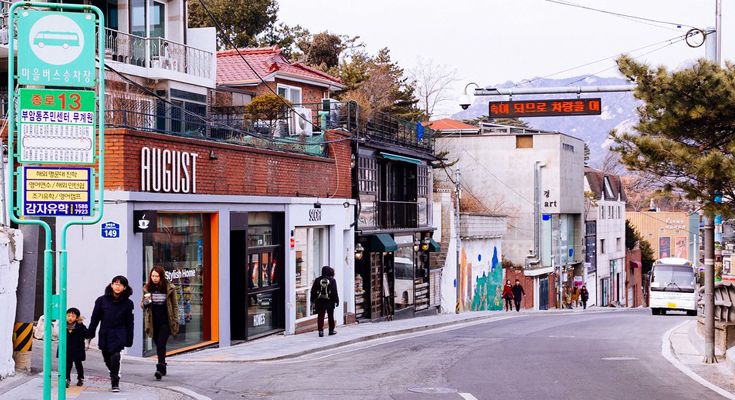 Escape the bustling highways of downtown Seoul and make your way to the twisting roads and hidden corners of Buam-dong. Known among locals for its clever way of integrating modern culture and traditional buildings, Buam-dong is still considerably a well-kept secret from foreign tourists. Here, the old and new coexist in such harmony that makes you feel you're both in the past and present South Korea at the same time. This quiet neighbourhood has preserved the traditional low-lying houses amidst the high-rise apartment complexes just a few kilometres away.
Walking past traditional hanok, artsy cafes, traditional teahouses and art galleries, it's easy to see why Buam-dong deserves a spot in every traveller's South Korea itinerary. Adding to its unique appeal are the sites that bear historical significance, including the vacation home of Prince Daewon of the Joseon Dynasty. For a more insightful tour, drop by the Chopsticks House. As the first gallery in South Korea solely dedicated to chopsticks, this place features beautifully crafted chopsticks made from carefully selected materials. You can buy your favourite pair and take it home with you as a souvenir.
3. Jukjeon Cafe Street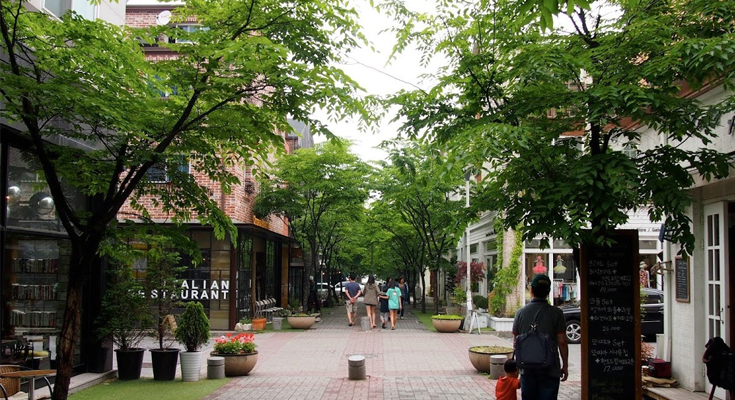 With coffee shops popping up around South Korea, choosing a place to get a nice shot of espresso and just chill can be pretty overwhelming. Here's a tip - go to Jukjeon Café Street in Yongin. Quiet and not too crowded even on Sunday afternoons, Jukjeon has a relaxed European feel to it. Different cafes serving in different, artistic styles are lined up under canopies of gentle trees within an amazingly rubbish-free lane. Alongside regular options such as Americano and latte, delectable dishes are also served in bigger shops if you opt to spend a whole day here.
If you're thinking of doing a little shopping, spoil yourself with some pretty handmade souvenirs, clothing flower bouquets or ornaments at reasonable prices. Of course, don't forget to take selfies - the entire stretch makes for a perfect background, you won't even need filters!
4. Dongpirang Mural Village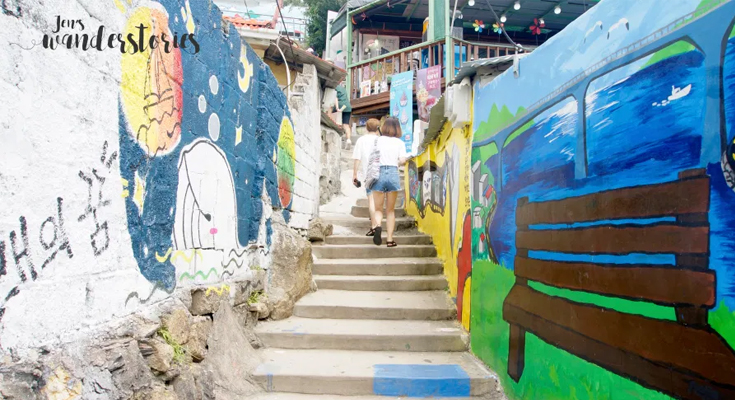 For artists and art enthusiasts, nothing can be better than taking a leisurely stroll around Dongpirang Mural Village. This small village in Tongyeong, South Gyeongsang Province, is filled with small colourful houses with walls decorated with different hues and shapes. Some cracked walls bear swimming fish, some with passionate civic themes created by talented artists in 2007, when it was on the verge of being destroyed due to redevelopment plans. A group of university art majors and local artists joined hands and turned it into a gorgeous mural village it is known today.
5. Gwanghalluwon Garden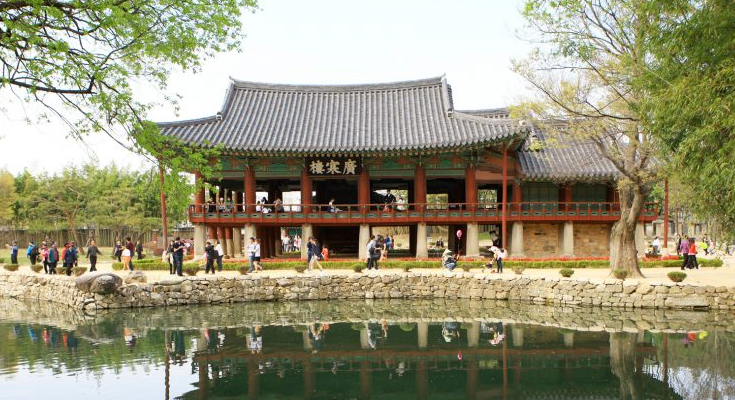 Originally known as Gwangtongnu, Gwanghalluwon Garden was built during the Joseon Dynasty in 1419, holding a regal allure and story widely respected among the locals. The renowned ancient public garden features lotus flowers floating in the pond and a bridge built over it – somehow a representation of Korean's idea of paradise. Gwanghalluwon became famous when it served as the main setting in the Chunhyangjeon, one of the most well-loved love stories in Korean folklore. The garden was where Chunhyang and Mongryong first met. Every 5th of May, the garden hosts a festival to celebrate the deep and lasting love of the legendary couple.
But even without the festival, this surreal place is already an attraction itself. The green surroundings, the pond and the pavilion – everything in here makes it worthy of its name, "the garden from the palace of the moon". For a more dramatic experience, come at night and see the moon rising over the pond and the moonlight envelopes the garden.
6. Gimnyeong Maze Park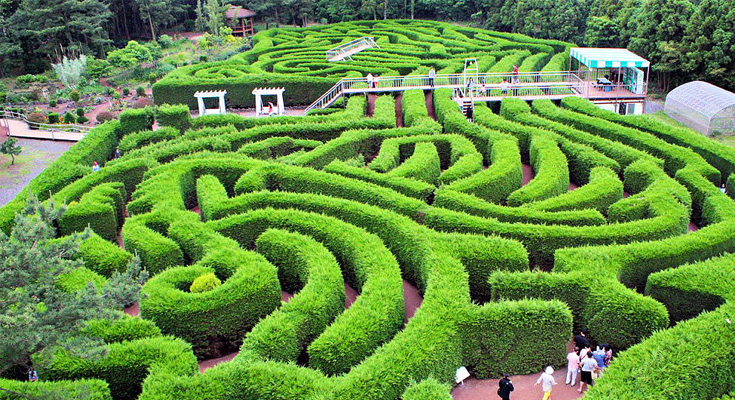 Nestled between two major tourist destinations Manjanggul Cave and Gimnyeong Sagul Cave, the Gimnyeong Maze Park is not to be missed. Unique and fun, the maze park is configured in six symbols, including the coastline of Jeju, a pony, a snake's head and dolmen. It was designed by a famous American professor whose love for Jeju island makes him more Korean than American.
The park, which is the only traditional maze park in Northeast Asia, was so well designed you won't mind getting lost in it. But for those who really want to solve the maze, a map is readily available at the entrance. Visitors say there is only a small chance one can escape the maze in under five minutes, while some can't even reach the end after an hour! Well, the maze is built for fun and enjoyment so there's no need to frown if you fail.
If you prefer to get a view of the entire maze from atop, there are skywalks and an observatory you can climb on. They also present spots for photos.
7. Manjanggul Cave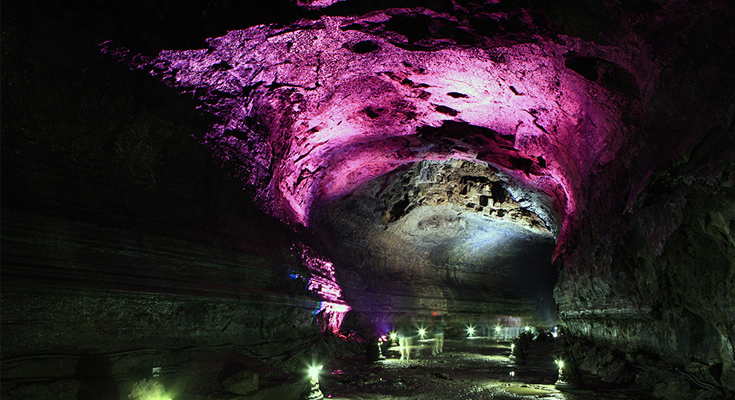 Did you know that the longest lava tube in Asia can be found in Jeju? Now you do! The Manjanggul Cave, which spans for about 8.3 miles underground with only a little less than a mile open to the public, was formed when molten lava slowly solidified and created a long, tunnel-like cave.
Walking through the cave is seemingly otherworldly - so it's better to do it with companions and an expert guide. The ceiling and walls are like hollowed-out pumpkin and stretch on for eternity. While it's mainly dark, some lights have been installed to highlight important parts of the cave, like the stalactites that give the ceiling a cathedral-like ambience. At the end of the path is the cave's main attraction – the tallest lava column on earth! It's illuminated by coloured lights and is a great conclusion to this one-of-a-kind adventure.
In case you're wondering, yes, there are bats inside.
8. Seodaemun Prison History Hall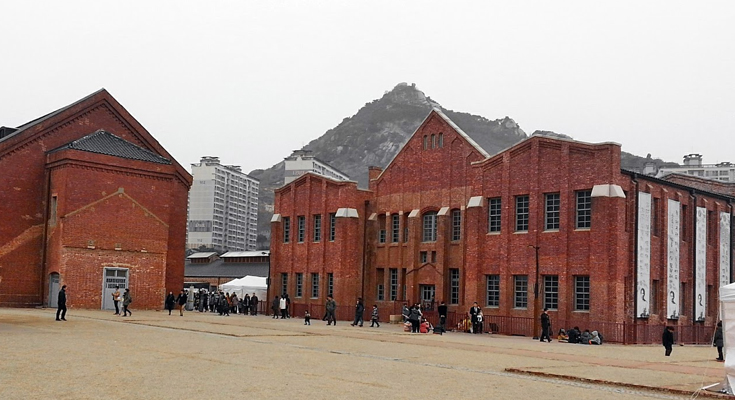 A little darker but just as insightful and significant is the Seodaemun Prison History Hall. Built-in 1908 to hold up to 3500 prisoners during the Japanese colonial occupation, the prison has become a symbol of the Korean suffering. Japanese resistance fighters were tortured and executed here. But instead of focusing on the tragic past, this prison was reopened in 1995 to commemorate the patriots who sacrificed their lives for Korean independence. It was converted into a historic exhibition hall where visitors can learn and understand the struggles and triumphs of South Korea. Seven of the prison's original fifteen buildings still stand today and are renamed historical monuments.
9. Hahoe Folk Village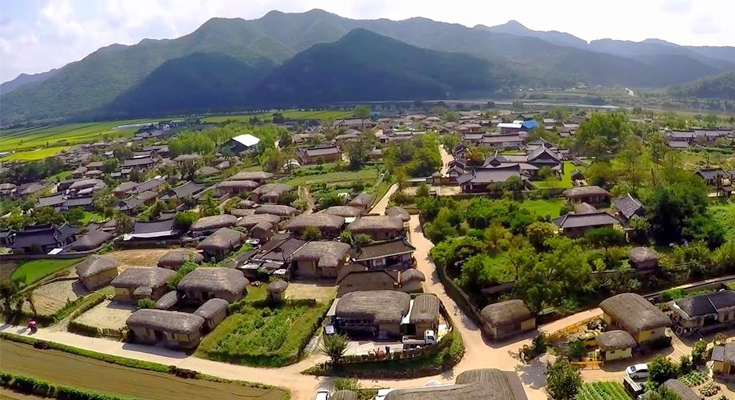 Founded in the 14th to 15th centuries, Hahoe is seen as one of the most representative historic clan villages of South Korea. According to UNESCO, the layout and location of the village – sheltered by forested mountains and facing out onto a river and open agricultural fields – vividly reflect the distinctive aristocratic Confucian culture of the early part of the Joseon Dynasty. It is also known as the birthplace of renowned scholars of the Joseon period and is therefore considered a valuable part of Korean culture and education.
England's Queen Elizabeth visited the traditional village in April 1999, paving the way to its fame not just among locals but to foreign travellers. Holding the largest number of cultural properties in the country and an immense wealth of ancient folk traditions, calling Hahoe as an open-space museum may come as an understatement.
With its winding dirt lanes, thatched-roofed houses set amongst golden fields on the banks of the Nakdong River, Hahoe lets you experience the ancient and traditional South Korea untouched by any sign of modernity.
10. Boseong Green Tea Fields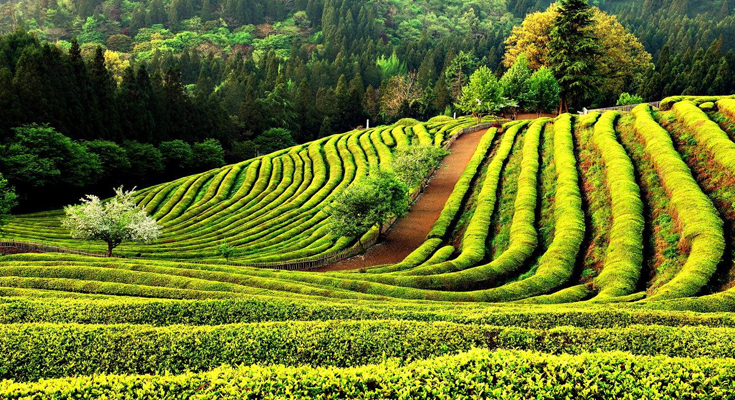 Now, this is for matcha lovers! The massive green tea fields of Boseong just never disappoints even if it's a five-hour bus trip from Seoul. A plantation of 560 hectares, this is one of South Korea's biggest production houses of green tea. The fields, which resemble like green stairs on a high hill, are a pleasant mix of rows of green tea and beautiful forests.
Before reaching the tea fields, hike through towering cedar trees. The trails are easy to follow, and with a truly amazing sight to expect, one can pardon the heat from the glaring sun. Once you see the carpet of greens, it will be love at first sight. If you get lucky, you'll have the chance to see tea farmers working on the fields and picking tea leaves.
It would be best to end this experience with either a cup of green tea or a mouthwatering matcha ice cream. But no one's going to judge you if you take both.
Since we're talking about the unknown and underrated, here's an extra list of superb South Korean dishes you need to try aside from kimchi and samgyeopsal.

1. Beondegi (Silkworm Larvae)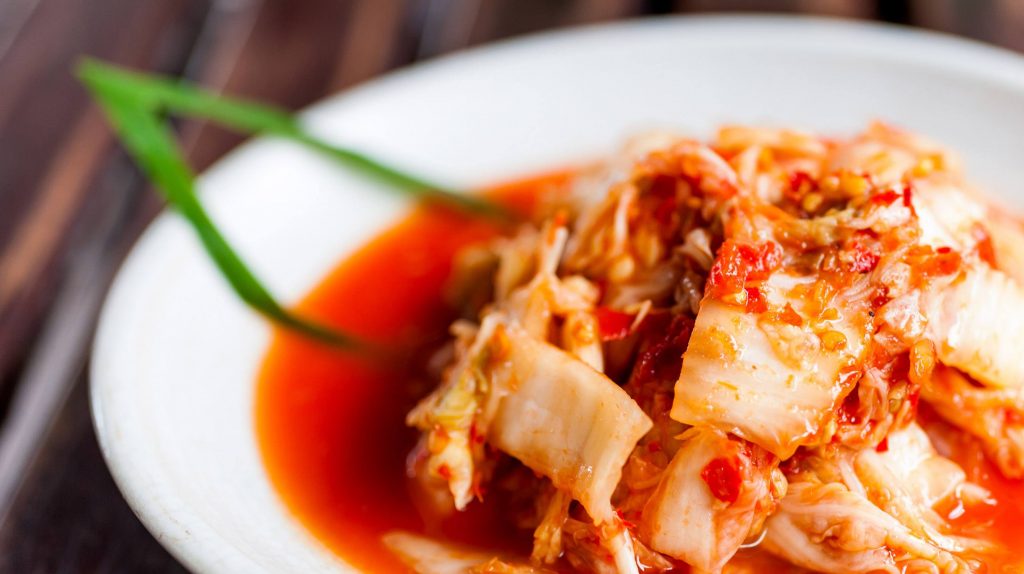 This is, for sure, not for everyone. This street food comprises steamed or boiled silkworm pupae and is often paired with alcohol. Like how it looks, Beondegi has a strong, pungent smell. On the plus side, though, it's said to be healthy.
2. Sundae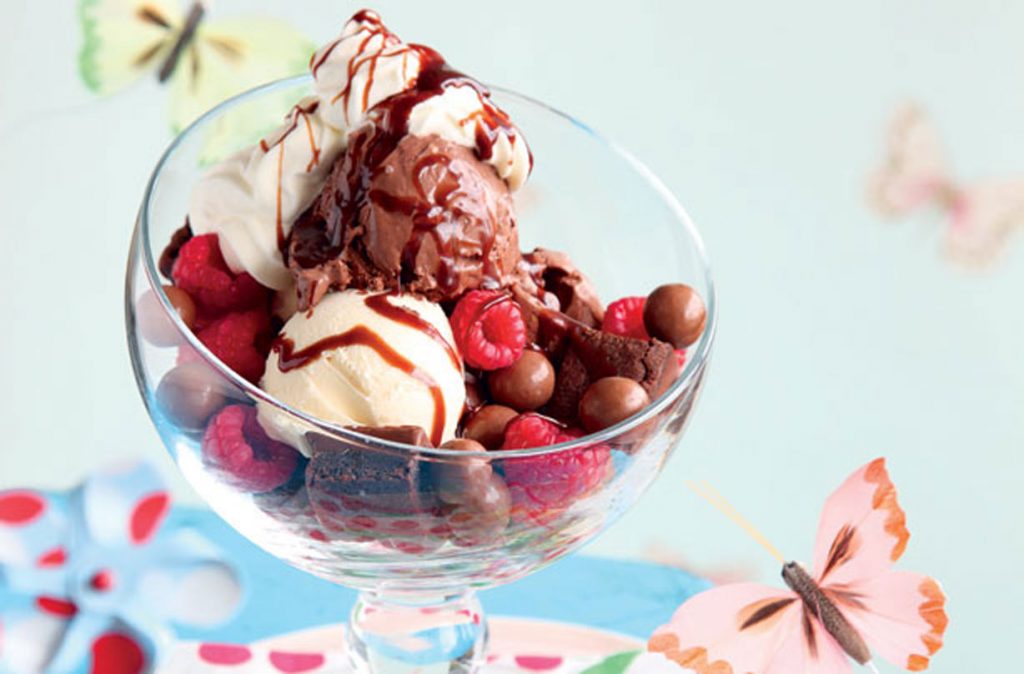 No, this is not the same sundae you love to devour on a summer day. One of the traditional dishes in Korea, sundae contains pig or cow's intestines mixed with blood, rice, vegetables and noodles. The mixture is then steamed and sliced.
3. Gopchang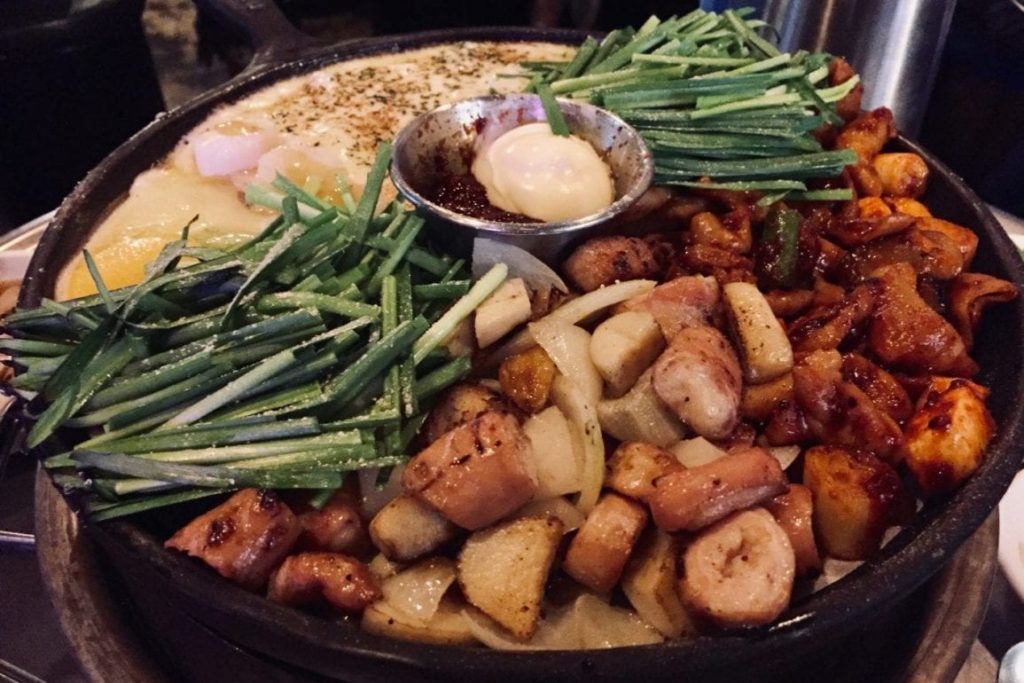 Like sundae, Gopchang uses pig intestines. But they are grilled and don't come with any stuffing. The intestines are usually chewy in texture especially when it's served fresh. Dip it in a sauce for a more enjoyable culinary experience.
While it's still not possible to travel to South Korea right now because of the global health crisis, it's never too early to plan for a great escapade to this beautiful East Asian country. Hope this list helps you as you draft your itinerary.

Explore More: Top-Rated South Korea Attractions

Book Package: South Korea Tour Packages