Incredible journeys to New Zealand with DOOK!
No matter your travel style, we have a New Zealand package tailored for you
New Zealand Tour Packages
Explore New Zealand with DOOK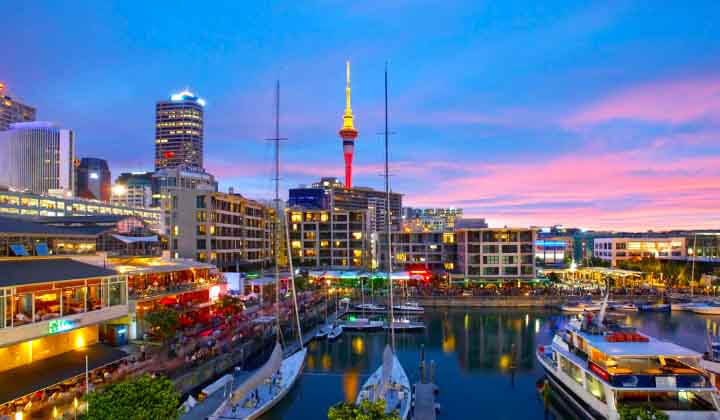 Kia ora! It's time for 'New Zealand'

Explore this magnificent gem with Dook's New Zealand Tour Packages

Not just the land of kiwis but of unique adventures, spellbinding cultures and breathtaking landscapes, New Zealand is an incredible choice to explore something exclusive and extraordinary. It may be a compact island with hype like any other popular tourist destination, but its unspoiled charm does not fade away with time; no matter how many times you visit. Across this spectacular country, you can easily spot the unmatchable wilderness, diverse cultures, jade-green rocky hills, quiet bays, small towns oozing laid-back vibes, snow-laden mountains, greatest scenic drives, glittering blue rivers, fjords and abundant food. It is, therefore, easy to understand why New Zealand tops the charts of the most fascinating destinations in the world, enticing repeat and new visitors year on year.

Divided between two islands, the North and the South, New Zealand is packed with various unique attractions, be it the beaches, shimmering lakes or fjords, bubbling mud ponds and geothermal geysers, vast vineyards, or its distinctive Maori culture mixing well with the cosmopolitan cities and quaint villages. Undoubtedly, this naturally blessed country looks straight out of some movie set shot in the surreal outdoors but there's a lot more beyond the natural wonders that make this country an ideal choice for backpackers, honeymooners, families and everyone who loves exploring something extraordinary. Delve deeper into its vibe and you'll be amazed by how experientially rich Auckland is; how mind-boggling Napier's art deco is; how magnificent the experience on sailing yachts at The Bay of Islands is; how exhilarating is a self-drive tour from Christchurch to Queenstown or how stunning is the coastal scenery at Milford Sound. What's more? You even get a chance to have a 'rendezvous with the rare' and the list includes Hector's dolphins, yellow-eyed and blue penguins and of course, the national kiwi bird that specifically calls NZ it's beloved home.

Whether you're visiting magnificent New Zealand for a few days, a few weeks, or probably a few months, you'll never run out of places to see here. Need ideas to help you plan your New Zealand Tour? Get in touch with Dook to enquire more about our thoughtfully curated New Zealand Tour Packages from India.

Capital: Wellington
Languages: English and Te Reo Māori
Currency: New Zealand Dollar
Driving Side: Left
Best Time to Travel New Zealand: Round-the-year destination. But if you love the summer vibes, the period between December to March is ideal; for winters (mostly on South Island), you can visit between June and September.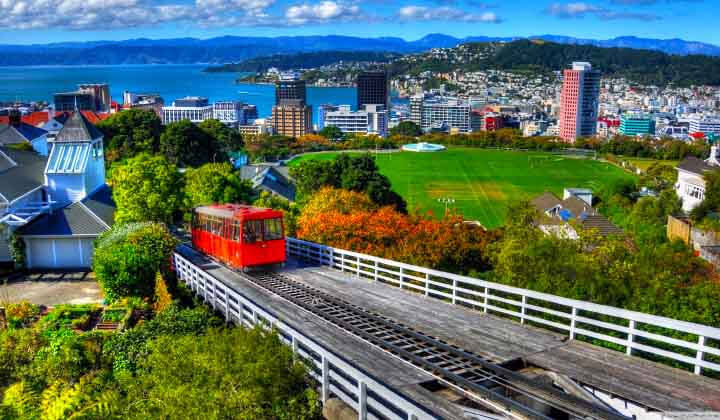 Explore New Zealand:

Considered to be one of the most sought-after tourist destinations, New Zealand truly is a place unlike all others. Picture yourself hopping between the spectacular cities of South and North Island while stopping in between to look at Franz Josef Glacier or get clicked in front of the gems- Lake Tekapo and Lake Pukaki. Learning a thing or two about Maori culture in Rotorua while happily matching your steps to the beats of their traditional dance. Discovering the hiking trails of Wanaka while finding your way to some amazing wineries at Otago Valley. Dancing the night away in Auckland or spending the day exploring the architecture, and interesting murals in Wellington. Whatever your reason to explore NZ is, you'll always and forever be thrilled to discover more of this remote, yet massive gem tucked in one pleasant corner of the world. And no wonder, you'll always return home as a happy traveller!

Planning a New Zealand Tour but not sure where to begin? Leave your worries to us and book from our range of New Zealand Holiday Packages because we just assure you one thing- "Happy and quality travelling"!

Read on further to know what all places and experiences you can find in your New Zealand Packages booked through Dook.

1. Auckland: Melange of the modern and magnificent

Just as the Māori people call it "Tamaki Makaurau" meaning 'a maiden desired by hundreds of lovers', Auckland truly is a desirable destination. One of New Zealand's largest and busiest cities, Auckland is abundantly filled with activities and attractions that cater to all segments of travellers. A modern-day vibrant city with quiet suburbs, lush green forests and beaches adorning its boundaries and coastlines, Auckland is a haven for adventure lovers as well as for solace seekers. From trying your hands on the sky jump, bungee jumping and walking on the top of its famed Sky Tower to finding the right place that feeds your soul with peace and curiosity, Auckland sure does have something for everyone. Across the city, it is quite easy to find plenty of food and wine-tasting sessions that help you indulge deeply in the food culture of Auckland.

Amidst all this that you can add to your New Zealand Tour, some top itinerary favourites include a tour to Cable Bay Vineyards and Mount Eden, soaring views from the Sky Tower, a walk along Auckland's extensive waterfront, innovative ice creams served at Giapo, a day trip to Waiheke Island, the Auckland Art Gallery and other museums and adding to your curiosity are some of its nearby hip neighbourhoods- Devonport, Ponsonby, Parnell and Mission Bay.

2. Wellington: The artistically amazing capital

While everyone on a New Zealand Trip mostly raves about Auckland, the real mystery is found on the streets of Wellington. Located at the Southern tip of New Zealand, this 'coolest little capital in the world', as named by Lonely Planet, is bordered by nature and driven by artistic energy. Even though it is a compact city, it sure does have a powerful combination of everything magnificent. With museums and art galleries that speak volumes about the culture and the cafes and restaurants that showcase this city's pace of evolving food scenes, Wellington is a perfect fit for your New Zealand Holiday Packages.

Treat yourself with a nice coffee or the world's finest craft beer at one of the cafes/ night markets in the city; pamper yourself with some me-time at the Oriental Bay; discover some of the city's most incredible museums including Te Papa, art galleries and theatre shows; take leisurely strolls around the harbour or along the beautiful Makara Peak; take a cable car up to Kelburn to look down upon the stunning city you are in.

Check in to a lot more Wellington travel experiences by booking your New Zealand Tour Packages with Dook.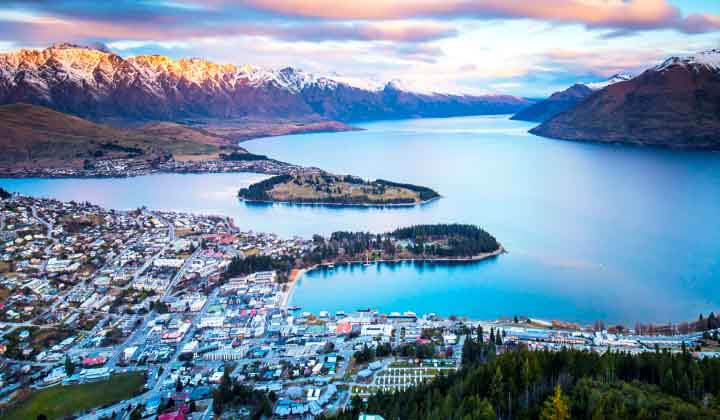 3. Queenstown: The 'Global Adventure Capital' of the world

Another major tourist destination after Wellington and Auckland, the adventure-filled city of Queenstown sits on the shore of Lake Wakatipu, situated in the southwestern region of New Zealand. This city, now quite a popular choice in New Zealand Packages is fuelled by outdoorsy energy; so much so that it has taken a top place in must-visit places in NZ for adventure-seekers. Imagine being surrounded by beautiful peaks while doing the bungy jumping or skydiving, taking a wine tour to the remotest corners, discovering tons of cycling and hiking trails, walking down the pedestrian lanes having the best of restaurants and not to miss, taking the Gondola ride while watching over the city literally like a Queen, or probably ending your day with an aesthetic view of stargazing.

Truly an adventure destination that is irreplaceable not just in NZ but around the globe as well, Queenstown packs a punch. And you are in for a real treat if booking your trip with Dook as our wide collection of New Zealand Vacation Packages lets you explore all this and more in this breathtaking city of New Zealand.

4. Rotorua: Exquisite. Exciting. Exceptional

Looking for something as exciting as the bubbling mud pools or shooting geysers or the hissing natural hot springs offering solace to both body and tired mind? Rotorua has got you covered! One of the geothermal regions in the world and a startling New Zealand attraction, Rotorua sits amidst the Pacific Ring of Fire, offering a host of experiences for adrenaline-pumping adventure and peace-seekers alike.

While here, you can consider strolling around the enchanting forests with epic biking trails and an abundance of crystal-clear streams, relax or dip in the mineral-rich waters, indulge in a wellness getaway at a luxurious spa, or marvel at the distinguishing landscapes and volcanic craters within a geothermal park. Show your daredevil spirit and go mountain biking, luging, or sky diving because "Life is either a great adventure or nothing". Rotorua is also the best place to learn about the native Maori culture and their history of origin and nothing can be as best as attending one of the Maori Cultural Shows in Rotorua.

5. Christchurch: Full of new hopes and vitality

New Zealand's oldest and second-largest city after Auckland, Christchurch holds up a facelifted aura. It is great to see how the earthquakes in 2010 and 2011 didn't damage the spirits of the city; it indeed, evolved into something brand-new, full of vibrancy and hope and has most of the funky bars, shops and markets tucked inside its lanes. Be it the Canterbury Museum, a gondola ride into the nearby hills, a day sent well with the families at its expansive parks and public gardens, a fine dine sesh at a Greek restaurant or a hike in the Port Hills, you have no reason to not love this splendid city and its experiences. What's more? Christchurch, being one of the many important hubs in New Zealand for business and tourism is very easily accessible from almost all parts of the world and is also considered one of the 5 gateways to the Antarctic region.

There are so many things to do and see in Christchurch that you'll be pushed to fit them all in and with Dook as your travel advisor, you have got almost everything amazing in this city covered under our specially curated New Zealand Packages.

6. Hamilton-Waikato: The regions of lush and rolling greens

Well-known for its scenic wonders, underground gems, black sand beaches and overnight bush excursions, the Hamilton and Waikato region offers a myriad of options for those keen on seeing something exciting, lush and charismatic. Drive a bit towards the east to Matamata and you'll be amazed by the Hobbiton Movie Set, the amazing Hobbit-sized village created for the movies. Drive south to find the awe-inspiring attraction Waitomo Caves; it is here where the natural beauty of stalactites lit by the blue light of glow-worms will enchant you. No wonder why this appealing region was chosen to play The Shire in The Lord of the Rings and The Hobbit films. There's more for nature enthusiasts here ranging from casual strolls along the Waikato River to making way to the popular spot Sanctuary Mountain Maungatautari and all these are a 'do-not-miss'.

Move deeper into the city of Hamilton and you'll be lured by its stunning gardens, shopping options, popular nightlife and food scenes as well as some amazing accommodation options, which makes it a perfect base for travellers to stop over while exploring this vast region.

Top Bucket List Experiences in New Zealand:

Even though there is a lot to explore in this land full of wonders called New Zealand, a few selective adventures come with a 'do not miss' warning. Dook has collated a bucket list-worthy experiences below that can be added to your New Zealand Tour Packages:

1. Get enthralled by the ice-age beauty of Milford Sound
2. See the nature at its best at the Tongariro National Park
3. Dip yourself in a mineral-rich mud pool in Rotorua
4. Trek through the Franz Josef glaciers
5. Get lost and found in the natural glowing lights of Waitomo Caves
6. Choose to cycle at Sanctuary Mountain Maungatautari
7. Well-spent family tour to Hobbiton is a must
8. Go Skyline Stargazing in Queenstown
9. Take a fishing trip or gear up for surfing adventures at the Bay of Islands
10. Sail your way through various islands at the Bay of Islands
11. Opt for a rail trail in Otago
12. Let yourself become an adventure junkie in Queenstown; opt for bungee jumping, jet boating, horse-riding, rafting, paragliding and more
13. Visit Hell's Gate to see the gushing hot waters and boiling pools
14. Let yourself loose into the soothing ecstasy of Southern Lights
15. New Zealand Museums flaunt history at their best; don't miss out on Canterbury and Auckland Museum
16. Go scuba diving in Whakaari
17. Get intrigued by New Zealand's indigenous culture and history at Catseye Bay on Hamilton Island
18. Savour delicious seafood or sip awesome wines in Marlborough
19. See the whales, seals and dolphins in action at Kaikōura
20. Try the dramatic freefall at skydiving dropzone of Taupo
21. Witness an endless parade of beaches and harbours making the remote Cape Reinga region
22. Hike the tallest mountain in New Zealand- Mount Cook
23. Discover the history of jade hunting and gold mining at the Greymouth
24. Get enchanted by the beauty of Roy's Peak in Wanaka
25. Relax on a secluded beach or fly over the treetops on a thrilling zip‐line at Waiheke Island
26. Cruise around the dramatic fjords of Milford Sound

Get packing to explore the 'Land of Kiwis' with Dook

New Zealand is abundantly filled with experiences and therefore, it is hard to pick one from the rest or just a set of favourites. But if you are booking your New Zealand Tour with Dook, you are in for a real treat as we have got almost everything amazing on the NZ map covered in your itinerary. You can either pick and choose from our wide range of New Zealand Tour Packages or can get the tailored New Zealand Packages, according to your preference and budget. Contact us today to get the best rates while you pack your bags and gear up for an unforgettable adventure awaiting you in New Zealand!