Splendid Japan Tour Package
Pkg Id

0000566

Destinations

6

Duration

8 Nights

Attractions

12

Price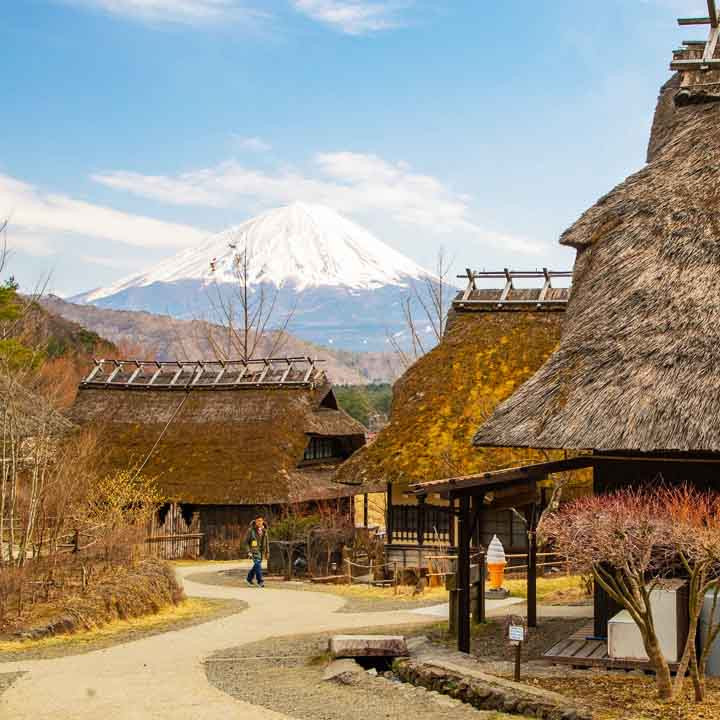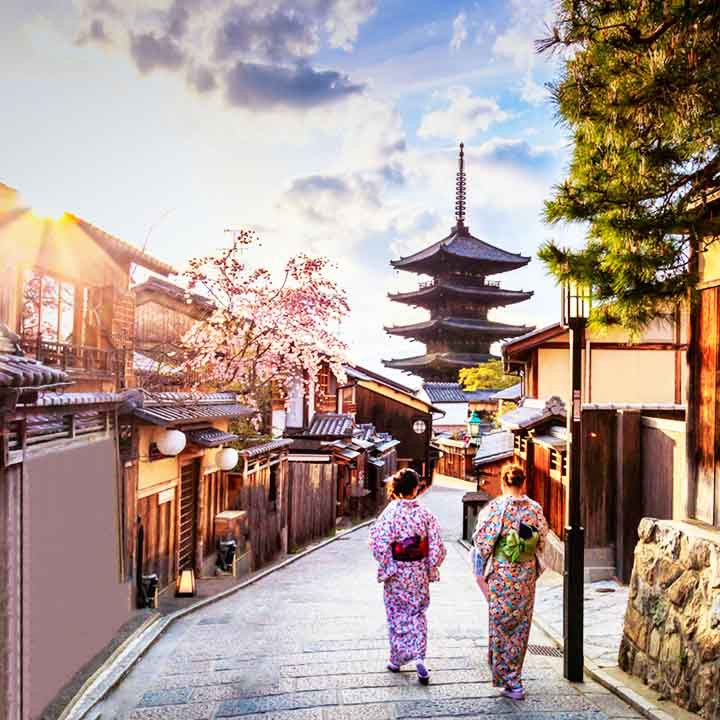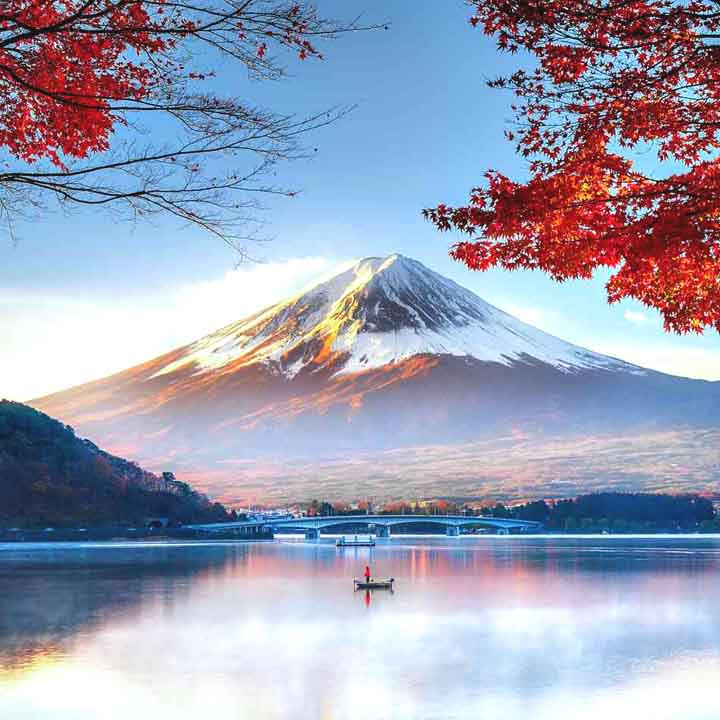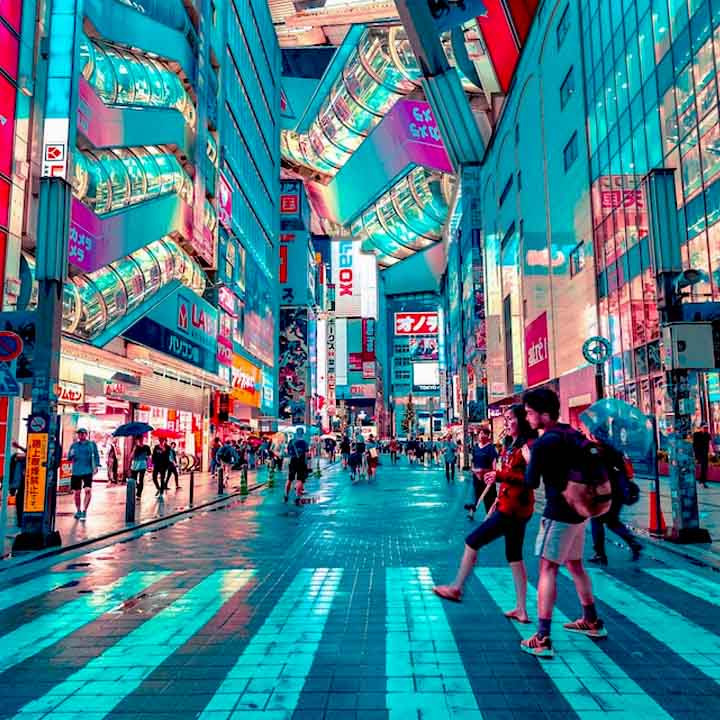 1
Tokyo- Arrival
Welcome to Japan! Transfer by coach (Shuttle Bus) to Hotel.
Meeting with guide.
Late in the afternoon, we will pay a visit to this fascinating country by taking a trip on the metro (tickets included) to the Shinjuku district and see the crowds of people who use this modern and efficient collective transport system.
Shinjuku is one of the most important nightlife districts.
Dinner included and return to hotel by metro with our guide.

2
Tokyo
Breakfast at Hotel.
In the morning, we take part in a 5-hour trip with our guide to see this amazing city, with its hustle and bustle and extremely modern districts that coexist with quiet, peaceful areas.
Brief stop at the Zojoji Temple to make a beautiful photograph of the Tokyo Tower.
Pay attention to the hundred of Jizos, stone traditional protecting deities who guide us on our travels, give power to those who are weak (such children) and those in dangerous places, and who are dressed including hats, robes and windmills.
Then we head to the junction of Shibuya, a junction that is said to be the most crowded in the world.
The Meiji Temple is dedicated to the Emperor Meiji, his wife, and their spirits.
We continue on our bus along the elegant street of Omotesando. We will edge the most beautiful part of the Imperial Palace and the gardens.
Stop to visit the famous Nijubashi Bridge. We will pass through the district of Akihabara, the "electric town" with icons from the popular Japanese Manga and Anime culture and then see Kokugikan, the Sumo stadium, home of this Japanese sport.
We will also visit the Buddhist temple of Sensoji, the oldest and most important temple in Tokyo, with its 55-metre high pagoda.
Then we will have some free time to visit the traditional commercial street of Nakamise in the district of Asakusa.
Lunch included in a local restaurant.
Return to hotel.

3
Tokyo - Mount Fuji - Kawaguchiko
Breakfast at Hotel.
We travel to the beautiful area of Monte Fuji, through pretty countryside on our way.
First of all we see the Arakurayama Sengen Park, with its beautiful pagodas, and from here enjoy the best and most well-known views of Mount Fuji.
After this we go on to Kawaguchiko with its tiny houses, flowers and mountains, and its beautiful lake.
On our arrival, we will visit the Fuji Sengen Shrine set in a magical site surrounded by tall trees, and the starting point of the traditional pilgrimage to the mountain.
At the shrine, we will express our thanks for being able to visit this wonderful place.
The visit also includes a delightful boat trip on Kawaguchiko Lake.
After lunch, we start to ascend Mount Fuji on the road that takes us to the "fifth station", surrounded by spectacular forests and views, to a height of 2,305 meters.
Return back to Hotel and Overnight stay.

4
Kawaguchiko - Iyasi no Sato Nenba - Toyota - Kyoto
Breakfast at Hotel.
We are only 130km (81 miles) from Kyoto.
In the morning, we continue along the pretty road bordered by lakes to Iyashi No Sato Nenba, a tiny village destroyed by a typhoon in 1966 and later restored as a traditional open-air mountain village and museum.
Its traditional houses have been transformed into arts and crafts shops, restaurants and traditional museums.
We then have the opportunity to admire the Shirai to Falls, considered done of the most attractive sites in Japan, with a waterfall height of 150 meters.
We will then continue to Nagoya, the third most important city of Japan, on the shores of the Pacific.
Here we will visit the Toyota Museum (admission included), a must-see for motor lovers.
We continue to Kyoto.

5
Kyoto
Breakfast at Hotel.
We spend all day in the city that was the capital of Japan from the year 794 to 1868 and home to the Imperial Court.
During World War II the city was the only major Japanese to escape the bombardments, and so it still preserves its wealth of artistic heritage; the famous protocol restricting greenhouse gas emissions was signed in Kyoto in 1997.
We head for the outskirts of Kyoto to Arashiyama, where we cross the Togetsukyo Bridge (¨bridge over the moon¨), which has fantastic views.
We will visit the Tenryuji temple, one of the ¨five major Zen temples of Kyoto¨ and a UNESCO World Heritage Site, followed by a walk through its mystic bamboo forest.
The visit includes a trip to one of the most important parts of the city.
We will see the marvelous Shinto Shrine of Fushimi Inari, the Imperial Palace and Kanauji temple, "the golden pavilion" and its wonderful gardens.
Return back to Hotel
6
Kyoto - Nara - Osaka
Breakfast at Hotel.
We leave for Nara and visit Todaiji, a magnificent Buddhist temple built in 752, which has a giant Buddha and where passengers can take photos and touch and feed the deer that wander through the park.
Lunch included.
After the visit, we will see Horyuji Buddhist temple, a World Heritage Site that includes a seminary, monasteries and temples.
Its main pagoda temple is one of the oldest wooden buildings in the world and is the oldest Buddhist temple in Japan and an important place of worship.
We continue to Osaka, where we arrive in the evening. Accommodation in this modern city (Japan's second city).
We will visit Dotonbori, a colourful district filled with nightlife.


Return back to Hotel.
7
Osaka - Engyo-ji - Himeji- Okayama
Breakfast at Hotel.
We leave for Mount Shosa, and its Engyo-JI complex of temples dating back more than 1,000 years, which was the place where the film "The last Samurai" was made.
Cable car ride.
After this we will see Himeji, where we will include entry to its immense complex that shows us the architecture of Japanese castles.
Lunch included in a local restaurant. We go on to Okayama, where we will visit Korakuen, one of the most beautiful gardens in Japan, with its lakes, waterfalls and traditional teahouses.
Return back to Hotel.
8
Okayama - Kurashiki - Hiroshima- Itsukushima - Hiroshima
Breakfast at Hotel.
We leave for Kurashiki, a city with a very well preserved historical centre.
Time for a stroll in this charming place with its atmosphere from the past.
We continue on our way to Hiroshima, a city sadly known for the atomic bomb that fell on it in 1945 and which levelled the city.
We will stroll around the Peace Memorial, the Dome of the bomb and we will visit the impressive Museum of Peace.
After the war we will seek peace by embarking on a ferry to the island "where men and gods live together", with the sanctuary of Itsukushima dedicated to the guardian of the seas, built partially over the sea.
Time to visit the temple, to stroll around its pretty centre and have lunch. Return to our hotel in Hiroshima.
Dinner included.
Return back to Hotel.
9
Fly Back Home
After breakfast, end of our services.
End of our services. Please, check the time of your flight in case you might need an additional night.

As per mentioned in itinerary

As per mentioned in itinerary

English speaking tour guide

As per mentioned in itinerary
Visa
Click to view Visa information
Please note that these packages are customizable, which means that you will be able to make changes to the itinerary/activity if you so desire. The final payment will be calculated as per the itinerary and inclusions reflected on the confirmatory e-mail sent to you.
Please expect to receive your vouchers 72 hours before your departure date (subject to full payment of your package cost).
Personal expenses such as laundry, telephone calls, room service, alcoholic beverages, mini bars etc., are not included.
In case your package needs to be canceled due to any natural calamity, weather conditions etc. Dook Travels shall strive to give you the maximum possible refund subject to the agreement made with our trade partners/vendors.
The passenger names in the booking form should be exactly as per passports. Dook Travels will not bear any liability for the name change fee, if incorrect names and ages have been added at the time of booking.
Please note that your package includes baggage as per airlines policy. Any addition in baggage will be charged separately.
Standard check-in time at the hotel is normally 2:00 pm and check-out is 11:00 am. An early check-in, or a late check-out is solely based on the discretion of the Hotel.
In case the selected hotel is unavailable for booking, an alternate arrangement will be offered to the customer in another hotel of a similar category.
Certain hotels may ask for a security deposit during check-in, which is refundable at check-out subject to the hotel policy. This amount has to be deposited by the traveler.
Please note that Day at Leisure essentially implies that no sightseeing activities have been included for that day.
Kindly be on time for your activities, tours and transfers. Dook Travels will not be liable for missing any activity thus for any refund against it in such cases.
No refund either in part or in full will be made for any unused part of the services provided in the package.
The package price doesn't include special dinner or mandatory charges at times levied by the hotels especially during New Year and Christmas or any special occasions. Dook Travels shall try to communicate the same while booking the package. However Dook Travels may not have this information readily available all the time.
Our package price does not include GST and TCS. Applicable GST and TCS will be charged over and above the package price.
For queries regarding cancellations and refunds, please refer to our Cancellation Policy.
For any paid activity which is non-operational due to any unforeseen reason, we will process the refund & should reach the guest within 30 days refund requisition. Also, for any activity which is complementary and not charged to Dook Travels & guests, no refund will be processed.
Our package prices are on twin sharing accommodation basis thus published prices are applicable for minimum two persons and multiple of two thereon.
As per RBI guideline every foreign traveler has to provide us his PAN details. The Dollar component of package price will be taken out of your BTQ (Basic Travel Quota).
The tour cost does not include any Overseas Insurance Premium, but we strongly recommend buying Overseas Insurance Policy. The same after issuance is non refundable.
These terms are general terms for our tour packages. Any term mentioned in proposal shall be considered part of it and in case of discrepancy term mentioned in proposal shall prevail.
Disputes, if any, shall be subject to the exclusive jurisdiction of the courts in New Delhi.
Payment Policy
Payment schedule depends on destination, time of booking, inclusions, airline and hotel payment policy etc thus it is specific to your package bookining.
Payment schedule will be part of our proposal to you for the package.
If payment is not made as per the schedule provided in the first booking confirmation e-mail, Dook Travels reserves the right to cancel the booking after attempting to get in touch with you. Refunds would be as per the package cancellation policy.
Cancellation Policy
Once Booking received : INR 5000 (Per PAX) + actual Ticket cancellation + Hotel cancellation as per hotel policy+Visa fee if visa is applied.
60 – 45 Days prior to departure : 25 % of land cost + INR 5000 (Per PAX) + actual Ticket cancellation+Visa fee if visa is applied.
45 – 30 days prior to departure: 50% of land cost + INR 5000 (Per PAX) + actual Ticket cancellation+Visa fee if visa is applied.
30 – 10 days prior to departure: 75% of land cost + INR 5000 (Per PAX) + actual Ticket cancellation+Visa fee if visa is applied.
Within 10 days: Full.