Explore Beautiful Cities Of Turkey
Pkg Id

0000520

Destinations

5

Duration

10 Nights

Attractions

14

Price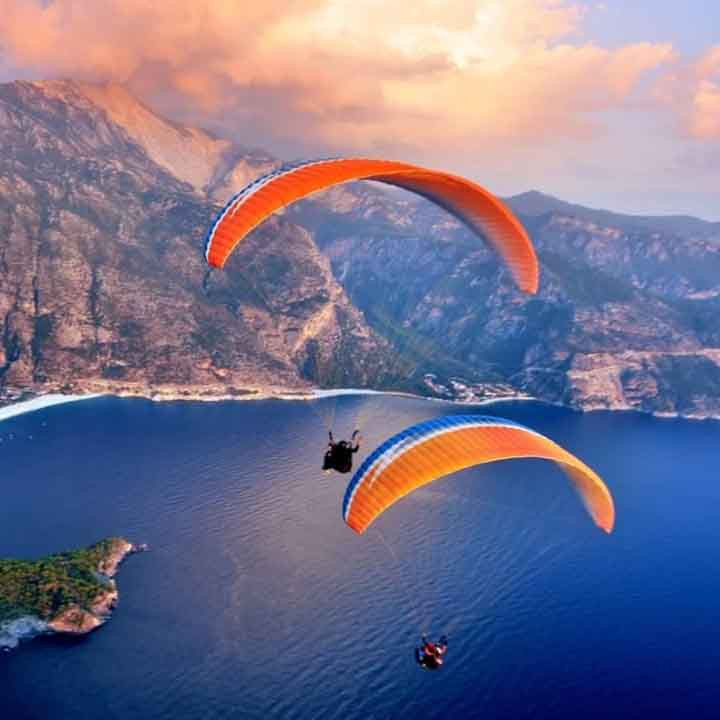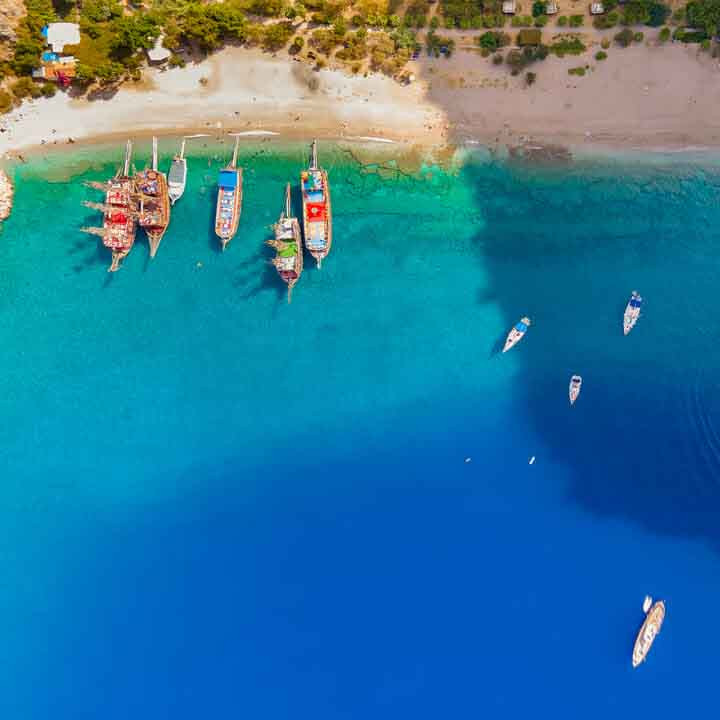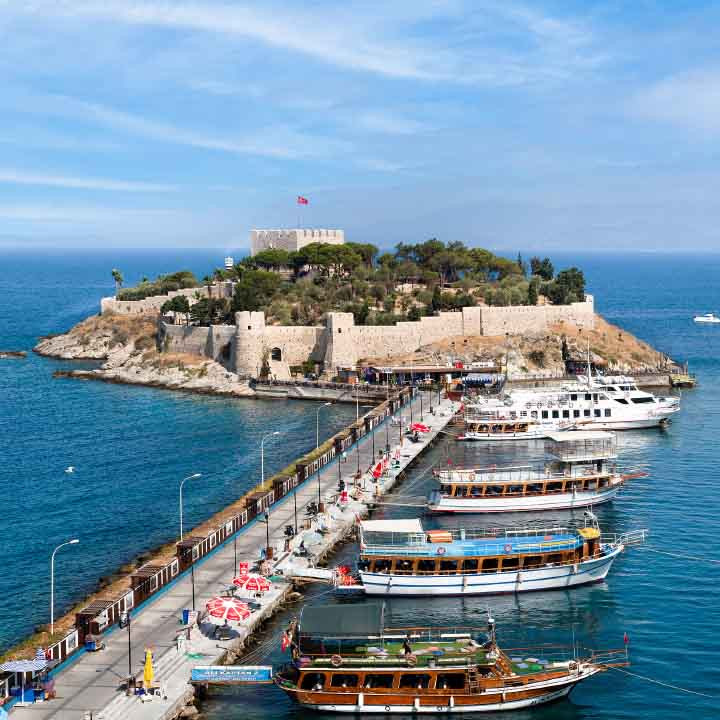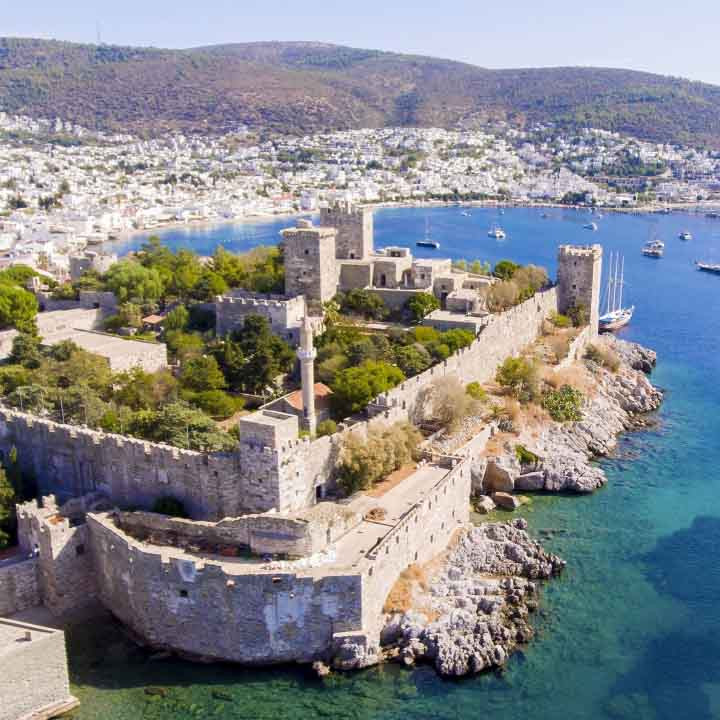 1
Delhi-Istanbul
Arrive in Istanbul.
After Immigration and Customs procedures met by driver and transferred to hotel.
Check-in to hotel.
Free time for rest after a long journey.
Overnight at hotel.

2
Istanbul
Breakfast at Hotel.
Full day walking PVT city tour of Istanbul:- Hippodrome- Ancient Hippodrome was the scene of chariot races, with the three monuments; the Obelisk of Theodosius, the bronze Serpentine Column and the Column of Constantine, Sultanahmed Imperial Mosque (Blue Mosque)- Across from Hagia Sophia Grand Mosque, it was built in the 16th century by the architect Mehmet, is known as the BLUE MOSQUE because of its magnificent interior decoration of blue Iznik tiles, Hagia Sophia Grand Mosque (Inside)-The Hagia Sophia Grand Mosque, previously known as the Church of Divine Wisdom, is simply the best of its kind! Hagia Sophia Grand Mosque is the greatest surviving example of Byzantine Architecture. For 1000 years, it was once the largest church in the world, decorated with stunning 6th century golden mosaics, Top Kapi Palace (Inside)- The great palace of the Ottoman sultans from the 15th to the 19th centuries. The palace houses an exquisite collection of crystal, silver, and Chinese porcelain. Robes worn by the sultans and their families, the famous jewels of the Imperial Treasury, miniatures, and the Holy Mantle; enshrining relics of the Prophet Mohammed, Shopping in Grand Bazaar- Grand Bazaar of Istanbul is one of the oldest and largest markets in the world. The Bazaar encompasses 64 streets, 4000 shops, restaurants, and banks, making it almost its own little city. It is often considered to be among the very first shopping malls in the world.
Return to Hotel.
Overnight stay at Hotel.

3
Istanbul
Breakfast at Hotel.
Continue the PVT tour in Istanbul:-Bosphorus morning tour- See the major attractions of Istanbul as they were meant to be seen: from the water. Comfortable transportation takes you from the Sultanahmed district to the docks, where you'll enjoy a slow paced 1.5-hour boat tour along the Bosphorus. Listen to commentary as you photograph sights, such as Dolmabahçe Palace and Rumeli Fortress, Walking in Taksim area, Galata Tower (outside), Istiklal walking street.
This tour takes you into the heart of the modern section of Istanbul to be shown the unmistakable icons as well as the hard-to-find secret spots that make it so captivating. Beautiful side streets and historical passages that get missed by tourists and Turks alike. See the Pera district through a local's eyes and learn about its cosmopolitan history. Area is also famous across Istanbul for its outstanding street food but discovering good eateries in a big city is not always easy. Not to worry, as we stroll Istiklal Avenue, your guide will point out best local eating places, cafés and bars, as well as show you the main points of interest along the way.
Return to Hotel.
Free time to explore independently.
Overnight stay at Hotel.

4
Istanbul-Kasudasi
Breakfast at hotel.
Check-out. Transfer to airport for domestic flight to Izmir.
Flight to Izmir.
Arrive in Izmir, Met by driver.
Transfer to Kusadasi hotel.
Check-in.
Overnight stay at hotel.

5
Ephesus Tour and Sirince Village
Breakfast at Hotel.
Tour to Ephesus and Sirince Village- Ephesus is considered to one of the spectacular open-air museums in Turkey. Ephesus city will come alive as you walk through 2,000 year-old marble streets to admire the Library of Celsius, Hadrian's Temple, the Fountains of Trajan, Polio, The Temples of Hadrian and Domitian, Vedious and Scholastic Baths, Bouloterion, and the Great Theatre with capacity of 24.000 spectators. Then it's up into the mountains to the lovely little Turkish-Orthodox village of Sirince. Up here, far from the madding crowd, you can wander the narrow streets, where the women sell their handcrafts and oils. You can take a quiet drink in one of the small café's and sample the local sweet fruity wine.
Return to Hotel.
Overnight at Hotel.

6
Kusadasi-Bodrum
Breakfast at hotel.
Check-out
Drive to Bodrum (2,5 hours).
Check-in to hotel.
Free time to enjoy and relax on the beach.
Overnight stay at hotel.

7
Bodrum
Breakfast at Hotel.
Start the Lazy Day Boat Trip in Bodrum:- Bodrum is one of Turkey's most scenic beach resorts, but the most stunning spots are out on the open water. During this fun-filled cruise along the Bodrum coastline, you'll hop a sailing boat to discover out-of-the-way islands and caves, including hidden spots only accessible to boats. Bathe in an all-natural hot spring, snorkel in crystal-clear.
Kara Ada (Black Island), Springs of Grotto mineral water, Swim break near Rabbit Island, Camel beach (optional camel riding)
Return to Hotel.
Overnight at Hotel.

8
Bodrum-Fethiye
Breakfast at hotel.
Check-out, Drive to Fethiye (3 hours).
Check-in to hotel.
Free time to enjoy and relax on the beach.
Optional Paragliding in Fethiye.
With its postcard-worthy backdrop of golden sands, forested mountains, and miles of azure ocean, it's no surprise that Fethiye is among the most-visited cruise ports on Turkey's Turquoise Coast. The town itself is equally attractive, with leafy seafront promenades, lively bazaars, and ancient ruins.
Overnight stay at hotel.

9
Fethiye- Antalya
Breakfast at hotel.
Check-out, Drive to Antalya (3,5 hours).
Arrive in Antalya.
Check-in to hotel.
Overnight stay at hotel.

10
Antalya
Breakfast at Hotel.
City tour of Antalya:- Hadrianus Gate- Hadrianus Gate or The Three Gates is a triumphal arch which was built in the name of the Roman emperor Hadrian. Antalya's broken wonder is the Broken Minaret of the Korkut Mosque, which itself was built originally as a Roman temple in the 2nd century AD, and thus did not have a minaret at all, The Clock Tower- The Clock Tower is a classic landmark in Antalya and is one of the few remaining Roman towers dating back to the second century. While the tower was once part of the city's fortifications, the clock was added later and today stands as a commandeering structure in the neighborhood area, Fluted Minaret- Antalya's most distinctive landmark is the YivliMinare (fluted minaret) built by the Seljuk sultan Alaeddin Kykubad (1219-36). The minaret is a typical example of Seljuk architecture with a square base surmounted by an octagonal drum bearing the fluted shaft with its corbelled gallery round the top. The attached 14th century mosque is still in use today, The ancient harbor- Today the harbor is still at the heart of Antalya, at water's edge in the historic core of the city called Kaleici (Old Antalya). It's now surrounded by restaurants and cafes, and is a favorite place to gather in the afternoon or evening to sip tea, coffee or a drink, or to share a meal and conversation with friends, Duden Waterfalls- The Duden Waterfalls sit at the end of the river of the same name, which winds its way through the Taurus Mountains before tumbling from a cliff into a valley next to the Mediterranean. The falls consist of two cascades, and the upper part is nearly 50 feet (15 meters) tall and 65 feet (20 meters) wide.
Return to Hotel.
Overnight stay at Hotel.

11
Fly Back Home
Breakfast at hotel.
Check-out.
Transfer to airport for flight home

As per mentioned in itinerary

As per mentioned in itinerary

English speaking tour guide

As per mentioned in itinerary
Visa
Click to view Visa information
Please note that these packages are customizable, which means that you will be able to make changes to the itinerary/activity if you so desire. The final payment will be calculated as per the itinerary and inclusions reflected on the confirmatory e-mail sent to you.
Please expect to receive your vouchers 72 hours before your departure date (subject to full payment of your package cost).
Personal expenses such as laundry, telephone calls, room service, alcoholic beverages, mini bars etc., are not included.
In case your package needs to be canceled due to any natural calamity, weather conditions etc. Dook Travels shall strive to give you the maximum possible refund subject to the agreement made with our trade partners/vendors.
The passenger names in the booking form should be exactly as per passports. Dook Travels will not bear any liability for the name change fee, if incorrect names and ages have been added at the time of booking.
Please note that your package includes baggage as per airlines policy. Any addition in baggage will be charged separately.
Standard check-in time at the hotel is normally 2:00 pm and check-out is 11:00 am. An early check-in, or a late check-out is solely based on the discretion of the hotel.
In case the selected hotel is unavailable for booking, an alternate arrangement will be offered to the customer in another hotel of a similar category.
Certain hotels may ask for a security deposit during check-in, which is refundable at check-out subject to the hotel policy.This amount has to be deposited by the traveler.
Please note that Day at Leisure essentially implies that no sightseeing activities have been included for that day.
Kindly be on time for your activities, tours and transfers. Dook Travels will not be liable for missing any activity thus for any refund against it in such cases.
No refund either in part or in full will be made for any unused part of the services provided in the package.
The package price doesn't include special dinner or mandatory charges at times levied by the hotels especially during New Year and Christmas or any special occasions. Dook Travels shall try to communicate the same while booking the package. However Dook Travels may not have this information readily available all the time.
Our package price does not include GST and TCS. Applicable GST and TCS will be charged over and above the package price.
For queries regarding cancellations and refunds, please refer to our Cancellation Policy.
For any paid activity which is non-operational due to any unforeseen reason, we will process the refund & should reach the guest within 30 days refund requisition. Also, for any activity which is complementary and not charged to Dook Travels & guests, no refund will be processed.
Our package prices are on twin sharing accommodation basis thus published prices are applicable for minimum two persons and multiple of two thereon.
As per RBI guideline every foreign traveler has to provide us his PAN details. The Dollar component of package price will be taken out of your BTQ (Basic Travel Quota).
The tour cost does not include any Overseas Insurance Premium, but we strongly recommend buying Overseas Insurance Policy. The same after issuance is non refundable.
These terms are general terms for our tour packages.Any term mentioned in proposal shall be considered part of it and in case of discrepancy term mentioned in proposal shall prevail.
Disputes, if any, shall be subject to the exclusive jurisdiction of the courts in New Delhi.
Payment Policy
Payment schedule depends on destination, time of booking, inclusions, airline and hotel payment policy etc thus it is specific to your package bookining.
Payment schedule will be part of our proposal to you for the package.
If payment is not made as per the schedule provided in the first booking confirmation e-mail, Dook Travels reserves the right to cancel the booking after attempting to get in touch with you. Refunds would be as per the package cancellation policy.
Cancellation Policy
Once Booking received : INR 5000 (Per PAX) + actual Ticket cancellation + Hotel cancellation as per hotel policy+Visa fee if visa is applied.
60 – 45 Days prior to departure : 25 % of land cost + INR 5000 (Per PAX) + actual Ticket cancellation+Visa fee if visa is applied.
45 – 30 days prior to departure: 50% of land cost + INR 5000 (Per PAX) + actual Ticket cancellation+Visa fee if visa is applied.
30 – 10 days prior to departure: 75% of land cost + INR 5000 (Per PAX) + actual Ticket cancellation+Visa fee if visa is applied.
Within 10 days: Full.