Incredible journeys to Ireland with DOOK!
No matter your travel style, we have a Ireland package tailored for you
Ireland Tour Packages
Explore Ireland with DOOK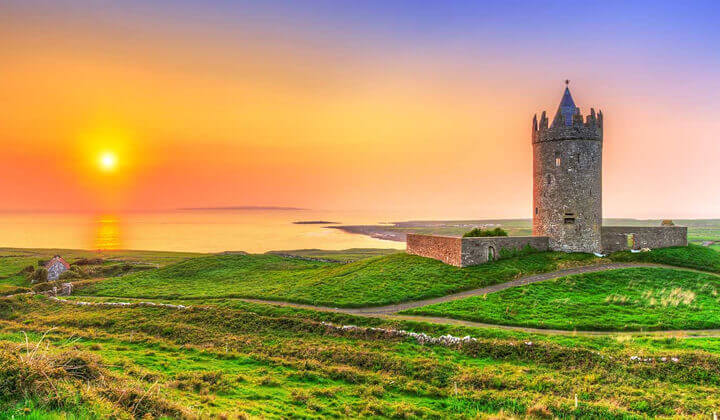 Ireland: The Land of rich Celtic Culture

Experience Ireland like never before with Dook's Ireland Packages

Ireland is well-known for its beautiful green scenery, rich celtic culture and friendly pubs and people. The little island has long been a famous tourist destination, with crumbling castles and attractive settlements strewn across its rich fields, valleys and rugged coastline. All of these will make your Ireland Tour unforgettable.

With Dook Travels' Ireland Tour Packages from India, explore destinations like the Emerald Isle, located in northwest Europe, surrounded by the wild waters of the North Atlantic and the Irish and Celtic seas. It is made up of both the Republic of Ireland and Northern Ireland of the United Kingdom. It is mainly made up of unending farms and fields with languid rivers, low-lying mountains, pockets of woodlands and patches of bogs here and there.

The Republic's capital Dublin, recognised for its rich literary legacy and historical landmarks such as Dublin Castle and Trinity College, is most people's first point of call. Cork and Galway are the most popular places to visit after visiting Temple Bar's bustling bars and fantastic eating options because of their superb food, outstanding live music scenes, and magnificent landscape. Aside from the evocative mediaeval cities of Killarney and Kilkenny and the gloomy Belfast attractions associated with the Troubles and the Titanic, the island's enchanting countryside and beautiful natural areas draw the majority of tourists. While the Cliffs of Moher and the Giant's Causeway are breath-taking, the picture-perfect Dingle Bay, the attractive Skellig Michael and the desolate, bleak vistas of The Burren are all equally exceptional.

Furthermore, Ireland is home to several remarkable ruins, castles and monastery complexes, with Glendalough, Newgrange, and Dun Aengus among the most impressive. The mediaeval castles of Blarney and Kilkenny and the beautiful Kylemore Abbey are not to be missed and included in our Ireland Tour Packages.

The Irish have a solid attachment to nature and rural life. The country's early coins even had animal images on them. Ireland's low urbanisation and pollution levels have kept much of the country's open landscapes virtually untouched. It is interesting to know that there are no wild snakes in Ireland. Many species native to mainland Europe have been prevented from reaching the island by the water. There are also just two types of wild mice, one type of reptile and three types of amphibians. Government conservation efforts safeguard Irish wildlife. Six national parks and hundreds of national historic sites have been established by the Government to preserve natural ecosystems, making your Ireland Tour complete with nature and adventure.

If you are interested in going on an eventful Ireland tour and witnessing the magnificent beauty and history Ireland has to offer, you are at the right place. With Dook's best Ireland Holiday Packages, experience Ireland like never before.

General Information for your Ireland Tour:

Capital: Dublin
Languages: Irish (Gaeilge) and English
Currency: Euro
Driving Side: Left
Best Time to Travel: June, July and August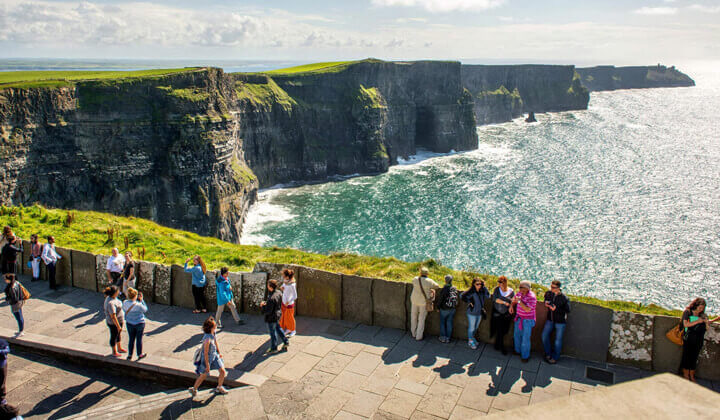 Explore Ireland

Ireland is often regarded as one of the top locations in the world for visitors seeking to immerse themselves in the environment and culture thoroughly. Ireland has established itself as a cultural hotspot, with fantastic music and literature regularly produced. As a result, visitors have a plethora of alternatives for plays, concerts, art events, and, of course, trekking and exposure to spectacular landscapes, old ruins, and charming folklore. Dook's Ireland Holiday Packages make sure that you experience all of them.

Endeavour on an Ireland Tour if you want to stare out over an open valley with nothing but the wind howling in your ear, a backpack on your shoulders, and adventure on the horizon. Dublin, Ireland's capital, is an excellent site to begin your Ireland tour. You'll be able to enjoy the terrific nightlife, exceptional Cuisine, and concerts, as well as all the trappings of a large metropolis. Galway is another city to include in your Ireland Packages, particularly if you wish to visit local bars and listen to live Irish music. The art galleries, bustling cafés, and charming boutiques make this city ideal for those searching for unique souvenirs. Kilkenny is a mediaeval city that you must see merely for the architecture and how it contrasts with the magnificent countryside.

Below is a list of destinations which are a must-to-have in your Ireland Packages:

1. The Amazing Cliffs of Moher

Finding the perfect words to describe the majestic Cliffs of Moher is difficult. Glorious and magnificent are the two words that come to mind, which they are, as well as being wholly untamed and gorgeous. The cliffs will be recognisable to anyone who has researched the Emerald Isle before going on your Ireland Tour, having appeared on innumerable postcards and guidebooks. However, no photograph can ever do them justice. For a good reason, this is one of Ireland's most popular tourist sites.

The cliffs, located around one and a half hours by driving from Galway in neighbouring County Clare, are visited by about a million tourists worldwide each year. It is a popular day excursion from Dublin. They run for eight kilometres along the Atlantic and reach a height of 214 metres at their peak. Take a trip down the route to witness nature's raw force at its most breathtaking.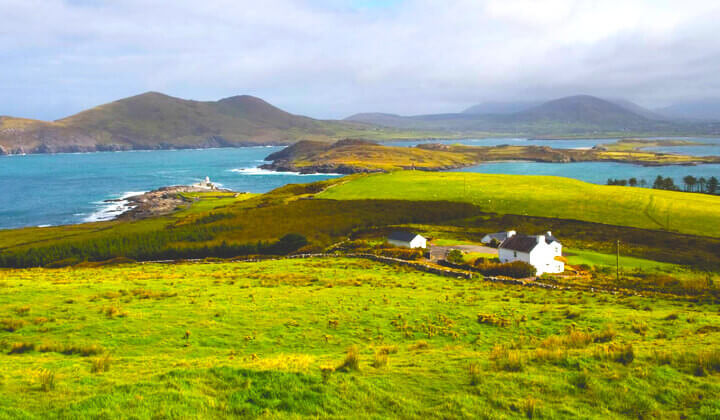 2. Explore the Fascinating Ring of Kerry

Take the time to explore perhaps Ireland's most gorgeous path included in your Dook's Ireland Tour Packages, the Ring of Kerry, often known as the 'Iveragh Peninsula'. While you may begin anywhere along this stunning 111-mile-long tourist route, most tourists start in Kenmare or Killarney and return to the same place. The journey may be completed in under three hours, but that is unlikely. On your way, there are breathtaking vistas of the Atlantic Ocean, magnificent islands to explore, vast sweeping mountains, and numerous charming settlements.

A wide variety of outdoor activities are available in this region of breathtaking natural beauty, including golf, water sports on beautiful beaches, cycling, strolling, horseback riding, fantastic freshwater fishing, and deep-sea fishing. Ogham Stones, Iron Age forts, and historic monasteries, all set against a backdrop of beautiful landscapes are available for history buffs to explore.

Top Bucket List Experiences in Ireland

1. Wander Through the Mystical Valley of Glendalough

One of Ireland's most significant monastic structures and a must-have in your Ireland Holiday Packages is located in the magical and mystical Glendalough. St. Kevin founded the community in the sixth century and gradually developed into what is currently referred to as the Monastic City. For thousands of years, tourists have travelled to the valley of the two lakes to take in its interesting archaeological treasures, beauty, plentiful wildlife and rich history. The monastery site, with its superbly preserved round tower, is a delight to explore, and the surrounding forests and lakes are ideal for strolling or pausing for a picnic. There are established nature paths to follow and a Visitor Centre with all the information you'll need for an unforgettable day out.

2. Visit The Dramatic Rock of Cashel

The Rock of Cashel, Ireland's most visited historical monument, appears in numerous photos of the Emerald Isle and is part of our Ireland Packages. During her formal trip to the country in 2011, Queen Elizabeth II of the United Kingdom even visited by helicopter. This remarkable set of mediaeval structures, perched on a rock formation in the Golden Vale, comprises the High Cross and Romanesque Chapel, the 12th-century round tower, a 15th-century fortress, a 13th-century Gothic cathedral, and many other places that will touch your spirit. For over seven centuries, the ancient Irish monarchs were housed in this towering building with gothic overtones. Among the structures you can visit here in your Ireland Tour is the renovated Hall of the Vicars Choral. Audio-visual spectacles and exhibitions are among the tourist attractions. It is also stated that previous to the Norman invasions, this was the seat of the High Kings of Munster.

3. Get in touch with Irish History at Blarney Castle and the Blarney Stone

The Blarney Stone, Ireland's most famous attraction and one of its must-see castles, rests high atop a tower of Blarney Castle, not far from Cork. It deserves to be explored and is included in our Ireland Tour Packages from India. The stone said to bestow the legendary Irish eloquence on those who dare to hang their heads over the parapets to kiss it is not the only incentive to visit Blarney Castle. Whatever your objectives are, Blarney Castle is one of the most wonderful spots to visit in Ireland and should not be missed.

Cormac McCarthy, an Irish chieftain, erected Blarney Castle more than 600 years ago, and you may visit the immense stone structure from its towers to its dungeons. It is surrounded by extensive gardens rich with stone features and hidden corners. Blarney Woollen Mills is famous for its sweaters and other knitwear, and it also includes a shop that sells crystal, china, and other Irish souvenirs. Visitors on their Ireland Tour throng here to see what remains of the castle, which has unfortunately had its fair share of violence.

4. Refresh your soul at the Torc Waterfall

It's simple to see why the Torc Waterfall is one of Ireland's top tourist attractions. Included in our Ireland Tour Packages, Torc is located in the middle of Killarney National Park. The Owengarriff River, which feeds the Waterfall, rises in "The Devil's Punchbowl" on adjacent Mangerton Mountain. The soothing sound of rushing water may be heard from the surrounding parking, which is only 200 metres away and a stroll for people who struggle with trekking. It is the most popular stop for visitors visiting the Ring of Kerry. Continue on the Kerry Way, a 200-kilometre well-marked walking track that arcs its way around the gorgeous Iveragh Peninsula on its way to and from nearby Killarney.

5. Indulge and Treat Yourself while Shopping in Ireland

A brief visit to the Emerald Isle on your Ireland Tour, even for a night or two, is well worth it. You can bring unique souvenirs from here. Ireland is a mecca for delectable small-batch handmade chocolate. Bean and Goose, for example, uses indigenous Irish ingredients like elderflower, blackberries, fennel, and rosemary in their cult-favourite confections. Ireland is also home to skilled potters, whose work ranges from traditional, Celtic-motif pieces for everyday use to one-of-a-kind, hand-crafted contemporary objects. For a classy splurge on your Ireland Tour, browse the housewares section of Brown Thomas in Dublin. Bee products are one of the most exciting things to buy from Ireland. Beekeeping has been a tradition in Ireland for hundreds of years. Not only is Irish honey recognised for its deep, rich clover flavour, but beekeepers have discovered innumerable inventive uses for bee products, ranging from candles to cosmetics. Finally, no Ireland Holiday Package is complete without purchasing an oversized woollen jumper to keep the biting cold at bay. Each stitch in the Aran Sweater market is steeped in tradition and symbolism. The cable knits represent fishermen's ropes and a wish for a bountiful catch. The diamond stitches are reminiscent of the Irish moss farmers use to fertilise fields, and the zig-zag stitches are reminiscent of the craggy cliffs along Ireland's coast. Shopping is an essential of your Ireland Packages so that you take home memories of this mesmerising country.

6. Explore the delicious Irish Cuisine

Food greatly influences your vacation, so it's crucial to be aware of the local delicacies and eateries. With our Ireland Holiday Packages, you get the complete Irish cuisine experience. One of the most common foods in Ireland is soda bread, which can be found in practically any restaurant or café. Another food you must try is Irish stew, a satiating dinner made with potatoes, carrots, and beef.

Seafood enthusiasts on their Ireland Tour should visit Ireland in September to attend the Galway Oyster Festival. Another delicious meal is Boxty, consisting of potato pancakes, loaves of bread, dumplings, and crispy bacon. You may also try this recipe with smoked salmon and crème fraiche. Black pudding is a must-try for those with a more adventurous pallet. It's created from suet, barley, and oats, as well as fat, blood, and hog flesh. If the thought of blood makes you uneasy, try white pudding instead - it's the same without the blood! Of course, Ireland is the place to go for beer because it is the birthplace of Guinness. Fermented milk is another popular beverage you should try at least once, as is Irish whisky.

Plan your trip to Ireland with Dook International!

Ireland is one of the most beautiful tourist destinations in Europe. It has numerous cities and attractions to explore and make unforgettable memories. On your Ireland Tour, visit lively cities with incredible music, indulge in Irish Whiskey, explore castles and cathedrals, refreshing waterfalls and nature, delicious delicacies, and more! With our Ireland Tour Packages from India, you will discover every hidden beauty and mystery of this beautiful country.

Plan your holiday to Ireland with Dook International and have new, unforgettable experiences with your friends and families while we care for the rest.