Incredible journeys to Brazil with DOOK!
No matter your travel style, we have a Brazil package tailored for you
Brazil Tour Packages
Explore Brazil with DOOK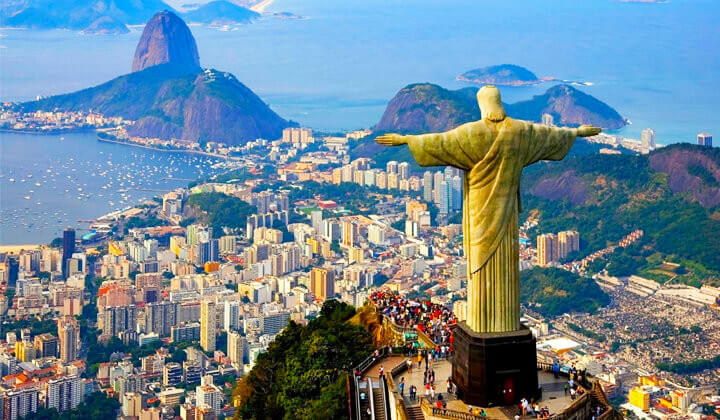 Brazil: Tropically blessed, culturally throbbing

Explore this pleasingly unique country with Dook's Brazil Tour Packages

Sultry yet favourable weather, satisfying food and good mood, music-soaked culture, colourful carnivals, coral-fringed islands and their long stretches of powdery beaches, majestic Amazon River…its wander-list can go on and on; for Brazil is not just a destination, it's a sensory overload! This country is the largest in South America and the fifth-largest in the world even though highly underrated. For curious travellers, Brazil is both a tropical paradise and a sensational cultural destination with attractions for all tastes, from delightful beach holidays and otherworldly nature explorations to rhythm-filled metropolises and the pulsating beats of Rio's Carnival.

This captivating country is way too massive to be described in a single sentence or a short paragraph and if you bring its tourism under the spotlight, it indeed is a major industry for Brazil and once you are here, it is hard not to say, "I want to come here again". There is unusual energy and a love for life that runs through every aspect of Brazilian culture, whether it's their Samba dancing, drumming in Carnival, indigenous and Portuguese influences; all of these and more come together to create such ambiance that you'll want to stay in forever. While most of the travellers prefer visiting the much-famed São Paulo and Rio de Janeiro that offer a peek into the intricate heritage and urban mosaic too hard to ignore, on the other hand, the wilderness of the Amazon rainforest and landmarks like Ignazau Falls gives access to the natural spectacles of Brazil. Then there's this infinite cultural energy of Alagoas, Pernambuco and Bahia, the strolls at the buzzing city of Copacabana, an exciting visit to UNESCO listed sites of Recife, the archaic looks of Salvador, the popular football centres, plenty of subtropical forests, historic neighbourhoods and unique attractions that make Brazil an amazing destination to explore. And there's no point not mentioning that Brazil adores music. Whether you are up to dancing with Cariocas at Rio's atmospheric samba clubs or following powerful drumbeats through the streets of Salvador, there's this endless variety of regional sights and sounds that will surely give you itching for a true Brazilian escapade. And if you are a tourist visiting from India, you are away from the hustles of acquiring a visa too! What more to ask for?!

Wondering that with so much on offer, how can you narrow down the best bucket list choices for your Brazil Tour? We are here to help you find the most suitable with our range of Brazil Tour Packages from India. Get in touch with our tour experts to get your Brazil Packages tailor-made while you gear up for a thrilling Brazil trip.

Capital: Brasília
Languages: Portuguese, English
Currency: Brazilian Real
Driving Side: Right
Best Time to Travel: The destination can be enjoyed round-the-year, but the most preferable time is between November and March.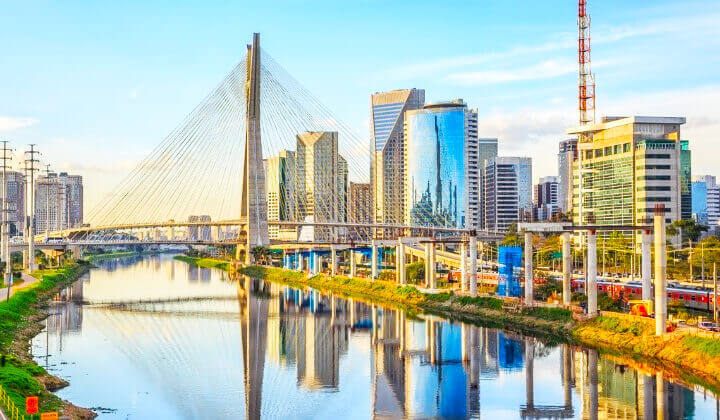 Explore Brazil

Brazil is a fusion of cultures, music, gastronomy, architectural and historic adventures and more; therefore, it's highly unlikely that you could tire out of all there is to see in this incredible country. From the invigorating Samba dances to the ethereal desert-like landscape of national parks to the unexplored chunks of the Amazon Basin, you'd be pushed to appreciate it all at once because this vastness and variations of sceneries and the cities surrounding them is what makes Brazil an interesting tourist destination.

Of course, Rio de Janeiro and Sao Paulo are two chosen top hotspots for a good reason but there is always room for more thrills. The capital city, Brasilia, is another important tourist centre where you would see most of the crowds while there are Ouro Preto, Manaus and Pantanal that are the added points of interest after Recife and Salvador. If you are longing for a coastal holiday, head to Paraty, Florianopolis, Ilhabela, or Búzios to enjoy the cheerful and sunny side of Brazilian life. Also, thanks to the country's tropical climate, there are sandy beaches for you to explore which have previously also become an inspiration for so many music hits. Not to forget, the country is awash with exceptional natural wonders including the world-famous Iguazu Falls, Lencois Maranhenses National Park, Canoa Quebrada, Amazon Rain Forest, Abismo Anhumas and many others that are hidden at the thriving corners of the country. If visiting during the festive season, you must also attend the happy fiestas in the country, one being Carnaval in Rio de Janeiro that storms through the country's cities with hip-shaking samba and frevo, dazzling costumes and parties enlivening the atmosphere and a few others including Oktoberfest of Blumenau and Carnaval of Salvador. Be sure to get mesmerized as these visual treats are bound to be both soul-soothing and exhilarating.

If you are still not sure whether Brazil should be your next holiday destination, our listicles of classic Brazilian cities and off-beat experiences below will get you going. To get your Brazilian tour customised according to your tastes and budgets, get in touch with the Dook team and take utmost benefit from our range of bespoke Brazil Holiday Packages. Pack your bags and get rolling- Brazil awaits!

1. Rio de Janeiro: The crowning jewel of Brazil

When it comes to the thrilling tourism in Brazil, no destination is as exciting and visually pleasing as Rio de Janeiro. Located in south-eastern Brazil, this city is the most visited in the entire South America region. It is world-famous for its Copacabana and Ipanema beaches, Christ the Redeemer statue and wild Rio Carnaval but there are plenty of top things to do here that are truly intoxicating for travellers. Awash with natural attractions like the Sugarloaf and Corcovado mountains and Tijuca National Park, Rio meets up with nature effortlessly.

Previously the capital city of Brazil, Rio de Janeiro has been recognised by UNESCO as a World Heritage site, specified as "staggeringly beautiful". Along with its stunning natural settings, the unique urban culture and architecture, along with its impressive green spaces make it easy to see why Rio is such a special destination to visit. In addition to its most famous attractions, the city offers countless other options focused on nature, adventure, religion, history and cultures, such as tours around the Botanical Garden and Lage Park, a ride on the Santa Teresa Tram and visits to the Metropolitan Cathedral, the Museum of Modern Art and the Museum of Tomorrow. Then there is an abundance of bars and dance clubs that keep you tapping your feet to the Brazilian beats. If arriving at the festive time, you'll soak up even more of the joyful celebrations and vibrancy, whether it's a football match, the Rio Carnaval or weekend samba parties.

All this and so much more can be added to your Brazil Tour itinerary. Get your Brazil Packages tailor-made from Dook's tour experts and explore Rio like a pro!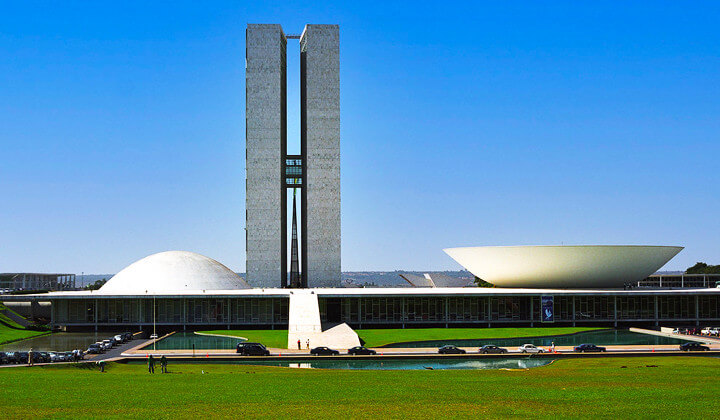 2. Sao Paulo: The delightful arty and cultural centre of Brazil

Brazil's largest city and the world's seventh-largest, São Paulo is considered as one of the significant destinations for business and pleasure travellers around the world. Particularly rich in historical and cultural value, this city gives a taste of Brazil and South America to the visitors, making the overall experience more authentic and fascinating. Because of its heritage, São Paulo is home to several statues, museums and galleries that create a perfect ambiance to wander around. The culture is spectacular too and there's a wide variety of ethnic groups represented in Sao Paulo, one being Japanese.

Separating the city between its old and new districts, Paulista Avenue is the city's busiest strip, brimming in businesses, shopping malls, art galleries, theatres, restaurants and cafes. Head downtown for the historic area and many of the main attractions and to the other areas for more of an insight into the daily life of the Paulistanos. In the evenings, aside from great nightlife, there is always something happening, whether it's a musical performance and international events or people cycling and rollerblading along the street. The city is also home to a wide range of culinary delights and is one of the top places to go in Brazil for foodies. The city's main crowd-pullers that need a mention on your Brazil Tour itinerary are Museu de Art (MASP), Patio do Colegio, Ibirapuera Park, to name a few.

Get Sao Paulo included in your Brazil Holiday Packages and gear up for being impressed by its arty and hearty surprises.

3. Brasilia: The capital of modern architecture

Instead of Rio, which is the most visited in the country, Brasilia is surprisingly known as the capital of Brazil and for a good reason. It is a masterpiece celebrated for its modern architecture and revolutionary designs and is a pre-planned city built from scratch in 1960- the reason why it was listed as a UNESCO World Heritage site.

During the visit to this city, visitors love to explore the creative masterstrokes like Cathedral Metropolitana Nossa Senhora Aparecida which is the landmark of Brasilia and has a spectacular glass roof. The other similar structures and attractions that bear testimony to the city's innovation and creativity include the Praca dos Tras Podere where the presidential office, the National Congress, and the Supreme Court buildings are located. In addition to all its ultra-innovative and modern creations, Brasilia also features several beautiful parks and lakes that all offer a variety of leisure activities. Head to explore Poço Azul ("Blue Pool"), a natural wonder has been formed out of a quartz rock, Parque Nacional de Brasilia, Pirenópolis, The Torto River Basin, Chapada dos Veadeiros and you'll be awed with amazement.

4. Salvador: A concoction of history, culture and celebrations

One of the historic old cities in Brazil, Salvador attracts visitors with its laid-back vibes, lively culture, stunning beaches, city attractions beaming with colonial architecture and the world-renowned Carnaval celebrations. Salvador is Brazil's third-largest city and the capital of the Bahia state. While it's one foot is still inside the traces of the old city's history with art galleries, churches and plazas, another is in the new thriving district where the modern-day developments of shopping megaplexes, entertainment venues and residential neighbourhoods add to the excitement.

During the days, you can explore the streets that are so charming that you feel like stepping back in time, especially in the historic centre Pelourinho. It is full of colourful, pastel colonial buildings and historic squares and has a wonderful atmosphere characterised by its welcoming locals. At night, you can take a ride on the Art Deco Lacerda Elevator on your way to the restaurants, bars. This beautiful city also offers access to some of the gorgeous beaches, giving you plenty of opportunities to enjoy sunbathing, swimming and surfing. Some of the most popular include Porto de Barra, Flamengo and Stella Maris. However, what makes Salvador stand out of the crowd are its numerous outdoor parties and the city´s street carnival which is a visual and sensory treat. Acclaimed as one of the largest and liveliest in the world, this extravagant event boasts an abundance of music, dancing, parades, glittering costumes and street parties.

Top Bucket List Experiences in Brazil:

1. Visit the awe-inspiring spectacle- Iguazu Falls

Any list of beautiful places in Brazil would not be complete without mentioning the name of Foz do Iguaçu (Iguazu Falls). One of Mother Nature´s greatest expressions of beauty, The Iguazu Falls consist of more than 270 waterfalls of different sizes that border Brazil, Argentina and Paraguay and is a spectacle that you must not miss visiting during your Brazil Tour. There are also these intricate series of footpaths and walkways that enable visitors to get up close to this natural wonder, but nothing beats the experience from Devil's Throat from where you can appreciate the power and majestic noise of waterfalls.

2. Stroll the coastal paradise of Paraty

Located along Brazil's Green Coast in Rio de Janeiro, Paraty is a tiny coastal gem popular with backpackers or as a perfect escape from the city's madness. Flanked by stunning mountains in its backdrop, Paraty is profusely rich with tropical forests, waterfalls, emerald sea and has a historic centre with its key attractions- the cobbled streets and multi-coloured colonial houses, many of which are turned into visitor lodgings now. You can spend hours exploring these streets, darting into small cafes, churches and modern galleries. What further adds to the town's beauty is the nearby island of Ilha Grande which gives access to activities like boat cruising and snorkelling and tropical hiking, horseback riding.

3. Join the happy, crazy crowds at the Rio Carnaval

Hands-down, one of the top things to do in Rio de Janeiro is to attend the Rio Carnival. Held six weeks before Easter every year, this five-day glittering, happy fiesta attracts over 80,000 people from across the globe. While thousands of people in colourful costumes sing their hearts out for their passion, there is an abundance of all-night parties that add to the experience. Samba parade happens to be the best part of this festival, competition between samba schools whereas the real culture of Brazil is displayed by the locals who encourage you to have as much fun as possible. It's a once-in-a-lifetime experience and one that you definitely can't afford to miss.

4. Experience the Copacabana vibes

For any tourists visiting Rio de Janeiro, Copacabana Beach is one of those places that need to be experienced. Once you are here, you'll be thrilled by the city's background separated from the clear beach by a beautiful promenade decorated by a wave motif. If you want to soak in the sun and sea vibes, water sports and hordes of sunbathing opportunities await. If you're not in the mood to put on your bathing costumes, taking a stroll on the promenade and sipping the caipirinhas will not be a bad idea either.

5. See the symbol of Brazilian Christianity- Christ the Redeemer

Of all the Brazil attractions, Christ the Redeemer is arguably the most famous landmark and one of the new seven wonders of the world. Located at the top of Corcovado Mountain, at a peak of 23000 feet this statue has a height of 98 feet and its arms stretch 92 feet wide. The symbolic Jesus Christ statue that looks over Rio represents the right arm pointing towards South Rio De Janeiro while the left pointing towards North Rio De Janeiro.

6. Take in the beachy magic of Florianópolis

Snuggled beautifully in the south of Brazil, Florianopolis has a scenic setting unlike any other city in Brazil. A very popular travel destination for locals and tourists alike, Florianopolis is a modern hub with lots of large shopping malls and chic restaurants, as well as lively bars and nightclubs. Despite all the city humdrum, it is a wonderful laidback place and its wealth of fabulous beaches (around 60) is a testimony. The island offers beaches for all people – some for a private feel, some perfect for long walks, others for surf, parties and fun, but all filled with welcoming locals. The seafood and beer both expectedly stand out and it is impossible not to love this unique place in Brazil. Do visit the Lagoinha do Leste beach, one of the secluded havens in Florianopolis.

Your journey into this incredibly thriving land begins with Dook:

Whether you want to experience the authentic Brazilian culture, jig to the beats of Samba, spend quality time in Rio de Janeiro, or enjoy incredible sights in the Amazon Rainforest, a trip to Brazil will always be unforgettable. Book your incredible Brazil Tour today with Dook and get the best offers on our bespoke Brazil Tour Packages from India.