Incredible journeys to Sri Lanka with DOOK!
No matter your travel style, we have a Sri Lanka package tailored for you
Sri Lanka Tour Packages
Explore Sri Lanka with DOOK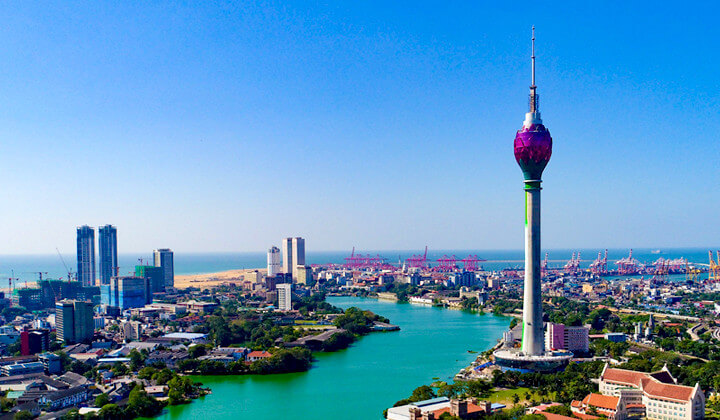 The myriad charms of Sri Lanka
Immerse in the country's must-sees with Dook
This mesmerising island nation with its idealistic landscapes, timeless ruins, lush green tea plantations, incredible beaches, enthralling culture and welcoming locals, feels like countless countries are rolled into one. Set in the heart of the Indian Ocean and in between the more trodden parts of India and Southeast Asia, Sri Lanka is moving forward quickly on the tourism graph as more people are keen to discover its countless wonders.
Once an underrated destination that was kept off many travel itineraries, Sri Lanka today, takes pride in being listed on the top amongst the best off-beat holiday destinations around the world. Although it may look like a tiny island, the country has a history that dates back to thousands of years and was once described by Marco Polo as 'the finest island in the world'. It is a place where nature's beauty remains unspoilt, the heavenly coastline invites you to explore its sunny and serene side of life, the fun train rides take you through the spectacular tea plantations and the rejuvenating Ayurvedic treatment offers a treat to your soul and body. Sri Lanka, therefore, unarguably lives up to its name as the pearl of the Indian Ocean.
If it's a place you haven't been to yet, you should book your Sri Lanka Tour Package with us. Our itineraries offer an interesting mix of all that this tropically rich country has to offer. Have a look here.
Capital: Colombo (Commercial)
Languages: Sinhala (official language), Tamil, English
Currency: Sri Lankan Rupee
Driving Side: Left
Best Time to Travel: December to March (for West & South coast), April to September (for the East coast)
Explore Sri Lanka
Because of its innumerable tourism offerings that cater to every segment of travellers, Sri Lanka's to-do list always seems never-ending. Once you step off the plane, prepare yourself for a refreshingly Sri Lankan experience that will leave you longing for more.
Over the years, Sri Lanka has witnessed a steady growth fuelled by developments and piles of compliments as a leading tourist destination. Thanks to its tropical climate, remarkable landscapes, captivating heritage and stunning coastline that the country has been able to top the tourism charts and bring to the world its parcel of many wonders.
Be it surfing in Arugam Bay, climbing the Sigiriya fortress, swinging in a Negombo beach bar, spotting leopards and elephants in Yala National Park, whale watching in Mirissa, hiking through the Verdant tea plantations or visiting the 'Little England' called Nuwara Eliya, Sri Lanka offers an eclectic mix of everything!
---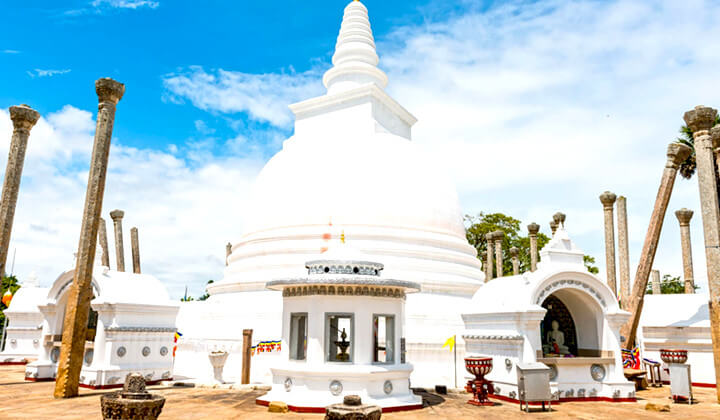 Colombo: The heart of Sri Lanka
It will be unfair to not visit this beautiful capital city once you're on an amazing Sri Lanka tour. Arguably the most popular of all cities in the country, Colombo lures visitors with its rich colonial heritage, sprawling food and spice markets, beaches, ancient temples and swanky skyscrapers rubbing shoulders with local shops and cafes.
The city is situated strategically on the western coast and is certainly the heart and soul of the country. Once in Colombo, you will be pressed for time as the city promises to offer an interesting mix of everything that caters to the tastes and preferences of leisure and business tourists alike. You can choose from taking a tuk-tuk ride, eating Kottu at local eateries, attending the meeting while sitting on the roof of chill-out bars or just drifting through the street shops and nearby beaches.
Undeniably, Colombo offers a wonderful contrast of leisure and vibrancy and the personalised Sri Lanka Holiday Packages by Dook give you a taste of both. Check out our latest itinerary here.
On the wander-list: Gangaramaya Temple, Pettah Market, Beira Lake, Red Mosque (Jami Ul Alfar), National Museum, Galle Face Green, The Dutch Hospital Complex, Mt Lavinia, Pinnawala Elephant Orphanage.
Anuradhapura: A passage to spirituality
The holy city of Anuradhapura is built around a cut piece from the Bodhi Tree or as the locals call it, the Tree of Enlightenment. Its historic importance and archaic structure have given Anuradhapura a UNESCO world heritage site title which has further retained its prominence as the most visited pilgrimage destination in the country.
Tourists visit this town for a spiritually rejuvenating getaway, to seek harmony and to satiate their curiosity around the sprawling ruins of Anuradhapura. Even though it's a large town situated in the heart of the cultural triangle, it still gives a feel of being in an ancient village that muse over their authentic Buddhist traditions and archaeological ruins. Along with the artistic temples of great importance, the city is dotted with well-preserved cultural sites, ponds and shining stupas.
On the wander-list: Sri Maha Bodhi, Ruwanwelisaya stupa, twin ponds, Thuparamaya, Archaeological Museum, Sigiriya or the Lion Rock.
---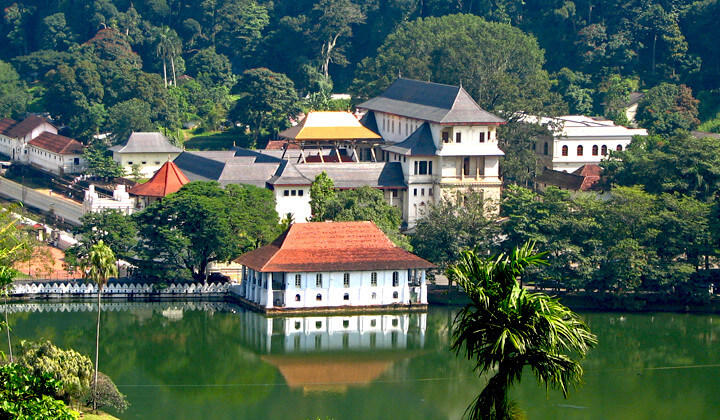 Kandy: Reliving the old-world charm
Known as the most important religious epicentre for its significance surrounding the related Temple of the Tooth Relic, Kandy is one of the largest sacred cities of Sri Lanka and a designated UNESCO World Heritage Site. It replicates a quaint town sitting on a plateau surrounded by mountains that are liberally covered with lush tea plantations and rainforest.
It is also known for a vibrant festival called The Esala Perahera, the annual 10-day torchlight parade of dancers and drummers, dignitaries and ornately decorated elephants that commemorate the sacred tooth. It is one of the largest Buddhist celebrations in the world.
What further adds to the appeal of the city is the scenic Kandy Lake which is famed as one of the popular tourist hotspots, popular for random strolls. The tour of aristocratic Botanical Gardens and temple-hopping remain the other main tourist activities in the city.
On the wander-list: The Temple of the Sacred Tooth Relic, International Buddhist Museum, Kandy Lake, Bahirawakanda Vihara Buddha, Botanical Gardens in Peradeniya
Negombo: City of sun, sea, sand and spices
A beautiful beachside town lying on the west coast and to the north of Colombo, Negombo, is one of the commercial hubs of the country of Sri Lanka. The city is famed for its beachside resorts and close proximity to Sri Lanka's International Airport because of which the city has become an easily accessible tourist destination.
Deriving its name from the Negombo lagoon, the humble fishing town is famous for its beaches and refreshing blue waters. Having a rich history of the trade of spices and seafood, the town today has become one of the newly added attractions to the itineraries. It is also known for its local shopping experiences that include brasswares, ceramics and hand-made jewellery and souvenirs that are both attractive and cost-effective. Other tourism attractions here include some of the best architectural feats that are dated way back to Sri Lanka's colonial period and reflect the city's Dutch history.
On the wander-list: Negombo Lagoon, Dutch Fort, Negombo Beach, Angurukaramulla Temple, Browns Beach, Morawal Beach, St. Mary's Church.
Nuwara Eliya: Nestled amongst nature
In central Sri Lanka, a gem sits peacefully on the tea hills surrounded by nothing but entrancing greenery. This beautifully tucked hill station called Nuwara Eliya is nothing less than a paradise on earth. Its portfolio of attractions includes tea plantations, breathtaking gardens, lakes and falls, national parks, golf courses, colonial-style buildings, temples and what not! No wonder why it is called the 'Little England'!
Out of the many visual treats that this beautiful town offers, one that takes the upper hand is Lake Gregory. It is a spectacular reservoir constructed back in 1873 and is popular for boat rides, jet skis and pony rides in the area. What further draws attention here are the waterfalls including Lover's Leap Falls, Bomburu Ella Falls, St. Clair's Falls and Devon Falls, dotting the region and these are nothing less than a visual treat. And of course, it is mandatory to make a special mention of the lush tea plantations for which the town is famous. This is has been certainly the major draw for the tourists visiting or even revisiting the city.
On the wander-list: Gregory Lake, Victoria Park, Pedro Tea Estate, Lover's Leap, Galway's Land National Park, Nanuoya Waterfall, Seetha Amman Temple, Adam's Peak, St. Clair's falls, Hakgala Botanical Garden, Horton Plains National Park, Kolapathana Waterfall, Bomburu Ella falls.
---
Top Bucket List Experiences
1. When in Colombo, tea tasting is 'the thing' to do
Whether you are a tea-positive traveller or a curious wanderer wanting to understand the culture and history of tea creation, Colombo has some of the best experts explaining the process with close detailing and affection.
Ceylon tea has long been renowned as the finest tea in the world, ever since it was initially planted in the island's hills by Scotsman James Taylor in the mid-19th century. If you do not have time to head to the tea plantations during your holiday but are interested in learning about Sri Lanka's tea business, this Colombo-based tea factory is the right choice. This guided tour helps you discover how the leaves are processed and packaged, before doing a tea tasting session. The tour is led by a professional tea-taster who is highly knowledgeable and is the ideal guide who helps you find your 'flavour'.
2. Climbing the ancient rock fortress of Sigiriya
Sigiriya, also called the lion rock fortress, is one of the top tourist attractions in Sri Lanka and also one of the seven UNESCO World Heritage sites in the country. It sits atop of the humongous 200-metre-tall rock while dominating the skyline. The steep climb is over 1000 steps but worth each one as you pass through the symmetric gardens and vibrant frescoes painted on the face of rock and then reach the zenith witnessing the sweeping views of the city. Try to arrive as early as possible to get the best light and avoid the afternoon heat.
3. Savour the Sri-Lankan food
It is an undoubted fact that Sri Lanka's culture and simplicity are very well reflected in its food. While many countries across the world boast their most lavish looking cuisines, Sri Lanka takes pleasure in celebrating their fiery curries and kotthu (roti bread). Also, there would be plenty of opportunities to relish the seafood that feels like coming straight out of a fisherman's hand. Desserts that are absolute favourites include the buffalo curd eaten with palm honey and the Malay-derived caramel-like wattalapam.
A note for those who love gourmet adventures, Sri Lanka's culinary tour is not just roaming around food stalls; it is an overwhelming cultural journey, leaving flavourful memories with you to take back home.
4. Go for a jeep-safari in Habarana, Sri Lanka
Habarana is a rural hamlet located in the north-central province of Sri Lanka and is known as the base for exploring the cultural triangle sites including Sigiriya and Anuradhapura. It is famously known for Minneriya National Park that is located between Habarana and Polonnaruwa. This park is an ideal way to opt for an adventurous jeep-safari. Get up and close with nature and the wildlife, especially the elephants. From rare reptiles to deers to hawks and many species of migratory birds, you can see every wildlife wonder here. You can also choose to stay in nearby lodges, hotels and even opt for guided camping and bird watching experiences.
5. Get enchanted by the idyllic beauty of Ella
A dreamy hill station with clean air and achingly beautiful green views all around, Ella is nothing less than a spectacular wonder of nature. It is to the south of both Nuwara Eliya and Kandy and is about 200 kilometres east of Colombo. Ideal for both thrill and comfort seekers, Ella has taken the place among the most popular choices in Sri Lanka tour itineraries.
Accommodation in Ella is aplenty and caters to every type of traveller. There are hundreds of guesthouses, homestays and boutique hotels in Ella giving the best views of Sri Lanka with a seemingly endless sprawl of lush tea plantations and rocky mountain ranges. You can easily get around Ella on foot or by tuk-tuk and can opt to fill your days with relaxing massages and tea tastings or go on adventurous hikes.
6. Spend time surfing or soaking sun in Bentota
The famous resort town of the country, Bentota is a mere 45 minutes drive from Colombo and is today, one the most favourable touristy places in Sri Lanka. Attracting the visitors from near and far, Bentota not just boasts the most premium resorts strategically set up on its shoreline; it also offers activities like fishing, diving, snorkelling, parasailing, dolphin watching and more. There's no wonder why the locals call it the water sports capital of Sri Lanka.
If sun, sand, surf and beach bars are on your mind, Bentota is an ideal place to be!
We plan, you explore! We create, you experience!
Right from the very first "Ayubowan" (welcome) greeting at the airport till the last "Bohoma Istouti" (Thank you very much), a fee-home trip is guaranteed. Let us be your travel mentors and we will make sure you explore Sri Lanka in an experience-rich way.