Essentials Of Silk Route Tour
Wander the ancient Silk Road in search of new adventures
Pkg Id

0000198

Destinations

4

Duration

12 Nights

Attractions

39

Price

Per person on twin sharing

(Exclusive of Taxes)

Hotel Category
Travel to four countries, five cities and the vast landscape of Central Asia in a legendary journey down the ancient Silk Road. Explore the ancient trade cities of Bukhara, Bishkek, Almaty, Dushanbe and Tashkent and trek the rugged landscapes of the Charvak Chimgan Mountains and the Ala Archa National Park, parts of the heavenly Tian Shan Mountain Range.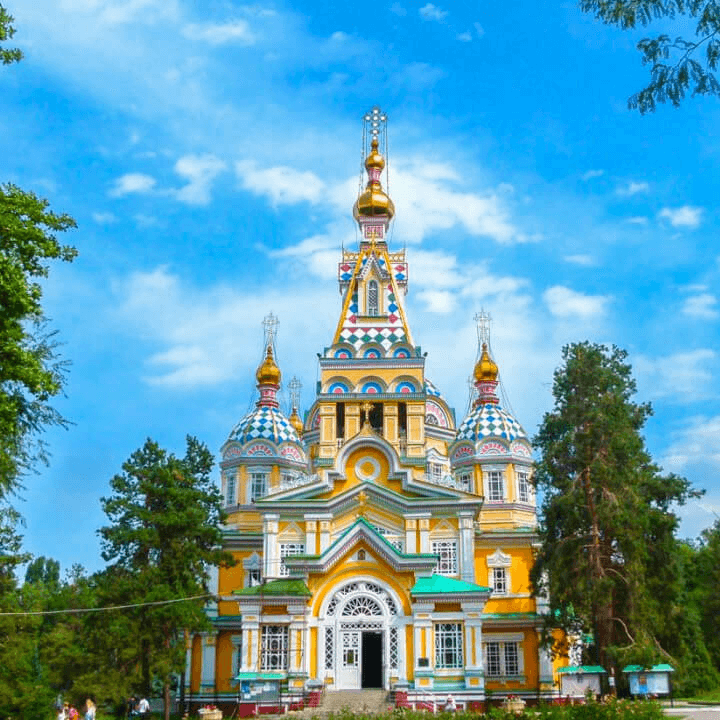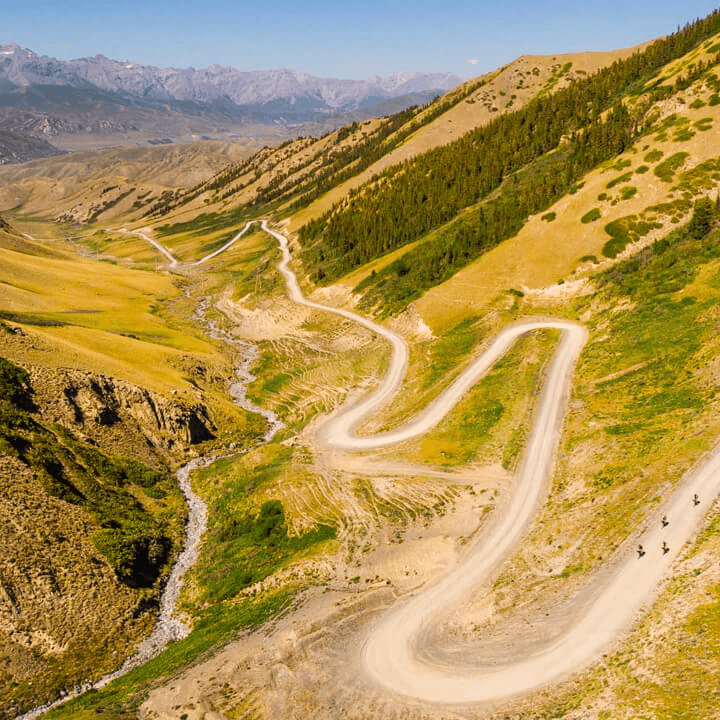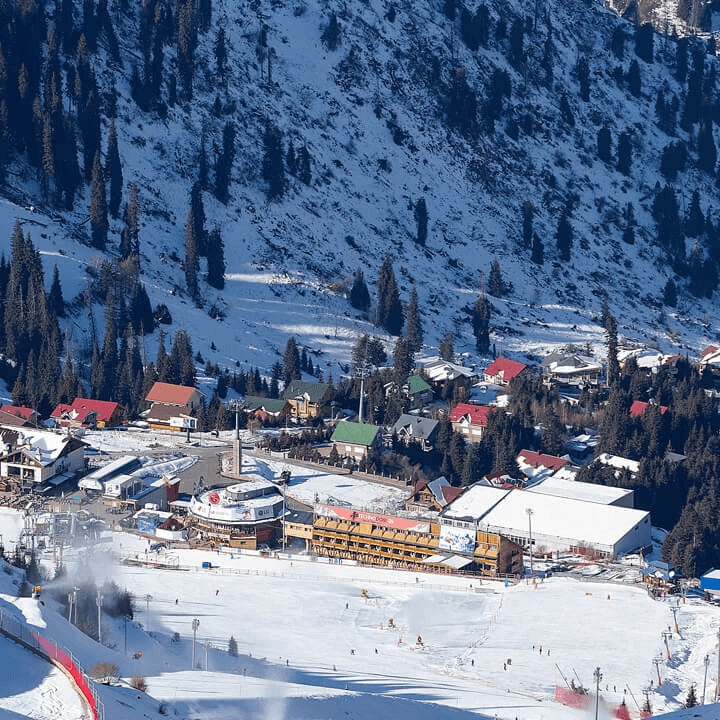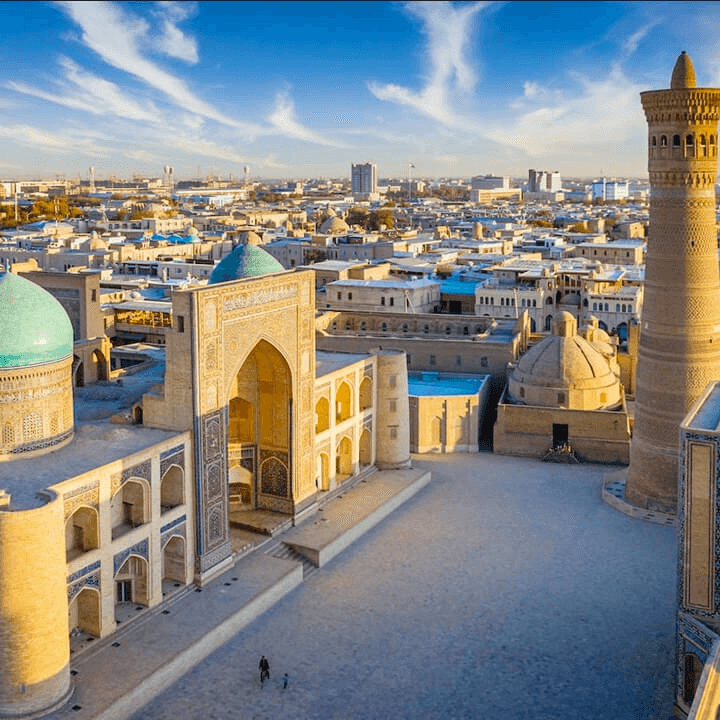 1
Arrival in Tashkent
Arrival in Tashkent Airport in Uzbekistan.
Transfer to Hotel check in and relax.
Day free at leisure.
20.00 Dinner at Indian Restaurant.
Transfer back to the hotel.

2
Charvak Chimgan
Enjoy the Buffet breakfast at the Hotel's coffee shop.
02 bottles of 0,5lt of water to be given per Pax.
10.00 Morning drive to "Chimgan" Mountains.80 kilometers away from Tashkent the "Ugam-Chotqol" National Park with resort areas "Chimyon stretches out in the western spurs of the "Tian Shan" Way Enjoy View of mountains and life of local people,11.30 Reaching the mountains the group will ride on Chair Lift going up to the top of the mountain (30 minutes). Enjoy free time at the mountain peak taking photos and videos for the memory.12.30 Take the Chair Lift for coming down the mountains (30 minutes).
Transfer the group to beautiful "Charwak" Lake, which is formed by joining of 4 biggest rivers forming the beautiful lake that's supply Tashkent city and its region with water all year round.
Transfer to Tashkent.
1700- Arrive at Tashkent.
Dinner at Indian Restaurant.
Transfer Back to Hotel.
Overnight in Tashkent Hotel.
3
Tashkent Morning Full Day Tour
Breakfast at Hotel.
After Sumptuous proceeds with Panoramic City Tour of Beautiful Tashkent visit Monument of Courage, Romanov Prince Duke Residence,Romanov Prince Duke Residence, Memorial of Repressions Victims with the traditional ornaments, Tashkent TV Tower (outside only), Visit Hazrat Imam complex, Old City.
Today Tashkent is the modern capital of Uzbekistan, which practically has not One of them is the Tashkent Metro, the first underground transport in Central Asia.
Construction of the Tashkent metro began two years later after the destructive earthquake in 1966. Also the Increase of Population in the Capital caused to the Construction of Rapid and Comfortable Public Transport System.
First Line of Metro is opened in 1977 in honor of 60th anniversary of the USSR and Connected to the most Populous district Chilanzar with the Center of the City.
Return back to Hotel and Overnight stay at Hotel.
4
Tashkent- Samarkand
Breakfast at Hotel.
Samarkand is a city in Uzbekistan known for its mosques and mausoleums. It's on the Silk Road, the ancient trade route linking China to the Mediterranean.
Prominent Landmarks include the Registan, a plaza bordered by 3 ornate, majolica-covered madras as dating to the 15th and 17th Centuries and Gur-e-Amir, the Towering tomb of Timur(Tamerlane),founder of the Timurid Empire.
Return Back to Hotel and Overnight stay at Hotel.
5
Tashkent- Almaty
Breakfast at Hotel.
Transfer to Almaty.
Check-in at Hotel in Almaty
Dinner at Indian Restaurant.
Free Time to Explore- Night Life Activities on your Own.
Overnight at Hotel.
6
Almaty City Tour
Breakfast at Hotel.
Almaty city Tour with English speaking guide.
You will know more about history and development of the southern capital of Kazakhstan and see its major attractions, Palace of President, Republic Square and Monument of Independence, and Astana Square, Panfilov Park, Abai Square and Palace of Republic, Presidential Park.
Continue Almaty City Tour, Rakhat Chocolate Factory shop and Local Market Zilyoni -Bazar.
You can buy Chocolates from Rakhat Chocolate Factory shop;can buy Dry Fruits at cheap rates and some souvenirs from Zilyoni Bazar.
Transfer to Hotel.
Time to Relax a bit after long walk.
Transfer for Dinner at Indian Restaurant at 20:30 PM
Transfer Back to Hotel at 10:30 PM.
Free time – can explore night activities at you own .
Overnight in hotel

7
Almaty- Medows & Chimbulak
Breakfast at Hotel.
Transfer to excursion at 10:30 AM.
This tour provides you the best opportunity to see the beautiful mountain surroundings of Almaty city. The first stop of the tour awaits you in the Medeo Gorge, where in the Wonderful Monuments of Trans-Ili Ala- Tau the Largest high mountain skating rink in the world is located as well as the huge dam, protecting the city from destructive mudflows formed on the tops of the western Tien Shan.
Next destination is Chimbulak ski resort (Cable Car Fee Included), located at an altitude of 2230 meters above sea level. It is very popular for its mild climate, large quantity of sunny days and snow through the winter and remarkable scenery of mountain ranges.
Free time to Look Around!!!!
Transfer to hotel
Free time at your own.
Transfer for Dinner at Indian Restaurant at 20:30
Transfer to Hotel at 10:30 PM.
Free time – can explore night activities at you own.
Overnight in hotel.

8
Issyk Lake & Kok Tobe Tour
Breakfast at Hotel.
Morning proceed towards the tour of Issyk Lake.
This tour takes you to one of the most beautiful gorges of Trans-Ili Alatau, Issyk Gorge, which Lies along the Kuldja tract where hundreds of years ago the trade caravans traveled.
On the way you will learn a lot about the nature and history of this region and see the burial mounds of Saka period, where the famous "Golden Man" was found, which has become the state symbol of the Republic of Kazakhstan.
You will also visit the original farm complex- Ostrich Farm, where you will not just see the African ostriches, but also have an opportunity to taste dishes cooked from ostrich meat and eggs. Then the tour route will take you to an altitude of 1756 meters above sea level, to the beautiful Mountain Issyk lake, Located in the valley with the same name.
The lake was formed about 10,000 years ago due to colossal landslide, resulted in the formation of the natural dam of 300 meters in height.
On the lake you will enjoy the majestic beauty of its turquoise water Surface and the Issyk Gorge, as well as listen to the details of the natural disaster of 1963.
At the lake you will have a picnic and free time for recreation at nature. Later in Afternoon/Evening Proceed towards the tour of Kok-Tobe . It is a mountain which is the Highest Point of Almaty. Kazakhstan's largest city. There is a popular recreation area on top of the mountain. The mountain's height is 1100 meters above sea level. Kok-tobe is one of the main landmarks in the city, and it is popular among vis and tourists to Almaty. The Kok-Tobe recreational area has a variety of amusement park type attractions and restaurants. It is connected to downtown Almaty by a cable car line. The City Terminal is located near Hotel Kazakhstan. Also, there is a 372 the mountain. The tower can be seen from most parts of the city.
Free time to explore on your own.
Transfer Back to Hotel at 06:00 PM.
Transfer for Dinner to Indian restaurant at 20:30 PM
Transfer Back to Hotel at 10:30
Free time – can explore night activities at you own
Overnight stay at Hotel.
9
Charyn Canyons
Breakfast at Hotel.
The canyon formation is along the banks of the fast flowing Charyn River in a northern flow stretch of about 80 kilometers, which is a tributary of the Ile River; the river has a total length of 393 kilometers.
The river rises from the Tian Shan Mountains that is spread over the arid semi- to 300 meters. The geological formation of the canyon is of sedimentary red sandstone which have been subject to the "atmogenic process" of water and wind erosion resulting in "weird and colorful formations" in the form of sculptures.
Transfer Back to Hotel.
Free time – can explore night activities at you own

10
Almaty-Bishkek (By road 04 Hrs)
Breakfast at Hotel.
Arrival in Bishkek
Check-in to the Hotel
Day Free At Leisure
Dinner at Indian Restaurant.
Transfer Back to Hotel.
Free Time to Explore Night Activities on your own.
Overnight at Hotel.

11
Bishkek City Tour
Breakfast at Hotel.
City tour of Bishkek: Juma Mosque the biggest in the city, Medical Academy, Victory Monument with the eternal flame Dedicated to the heroes of the second world war, Kyrgyz Drama Theatre, The monument to the national hero Urkuya – the symbol of Freedom, the main square Ala-Too where white house is located encouraged by the monument of the Manas the Great-The National her of Kyrgyz nation.
Dinner at Indian Restaurant.
Free Time- can explore night Life Activities on your own.

12
Bishkek – Ala – Archa National Park
Breakfast at the Hotel.
Excursion to National Park Al Archa. It is located in a picturesque gorge of Ala- Archa, Which is located in 45 Km off from Bishkek. Enjoy beautiful view and trek up the Ak Sa George1300 Hrs.
Transfer back to Bishkek.
Free Time to Explore City on your own.
Transfer Back to Hotel.
Transfer for Dinner.
Dinner on your own at Indian Restaurant.
Transfer to Hotel.
Free Time- to explore night Life activities on your own.
Overnight stay at Hotel.
13
Back to Home
Breakfast at Hotel.
Check out from Hotel.
Transfer to Airport for your onward journey.
Visa
Click to view Visa information
General Terms
Please note that these packages are customizable, which means that you will be able to make changes to the itinerary/activity if you so desire. The final payment will be calculated as per the itinerary and inclusions reflected on the confirmatory e-mail sent to you.
Please expect to receive your vouchers 72 hours before your departure date (subject to full payment of your package cost).
Personal expenses such as laundry, telephone calls, room service, alcoholic beverages, mini bars etc., are not included.
In case your package needs to be canceled due to any natural calamity, weather conditions etc. Dook Travels shall strive to give you the maximum possible refund subject to the agreement made with our trade partners/vendors.
The passenger names in the booking form should be exactly as per passports. Dook Travels will not bear any liability for the name change fee, if incorrect names and ages have been added at the time of booking.
Please note that your package includes baggage as per airlines policy. Any addition in baggage will be charged separately.
Standard check-in time at the hotel is normally 2:00 pm and check-out is 11:00 am. An early check-in, or a late check-out is solely based on the discretion of the hotel.
In case the selected hotel is unavailable for booking, an alternate arrangement will be offered to the customer in another hotel of a similar category.
Certain hotels may ask for a security deposit during check-in, which is refundable at check-out subject to the hotel policy.This amount has to be deposited by the traveler.
Please note that Day at Leisure essentially implies that no sightseeing activities have been included for that day.
Kindly be on time for your activities, tours and transfers. Dook Travels will not be liable for missing any activity thus for any refund against it in such cases.
No refund either in part or in full will be made for any unused part of the services provided in the package.
The package price doesn't include special dinner or mandatory charges at times levied by the hotels especially during New Year and Christmas or any special occasions. Dook Travels shall try to communicate the same while booking the package. However Dook Travels may not have this information readily available all the time.
Our package price does not include GST and TCS. Applicable GST and TCS will be charged over and above the package price.
For queries regarding cancellations and refunds, please refer to our Cancellation Policy.
For any paid activity which is non-operational due to any unforeseen reason, we will process the refund & should reach the guest within 30 days refund requisition. Also, for any activity which is complementary and not charged to Dook Travels & guests, no refund will be processed.
Our package prices are on twin sharing accommodation basis thus published prices are applicable for minimum two persons and multiple of two thereon.
As per RBI guideline every foreign traveler has to provide us his PAN details. The Dollar component of package price will be taken out of your BTQ (Basic Travel Quota).
The tour cost does not include any Overseas Insurance Premium, but we strongly recommend buying Overseas Insurance Policy. The same after issuance is non refundable.
These terms are general terms for our tour packages.Any term mentioned in proposal shall be considered part of it and in case of discrepancy term mentioned in proposal shall prevail.
Disputes, if any, shall be subject to the exclusive jurisdiction of the courts in New Delhi.
Payment Policy
Payment schedule depends on destination, time of booking, inclusions, airline and hotel payment policy etc thus it is specific to your package bookining.
Payment schedule will be part of our proposal to you for the package.
If payment is not made as per the schedule provided in the first booking confirmation e-mail, Dook Travels reserves the right to cancel the booking after attempting to get in touch with you. Refunds would be as per the package cancellation policy.
Cancellation Policy
Once Booking received : INR 5000 (Per PAX) + actual Ticket cancellation + Hotel cancellation as per hotel policy+Visa fee if visa is applied.
60 – 45 Days prior to departure : 25 % of land cost + INR 5000 (Per PAX) + actual Ticket cancellation+Visa fee if visa is applied.
45 – 30 days prior to departure: 50% of land cost + INR 5000 (Per PAX) + actual Ticket cancellation+Visa fee if visa is applied.
30 – 10 days prior to departure: 75% of land cost + INR 5000 (Per PAX) + actual Ticket cancellation+Visa fee if visa is applied.
Within 10 days: Full.