Croatia And Montenegro Private Tour
10 days in the Adriatic: exploring Croatia and Montenegro
Pkg Id

0000194

Destinations

3

Duration

9 Nights

Attractions

4

Price
Medieval towns, blue waters and natural wonders, lose yourself in the remarkable cities of the Adriatic Coastline and unravel the history of the region. Get lost in the alleyways of the medieval Kotor and Split, explore natural wonders like the stepped waterfalls of Plitvice and the Blue Cave and experience the modern Adriatic culture in Zagreb and Podgorica.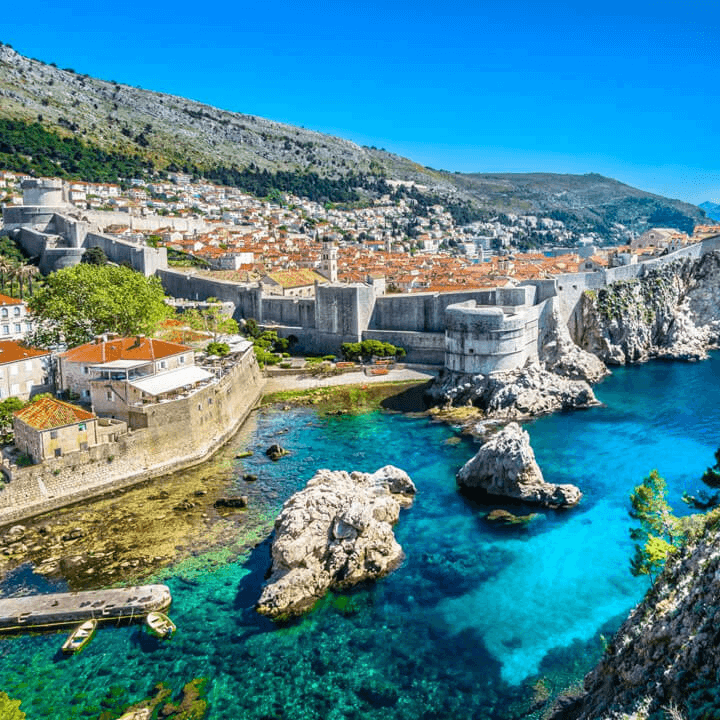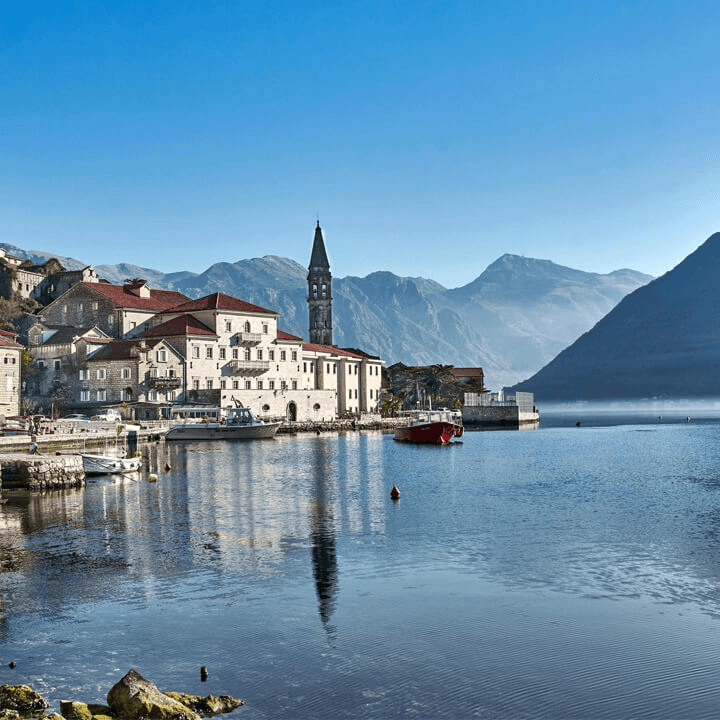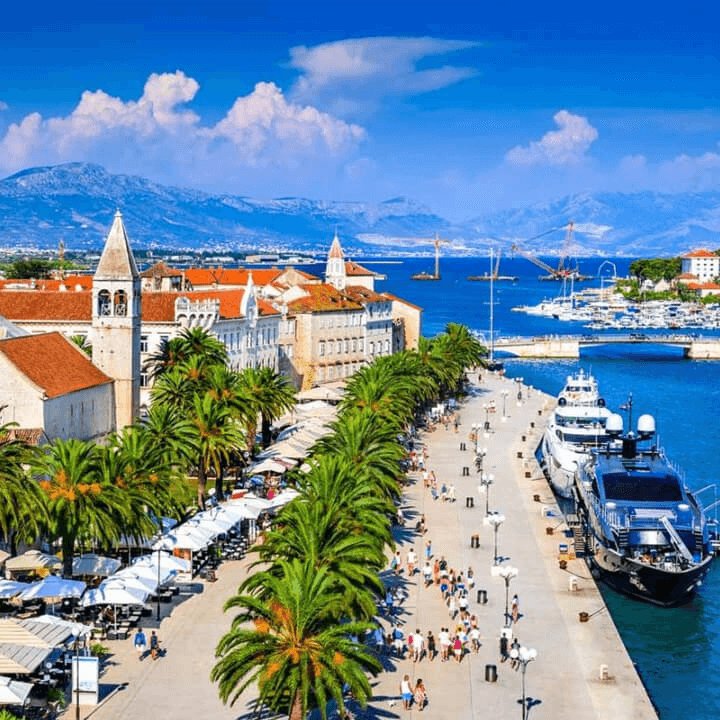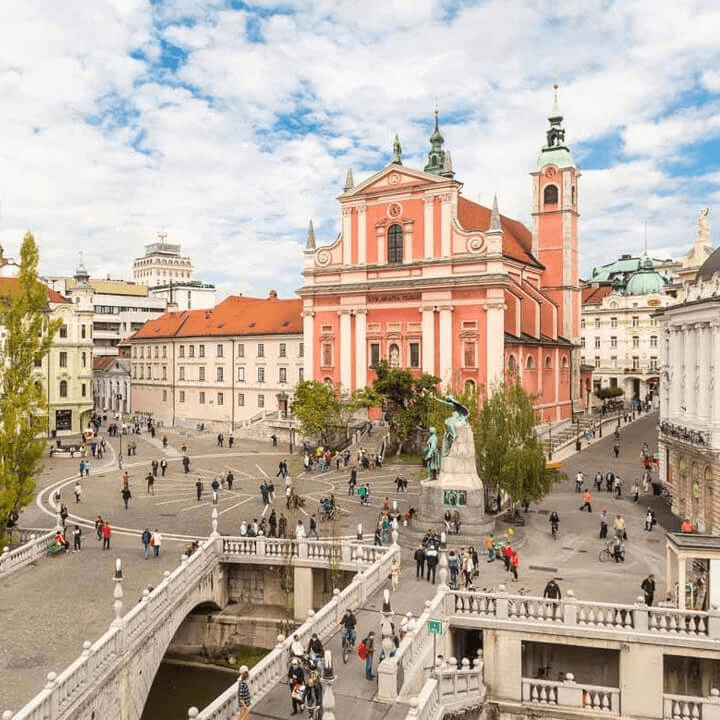 1
Arrival at Zagreb
Arrival to Zagreb airport. Our tour escort will host you from outside airport
Transfer to the hotel
Check in to Hotel
Free time to explore the city on your own
Overnight at the hotel in Zagreb area

2
Zagreb
Breakfast at the hotel.
Zagreb sightseeing tour with local guide .
Zagreb grew up on two neighboring hills : Kaptol - the center of spiritual and religious life of north-western Croatia and Gradec - the commercial center of skillful tradesmen and craftsmen.

T

ake an easy walk with your guide, visiting the Upper Town with its Gothic Cathedral, the beautiful and ornate St. Catherine's church or the massive St. Mark's church with its famous color-tiled roof.
Continue to the medieval Stone Gate and "Dolac", the open-air market which are a must for all visitors.
Overnight at the hotel in Zagreb.

3
Zagreb to Split
Breakfast at the hotel.
Private transfer from Zagreb to Split, visiting Plitvice National Park en route.
Free time for the visit of Plitvice national park.
Plitvice National Park is one of the most beautiful and best-preserved national parks in the country.
It is a valley situated between high forested mountains in which lie, one below another, a string of sixteen beautiful lakes of crystal blue and green waters.
On the way you will view

small streams and brooks, they spill into each other in 92 foaming cascades and thundering waterfalls.
The lakes themselves cover about 2 square kilometres and the entire national park covers 200 square kilometres.
The Plitvice lakes scenery will simply delight you regardless whether you are walking the paths and wooden bridges, taking a boat ride or just taking photographs.
Transfer continues to Split .
Overnight at the hotel in Split.

4
Split
Breakfast at the hotel.
Optional: Blue Cave and Hvar excursion from Split (Duration approx. 8 hrs)
Witness the originality and magnificence of the Blue Cave on Biševo Island.
Enter inside Green Cave and float in Stiniva Cove, taking in the towering cliffs that encircle you.
Strap on your diving mask and explore a thriving underwater world by Budikovac Island before visiting Palmižana Bay.
Sign off your day with a stroll through the quaint streets of Hvar Town, lined with Venetian palaces, a palm-dotted seafront, and bustling squares.
Overnight at the hotel in Split area.

5
Split
Breakfast at the hotel.
Split sightseeing tour with local guide (Duration approx. 2 hrs).
The Split private tour will take you along the Old City to visit main sights , the old town of Split is built on and around the spectacular Roman Palace .
The walking tour starts with a visit to the cellars of the Palace that are still very well preserved. The cellars offer a good view at how the life in the Palace was organized.
The Cathedral St. Duje is a complex of a church, formed from an Imperial Roman mausoleum, with a bell tower; strictly the church is dedicated to the Virgin Mary,and the bell tower to Saint Duje. Together they form the Cathedral of St. Duje.
Free time to explore the city on your own.
Private transfer from Split to Dubrovnik
En route stop in Ston for personal exploring ston is a small town on a narrow isthmus connecting the peninsula of Peljesac with the mainland, known for their traditional salt production, construction of a huge, fortified complex encompassing the settlements of Mali and Veliki Ston and high-quality oysters/mussels.
The best oysters in Croatia and the world come from Mali Ston bay, which has been famous for seashell cultivation since the Roman Empire days.
Transfer continues to Dubrovnik.
Overnight at the hotel in Dubrovnik .

6
Dubrovnik
Breakfast at the hotel.
Dubrovnik sightseeing & cable car tour with local guide(duration approx. 2 hrs)
This walking tour will open the doors to you to one of the largest and most luxurious open-air museum town.
You depart on foot from Pile square to the newly renovated Cable Car station, which will take you to the best panoramic view from the Srd hill.
The bird's eye view on the greatness of the old Dubrovnik bathed in the sun will be a sight you will never forget.
A clear day will grant you views of up to 60 kilometers and ample photo opportunities. Once returned, the guide will lead you by foot through the narrow streets of the Old Town for the walking part of the tour.
Rest of the day at leisure.
Overnight at the hotel in Dubrovnik area

7
Dubrovnik to Kotor
Breakfast at the hotel.
Private transfer from Dubrovnik to Kotor .
En route stop in Perast for personal exploring and photo stop.
Enjoy the drive around the Kotor Bay with its numerous small settlements. Enjoy a walk in Perast, city of famous sailors, Continue to Kotor.
Kotor sightseeing tour with local guide .
Kotor is located along one of Montenegro's most beautiful bays, a city of traders and famous sailors, with many stories to tell .
The Old City of Kotor is a well-preserved urbanization typical of the middle Ages, built between the 12th and 14th century .
Medieval architecture and numerous monuments of cultural heritage have made Kotor a UNESCO listed "World Natural and Historical Heritage Site".
Transfer continues to Budva .
Overnight at the hotel in Budva .

8
Drive from Budva to Sveti Stefan
Breakfast at the hotel.
Full day tour Skadar National Park .
Drive from Budva to Sveti Stefan, for a panoramic photo stop.
Continue to Virpazar, for a visit of the last habitat of pelicans and the largest bird reservation in Europe. Experience one of the last sweet water swamps along the Mediterranean, the biggest lake in the Balkans.
The proud owner of all these superlatives is Skadar Lake - Skadarsko Jezero as it is known in the Montenegrin language.
These are the reasons for declaring it a National Park : 264 species of birds, 48 species of fish, 30 submarine springs called "oka", numerous islands, fish colonies and a complex of Monasteries - so, if you want to enjoy the day !
Overnight at the hotel in Budva .

9
Transfer from Budva to Podgorica
Breakfast at the hotel.
Transfer from Budva to Podgorica.
Podgorica sightseeing tour .

Podgorica is the administrative capital of Montenegro, its cultural and economic center. The town was always on the crossroad of caravans and armies - from the period of Illyrian-Roman wars , it has witnessed Greek travelers, Roman legionnaires, Byzantine messengers, Serbian noblemen, Venetian merchants, Turkish invaders, Montenegrin warriors, Fascist occupiers and Yugoslavian liberators.

Free time to explore the city on your own.
Overnight at the hotel in Podgorica.

10
Departure
Breakfast at the hotel.
Check out from the hotel.
Transfer to Podgorica airport for your onward journey

Accommodation in Hotels including breakfast

As per mentioned in itinerary

English Speaking Tour Guide

Return Airport Transfers on Private basis

As per mentioned in itinerary
Visa
Click to view Visa information
General Terms
Please note that these packages are customizable, which means that you will be able to make changes to the itinerary/activity if you so desire. The final payment will be calculated as per the itinerary and inclusions reflected on the confirmatory e-mail sent to you.
Please expect to receive your vouchers 72 hours before your departure date (subject to full payment of your package cost).
Personal expenses such as laundry, telephone calls, room service, alcoholic beverages, mini bars etc., are not included.
In case your package needs to be canceled due to any natural calamity, weather conditions etc. Dook Travels shall strive to give you the maximum possible refund subject to the agreement made with our trade partners/vendors.
The passenger names in the booking form should be exactly as per passports. Dook Travels will not bear any liability for the name change fee, if incorrect names and ages have been added at the time of booking.
Please note that your package includes baggage as per airlines policy. Any addition in baggage will be charged separately.
Standard check-in time at the hotel is normally 2:00 pm and check-out is 11:00 am. An early check-in, or a late check-out is solely based on the discretion of the hotel.
In case the selected hotel is unavailable for booking, an alternate arrangement will be offered to the customer in another hotel of a similar category.
Certain hotels may ask for a security deposit during check-in, which is refundable at check-out subject to the hotel policy.This amount has to be deposited by the traveler.
Please note that Day at Leisure essentially implies that no sightseeing activities have been included for that day.
Kindly be on time for your activities, tours and transfers. Dook Travels will not be liable for missing any activity thus for any refund against it in such cases.
No refund either in part or in full will be made for any unused part of the services provided in the package.
The package price doesn't include special dinner or mandatory charges at times levied by the hotels especially during New Year and Christmas or any special occasions. Dook Travels shall try to communicate the same while booking the package. However Dook Travels may not have this information readily available all the time.
Our package price does not include GST and TCS. Applicable GST and TCS will be charged over and above the package price.
For queries regarding cancellations and refunds, please refer to our Cancellation Policy.
For any paid activity which is non-operational due to any unforeseen reason, we will process the refund & should reach the guest within 30 days refund requisition. Also, for any activity which is complementary and not charged to Dook Travels & guests, no refund will be processed.
Our package prices are on twin sharing accommodation basis thus published prices are applicable for minimum two persons and multiple of two thereon.
As per RBI guideline every foreign traveler has to provide us his PAN details. The Dollar component of package price will be taken out of your BTQ (Basic Travel Quota).
The tour cost does not include any Overseas Insurance Premium, but we strongly recommend buying Overseas Insurance Policy. The same after issuance is non refundable.
These terms are general terms for our tour packages.Any term mentioned in proposal shall be considered part of it and in case of discrepancy term mentioned in proposal shall prevail.
Disputes, if any, shall be subject to the exclusive jurisdiction of the courts in New Delhi.
Payment Policy
Payment schedule depends on destination, time of booking, inclusions, airline and hotel payment policy etc thus it is specific to your package bookining.
Payment schedule will be part of our proposal to you for the package.
If payment is not made as per the schedule provided in the first booking confirmation e-mail, Dook Travels reserves the right to cancel the booking after attempting to get in touch with you. Refunds would be as per the package cancellation policy.
Cancellation Policy
Once Booking received : INR 5000 (Per PAX) + actual Ticket cancellation + Hotel cancellation as per hotel policy+Visa fee if visa is applied.
60 – 45 Days prior to departure : 25 % of land cost + INR 5000 (Per PAX) + actual Ticket cancellation+Visa fee if visa is applied.
45 – 30 days prior to departure: 50% of land cost + INR 5000 (Per PAX) + actual Ticket cancellation+Visa fee if visa is applied.
30 – 10 days prior to departure: 75% of land cost + INR 5000 (Per PAX) + actual Ticket cancellation+Visa fee if visa is applied.
Within 10 days: Full.