Albania Riviera
Pkg Id

0000406

Destinations

1

Duration

5 Nights

Attractions

8

Price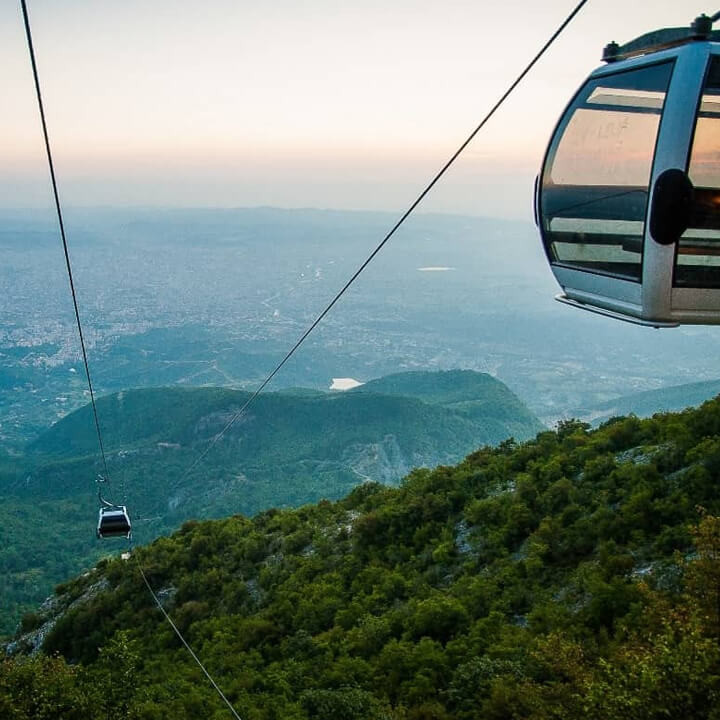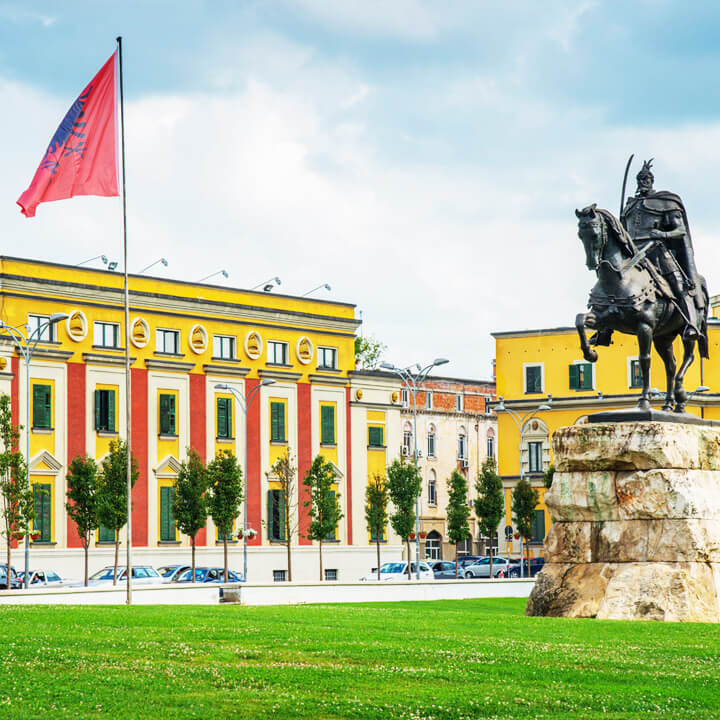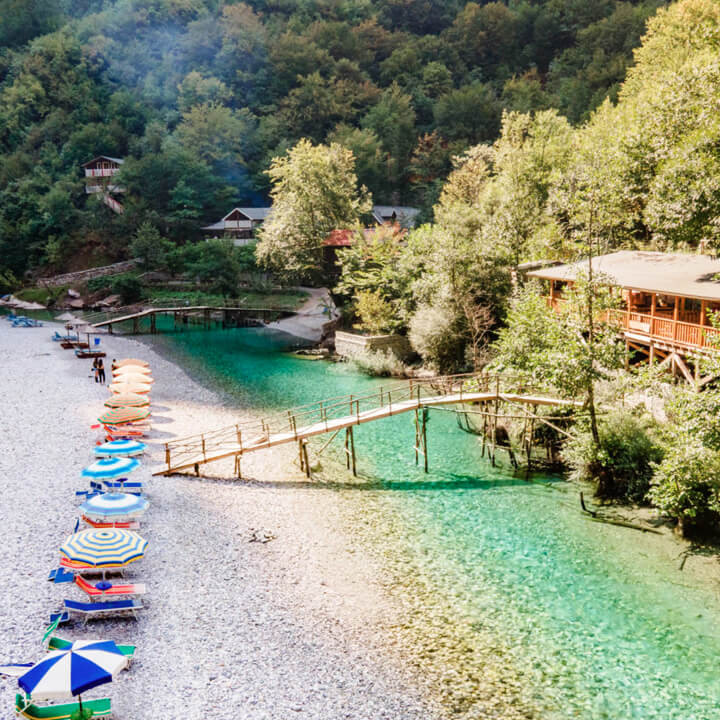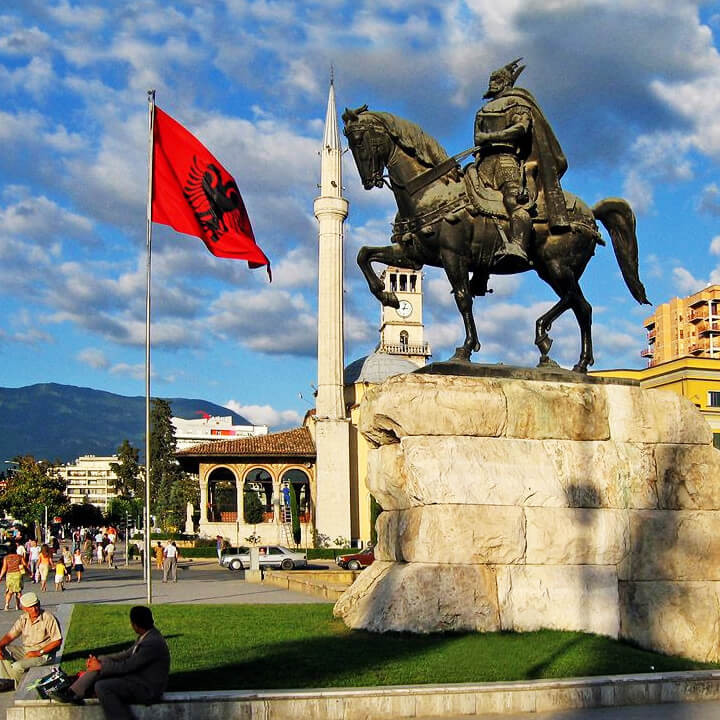 1
Tirana
Arrival at Tirana International Airport.
Our Airport representative will meet & greet you.
Pick – up from Airport and transfer to your accommodation in Manila.
Check-In and Walking Tour Tirana 3 Hours.
A metropolitan capital city that has undergone modernization lighting speed, a mixture of ottoman, Italian and communist architecture with more café (some say Tirana serves the best coffee in Europe) and delicious restaurants per square meter, not to mention the vibrant nightlife.
Visit: Skanderbeg square, Et'hem bey mosque, Skanderbeg monument, palace of culture, city hall, pedestrian area, castle of Tirana, clock tower, governmental buildings.
Back to hotel in Tirana and overnight stay.

2
Tirana-Cable Car-Bunk Art-Kruja-Tirana
After breakfast in hotel dajti mountain exploration and cable car + bunk art and kruja city tour,a unique experience enjoying the amazing views and sceneries of dajti mountain and city of Tirana by cable car.
Following with bunk art a 7 stories underground nuclear building showing the cold war and secret places of communism facilities kept secret for several decades.
1 hour drive to reach kruja, hometown of our national hero George kastrioti Scanderbeg. Kruja is a small fantastic town on the slope of the mountain with its unique old medieval bazaar and the very famous Castle of Kruja.
Visit Skanderbeg museum showing all the glory of Albanian resistance during ottoman period.
Back to hotel and overnight stay.
3
Tirana-Apollonia-Berat-Tirana
After breakfast in hotel, an unforgettable day with Apollonian where roman emperor Augustus studied philosophy and berat officially the oldest city in Albania 2413 years. Apollonian second most important archaeological site in Albania founded in sixth century B.C considered to be one of the most prominent cities at that time, selected from over 20 other cities throughout the Mediterranean to receive the glorious name of Apollo, the god of music and poetry.
Thanks to monument and ruins scattered on the hills of the archaeological park the largest in Albania, you will the opportunity to come in intimate contact with the splendor of the Hellenistic and roman periods. Berat: the distinctive traditional architecture of this so called "city of 1000 windows" this has placed Berat in UNESCO's list of world heritage sites & the pride of Albanian architecture.
Berat, a treasure-trove of Albanian history, culture, and a testament to the country's tradition of religious harmony.
Visit the castle of Berat and the astonishing ichnographic "Onufri" museum castle of Berat and castle quarter is o fortress overlooking the town. This is a living castle from antiquity to present days. With a court yard offering spectacular views of the cisty and the valley below erected on top of the hill during the 4th century B.C is the crown jewel of this glorious ancient city, certainly one of the most beautiful in Albania.
The most striking thing, unlike other ancient castles, life inside its ancient walls continues to this day with its own bars, restaurants, bazaar, museum, monuments seeming unreal with a breathtaking view for the visitors only ten of thirty five original churches survive today. National ichnographic museum "Onufri" will give you a clear idea of the castle.
Back to hotel in Tirana and overnight stay.

4
Tirana-Shala River-Komani Lake-Boat Tour-Tirana
After breakfast in hotel, Shala river: Albania's own Thailand or alpine superstar.
You have no other place in Albania where in such a small area to see and explore a vertical landscape that goes from 170 to 1800-2400 meters, and this is Komani Lake.
With its pristine Shala river with clear aquamarine waters, perfect for swimming and surrounded with spectacular landscape and amazing caves a 37 kilometer long river part of the Albanian alp know as accursed mountains unforgettable experience with a 1.30 hrs boat ride to reach the destination.
Back to hotel and overnight stay.

5
Shopping Tour 4 Hours at Teg
After breakfast you can choose first half or second for your Shopping tour in Tirana east gate mall.
Back to hotel in Tirana and overnight stay.

6
Fly Back
Breakfast at the hotel.
Transfer to Tirana International Airport for your flight back.
Leaving the land of eagles (Albania) hoping you have enjoyed This Unique Experience.

As per mentioned in itinerary

As per mentioned in itinerary

English speaking tour guide

As per mentioned in itinerary
Visa
Click to view Visa information
General Terms
Please note that these packages are customizable, which means that you will be able to make changes to the itinerary/activity if you so desire. The final payment will be calculated as per the itinerary and inclusions reflected on the confirmatory e-mail sent to you.
Please expect to receive your vouchers 72 hours before your departure date (subject to full payment of your package cost).
Personal expenses such as laundry, telephone calls, room service, alcoholic beverages, mini bars etc., are not included.
In case your package needs to be canceled due to any natural calamity, weather conditions etc. Dook Travels shall strive to give you the maximum possible refund subject to the agreement made with our trade partners/vendors.
The passenger names in the booking form should be exactly as per passports. Dook Travels will not bear any liability for the name change fee, if incorrect names and ages have been added at the time of booking.
Please note that your package includes baggage as per airlines policy. Any addition in baggage will be charged separately.
Standard check-in time at the hotel is normally 2:00 pm and check-out is 11:00 am. An early check-in, or a late check-out is solely based on the discretion of the hotel.
In case the selected hotel is unavailable for booking, an alternate arrangement will be offered to the customer in another hotel of a similar category.
Certain hotels may ask for a security deposit during check-in, which is refundable at check-out subject to the hotel policy.This amount has to be deposited by the traveler.
Please note that Day at Leisure essentially implies that no sightseeing activities have been included for that day.
Kindly be on time for your activities, tours and transfers. Dook Travels will not be liable for missing any activity thus for any refund against it in such cases.
No refund either in part or in full will be made for any unused part of the services provided in the package.
The package price doesn't include special dinner or mandatory charges at times levied by the hotels especially during New Year and Christmas or any special occasions. Dook Travels shall try to communicate the same while booking the package. However Dook Travels may not have this information readily available all the time.
Our package price does not include GST and TCS. Applicable GST and TCS will be charged over and above the package price.
For queries regarding cancellations and refunds, please refer to our Cancellation Policy.
For any paid activity which is non-operational due to any unforeseen reason, we will process the refund & should reach the guest within 30 days refund requisition. Also, for any activity which is complementary and not charged to Dook Travels & guests, no refund will be processed.
Our package prices are on twin sharing accommodation basis thus published prices are applicable for minimum two persons and multiple of two thereon.
As per RBI guideline every foreign traveler has to provide us his PAN details. The Dollar component of package price will be taken out of your BTQ (Basic Travel Quota).
The tour cost does not include any Overseas Insurance Premium, but we strongly recommend buying Overseas Insurance Policy. The same after issuance is non refundable.
These terms are general terms for our tour packages.Any term mentioned in proposal shall be considered part of it and in case of discrepancy term mentioned in proposal shall prevail.
Disputes, if any, shall be subject to the exclusive jurisdiction of the courts in New Delhi.
Payment Policy
Payment schedule depends on destination, time of booking, inclusions, airline and hotel payment policy etc thus it is specific to your package bookining.
Payment schedule will be part of our proposal to you for the package.
If payment is not made as per the schedule provided in the first booking confirmation e-mail, Dook Travels reserves the right to cancel the booking after attempting to get in touch with you. Refunds would be as per the package cancellation policy.
Cancellation Policy
Once Booking received : INR 5000 (Per PAX) + actual Ticket cancellation + Hotel cancellation as per hotel policy+Visa fee if visa is applied.
60 – 45 Days prior to departure : 25 % of land cost + INR 5000 (Per PAX) + actual Ticket cancellation+Visa fee if visa is applied.
45 – 30 days prior to departure: 50% of land cost + INR 5000 (Per PAX) + actual Ticket cancellation+Visa fee if visa is applied.
30 – 10 days prior to departure: 75% of land cost + INR 5000 (Per PAX) + actual Ticket cancellation+Visa fee if visa is applied.
Within 10 days: Full.