Spain & Portugal 7 Nights Tour
Pkg Id

0000366

Destinations

6

Duration

7 Nights

Attractions

12

Price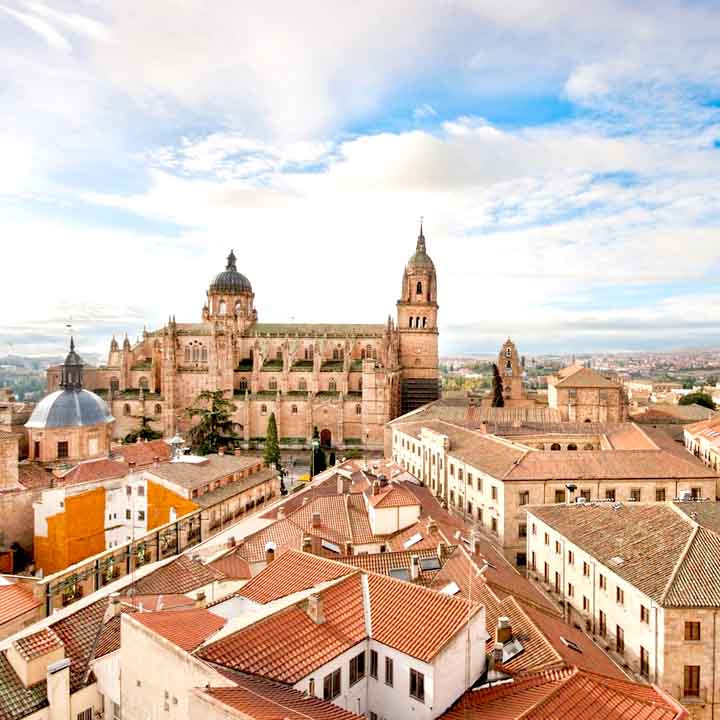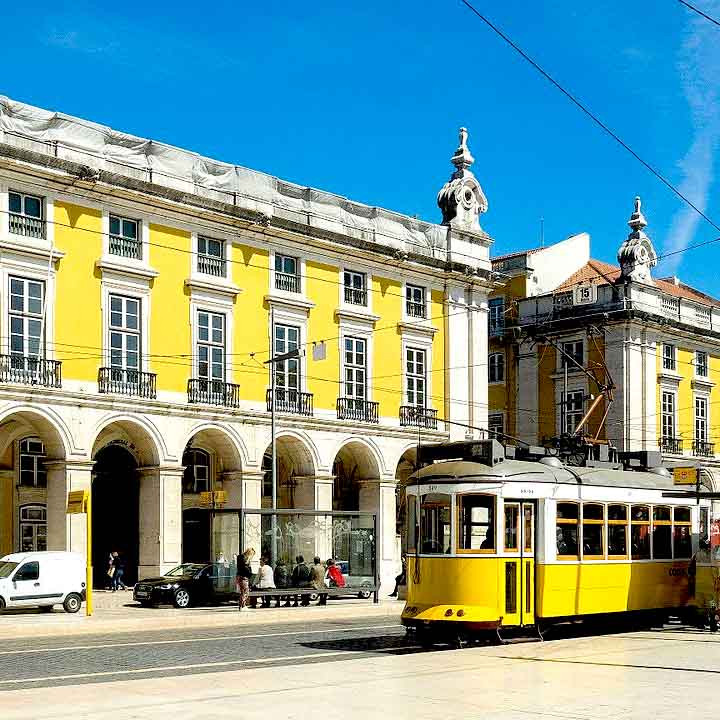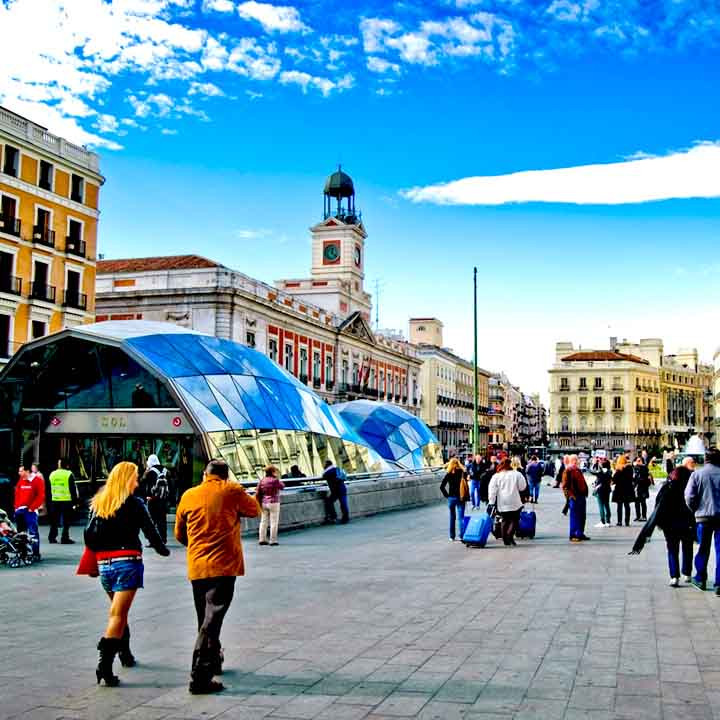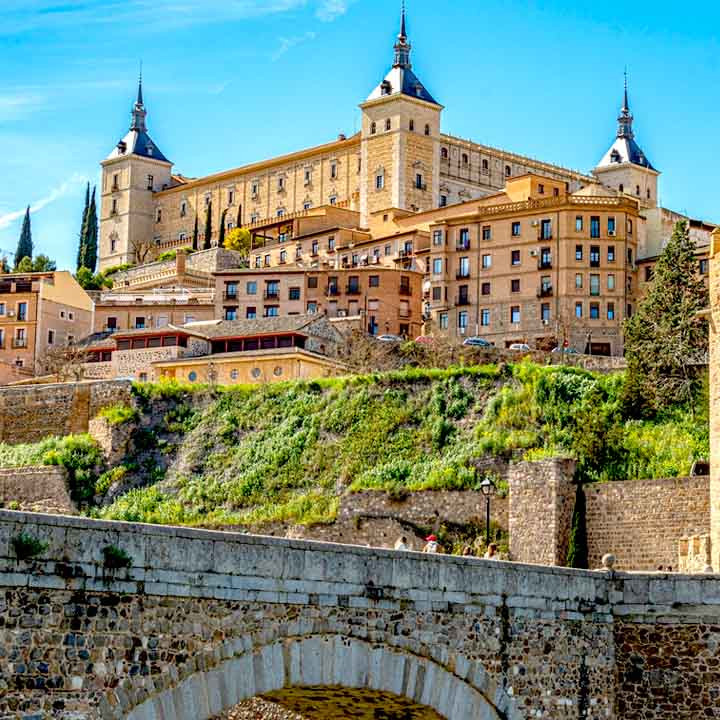 1
Arrival – Madrid
Arrive at Barajas Adolfo Suarez International Airport.
Our Airport representative will meet & greet you.
Pick – up from Airport and transfer to the hotel in Madrid.
Check-In to the hotel and day @ leisure.
Overnight at the hotel.
2
Madrid
Breakfast at the Hotel.
After breakfast today it's time to visit two main hot spot of Madrid.
The Prado Museum: Museo Del Prado, officially known as Museo Nacional Del Prado, is the main Spanish national art museum, located in central Madrid. It is widely considered to have one of the world's finest collections of European art, dating from the 12th century to the early 20th century, based on the former Spanish Royal Collection, and the single best collection of Spanish art. Founded as a museum of paintings and sculpture in 1819, it also contains important collections of other types of works. The Prado Museum is one of the most visited sites in the world, and it is considered one of the greatest art museums in the world.
Royal Palace of Madrid: The Royal Palace of Madrid (Spanish: Palacio Real de Madrid) is the official residence of the Spanish royal family at the city of Madrid, although now used only for state ceremonies. The palace has 135,000 m2 (1,450,000 sq. ft.) of floor space and contains 3,418 rooms. It is the largest functioning royal palace and the largest by floor area in Europe.
Evening get picked up for Flamenco Tablao: Corral de la Moreria may be the most famous tablao flamenco in the world and one of the most recognized flamenco establishments in Spain. In 2011 the establishment received a recommendation in the Michelin Guide for the fifth consecutive year, a testament to its continuous quality. Author Patricia Schultz, in her NY Times bestseller "1000 Places to See Before you die", also listed Corral de la Moreria as one of Madrid's top 10 sights, ranked in the third place, along with the Museum of El Prado and the Royal Palace of Spain.
Back to hotel and overnight stay.

3
Madrid – Toledo (Half Day Guided Tour)
Breakfast at the hotel.
Today post breakfast you will be picked up for your half day tour to Toledo, a UNESCO World Heritage-listed Spanish city, It will be a 5-hour tour from Madrid with a knowledgeable guide, you will witness the arresting beauty of ancient landmarks like the Church of St. Tomé and the sacred Monastery of San Juan de los Reyes. Absorb the serpentine charm of the Jewish Quarter, enjoy a panoramic coach tour of Toledo's outskirts, and marvel at the old Palace of Justice as you gain valuable insight into Toledo's rich history on this tour.
Church of St. Tome: Church with a Mudéjar tower dating from the 14th century. It is home to the famous painting by El Greco, the Burial of the Count of Orgaz. The church dates from the 12th century, although it was completely rebuilt in the early 14th century by the Count of Orgaz. The tower is one of the best examples of the Mudéjar art characteristic of Toledo. The two upper sections are made of brick, with two groups of two and three windows with pointed horseshoe arches scalloped with other lobed arches. The interior is home to one of El Greco's most famous paintings, the Burial of the Count of Orgaz, which is on display in a special room.
Monastery of San Juan De Los Ryes: This was commissioned by the Catholic Monarchs in thanks for the victory at the Battle of Toro. It has a single nave, with side chapels located between the buttresses. Of particular interest on the main façade are the chains of the freed prisoners. It has a late Gothic cloister and the ceiling on the second floor is in the Mudéjar style. Its church has a single nave with a stellar vault. Another highlight is the main chapel, which is decorated with the coats of arms of the Catholic Monarchs supported by a large eagle, ogee arches and the figures of saints.
Jewish Quarter of Toledo: The Jewish quarter of Toledo is a district of the city of Toledo, in Castile-La Mancha, Spain. It was the neighborhood in which the Jews lived in the middle Ages, although they were not obliged to live within it. It is the Jewish community of Toledo which became, in the 12th and 13th centuries, the most populous and rich of the Kingdom of Castile. And coexists for centuries, more or less peacefully, with Muslims and Christians, in which it would be called city of the three cultures.
Back to hotel and overnight stay

4
Madrid – Avila & Salamanca (Full Day Tour)
Breakfast at the hotel.
Today post breakfast, you will Travel from Madrid to Spain's medieval, UNESCO-listed cities Avila and Salamanca. Avila is famous for its medieval walls. They are arguably the best in Europe. The 11th century walls are two kilometres long, have 88 turrets and are perfectly preserved. The town is also famous as the home of Saint Teresa. Visit the Avila Cathedral and Basilica of St. Vincent in Avila.
Avila Cathedral: Avila's UNESCO-listed old city, one of Spain's best-preserved medieval gems, out of which you will see one of a master piece in Avila, The Cathedral of the Saviour is a Catholic church in Ávila in the south of Old Castile, Spain. It was built in the late Romanesque and Gothic architectural traditions. It was planned as a cathedral-fortress, its apse being one of the turrets of the city walls. It is surrounded by a number of houses or palaces.
The Basilica de San Vicente in Avila or Basílica de San Vicente in Spanish stands on the traditional site of the martyrdom of St. Vincent at the hands of the Romans.According to legend, a rich Jew laughed at the saint's execution, but afterwards he was nearly suffocated by a serpent that emerged miraculously from the rocks. He repented, converted, and built a church on the site. The Basilica de San Vicente that stands today dates from the 12th century and is mostly a Romanesque in style. You will appreciate particularly, the 12th-century portals and portico of the Basilica de San Vicente which are fine examples of Romanesque architecture.
Later you will be then preceding ahead to Salamanca a UNESCO-listed City in Spain, famous for its medieval university and enchanting sandstone architecture. You will see its famous Cathedral, Plaza Mayor & Casa Lis.
Msyterious Cathedral of Salamanca: There are numerous mysteries in the world, and the Cathedral of Salamanca's astronaut is one such. Cathedral of Salamanca is actually two churches joined together, one dates back to the 12th‒13th centuries, while the newer one dates back to the 16th century. Besides its glories as architectural marvels, the two churches are also known for something mysterious, i.e., astronaut carvings on its wall. While most of its carvings are unique, While many claim that the aliens are involved in this, or it is in fact the work of a time traveller, the mystery was soon unveiled, and it was left no mysterious after all.
Plaza Mayor: The Plaza Mayor (English Main Plaza) in Salamanca, Spain is a large plaza located in the center of Salamanca, used as a public square. It was built in the traditional Spanish baroque style and is a popular gathering area. It is lined by restaurants, ice cream parlors, tourist shops, jewelry stores and a pharmacy along its perimeter except in front of the city hall. It is considered the heart of Salamanca and is widely regarded as one of the most beautiful plazas in Spain.
Casa Lis Museum: The Casa Lis is a museum located in the ancient city wall of Salamanca, Spain. Also known as Museo Art Nouveau and Art Déco, it is a museum of decorative arts, with exhibits dating from the last decades of the 19th century to World War II.
Back to hotel and overnight stay.
5
Madrid – Lisbon
Breakfast at the hotel.
Pick up from the hotel and transfer to Madrid international airport to fly to Lisbon.
Arrive in Lisbon at Portela international Airport.
Our Airport representative will meet & greet you.
Pick – up from Airport and transfer to the Hotel.
Check-In at the hotel.
Evening you can visit to Fado in Alfama which is a traditional Portuguese genre music that Started in Lisbon and finding live performances in one of the best ways to really experience the City.
Back and hotel and overnight stay.
6
Lisbon
Breakfast at the hotel.
Pick-up from the hotel for Half day Sintra & Cascais tour, Sintra is known for its many 19th Century romantic architectural monuments which was recognize by UNESCO world heritage site surrounded by mountains. You will visit Pena Palace, the Moorish castle, the regaleira & the Monserrate Palaces.
Next you will take ride in TRAM 28, which has been working its way up the steep, cobbled roads and into old Alfama districts for decades. Journey starts below the Palm-spotted hills of Graca and head towards seeing various majestic palaces and castles to weaves hair-pin alleys of Escolas Gerais.
Back to hotel and overnight stay.

7
Lisbon-Porto
Breakfast at the hotel.
Pick-up from hotel for full day tour to Porto.
Enjoy panoramic tour of the city Porto Se Cathedral, Avenida dos Aliados and Torre & Igreja dos Clerigos - the city's architectural symbol. Delve into Porto's history as you pass Liberdade Square and Ponte de Dom Luis I, structures integral to understanding Porto's past.
The next stop is a Port wine cellar, where you'll take a guided tour and learn a little about the Wine's production process. For an additional fee, taste a selection of the city's finest Port wines before heading back to Lisbon.
Back to hotel and overnight stay in Lisbon.

8
Fly Back
Timeto say "Good bye to PORTUGAL" postbreakfast you will be picked up for your final transfer to PortelaInternational Airport for your flight back to home with sweet memories

As per mentioned in itinerary

As per mentioned in itinerary

English speaking tour guide

As per mentioned in itinerary
Visa
Click to view Visa information
General Terms
Please note that these packages are customizable, which means that you will be able to make changes to the itinerary/activity if you so desire. The final payment will be calculated as per the itinerary and inclusions reflected on the confirmatory e-mail sent to you.
Please expect to receive your vouchers 72 hours before your departure date (subject to full payment of your package cost).
Personal expenses such as laundry, telephone calls, room service, alcoholic beverages, mini bars etc., are not included.
In case your package needs to be canceled due to any natural calamity, weather conditions etc. Dook Travels shall strive to give you the maximum possible refund subject to the agreement made with our trade partners/vendors.
The passenger names in the booking form should be exactly as per passports. Dook Travels will not bear any liability for the name change fee, if incorrect names and ages have been added at the time of booking.
Please note that your package includes baggage as per airlines policy. Any addition in baggage will be charged separately.
Standard check-in time at the hotel is normally 2:00 pm and check-out is 11:00 am. An early check-in, or a late check-out is solely based on the discretion of the hotel.
In case the selected hotel is unavailable for booking, an alternate arrangement will be offered to the customer in another hotel of a similar category.
Certain hotels may ask for a security deposit during check-in, which is refundable at check-out subject to the hotel policy.This amount has to be deposited by the traveler.
Please note that Day at Leisure essentially implies that no sightseeing activities have been included for that day.
Kindly be on time for your activities, tours and transfers. Dook Travels will not be liable for missing any activity thus for any refund against it in such cases.
No refund either in part or in full will be made for any unused part of the services provided in the package.
The package price doesn't include special dinner or mandatory charges at times levied by the hotels especially during New Year and Christmas or any special occasions. Dook Travels shall try to communicate the same while booking the package. However Dook Travels may not have this information readily available all the time.
Our package price does not include GST and TCS. Applicable GST and TCS will be charged over and above the package price.
For queries regarding cancellations and refunds, please refer to our Cancellation Policy.
For any paid activity which is non-operational due to any unforeseen reason, we will process the refund & should reach the guest within 30 days refund requisition. Also, for any activity which is complementary and not charged to Dook Travels & guests, no refund will be processed.
Our package prices are on twin sharing accommodation basis thus published prices are applicable for minimum two persons and multiple of two thereon.
As per RBI guideline every foreign traveler has to provide us his PAN details. The Dollar component of package price will be taken out of your BTQ (Basic Travel Quota).
The tour cost does not include any Overseas Insurance Premium, but we strongly recommend buying Overseas Insurance Policy. The same after issuance is non refundable.
These terms are general terms for our tour packages.Any term mentioned in proposal shall be considered part of it and in case of discrepancy term mentioned in proposal shall prevail.
Disputes, if any, shall be subject to the exclusive jurisdiction of the courts in New Delhi.
Payment Policy
Payment schedule depends on destination, time of booking, inclusions, airline and hotel payment policy etc thus it is specific to your package bookining.
Payment schedule will be part of our proposal to you for the package.
If payment is not made as per the schedule provided in the first booking confirmation e-mail, Dook Travels reserves the right to cancel the booking after attempting to get in touch with you. Refunds would be as per the package cancellation policy.
Cancellation Policy
Once Booking received : INR 5000 (Per PAX) + actual Ticket cancellation + Hotel cancellation as per hotel policy+Visa fee if visa is applied.
60 – 45 Days prior to departure : 25 % of land cost + INR 5000 (Per PAX) + actual Ticket cancellation+Visa fee if visa is applied.
45 – 30 days prior to departure: 50% of land cost + INR 5000 (Per PAX) + actual Ticket cancellation+Visa fee if visa is applied.
30 – 10 days prior to departure: 75% of land cost + INR 5000 (Per PAX) + actual Ticket cancellation+Visa fee if visa is applied.
Within 10 days: Full.