Incredible journeys to Laos with DOOK!
No matter your travel style, we have a Laos package tailored for you
Laos Tour Packages
Explore Laos with DOOK
Laos, the land of mysterious Plain of Jars

Visit the only landlocked country in SE Asia with Dook's Laos Tour Packages

It's hard to know where to start when you're thinking about Laos.

The country of Laos is a beautiful land of natural and cultural wonders. The people of this country have a deep connection to nature, which has helped them live in harmony with the environment for many years. This culture of respect for nature is reflected in their lifestyle, architecture, art and cuisine. Laos has an abundance of fresh fruits and vegetables. Fish and meat are sparingly used as they want to preserve the animals that are part of their ecosystem.

The homes in the countryside are built with an eye towards sustainability. These structures are made from bamboo or wood instead of concrete so that they do not require any additional resources beyond what the land provides naturally.

They also have spiritual beliefs that carry over in every aspects of life. Their spirituality ties them closer to nature. It helps them understand their place within it as well as their responsibilities towards other living things around them. Before you plan your Laos Tour, here are a few of the things to know beforehand!

Capital: Vientiane
Languages: Lao
Currency: Laotian Kip
Driving Side: Right
Best Time to Travel: Between October and April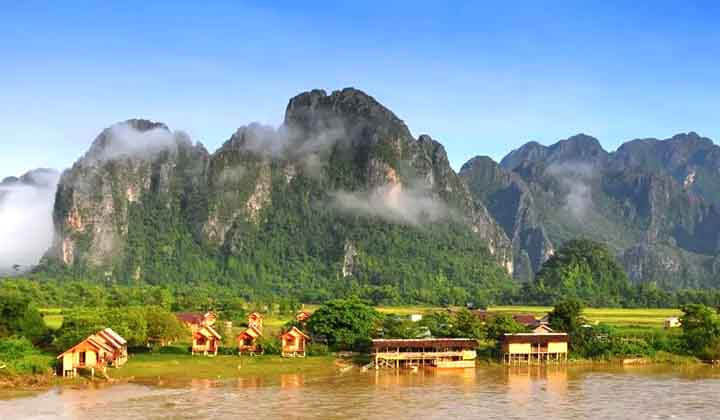 Explore Laos

Laos is one of the most beautiful countries in the world. It also has a wonderful culture that you can explore on every street in Laos. The country has many different landscapes, including mountains, plateaus, plains and rivers. You will have so much fun exploring all of these different places with Dook Travels' Laos Tour Packages! The people are friendly and they love to help out visitors. There are many great restaurants in Laos where you can enjoy delicious food. There are also some amazing museums where you can learn more about the history of Laos. Start your Laos Tour by visiting one or all of these amazing cities.

1. Luang Prabang, the old city of Laos

Luang Prabang is a city unlike any other. It is a place that allows you to let go of the stresses of everyday life and truly enjoy your time. The city is made up of many different kinds of people, including local Lao people and travelers from all over the world. There are many things to do in Luang Prabang, such as visiting temples, going on boat rides or eating delicious food. Moreover, it was once the royal capital of Laos. Hence, you can learn a lot about the country's history with Dook's Laos Packages. Wat Xiengthong, Phousi Hill and Wat May Souvannapoumaram are some of the tourist-favorite religious sites.

2. Vang Vieng, the party house of Laos

The beautiful city of Vang Vieng is a perfect place to go hiking. Nam Xay is one of the famous viewpoints here. You can also go on a hot air balloon ride at the cheapest rates. The rice fields of Vang Vieng are a sight to behold on your Laos Tour. It provides a lot of opportunities for adventure. The trip to the four Blue Lagoons is a must when in Vang Vieng. Whether you want to relax by the river or party to your heart's desire, there's something for everyone here.

3. Vientiane, the capital city

Vientiane is one of the most beautiful cities in the world. It's a city that has grown from a sleepy backwater to a bustling metropolis and its citizens have been able to adapt and thrive in these changes. Vientiane's history is steeped in culture, tradition and architecture. The city was built on top of an ancient settlement dating back thousands of years. This history can be seen throughout Vientiane's streets today as well as in some of its glorious edifices like the Presidential Palace and King Anouvong Statue.

4. Nong Kiau, the picturesque city

Nong Kiau is a beautiful place to visit and its beauty is only enhanced by the serenity that comes with its isolation. There is no shortage of things to do around Nong Kiau. You can go rock climbing, trekking or ascending the various viewpoints to witness the scenic beauty. Have a local breakfast and go bamboo rafting with our Laos Holiday Packages. Another popular activity is going on the 100 Waterfalls Tour.

Top Bucket List Experiences in Laos

Laos is a land of beauty, mystery and adventure. The country's landscape is dotted with lush forests, glittering waterfalls and peaceful rivers. The rugged hillsides of Phou Bia are a sight to behold and Vang Vieng offers some of the best hiking in Southeast Asia. Laos' history is rich with Buddhist influence. Discover its ancient temples and monasteries on a trip to Luang Prabang or Vientiane! Explore Laos' diverse culture through its traditional festivals that include Pi Mai, Boun Bung Fai, Wat Phou and Boun Khao Phansa, just to name a few. Furthermore, take a cooking class where you'll learn how to make local dishes like sticky rice or Laotian curry paste using fresh ingredients sourced directly from farmers in rural areas around the capital city of Vientiane.

Here are a few of the experiences that our Laos Packages will offer you:

1. Explore the caves and waterfalls on your Laos Tour

The Kuang Si Waterfall is one of the most breathtaking locations in Ban Long, Laos. The sheer power of the water combined with its beauty is something that can't be described, but must be experienced. The caves surrounding the waterfall are another popular tourist attraction in Laos and for good reason. It's simply amazing. You can take a boat tour along the Mekong River to get up close and personal with the stunning falls. Furthermore, you can explore them on foot with our expert guide who will teach you about the area's rich history and culture.

2. Visit the Sinouk Coffee Plantation

The Sinouk Coffee Plantation is a veritable paradise. It's a place where you can enjoy a cup of coffee while lounging in a hammock or learn how to roast your own beans in the plantation's own roasting facility. There are plenty of opportunities for adventure here, including hiking through the nearby jungle and camping under the stars. Nestled in southern Laos in the Bolaven Plateau, you can also plan a stay at the Sinouk Coffee Resort. Tasting the Lao Arabica coffee amidst the pristine nature with our Laos Holiday Packages is an experience indescribable!

3. Take a trip to the Elephant Village Sanctuary with our Laos Packages

Nestled in Ban Xieng Lom near Luang Prabang, it is the home of the largest elephant population in Southeast Asia, especially the Asian elephants. Not only it protects and rehabilitates the giant mammal, but also provides employment to the local villagers. You can spend time with the elephants and learn about their stories from staff members who work there full-time. The site also offers educational programs for children and grown-ups alike that teach about elephant care and conservation efforts throughout Southeast Asia.

4. Go on a boat tour in and around the 4000 Islands

Who would have thought that a country so small could be so full of amazing things to see? Laos has a lot to offer and the 4000 islands region it boasts is one of the most exciting parts. To get the best view of the region, camp at the southernmost town of Laos, Pakse. This area is known for its beautiful scenery and natural wonders. It's one of the most beautiful places in all of Asia! It's also home to some of the world's best nature activities, like kayaking and hiking. A visit to the top three islands, Don Det, Don Khong and Don Khon is a must. It will be an adventure that will leave you feel refreshed and inspired!

Explore the land of short people with Dook

Get ready to travel to Laos, a country that's just waiting for you to explore! Traveling alone can be lonely, but with Dook's Laos Tour Packages by your side, that won't be a problem! We have packages designed for every kind of traveler, whether you're looking for a solo adventure or something with more people. No matter what kind of trip you're looking for, a short jaunt or an extended stay in one location, we've got you covered too. Wherever you want to go in Laos, we guarantee that your trip will be as smooth and seamless as possible. In case there are any bumps along the way, we'll make sure they're smoothed out quickly. We know how important it is to travel safely and responsibly. That's why all our Laos Packages come with expert guides who are not only fluent in English but other local languages as well. They'll be able to help answer any questions that might come up during your travel and make sure that everyone has a great time!