Incredible journeys to Denmark with DOOK!
No matter your travel style, we have a Denmark package tailored for you
Denmark Tour Packages
Explore Denmark with DOOK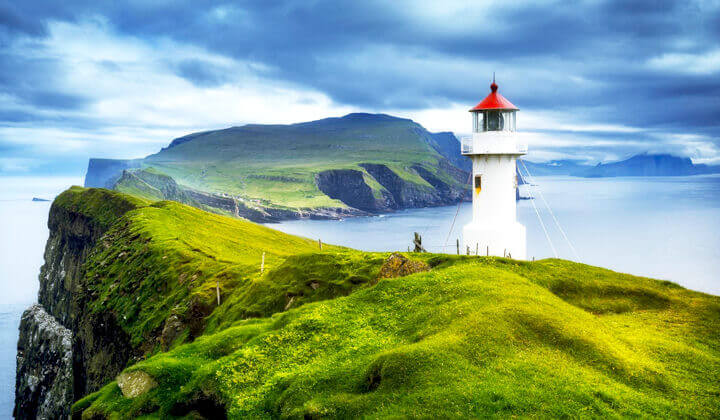 Denmark: Land of Everyday Wonder

Step in to the pages of a fairy tale with Dook's Denmark Tour Packages

Denmark is today renowned for its cosmopolitan, global cities, rich cultural legacy, and vibrant design and culture. Despite continuing to be linked to the fearsome Viking warriors who sailed from its shores, the country has much more to offer. Scandinavia's southernmost country is quite prosperous and tranquil, with a plethora of attractions, including charming fishing villages, palaces and castles situated along its windswept coastline. Dook's Denmark Tour Packages guarantee you to experience all of it.

Copenhagen, the capital of Denmark, is consistently rated as one of the world's most liveable cities. There are several picturesque parks and canals to explore on your Denmark Tour and chic stores, eateries, and pubs scattered around the city. The Little Mermaid statue and the Tivoli Gardens amusement park are two of its top attractions, in addition to taking pictures of the vibrant structures along its port and touring its royal palaces and museums.

Most of the visitors go on to explore Aarhus or Odense after discovering its adventurous food and marvelling at its avant-garde architecture. The former is home to many ancient buildings that have been maintained and feature vibrant arts and culture. The latter's charming historic centre is adorned with exquisite statues and sculptures from Han Christian Anderson's well-known fairy tales.

To top it all off, visit Legoland with our Denmark Packages to channel your inner kid. It takes in the alluring coastline scenery and pristine beaches in Bornholm or Skagen. Otherwise visit the fascinating Viking Ship Museum in Roskilde, which also to be home to one of Scandinavia's most prominent and incredible music festivals.

If you are interested in going on an eventful Denmark Tour and witnessing the magnificent beauty and history Denmark has to offer, you are at the right place. With Dook's best Denmark Holiday Packages, experience the island nation like never before.

General Information for your Denmark tour:

Capital: Copenhagen
Languages: Danish Faroese, Greenlandic, German
Currency: Danish Krone
Driving Side: Right
Best Time to Travel: June to August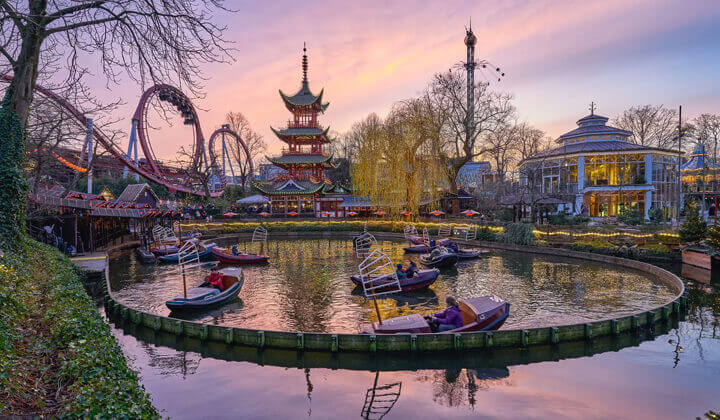 Explore Denmark

Denmark, the southernmost Scandinavian nation, is a convenient place to discover the rich Viking heritage of the area. Visitors are urged to bike Denmark's gently sloping countryside's more than 6,200 miles (10,000 km) of bicycle routes. Discover the sources of inspiration for Hans Christian Andersen, a native of Denmark, as you follow through his literary footsteps. With our Denmark Tour Packages, explore Denmark's distinctive innovation and design. Take part in Copenhagen's vibrant and liveable city and engage with the hospitable Danish culture.

Geographically, the nation comprises of the islands of Zealand and Funen and the peninsula of Jutland, which juts out from Germany to the north. Visit all three landmasses Denmark Tour Packages from India. Most tourists head to Zealand (Sjaelland). Particularly Copenhagen, a vibrant city with a stunning old centre, incredible museums and lively nightlife. Funen (Fyn) is known for its adorable towns and sandy beaches, with the sole notable metropolitan attraction being Odense, the former home of Hans Christian Andersen. Jutland (Jylland) is home to two of the liveliest Danish cities, Aalborg and Aarhus, and a landscape alternating between heathland, mild hills, and isolated beaches.

Below is a list of destinations which are must-to-have in your Denmark Packages:

1. Tivoli Gardens: The original Disneyland

Tivoli Gardens is one of Copenhagen's most famous tourist destinations and recreational areas and is included in our Denmark Tour Packages. The world-famous Disney theme parks were modelled after Tivoli, which opened in 1843. Here, you'll discover a wide variety of activities, including a roller coaster, roundabouts, puppet theatres, restaurants, cafés, gardens, food pavilions, and even a music hall designed in the Moorish style. Tivoli is a well-known landmark recognised worldwide, and it has been featured in several motion pictures and is a must-to-have destination in your Denmark Tour. Fireworks at night light up the sky, while Christmas lights are strong throughout the winter. On Friday nights in the summer, you may attend free thrilling rock shows.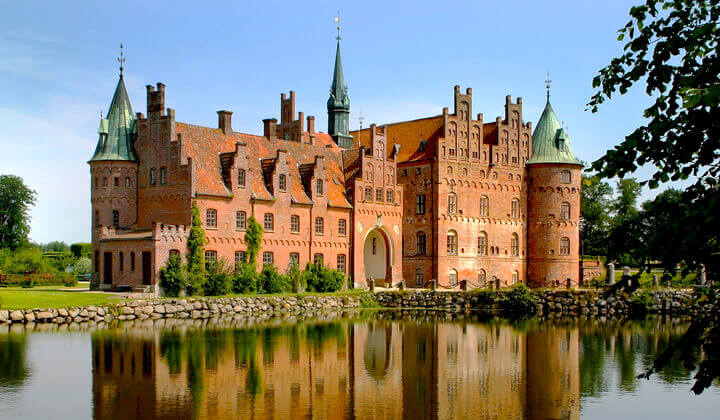 2. Explore the elegant Christiansborg Palace

The Danish government's headquarters are located on the small island of Slotsholmen in Copenhagen. Explore Christiansborg with our Denmark Holiday Packages, which has more than 800 years of history. It is the government centre of Denmark's kingdom and is where the Parliament, the Prime Minister's Office, and the Supreme Court are located. The environment will be recognisable to Borgen fans. Many of the wings still in use by the royal household are accessible to the general public. In 1167, Bishop Absalon fortified the city and today tourists can still view the mediaeval stronghold and the remnants of the bishop's castle, which was demolished in the 14th century.

3. Dig into Danish history and culture at the National Museum of Denmark

The National Museum (Nationalmuseet) explores Danish history and culture. A 2,000-year-old sun chariot, Danish porcelain, silver and ornaments from Romanesque and Gothic churches are among the museum's fantastic collection of Danish antiques. Antique furniture and apparel from the 18th and 19th centuries are included in other displays.

Explore the history of Denmark with our Denmark Packages at the museum and enjoy a fantastic ethnographic show with goods from places like Greenland, Asia, and Africa, which complements this voyage through Danish history. The Children's Museum offers a variety of activities for youngsters. They may don historical attire, board a Viking ship and go inside a school decorated in the manner of the 1920s.

Top Bucket List Experiences in Denmark

1. Visit the Marvellous Egeskov Castle

Visit the Magical Egeskov Castle in your Denmark Tour, as it is the most extraordinarily preserved moat castle in Europe and is located in a picturesque location less than 30 minutes' drive from Odense. The magnificent Renaissance structure towering today was finished in 1554 and was primarily constructed for defence purposes.

The castle has changed hands several times and was eventually converted into a model farm. These grounds were opened to the public in 1959, and significant remodelling and improvement have occurred since then. A Vintage Car Museum debuted in 1967, and additional attractions include a treetop stroll and Segway excursions. The Banqueting Hall is truly unique. A trip to Egeskov is a fantastic family outing and another must-to-have in your Denmark Tour Packages.

2. Refresh your Soul at The Island of Bornholm

With Dook's Denmark Holiday Packages visit, this beautiful Baltic Sea island. The Island of Bornholm is a popular tourist destination due to its warm weather, beautiful beaches and numerous walking and cycling routes. The Hammershus Castle Ruins, a stronghold erected in the mid-13th century to defend the island, is one of its main tourist attractions.

The Bornholm Museum in Ronne houses diverse cultural and natural history artefacts. The structure is spectacular in its own right, overlooking the river towards Christiansoe. The museum features a collection of fine art and sculptures, some located outside the grounds. The Melstedgrd Agricultural Museum is located just outside of Gudhjem.

3. Enjoy Delightful Danish Delicacies

Enjoy traditional Danish cuisine on your Denmark Tour. Danish cuisine consists primarily of meat and fish dishes served with potatoes and gravy. These dishes are lightly seasoned with salt and pepper, allowing the flavours to shine. With the advent of the current century, Danish chefs have included more organic and local ingredients in their cuisine over the last 20 years. The national dish, 'Stegt flask med persillesovs,' consists of crispy fried pork served with boiled potatoes, parsley sauce, and pickled beetroot and is a must-try. 'Karbonader,' breaded pork patties served with peas and carrots in a white sauce, is another typical Danish dish. However, the younger generation prefers it with a green salad or rye bread. Dook's Denmark Packages ensure you try all of Denmark's scrumptious offerings. Other delectable dishes include Danish hot dog, baked ham with mustard haze (Hamburgerryg med fldekartofler) and cod fish cakes (Fiskefrikadeller) are additional must-to-orders. Haze (Hamburgerryg med fldekartofler) and cod fish cakes (Fiskefrikadeller) are also recommended.

4. Shop your Heart out at Danish Markets

What could be better than unpacking your souvenirs when you arrive home to relive your great trip? Cherish this incredible feeling with your Denmark Tour with Dook International. There are many Danish souvenirs available that you may take home because Denmark has so much to offer in terms of culture, history and heritage. It would be best if you got Tom's Chocolates and Candy. Toms is to Denmark what Cadbury is to the United Kingdom. The famous Skildpadder, turtle-shaped chocolates filled with runny rum caramel, are a must-have when visiting Denmark with our Denmark Tour Packages.

Lego toys, undoubtedly the most famous Danish brand, are the ideal memento of the country. Since 1949, they have been manufactured in Denmark and have become one of the most loved toys worldwide. Without a Danish craft beer, the list would be deficient. Mikkeller, one of Denmark's most notable craft brewers, is renowned for being unorthodox and unique in their taste and technique.

Plan your trip to Denmark with Dook International!

Denmark is one of the most admirable tourist destinations in Scandinavia. It has numerous cities and attractions to explore and make unforgettable memories. On your Denmark Tour, indulge in Danish chocolate, channel your inner child at Legoland, visit exciting pubs and rock shows and more with Dook! With our Denmark Tour Packages from India, you will discover every hidden beauty and mystery of this gorgeous island nation.
Explore More: Top Attractions in Denmark