Denmark is a Scandinavian country known for its stunning landscapes, glorious beaches, fairy-tale castles, rich history, dense forest, innovative architecture, tourist attractions, and friendly people. It may be a small country, but it is jam-packed with famous Denmark attractions that draw the attention of many travelers. From Tivoli Gardens to Christiansborg Palace, the National Museum of Denmark, the National Gallery of Denmark, and more, there are countless places to visit in Denmark. Copenhagen is the capital city of Denmark and the most known tourist destination. This capital city offers a wide range of Denmark tourist attractions for travelers. Tivoli Gardens is one such attraction in Copenhagen. It is the world's oldest amusement park, which is also an inspiration behind the Disney theme parks. You will catch a wide variety of attractions, including puppet theaters, roller coasters, food pavilions, cafes, restaurants, and more. Christiansborg Palace is another one of the famous Denmark tourist spots located in Copenhagen. This palace has become a Parliament home, Prime Minister's office, and the Supreme Court. Another world-class spot to visit in Denmark is the National Museum. This national museum is 10-minute stroll from Tivoli Gardens. The museum delves into Danish history and culture and displays an incredible collection of Danish artifacts. If you are a history buff, there is an incredible opportunity to unearth Denmark's cultural heritage through numerous museums and landmarks. One of the best places to visit in Denmark to explore history is the Viking Ship Museum. It is a must-see attraction for someone interested in the history of Vikings.

If you are a nature lover, Denmark's countryside is an ideal place to head. From sweeping hills to uneven coastlines, Denmark's scenic beauty is unparalleled. Another marvel is the North Sea coastline. It has stunning sandy beaches and spectacular dunes. The Wadden Sea National Park, the UNESCO World Heritage Site, is a famous destination for nature aficionados and birdwatchers. Among the top Denmark tourist places to see, Elsinore is one of the best. This city is located in eastern Denmark and is steeped in history. It is home to many libraries, shipyard museums, and exhibition halls. Rosenborg, the beautiful crown jewel of Denmark, is a 400-year-old castle that still maintains its majestic charm and grandeur. The beauty of this castle is impossible to describe. You can also explore the picturesque island known for its art & craft and fishing- Bornholm. Located in the Baltic Sea, it is an ideal escape for tourists who want to avoid the hustle and bustle of the cities. Besides the things to see and explore, tourists can also make their tummies happy with the best culinary delights. Denmark is famous for its seafood, traditional sandwiches, and pastries. Denmark is a fascinating country that offers everything a traveler need. From places to see to history to explore to food to taste, a traveler will not be left empty-handed.

Don't you think you should plan a quick trip to Denmark and excavate the hidden beauty of this country? If you are excited to visit Denmark, you don't need to go further. Dook International has the best holiday tour packages. We ensure you have a great time with complete convenience. Our Denmark tour packages include every significant attraction that you should visit. So, wait no more and get in touch with Dook. Some exciting and pocket-friendly offers are waiting for you.

Best Tourist Places to Visit in Denmark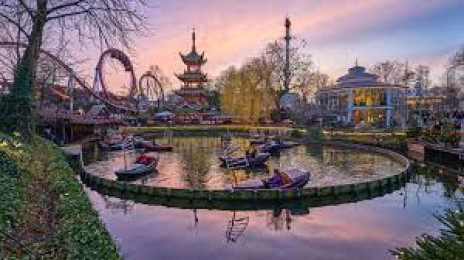 Tivoli Gardens
19th-century amusement park open Apr-Sep with antique roller coaster & live entertainment program.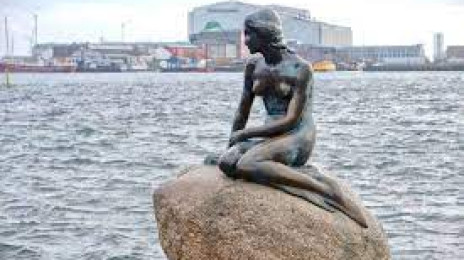 The Little Mermaid
The Little Mermaid is a bronze statue by Edvard Eriksen depicting a mermaid becoming human. The sculpture is displayed on a rock by the waterside at the Langelinie promenade in Copenhagen Denmark. It is 1.25 meters tall and weighs 175 kilograms. Based on the 1837 fairy tale of the same name by Danish author Hans Christian Andersen the small and unimposing statue is a Copenhagen icon and has been a major tourist attraction since its unveiling in 1913. In recent decades it has become a popular target for defacement by vandals and political activists. The statue was commissioned in 1909 by Carl Jacobsen son of the founder of Carlsberg who had been fascinated by a ballet about the fairytale in Copenhagens Royal Theatre and asked the ballerina Ellen Price to model for the statue. The sculptor Edvard Eriksen created the bronze statue which was unveiled on August 23 1913. The statues head was modeled after Price but as the ballerina did not agree to model in the nude the sculptors wife Eline Eriksen was used for the body.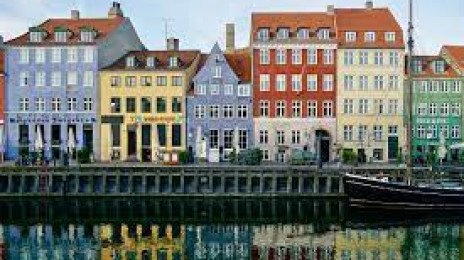 Nyhavn
Nyhavn is a 17th-century waterfront canal and entertainment district in Copenhagen Denmark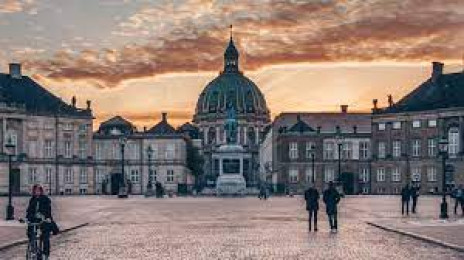 Amalienborg
18th-century rococo complex of palaces with a museum & marchesdisplays by royal guards.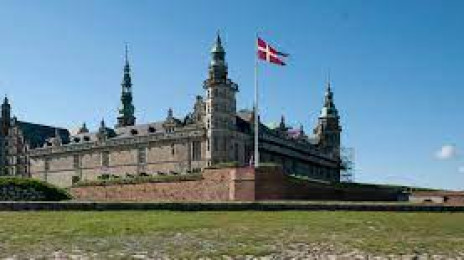 Kronborg
Kronborg is a castle and stronghold in the town of Helsingr Denmark.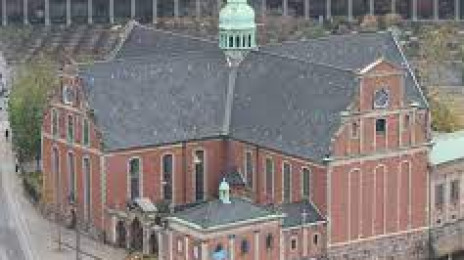 Church of Holmen
The Holmen Church is a Parish church in central Copenhagen in Denmark on the street called Holmens Kanal. First built as an anchor forge in 1563 it was converted into a naval church by Christian IV. It is famous for having hosted the wedding between Margrethe II of Denmark the current queen of Denmark and Prince Henrik in 1967. It is the burial site of such notabilities as naval heroes Niels Juel and Peter Tordenskjold and composer Niels Wilhelm Gade and contains artwork by among others Bertel Thorvaldsen and Karel van Mander.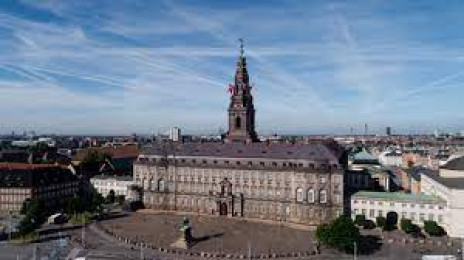 Slotsholmen
Slotsholmen is an island in the harbor of Copenhagen Denmark and part of Copenhagen Inner City. The name is taken from the successive castles and palaces located on the island since Bishop Absalon constructed the citys first castle on the island in 1167 at the site where Christiansborg Palace lies today.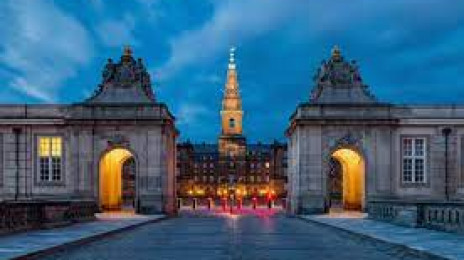 Christiansborg
Christiansborg Palace is a palace and government building on the islet of Slotsholmen in central Copenhagen Denmark. It is the seat of the Danish Parliament the Danish Prime Ministers Office and the Supreme Court of Denmark. Also several parts of the palace are used by the Danish monarch including the Royal Reception Rooms the Palace Chapel and the Royal Stables. The palace today bears witness to three eras of Danish architecture as the result of two serious fires. The first fire occurred in 1794 and the second in 1884. The main part of the current palace finished in 1928 is in the historicist Neo-baroque style. The chapel dates back to 1826 and is in a neoclassical style.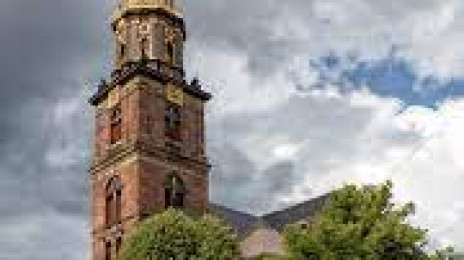 Church of our Saviour
The Church of Our Saviour is a baroque church in Copenhagen Denmark most famous for the external spiral winding staircase that can be climbed to the top offering extensive views over central Copenhagen. It is also noted for its carillon which is the largest in northern Europe and plays melodies every hour from 8 am to midnight. The church is built in a Dutch baroque style and its basic layout is a Greek cross. The walls rest on a granite foundation and are made of red and yellow tiles but in a random pattern unlike what is seen in Christian IVs buildings where they are generally systematically arranged. The facade is segmented by pilasters in the palladian giant order that is they continue in the buildings entire height. The pilasters are of the Tuscan order with bases and capitals in sandstone.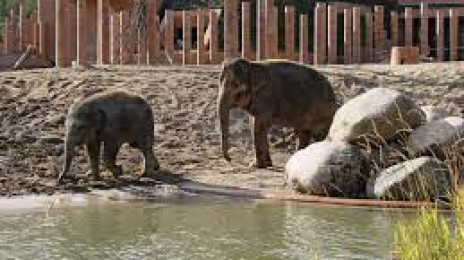 Copenhagen Zoo
Copenhagen Zoo is a zoological garden in Copenhagen Denmark. Founded in 1859 it is one of the oldest zoos in Europe and is a member of EAZA. It comprises 11 hectares and is located in the municipality of Frederiksberg sandwiched between the parks of Frederiksberg Gardens and Sndermarken. With 1571331 visitors in 2019 it is the most visited zoo and one of the most visited attractions in Denmark. The zoo is noted for its new Elephant House designed by British architect Sir Norman Foster. The zoo maintains and promotes a number of European breeding programs. Animals exhibited at the zoo that is not housed in any of the main areas include Bactrian camels American flamingos scarlet ibises roseate spoonbills Dalmatian pelicans turkey vultures Humboldt penguins California sea lions black-capped squirrel monkeys chimpanzees and lions.
Things to Do in Denmark
Do what makes you happy