Amazing Turkmenistan
Turkmenistan: An offbeat Central Asian marvel
Pkg Id

0000134

Destinations

2

Duration

4 Nights

Attractions

9

Price
Fancy dining next to the Gates of Hell? How about going for a swim across a subterranean lake 200 feet underground? Hiking one of the world's most remote and awe-inspiring landscape and gazing at sunsets that etches into memories? Rugged, offbeat and an absolute delight for adventure seekers, the road to Turkmenistan begins here.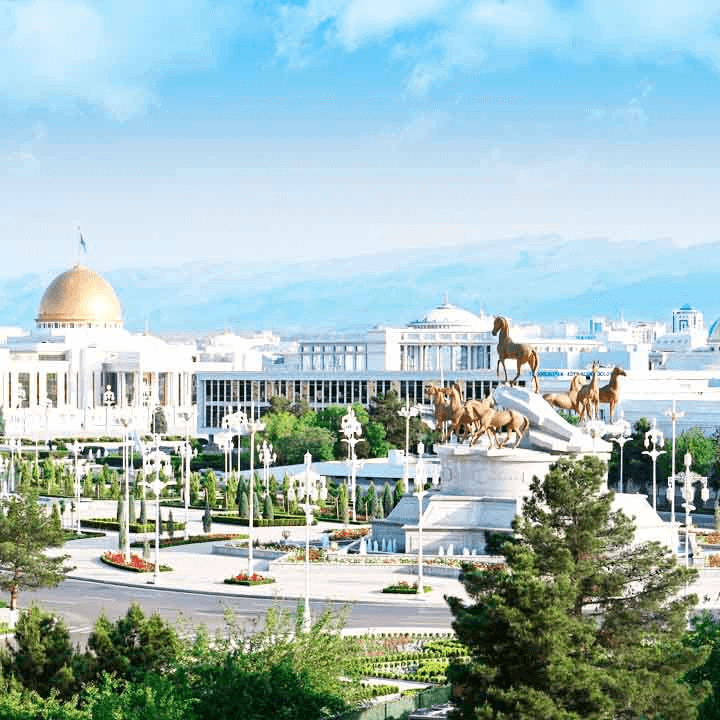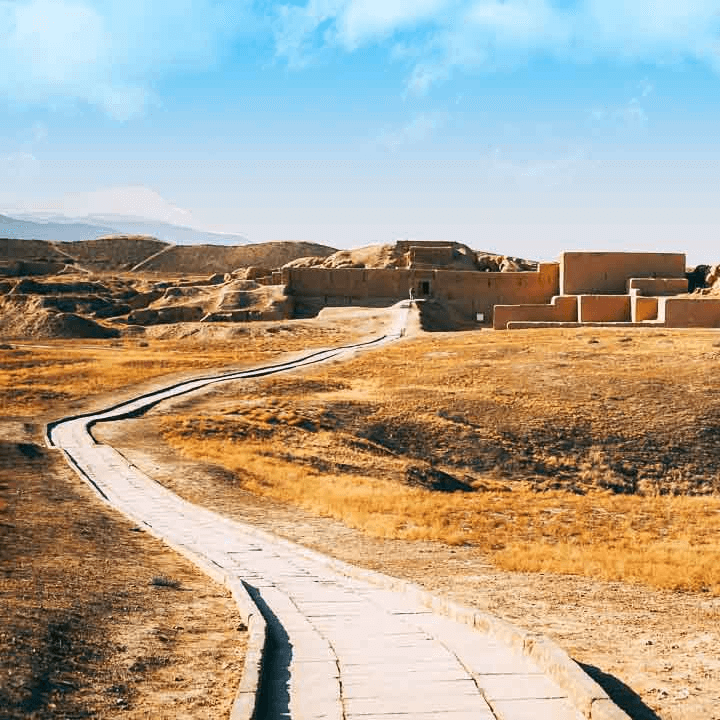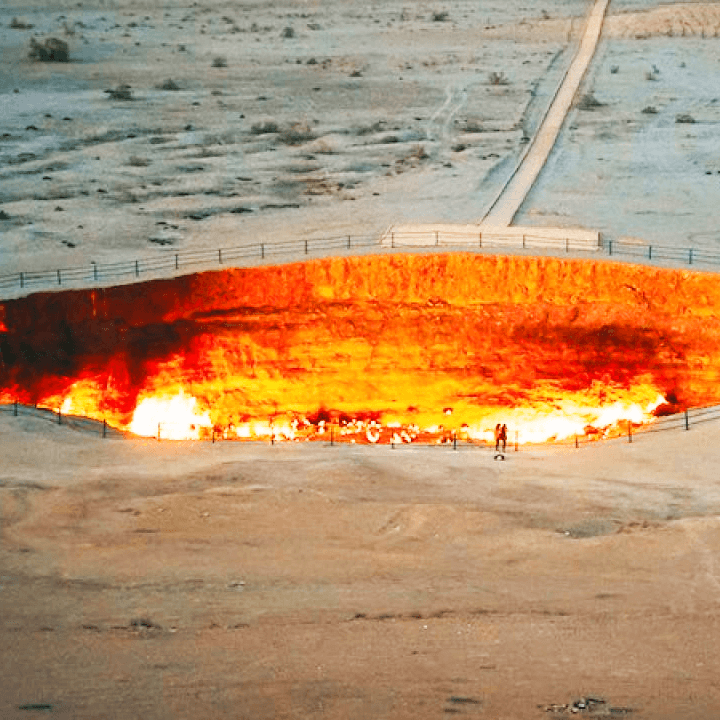 1
Arrival in Ashgabat
Meeting at the international airport of Ashgabat.
Transfer and check-in to the hotel.
Have breakfast at the hotel.
Have an excursion to Old Nisa - included in the UNESCO World Heritage List, is one of the first capitals of the Parthian Empire (III century BC - III century AD), which is among the largest state entities of the ancient world.
On the way back visit the Mosque of Turkmenbashi Ruhy - main mosque in Turkmenistan, the largest single-domed mosque in the world and the largest in Central Asia, where 20,000 people can pray at one time.
Drive to Underground lake Kow-ata - a natural underground lake. The name translated from Turkmen means "father of caves". Located 100 kilometres from Ashgabat. The water temperature is from +33 to +38 ° C all year round.
Overnight at the hotel.

2
Darvaza Gas Crater
Have breakfast at the hotel.
Visit the local market "Gulistan" (Russian bazaar).
Drive through the Karakum desert to Darvaza gas crater (280 km).
Arriving in Darvaza
Darvaza - the most famous place in Turkmenistan (280 km from Ashgabat). Gas crater burning in the Karakum desert sightseeing tour and a walk around the Spark of Karakum.
Traditional dinner in Darvaza.
Drive from Darvaza Gas crater back to Ashgabat.
Overnight in the hotel.

3
Turkmenbashy
Breakfast at the hotel.
Drive to Turkmenbashy. Transfer to Avaza National Touristic Zone. Relax in Caspian Sea beach at the hotel.
Overnight in the hotel.

4
Yangikala Canyon
Have breakfast at the hotel.
Drive to Yangikala Canyon.
Have an excursion on the site Canyon, The canyons of Yangikala are amazingly beautiful natural landscapes located in the north-west of Turkmenistan. The name "Yangikala" is translated as "Fire Fortress". Continue along the shore of fire fortresses, where the Yagni-suv canyons are located.
Drive to Ashgabat.
Arrive in Ashgabat.
Overnight at the hotel.

5
Departure
Have an early breakfast at the hotel.
Transfer to International Airport for onward journey.

4 Nights Accommodation in Hotel

All Transfers As Per The Itinerary

English Speaking Tour Guide throughout the Tour

Airport Transfer Included
Visa
Click to view Visa information
General Terms
Please note that these packages are customizable, which means that you will be able to make changes to the itinerary/activity if you so desire. The final payment will be calculated as per the itinerary and inclusions reflected on the confirmatory e-mail sent to you.
Please expect to receive your vouchers 72 hours before your departure date (subject to full payment of your package cost).
Personal expenses such as laundry, telephone calls, room service, alcoholic beverages, mini bars etc., are not included.
In case your package needs to be canceled due to any natural calamity, weather conditions etc. Dook Travels shall strive to give you the maximum possible refund subject to the agreement made with our trade partners/vendors.
The passenger names in the booking form should be exactly as per passports. Dook Travels will not bear any liability for the name change fee, if incorrect names and ages have been added at the time of booking.
Please note that your package includes baggage as per airlines policy. Any addition in baggage will be charged separately.
Standard check-in time at the hotel is normally 2:00 pm and check-out is 11:00 am. An early check-in, or a late check-out is solely based on the discretion of the hotel.
In case the selected hotel is unavailable for booking, an alternate arrangement will be offered to the customer in another hotel of a similar category.
Certain hotels may ask for a security deposit during check-in, which is refundable at check-out subject to the hotel policy.This amount has to be deposited by the traveler.
Please note that Day at Leisure essentially implies that no sightseeing activities have been included for that day.
Kindly be on time for your activities, tours and transfers. Dook Travels will not be liable for missing any activity thus for any refund against it in such cases.
No refund either in part or in full will be made for any unused part of the services provided in the package.
The package price doesn't include special dinner or mandatory charges at times levied by the hotels especially during New Year and Christmas or any special occasions. Dook Travels shall try to communicate the same while booking the package. However Dook Travels may not have this information readily available all the time.
Our package price does not include GST and TCS. Applicable GST and TCS will be charged over and above the package price.
For queries regarding cancellations and refunds, please refer to our Cancellation Policy.
For any paid activity which is non-operational due to any unforeseen reason, we will process the refund & should reach the guest within 30 days refund requisition. Also, for any activity which is complementary and not charged to Dook Travels & guests, no refund will be processed.
Our package prices are on twin sharing accommodation basis thus published prices are applicable for minimum two persons and multiple of two thereon.
As per RBI guideline every foreign traveler has to provide us his PAN details. The Dollar component of package price will be taken out of your BTQ (Basic Travel Quota).
The tour cost does not include any Overseas Insurance Premium, but we strongly recommend buying Overseas Insurance Policy. The same after issuance is non refundable.
These terms are general terms for our tour packages.Any term mentioned in proposal shall be considered part of it and in case of discrepancy term mentioned in proposal shall prevail.
Disputes, if any, shall be subject to the exclusive jurisdiction of the courts in New Delhi.
Payment Policy
Payment schedule depends on destination, time of booking, inclusions, airline and hotel payment policy etc thus it is specific to your package bookining.
Payment schedule will be part of our proposal to you for the package.
If payment is not made as per the schedule provided in the first booking confirmation e-mail, Dook Travels reserves the right to cancel the booking after attempting to get in touch with you. Refunds would be as per the package cancellation policy.
Cancellation Policy
Once Booking received : INR 5000 (Per PAX) + actual Ticket cancellation + Hotel cancellation as per hotel policy+Visa fee if visa is applied.
60 – 45 Days prior to departure : 25 % of land cost + INR 5000 (Per PAX) + actual Ticket cancellation+Visa fee if visa is applied.
45 – 30 days prior to departure: 50% of land cost + INR 5000 (Per PAX) + actual Ticket cancellation+Visa fee if visa is applied.
30 – 10 days prior to departure: 75% of land cost + INR 5000 (Per PAX) + actual Ticket cancellation+Visa fee if visa is applied.
Within 10 days: Full.