Incredible journeys to Slovenia with DOOK!
No matter your travel style, we have a Slovenia package tailored for you
Slovenia Tour Packages
Explore Slovenia with DOOK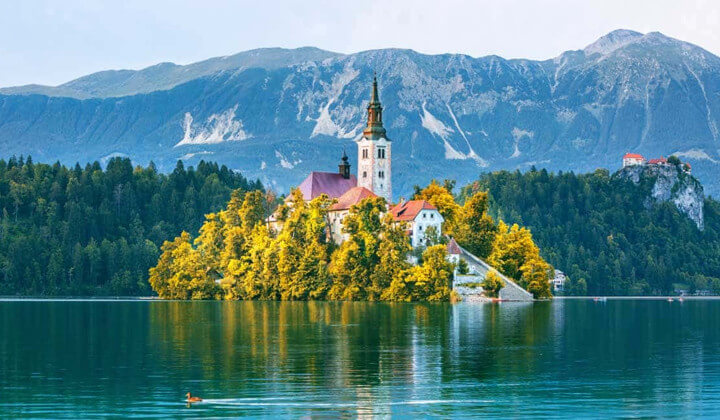 Slovenia: Land of dramatic terrain

Wander the home of only living baby dragon with Dook's Slovenia Tour Packages

Slovenia is a country that's known for its stunning nature and delicious food, especially cheese! It's also a country that's got an interesting history: the Romans invaded it in 114 BC and returned it to the Empire in 49 BC. In the Bronze Age, Illyrian and Celtic tribes settled in Slovenia. Later, a southern Slavic tribe known as the Slovenes settled in the nation during the sixth century AD.

Today, Slovenia is known for its stunning natural beauty as well as its rich culture and love of music. It's a place where you can enjoy beautiful hikes through forests, meadows and mountains. You can also choose to spend time relaxing on one of the many rivers that cross the country. Whether you enjoy hiking or lounging by the water, you'll find something great to do with our Slovenia Tour Packages!

The Slovenian Republic is a young country that got independence in 1991, so that brings us to the interesting information. With 2.3 million inhabitants, it boasts over 46 dialects. Slovenians are bee lovers. Every one person out of 200 takes up their profession as a bee-keeper. You can see a vineyard on every corner of its streets. The world-class wine Merlot comes from the vineyards of this amazing country. One of Europe's greenest countries, Solvenia has the most protected land next to Venezuela. Witnessing the wonders of this land, which is home to about 8000 caves and 30,000 water bodies, is imperative! Take up one of our Slovenia Packages and enjoy a vacation unthinkably magnificent!

Capital: Ljubljana
Languages: Slovenian
Currency: Euro
Driving Side: Right
Best Time to Travel: June through August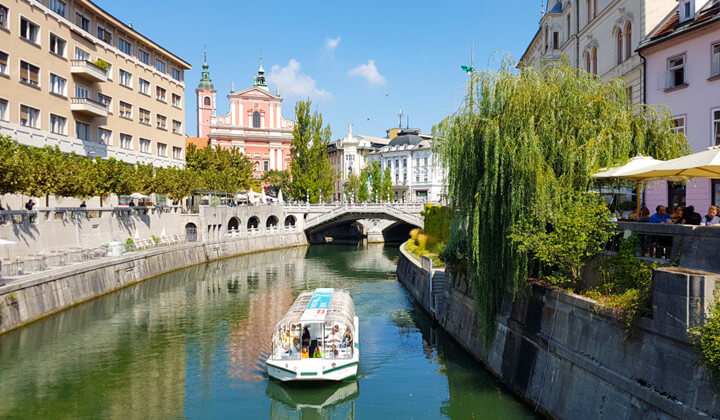 Explore Slovenia

Slovenia is a place that embodies the best of Europe. It has a great history as a country, but also contemporary culture and a thriving tourism industry. The country is surrounded by beautiful mountains and lakes and it's just an hour from Italy by air! In addition to its rich history, Slovenia is known for its cuisine. Slovenian food features fresh ingredients like mushrooms and red peppers, which are combined with traditional spices like paprika. You can try some of these dishes on your Slovenia Tour and they're sure to impress! Here is the list of a few cities that echo Slovenian culture and heritage in everything!

1. Ljubljana - The capital city of Slovenia

Ljubljana is a city of art and beauty, with a rich history that dates back to Roman times. It's one of the oldest cities in Europe. The Slovenes have been called "the happiest people on earth." They're also known for their love for beer and chocolate. You must taste them on our Slovenia Tour. Moreover, the city's old town is filled with narrow winding streets and cafes that serve traditional dishes like stuffed peppers and sausages. The city has been continuously inhabited since the Neolithic period when it was first settled by Celts who built their homes on both sides of the Ljubljanica River.

2. Bled - The city with the most beautiful lake

Bled is a small town in Slovenia, located in the valley of Lake Bled. The town has a rich cultural heritage and is known for its extremely picturesque landscape. It is home to several castles and churches, many of which are centuries old. Take up our Slovenia Holiday Packages and garner some amazing memories. You can rent a row boat and visit the Church of the Assumption or explore the Bled Castle! Apart from that, do not miss out on devouring the Bled Cake. This wonderful local dessert is a treat! It is a cream cake mixed with rum and lemon zest.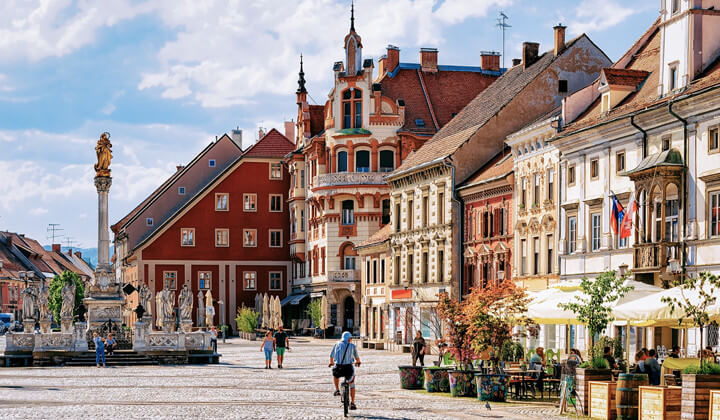 3. Maribor - The home of the world's oldest grapevine

Maribor is a city full of art and culture, with a wealth of history and architecture. It's also known for its beautiful lakes surrounded by green hills and grasslands. The city is home to many museums and galleries, as well as an array of parks, gardens and attractions. There are also plenty of opportunities to participate in activities like cycling, running, or swimming in the lake. Wine tasting is a must when in Maribor. Explore the archaic Old Vine House to have a look at the age-old grapevine. There is the 900-year-old Maribor Cathedral which you can explore with our Solvenia Tour Packages from India. Visit the Plague Column that commemorates the lives of those lost in the plague!

4. Piran - The quiet fishing town of Slovenia

When you're in the mood for a view that's as beautiful as it is breathtaking, nothing beats exploring Piran. From Venetian architecture to the wellness spas, this is a city that's full of sights to see and history to learn. There are plenty of options such as hiking, swimming, and biking if you're looking for something more active than just lounging on the Piran Bay. Don't forget enjoying some delicious treats from one of Piran's many restaurants! You'll be able to find everything from traditional Italian dishes to local specialties and all of them will make your trip even better.

5. Koper - The historical town of Slovenia

Koper is a place where you can experience the beauty of nature, the intense history of the city and its rich culture. The city has been inhabited since prehistoric times and its historic center is one of the most beautiful in Europe. The 800-year-old Praetorian Palace is famous for its gothic design, Venetian architecture, beautiful gargoyles and white wall carvings. Climbing the bell tower is the tourist favorite here! The 800-year-old Cathedral of Mary's Assumption is another site to behold!

Top Bucket List Experiences of Slovenia

Discover the best of Slovenia! The country has more than a thousand castles and churches, and its natural beauty is unparalleled. You'll find lush forests, high mountains, and crystal-clear lakes all of which are perfect for hiking, biking, or kayaking. But, what makes Slovenia truly special is its people. They're friendly and kindhearted and they love to share their culture with the world. That's why you'll find that everyone in this country has a unique story to tell.

1. Explore Lake Bled with our Slovenia Tour Packages from India

Lake Bled is one of the most beautiful and most visited tourist attractions in Slovenia. The lake is surrounded by mountains, which provide a wonderful backdrop for the lake's crystal-clear water that glitters in the sunlight. There are many things to do at Lake Bled. You can take a boat tour down the lake or walk up to its shores on foot! Consider taking part in some of their numerous activities such as kayaking, windsurfing, or skiing down nearby slopes, if you're looking for a unique experience!

2. Explore the Skocjan Caves

Listed as a UNESCO World Heritage Site in 1986, the Skocjan Caves is famous for its large indoor chambers. Not only that, it is also listed as one of the most enormous underground caves in the world. With our guided Slovenia Tour you can see the caves at their very best. You'll see the Silent Cave's projecting stalagmites and stalactites, the Great Hall's enormous open space and even cross the Cerkvenik Bridge, which is suspended in midair.

3. Wander in and out of the Postojna Cave

Perfect for any concerts or events, the cave is adorned by million-year-old stalactites and stalagmites formed by the Pivka River. The most attractive aspect of the cave is the underground railway. You can explore the mystical Postojna Cave by riding on the 150-year-old train. The train journey will take you through various rooms, chambers, and passageways. You will also get to witness a 20-foot-tall stalagmite!

4. Dig through the amazing wonders in the Triglav National Park

To explore Triglav National Park, you can hike trails through the clouds or see the highest mountain in Slovenia. You can go on an overnight hike to the Julian Alps if you're feeling a little more adventurous. Moreover, you can take part in night hikes that allow visitors to experience the dark side of nature at night. These hikes are led by experts who will be able to spot different species of animals in their natural habitats and provide insight into what these animals do at night. To see some spectacular views of Lake Bled, Lake Bohinj, and the Soca River, opt for our customized Slovenia Tour Packages.

5. Visit the highest pass in Slovenia, Vrsic Pass

Drive through the Vrsic Pass, if you wish to go on Slovenia's ultimate road trip adventure. Vrsic Pass is a spectacular mountain pass that offers stunning views of the valley below as well as some of the most beautiful scenery on earth. This twisty highway is regarded as the highest pass in the entire nation as it rises more than 5,000 feet above sea level.
You've heard of the Alps, but have you ever seen them? Dook will take you there in no time!

Slovenia is a beautiful country. It's small, but it packs a big punch. You can travel to Slovenia with Dook International! It offers myriad Solvenia Packages that take you through the country's cities and countryside, as well as excursions to its natural wonders.

You'll see some of the world's most beautiful water bodies that are home to freshwater fish, which are rarely seen elsewhere in Europe. Dook International also offers a variety of other activities. Some include rafting trips down the river Ljubljanica and visits to historical landmarks like castles and cathedrals. You can also go for night tours around the city center. You can see some of Europe's best nightlife while strolling along the riverfront near one of its many bridges. Contact Dook International today, if you want to go on an adventure this summer but don't know where to start!