Wonders Of Jordan
Pkg Id

0000676

Destinations

5

Duration

11 Nights

Attractions

7

Price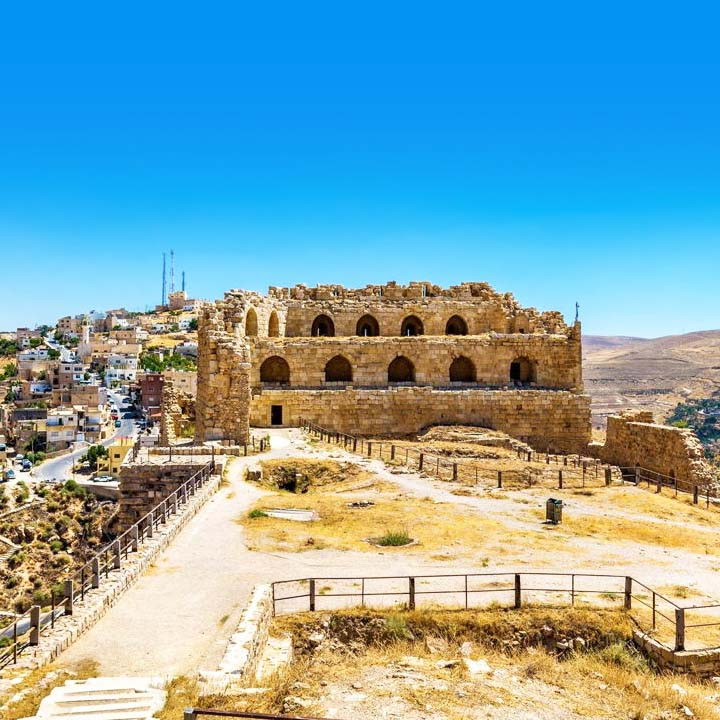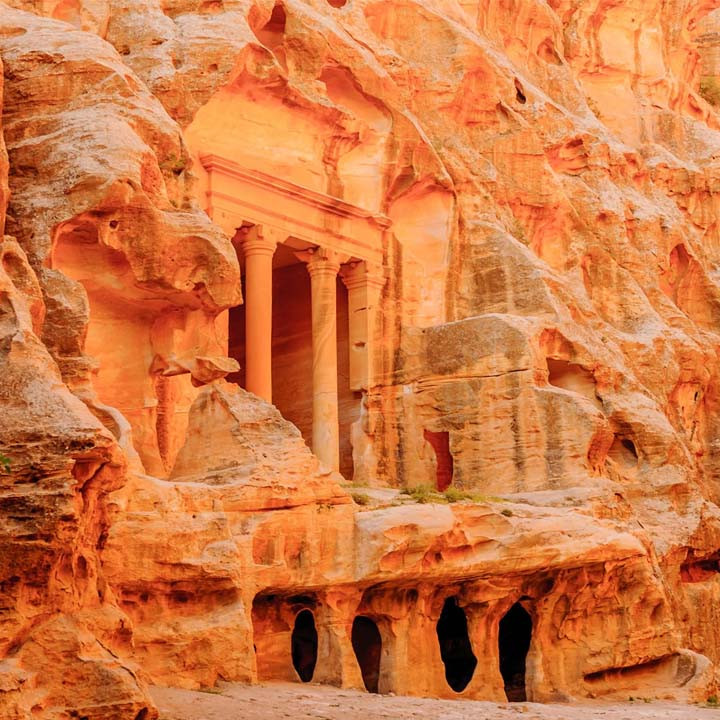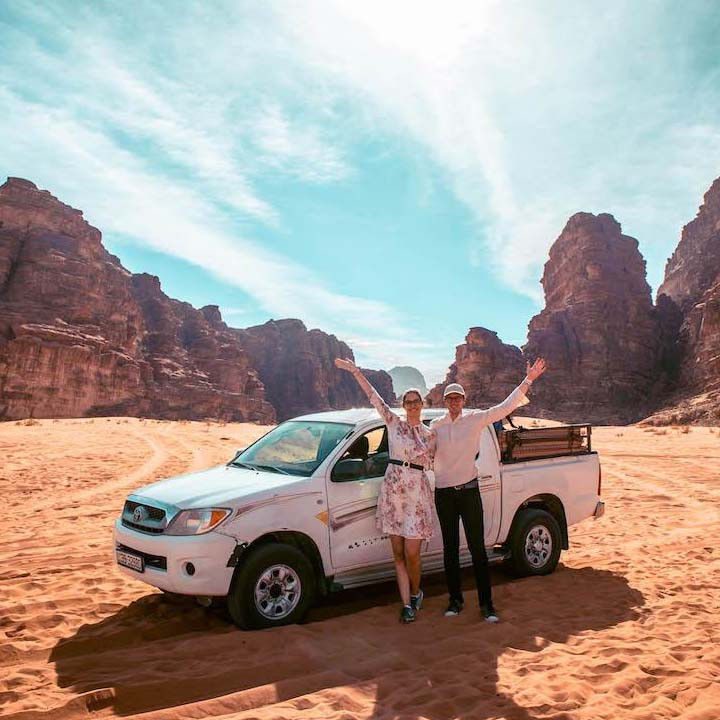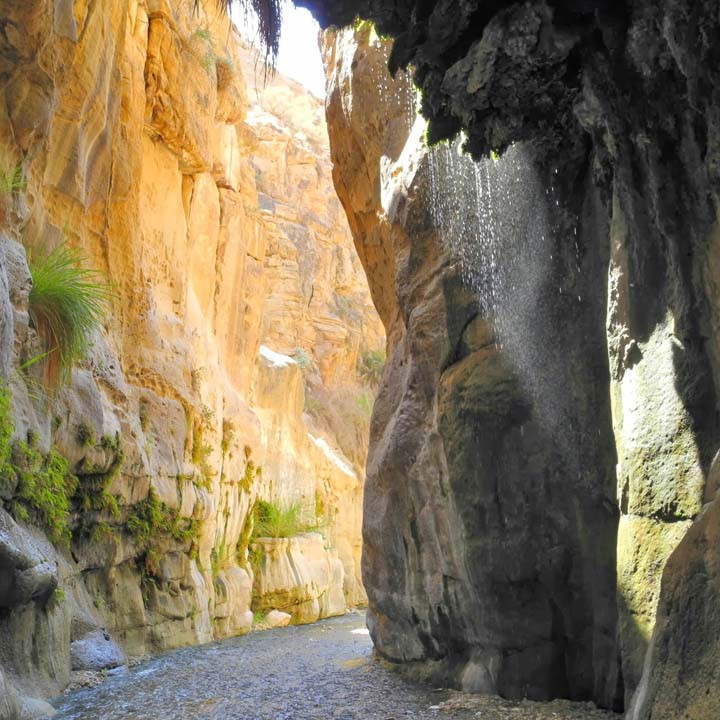 1
Amman Airport - Hotel in Amman
Our representative welcomes you with a signage at Amman Airport after you passed through the customs.
Transfer about 50 minutes to your Amman Hotel, check in, remainder of the day free.
Day at Leisure.
Overnight stay at Hotel.
2
Amman Hotel - 3 Desert Castles - Amman City Tour - Amman Hotel
Breakfast at Hotel.
07:30 start the day with a visit to Desert Castles in eastern Jordan.
First is the Amra Castle adorning with its zodiac dome and the early examples of Omayyad fresco paintings, and there are still the fortress-like mysterious Qasr Kharanah and the black basalt Roman/Medieval Islamic fort at Azraq.
We go back to Amman, already mentioned in the Bible as Rabbath Ammon, is a bustling modern city.
The historical places are located in downtown, where we visit the Citadel with remains from the Roman to the early Islamic period.
Then we have a round in the Archaeological Museum.
We stroll via the Souq, where you get an idea of everyday life, to the Roman Theatre from 2nd century with 6000 seats.
Transfer to hotel for overnight.
3
Amman Hotel - Umm Quais - Jerash - Amman Hotel
Breakfast at Hotel.
07:30 we drive two hours from Amman to Gadara (Umm Quais), which belonged to the famous Decapolis, a union of 10 cities, founded by Alexander the Great.
Here you have an overwhelming view over the north Jordan Valley, the Golan Heights and the Sea of Galilee.
We leave to Jerash, the best example of a Roman provincial city in the whole Middle East.
Visit the spectacular forum, Roman colonnaded street, the Nymphaeum and the Temple of Artemis.
Back to Amman for overnight.
4
Amman Hotel - Madaba - Mt Nebo - Dead Sea Hotel
08:30, after breakfast travel to Madaba, where to find the famous mosaic 6th century map of Palestine in St. George's church.
Then to Mt. Nebo, the place where Prophet Moses gazed at the Promised Land before he died.
You visit the old monastery and overlook the Jordan Valley,
Dead Sea and parts of the Holy Land.
Continue to the lowest point on earth the Dead Sea, where ever since the days of Herod the Great, people have flocked to in search of its curative secrets, free afternoon for your own leisure.
Overnight Dead Sea.
5
Dead Sea Leisure
Breakfast at Hotel.
Day at Leisure.
Overnight stay at the Hotel.
6
Dead Sea Hotel - Petra Visit - Petra Hotel.
After breakfast, check out and drive to the red rose city Petra, the biggest attraction of Jordan.
Petra was first established around the 6th century B.C. by the Nabataean Arabs, a nomadic tribe who settled in the area and laid the foundation of a commercial empire that extended into Syria.
With the guide pass the canyon, the so called Siq, to see the most beautiful monument, The Treasury.
Continue via the Street of Facades to the Royal Tombs and Pharaoh's Castle, guide says farewell at the restaurant area.
Free time to explore Petra on your own.
Overnight stay in Petra.
7
Petra Hotel - Wadi Rum Camel Riding - Wadi Rum Camp.
After breakfast, we drive 1.5 hrs to the protected area of Wadi Rum, today explore the desert by a camel you begin your adventure with a visit to Lawrence's Spring, where T.E. Lawrence was reputed to have washed during the Arab Revolt.
Continue to Wadi Um Ishrin and the famous sand dune area, here we stop for lunch and rest.
Proceed to see the ancient Anfashiyeh inscriptions, before crossing over to Um Rashid Canyon, and passing through Lawrence's House.
We trek onwards to camp for dinner and overnight.

8
Wadi Rum Camp - Wadi Rum Jeep Riding - Wadi Rum Camp
Breakfast at the camp, by jeep proceed to see the desert of Wadi Rum.
You visit Nabatean Temple to observe ancient ruins, then to the majestic Qatar Spring where you can easily climb a nearby rock formation to see scenery of one of the best views of the vast landscape.
Continue to the most interestingly-shaped rock formations known, to the Barrah Canyon where we stop to have lunch, you can have an optional short trek through the canyon for
about a kilometer.
We continue to Jebel Burdah Rock Bridge, Um Fruth Bridge (which is about 20 meters high and a favorite for climbers) and Khazali Canyon.
Return to camp for dinner and overnight.
9
Wadi Rum Camp - Aqaba City Round - Aqaba Hotel.
Breakfast at the camp, then transfer to the Rum Village to meet your escort to continue your journey.
Have a short round in Aqaba, visiting the Mamluk Fort, see the archaeological dig Ayla and free time for shopping in the Souq.
Transfer to Aqaba hotel, check in and overnight.
10
Aqaba Leisure - Aqaba Hotel.
Breakfast at Hotel.
Free time to enjoy Aqaba Red Sea shore, no services provided.
Return to Hotel and Overnight stay at Hotel.
11
Aqaba Leisure - Aqaba Hotel
Breakfast at Hotel.
Free time to enjoy Aqaba Red Sea shore, no services provided.
Return to Hotel and Overnight stay at Hotel.
12
Fly back Home
Breakfast at Hotel.
Latest check out 12:00 noon, depending on your departure time pick up hotel lobby for 4 tours transfer to Amman Airport to say farewell.
As per mentioned in itinerary

As per mentioned in itinerary

English speaking tour guide

As per mentioned in itinerary
Please note that these packages are customizable, which means that you will be able to make changes to the itinerary/activity if you so desire. The final payment will be calculated as per the itinerary and inclusions reflected on the confirmatory e-mail sent to you.
Please expect to receive your vouchers 72 hours before your departure date (subject to full payment of your package cost).
Personal expenses such as laundry, telephone calls, room service, alcoholic beverages, mini bars etc., are not included.
In case your package needs to be canceled due to any natural calamity, weather conditions etc. Dook Travels shall strive to give you the maximum possible refund subject to the agreement made with our trade partners/vendors.
The passenger names in the booking form should be exactly as per passports. Dook Travels will not bear any liability for the name change fee, if incorrect names and ages have been added at the time of booking.
Please note that your package includes baggage as per airlines policy. Any addition in baggage will be charged separately.
Standard check-in time at the hotel is normally 2:00 pm and check-out is 11:00 am. An early check-in, or a late check-out is solely based on the discretion of the hotel.
In case the selected hotel is unavailable for booking, an alternate arrangement will be offered to the customer in another hotel of a similar category.
Certain hotels may ask for a security deposit during check-in, which is refundable at check-out subject to the hotel policy. This amount has to be deposited by the traveler.
Please note that Day at Leisure essentially implies that no sightseeing activities have been included for that day.
Kindly be on time for your activities, tours and transfers. Dook Travels will not be liable for missing any activity thus for any refund against it in such cases.
No refund either in part or in full will be made for any unused part of the services provided in the package.
The package price doesn't include special dinner or mandatory charges at times levied by the hotels especially during New Year and Christmas or any special occasions. Dook Travels shall try to communicate the same while booking the package. However Dook Travels may not have this information readily available all the time.
Our package price does not include GST and TCS. Applicable GST and TCS will be charged over and above the package price.
For queries regarding cancellations and refunds, please refer to our Cancellation Policy.
For any paid activity which is non-operational due to any unforeseen reason, we will process the refund & should reach the guest within 30 days refund requisition. Also, for any activity which is complementary and not charged to Dook Travels & guests, no refund will be processed.
Our package prices are on twin sharing accommodation basis thus published prices are applicable for minimum two persons and multiple of two thereon.
As per RBI guideline every foreign traveler has to provide us his PAN details. The Dollar component of package price will be taken out of your BTQ (Basic Travel Quota).
The tour cost does not include any Overseas Insurance Premium, but we strongly recommend buying Overseas Insurance Policy. The same after issuance is non refundable.
These terms are general terms for our tour packages. Any term mentioned in proposal shall be considered part of it and in case of discrepancy term mentioned in proposal shall prevail.
Disputes, if any, shall be subject to the exclusive jurisdiction of the courts in New Delhi.
Payment Policy
Payment schedule depends on destination, time of booking, inclusions, airline and hotel payment policy etc thus it is specific to your package bookining.
Payment schedule will be part of our proposal to you for the package.
If payment is not made as per the schedule provided in the first booking confirmation e-mail, Dook Travels reserves the right to cancel the booking after attempting to get in touch with you. Refunds would be as per the package cancellation policy.
Cancellation Policy
Once Booking received : INR 5000 (Per PAX) + actual Ticket cancellation + Hotel cancellation as per hotel policy+ Visa fee if visa is applied.
60 – 45 Days prior to departure : 25 % of land cost + INR 5000 (Per PAX) + actual Ticket cancellation+ Visa fee if visa is applied.
45 – 30 days prior to departure: 50% of land cost + INR 5000 (Per PAX) + actual Ticket cancellation+ Visa fee if visa is applied.
30 – 10 days prior to departure: 75% of land cost + INR 5000 (Per PAX) + actual Ticket cancellation+ Visa fee if visa is applied.
Within 10 days: Full.