The Eternal Bhutan With Rajasthan 15 Nights
Happiness and heritage in one package: explore Bhutan and Rajasthan!
Pkg Id

0000162

Destinations

8

Duration

15 Nights

Attractions

14

Price
The happiest country in the world is just a click away. Explore Bhutan's spectacular landscapes, vivid biodiversity and delectable dishes and experience why the tranquil kingdom of Bhutan is the happiest place on Earth. Transfer to Rajasthan and experience calmness of Udaipur, the city of lakes and the bustle of Jaipur, the pink city.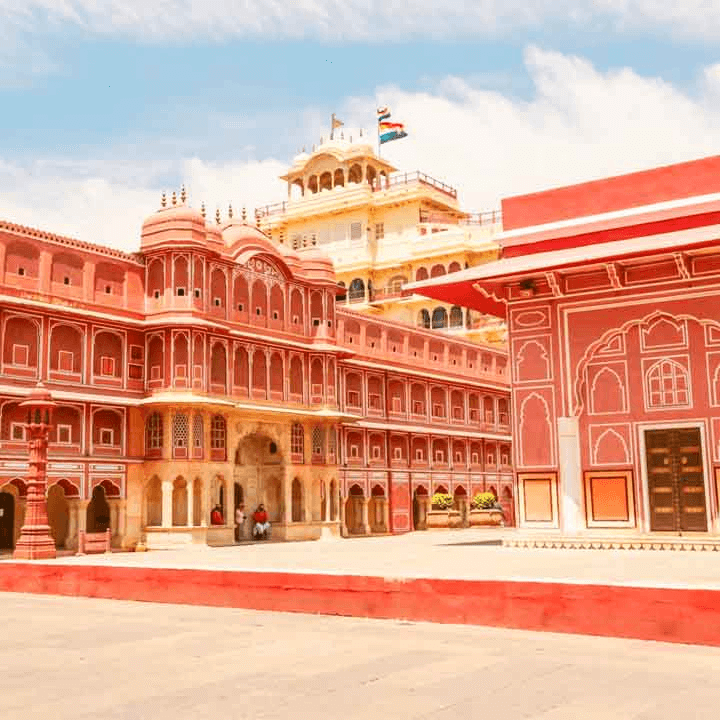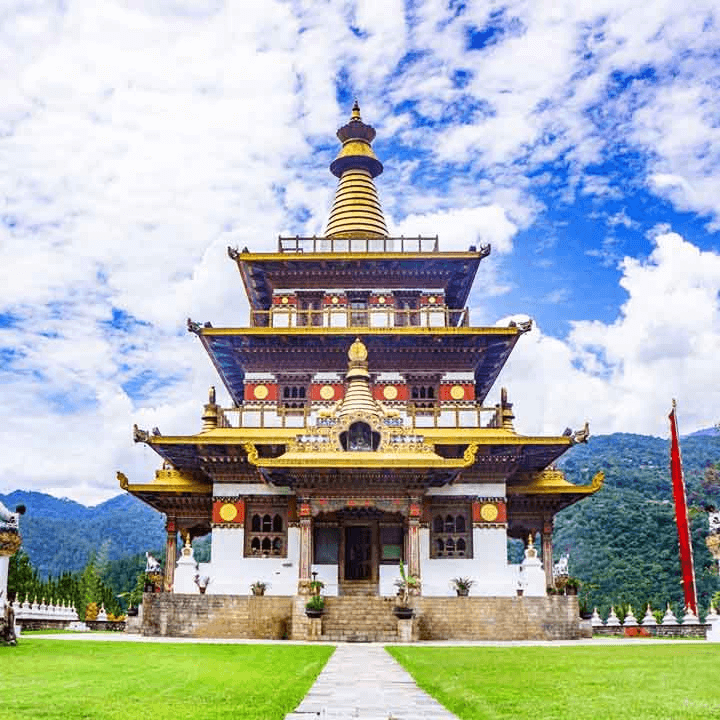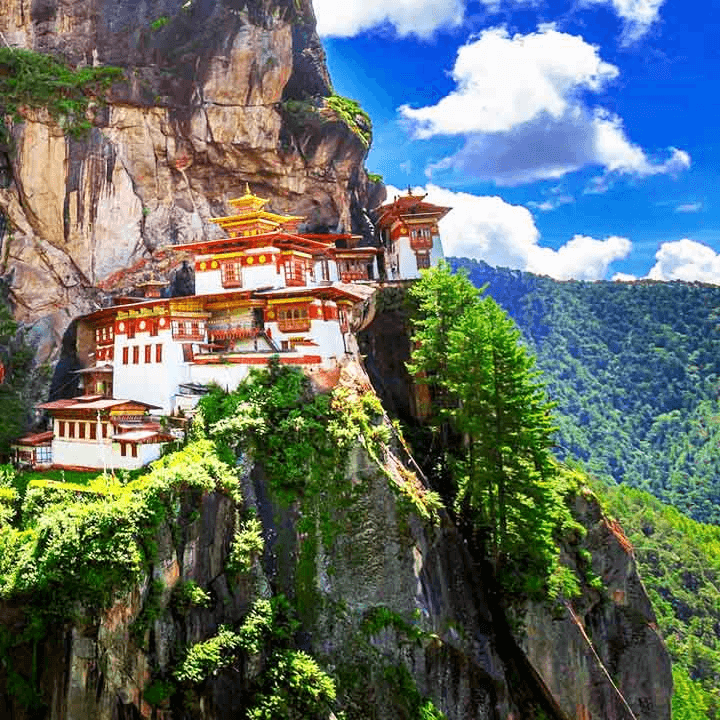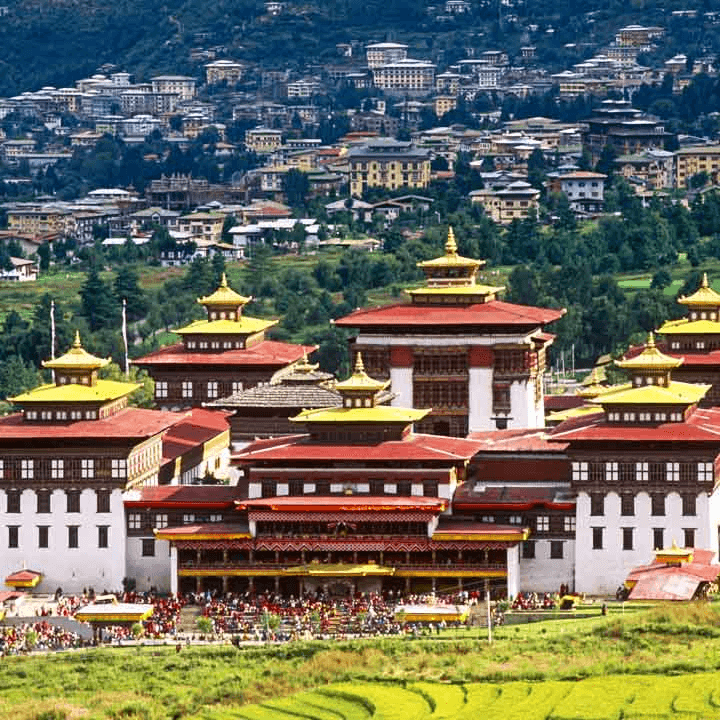 1
Delhi
Arrive Delhi You will be met at the aero bridge and will be assisted through customs / immigration and baggage collection before being introduced to your and beyond representative, who will transfer you to

hotel

The award winning hotel is conveniently located just fifteen minutes from Delhi's international and domestic airports, and thirty minutes from central Delhi, in gurgaon - the business and commercial centre of Delhi's national capital Region.

Spread over nine acres, this hotel is an urban sanctuary defined by bespoke design features. Its high ceilings and open spaces filled with natural light afford refreshing views of the hotel's vast, azure reflection pool and verdant green wall.

The hotel

Also offers an art gallery, salon and a luxury retail arcade

Accommodation is in a deluxe room. Your stay is on bed & breakfast basis
2
Delhi - Paro
Departure transfer from hotel to Delhi international airport for your flight to paro

The flight into Bhutan takes you close to the great Himalayas; offering dazzling scenic views of some of world's highest glacial peaks. As you enter the paro valley, you will pass forested hills with the silvery pa chu (paro river) meandering down the valley below with the paro dzong (fortress) and ta dzong (watch tower) on the hill above the town.

After crossing the immigration and as you exit from the arrival hall of paro airport, you will be met by your and beyond guide and chauffeured to your hotel in Thimphu (1 ½ hour drive).

En-route stop to visit the tamchogg lhakhang and marvel at the iron bridge reconstructed using original chain links from the famous Tibetan bridge builder thangtong gyelpo.

Upon arrival in thimpu, (if time permits, failing which we will visit on 18 June),visit the national memorial chorten.

Modern Bhutan. It is a four-storey tall white building, containing statues and iconography of deities from complex tantric teachings and serves as an important place of worship for Thimphu residents, as well as from other parts of the country.

Post visit continue your drive to thimpu and on arrival check-in at your hotel.

Spend one overnight, Thimphu. Your accommodation is in a deluxe room with meal (breakfast)
3
Thimphu / Gangtey
Morning check-out from the hotel after breakfast and begin the day with a visit to the Buddha dodernma - a gigantic shakyamuni Buddha statue. The statue is filled with over one hundred thousand smaller Buddha statues, each of which, like the

Buddha dodernma itself, is made of bronze and gilded in gold. At a height of 51.5 meters, it is one of the tallest Buddha statues on the world.

Next visit the weaving centre or the textile museum. Weaving is an integral component of the culture and tradition of Bhutan. With the aim to preserve and promote this living art, the royal textile academy of Bhutan was instituted in may 2005

Under the patronage of her majesty ashi sangaychoden wangchuck as a non-government, non-profit organization. The academy will also provide in bringing about a national centre for weaving and educating young students in textiles, fabric

Designs and museum studies. It will also serve as a centre for tourists, introducing the nation's masterpiece to its visitors, while expanding the nation's resource for cultural tourism.

We will next stop by at amankora thimphu for a quick site inspection.

Then on the way to gangtey, if time permits visit the jungshi paper making factory. It is located approximately 1 km from thimphu city. The factory uses the bark of two tree species, the daphne tree and dhekap tree in the manufacture of

Traditional paper. Visitors can observe the entire process of producing handmade paper using ancient traditional methods that have been practiced for generations. You can even try your hand at this ancient craft and make some paper of your very

Own as a souvenir. Deh-sho paper was originally used by monasteries for woodblock and manuscript books and also for writing prayer books.

Then you will be chauffeured to gangtey(approx. 6 hour's drive). The road climbs steeply through a scenic forest of pine and cedar trees, to dochu la pass (10,000 feet). The pass offers panoramic views of the Himalayan mountain ranges.

Stop on dochu la to visit the 108 stupas built on this 3,150 meter high pass in honor the fallen bhutanese soldiers. Later visit the druk wangyel lhakhang, built by queen mother her majesty ashi dori wangmo wangchuk and was built in honour of

His majesty the fourth druk gyalpo, jigme singye wangchuck. You can stop here for lunch or carry a packed lunch which you can stop for later on the way.

Lunch will be at the dochu la cafeteria.

Crossing wangdue, the road once again gradually climbs to lawa la pass, which offers the magnificent view of jhomolhari (7300m) mountain and jichu drake (6700m). There is an abrupt change in vegetation as we drive, with mountain forest

Replaced by high altitude dwarf bamboo.

Gangtey is one of the most beautiful valleys in the country and it's the winter home of endangered black-necked cranes that migrate from the arid plains in the north to pass winter in milder and lower climate. These winged visitors begin arriving

Around early october. Phobjikha is at an altitude of 2900 m above sea level and on the periphery of the black mountain national park. On reaching gangtey check in to the hotel. Soak in the beautiful views of the gangtey valley and relax.

Spend two overnights in gangtey. Your accommodation is in a suite on full board (breakfast )
4
Gangtey
After breakfast, visit gangtey goemba (monastery), which enjoys the valley's prime real estate, on a forested hill overlooking the green expanse of the entire phobjikha valley. Pema thinley, the grandson and reincarnation of pema lingpa, founded

The nyingma temple here in 1613 and today the goemba is the seat of the 9th reincarnation of the body of the terton (treasure discoverer) pema lingpa. There are 300 lay-monks studying the nyingma sect of Buddhism in this goemba.

Then from the goemba you will walk along the gangtey nature trail, quite popular amongst the visitors to the valley. Crossing streams and rhododendron gardens you cross sumchubara village, afterwards you enter the pine covered forest, which

Opens at a canopy that affords fabulous views of the valley.

Further down, the trial passes the village of khewang and later you will cross the nake chu where you will be picked up by your car.

From here you will be taken to the crane information center a short drive on the way back to the lodge.it gives you the detailed information regarding the valley and the black necked-crane. The center is also equipped with binoculars, installed to

Watch the cranes.

There is a good chance that the last few might still be there at this time. Also enjoy a 15 minute documentary about the endangered bird – "the birds of heaven", if interested.

Return to the lodge for lunch and the rest of the afternoon is at leisure.

In the evening we will be going to gangtey lodge for an inspection followed by dinner.
5
Gangtey / Punakha
Early this morning, post breakfast, you will be chauffeured to punakha (3 ½ hours' drive).

Well before reaching punakha stop en route and hike about 30 minutes to the chimi lhakhang on a small hilltop. the temple was dedicated to the great yogi in the 14th century, known as drukpa kuenley, as well as the "divine madman." he dramatized Buddhist teachings using songs. It is believed that this temple blesses women who seek fertility.

Then proceed to your hotel for a quick check-in and lunch at your hotel.

In the late afternoon around 1430 hrs proceed towards punakha town and en route stop to visit punakha dzong.

Constructed in 1637, this was the second of Bhutan's dzong and for many years its seat of government. From this spectacular setting You can look back to see the khamsum yuelley namgyel temple perched on the hillside far in the distance.

Next, we will stop at the amankora punakha for an inspection. Followed by the inspection of amankora, you will be driven to the uma by Como for inspection cum drinks and dinner.

Drive back to your hotel. Rest of the evening is at leisure.

Spend one overnight at the dhensa, punakha.

Your accommodation will be in a suite on half board (breakfast )
6
Punakha / Paro
Early this morning drive to the suspension bridge from where you will begin the hike to the khamsum yuelley namgyal chorten with some packed fruits or a cold breakfast.

This three storey lhakhang was built by her majesty the queen ashi tshering yangdon for the protection of the country. It has an impressive view of the punakha valley and is worth the climb to the top.

The deities represented here belong to a teaching cycle of dudjom rinpoche, a great nyingmapa master (1904-87).

The functions of the deities are to subjugate enemies and harmful influences, and also to spread peace and harmony.

The lhakhang is a 45 minute hike from the main road.

Afterwards drive back to the hotel for a quick freshen up and then you will set out for your drive to paro (4 ½ hours).

Paro is a historic town with many sacred sites and historical buildings scattered through the area. It is home to many of Bhutan's oldest temples and monasteries, national museum and country's only airport. Mount.

Chomolhari (7,314m) reigns in White glory at the northern end of the valley and its glacial water plunge through deep gorges to form pa chhu (paro river). Paro is also one of the most fertile valley in the kingdom producing a bulk of the locally famous red rice from its terraced Fields.

Arrival in Paro

Later transfer to your hotel and check-in.

Post check-in will visit the national museum. The museum collection includes ancient bhutanese art and artefacts, weapons, coins, stamps and a small natural history collection. (this museum closes entry at around 4 pm so if the arrival into paro is delayed then the sightseeing of the museum may have to be done the next day).

Post visit, proceed on a site inspection of amankora par followed by dinner.

Spend two overnights at the uma by Como, paro.

Your accommodation will be in a valley view room On bed &breakfast basis.
7
Paro
After an early breakfast, drive to the north of paro valley to ramthankha (approx. 30 minutes' drive from the hotel), from where you start your hike to the taktsang monastery (tiger's nest).

The trail climbs through beautiful pine forest, many of trees festooned with Spanish moss and an occasional grove of fluttering prayer flags.

Legend has it that guru rimpoche, founder of Buddhism flew from eastern Bhutan on a tigress, bringing Buddhist teachings and meditated here in this cliff.

This is one of the most venerated and sacred of all Buddhist sights around the world.

Afterwards, walk down to taktsang cafeteria for a short break.

Walk further downhill to the road where our car has been parked and return to the hotel for rest and lunch.

Lunch will be at the hotel which will be followed by an inspection of the property.

The afternoon is at leisure in your hotel.

In the evening, if interested, visit a local farmhouse. It is a traditional village house. The beauty of paro valley is embellished by cluster of old fashioned farm houses.

Bhutanese farm houses are very colourful, decorative and traditionally built without the use of single nail. All houses follow the same architectural pattern.a visit to farm house is very interesting and offers a good glimpse into the lifestyle of a farmer.

You can try the traditional hot stone bath.

If you are up to a challenge for A hot bhutanese cuisine, then you may also experience the traditional bhutanese meals and the local wine known as "Ara" in bhutanese language
8
Paro – Delhi
This morning, you will be transferred to the paro airport to board your flight to Delhi

On arrival in Delhi you will be met and transferred to

Hotel.

Just within reach of Delhi's bustling city centre, Lodhi New Delhi is a luxurious retreat in spacious surroundings, offering guests an ideal base from which to explore the city's many diverse charms.

Amidst the lush order of lutyen's' Delhi, just minutes from the grandeur of rashtrapati bhavan, the peaceful Lodhi gardens and many other iconic sites, Lodhi New Delhi provides one of the world's most colourful and cosmopolitan capital cities with a tranquil new retreat. Offering essential respite in spacious surrounds, this city-based resort is an elegant haven exuding an air of sophisticated calm, and provides guests with the ultimate in comfort.

Return to Hotel and Overnight stay at Hotel.
9
Sightseeing of Delhi
Depart the hotel to witness the changing of the guard ceremony at the rashtrapati bhavan, (presidential house), one of India's oldest military traditions. Enjoy the memorable parade, with the elite president's body guard on horseback And the army brass band.
Rashtrapati Bhawan (president house): the official residence of the president of India stands at the opposite end of the rajpath from India gate. Completed in 1929, the palace like building is an interesting blend of Mughal and western architectural Styles, the most obvious Indian feature being the huge copper dome. Prior to independence this was the viceroy's residence.
Later proceed to the savanna bhavan restaurant for breakfast Followed by a tour of new Delhi driving past.
India gate: this 42m high stone arch of triumph stands at the eastern end of the rajpath. It bears the names of 85,000 Indian army soldiers who died in the campaigns of ww i the north west frontier operations of the same time and the 1919 afghan Fiasco.
Rajpath: - the kings way is another focus of Lutyens new Delhi. It is immensely broad and is flanked on either side of ornamental ponds. The republic day parade is held here every 26th January, and millions of people gather to enjoy the spectacle.
Later visit the Gurudwara Bangla Sahib, the temple of the Sikhs. Their turbans and beards make the men easily identifiable with the sect.
Sikhism developed as an antithesis to the caste ridden and ritualistic forms of Hinduism and developed as a simple religion whose foundation was "sewa" – socially responsibility irrespective of a person's social standing. Thus every Sikh temple.
Has the famous community kitchen, where it is considered a privilege to assist cooking the food and serving a simple meal to pilgrim and visitors. If guests wish, they can participate in the community service. We will also try and arrange for you To participate in serving food to the visitors.
Agrasen Ki baoli: -Agrasen Ki baoli has unique structure which is quite different from the traditional round shape. It has three levels where each level has an arched area, which was used as a resting place. The center of the well has water and the Water is also linked to a well dug in a covered platform. The gallery and chambers surrounded walls of Agrasen Ki baoli are carved profusely.
Humayun's tomb: Humayun's tomb is a complex of buildings built as the Mughal emperor Humayun's tomb, commissioned by Humayun's wife hamida Banu begum in 1562. It was the first garden-tomb on the Indian subcontinent, and is located in Nizamuddin east. It was also the first structure to use red sandstone at such a scale. The complex was declared a UNESCO world heritage site in 1993.
Post tour return to hotel for lunch.
Later afternoon we will take metro rail (one way) to visit old Delhi. On arrival visit Chandni chowk: take a rickshaw ride in Chandni chowk which was once the grandest of markets in India. Even though today Chandni chowk appears choked with congestion, it retains its historical character.
Spice market: Khari baoli is a street in old Delhi known for its wholesale grocery and Asia's largest wholesale spice market selling all kinds of spices, nuts, herbs and food products like rice and tea. The market is operating since the 17th century.
Jama masjid: the Jama masjid of Delhi is the principal mosque of old Delhi in India. Commissioned by the Mughal emperor shah jahan, builder of the Taj mahal, and completed in the year 1656 ad, it is the largest and best-known mosque in India. It Lies at the origin of a very busy central street of old Delhi, Chandni chowk.
Street food tour: thestreet famous for its food, from many generations. Guests will visit traditional food stalls that developed in the folds of the culture of old Delhi. At each stop guests will see the house specialties. Some of the foods that guests
May sample are: parathana's, (Indian flatbread) samosa (triangular deep fried dumplings stuffed with potatoes), kachori (deep fried dumplings stuffed with an assortment of lentils and spice), kulfi (Indian ice-cream), lassi (a yogurt drink), jalebi, (Indian sweet) etc.
And end your tour of old Delhi high tea at "Dharmapuri haveli ".
Haveli Dharmapuri: with its distinctive features is attributed as late Mughal style though parts of it has the influence of the 20th century architecture. During Mughal and late Mughal period, a large numbers of havelis were built by the courtiers.
This haveli in particular dates to 1887 ad and was originally designed to have mixed use pattern i.e. Both residential and commercial. The surroundings of the haveli still bear the evidences of history through its physical features. Brackets, Balconies, jharokas, multifoliated arched gateway, carved sandstone facades, wooden doorway from the virtual of the approach.
10
Delhi-Udaipur
Early this morning you will be met & chauffeured to Delhi airport with packed breakfast for your flight to udaipur

Udaipur: delicate, feminine and elegant, udaipur is known by many names – city of sunrise, jewel of mewar and city of lakes. Undoubtedly one of India's most romantic cities, it nestles between the glassy waters of its famous lakes and the

Ancient aravalli hills. Although it is one of rajasthan's largest cities, modern udaipur manages to retain a charming small town vibe

On arrival you will be met and transferred to 'the oberoi udaivilas'

Oberoi udaivilas:-adorning the banks of lake pichola and standing witness to the historic city palace, the oberoi udaivilas captures all the romance and splendour of a royal era. Rooms with terraces that open on to semi-private swimming pools

Present exquisite views and are a unique feature of udaivilas. Magnificently decorated suites with private swimming pools and outdoor dining pavilions are exclusive retreats.

Breakfast will also be available on arrival and however in case of any delay in the arrival of the flight, a light refreshment will be provided on arrival at the hotel.

Proceed on a site inspection of hotel.

Proceed on a visit to nagda and eklingji temples. The city dotted with temples, is 45minutes drive to the north of udaipur. It is a complex of 108 ancient temples, incised out of sandstone and marble. The temple was built in 734 ad, to

Propagate the blessings of lord Shiva. Eklingji and nagda temples are an architectural marvel.

Post visit return to hotel and join the welcome dinner hosted by hotel.

Spend two night, Accommodation is in a premier room with en suite facilities. Stay is on bed and breakfast basis.

11
Udaipur
This morning proceed on a guided sightseeing tour of Udaipur visiting city palace, the fine house of maharajas of Udaipur.
A pearl of marble and vibrant mosaics, it is marvelous example of the attention to detail and the exemplary workmanship of the Rajasthani artisans.
You will also visit the crystal gallery that has an extraordinary collection of objects including a crystal bedroom set and after that visit vintage car museum and sahelion ki bari.
Afternoon proceed on a private motor launch cruise on the placid waters of lake Pichola. From the boat you will be able to view the city of Udaipur as it rises majestically above the lake.
Jag mandir: an unforgettable sight on lake Pichola is the island of jag mandir. Maharana Karan singhji built the palace in 1622 ad as a pleasure palace for royal parties and functions. This magnificent monument with its domes, marble pillars and fountains has a special row of marble elephants that seem to be guarding approach to the island.
Evening- visit Jagdish temple to witness aarti ceremony: is one of the famous temples of Udaipur. Located in the city palace complex of Udaipur, this temple is made in the Indo-Aryan style of architecture.
The temple is dedicated to lord Vishnu (Laxmi Narayan), the preserver of the universe. The gateway of this temple can be sited at a distance of 150 meters.
This three-storied temple is a wonder of architecture that comprises beautifully carved pillars, decorated ceilings, painted walls and lush halls.
Followed by walking tour in the old part of the city.

12
Udaipur / Shahpurabagh
This morning, we will be driven to shahpura – approximately 4 hrs journey.the small state of shahpura, in rajasthan, owes its origins to the long struggle between the sisodiamaharanas of udaipur and the mughal power. Maharaj sujan singhji, grandson of maharana amrit singhji i, entered the mughals service under shah jahan.

He rose to high rank and distinguished himself in the afghan campaigns. His services were rewarded with the grant of the large jagir of phulia, which he renamed shahpura, in honour of his patron.

He died with five of his sons fighting against aurangzeb in 1658, leaving an infant grandson as his heir and successor. However, his only surviving son, daulatsinghji, succeeded in wresting control of the estates from his nephew in 1664.on arrival check into shahpura bagh- shahpura bagh is a 30-acre heritage estate (1630 ad) situated midway between jaipur and udaipur (rajasthan, india).

This was a summer residence of the rulers of shahpura and now a fine heritage hotel.

Afternoon enjoy cooking classes, followed by lunch.

Evening enjoy sundowner at dhikola fort followed by dinner.

Spend one night at shahpura bagh. Accommodation is ina suite with ensuite facilities. Stay includes meals
13
Shahpurabagh / Jaipur
After breakfast this morning we will depart for Jaipur.
On arrival, you will check into oberoi rajvilas.
Recreating the magnificence of princely Rajasthan, in a beautiful fort setting, with Jaipur as its backdrop; the oberoi Rajvilas: is set in 32 acres of landscaped gardens with pavilions and reflection pools that create the romance and grandeur of Rajasthan.
All rooms have large four poster beds and sunken marble baths overlooking private walled gardens. Air- conditioned luxury tents have embroidered interior canopies, old style baths and outdoor decks.
Late afternoon you will be taken on a guided tour of the city palace.
The whole complex is wonderfully laid out with large courtyards, balconies, cupolas, arched entrances and gardens, which are prime examples of Rajput architecture.
The museum here displays the rich heritage of the Jaipur family in miniature paintings, textiles, garments, books & manuscripts, carpets, palanquins and weapons dating back to the 15th century.
During the tour of city palace, guests will have the opportunity of visiting the private chambers, which are normally not accessible by the general public.
Later take a walking tour of old market. You will pass bangles makers and sellers, cobblers selling local embroidered footwear known as jutis, local merchants selling textiles, and block-printed cottons, plus numerous items you will have to ask you guide to explain what they are for.
Evening return to hotel and proceed on a site inspection of the hotel followed by dinner spend two nights at the oberoi rajvilas.
14
Jaipur
After an early breakfast we will visit the amber fort.

Amber fort is located 11 km from jaipur. It was the ancient citadel of the ruling kachhawa clan of amber, before the capital was shifted to present day jaipur. Amber fort is known for its unique artistic style, blending both hindu and muslim (mughal) elements, and its ornate and breathtaking artistic mastery.

Llater you will be transfer to hotel for site inspection and for lunch post lunch you will have another opportunity of visiting the market. Return to the old city you will visit the maniharon ka rasta (bangle makers lane), then walk to the thada market (wholesale area) followed by a walk through the wedding market selling various things for indian wedding, after which you will cross the flower market and a few temples on the way, along with many small stalls.

4:00 pm: proceed to dera amer farm for high tea. Dera amer; situated behind the hills of the famous amer fort is the ideal location for outdoor recreational and adventure activities in very close proximity to the city of jaipur. The camp is located at the foothills of the aravali range and surrounded by the wilderness of a reserved forest with no urban civilization in the vicinity, just a few hamlets housing the local villagers occupied by farming on the their fields bordering a pretty lake.

Later return to your hotel
15
Jaipur / Agra
This morning after early breakfast we will depart on a 05 hour road journey to agra. En route visiting the abandoned Mughal walled city of Fatehpur sikri.
Fatehpur sikri is a fine example of a Mughal walled city with defined private and public areas and imposing gateways. Its architecture, a blend of Hindu and Islamic styles, reflects Akbar's secular vision as well as his style of governance.
After visiting Fatehpur sikri we will continue our journey toagra and on arrival, we will be driven straight to hotel for lunch, followed by site inspection.
The city of agra flourished under the patronage of the emperors Akbar, Jahangir and shah jahan and attracted artisans from Persia and central Asia. Agra is where emperor shah jahan engraved his immortal love for his empress in marble, the Taj mahal.
Agra is still famous for handicrafts products such as inlay work on marble, carpets, jewellery, zari and embroidery work.
Later you we will transfer to the Hotel. The hotel is located 600 meters from the Taj mahal and all the rooms, suites, lobby, bar and lounge offer breathtaking views of the monument. Built in a style inspired by Moorish and Mughal architecture, the resort takes you back to an era of emperors and princes. An interlude at the oberoi Amarvilas is truly unforgettable.
Visit Taj mahal from Mehtab Bagh ( Taj Mahal is Closed on Friday)
Return to hotel.
Proceed on a site inspection of the oberoi Amarvilas followed by hosted dinner.
Spend one overnight at the oberoi Amarvilas. Accommodation is in a premier room.
Your stay is on bed & breakfast basis.

16
Agra – Delhi
Early this morning we will visit the Taj mahal at sunrise. Taj mahal: said to be one of the most elegant and a harmonious building in the world, taj mahal is the manifestation of the wealth and luxury of Mughal art as seen in its architecture, garden design, painting, and calligraphy.
Return to your hotel for breakfast and some rest.
Visit the agra fort Agra fort: the red sandstone agra fort was renovated and converted into a palace during shah jahan's time, and reworked extensively with marble and pietra dura inlay. Notable buildings in the fort include the pearl mosque, the diwan-e-am and Diwan-e-khas (halls of public and private audience), Jahangir's palace, khas mahal, sheesh mahal (mirrored palace), and Musamman Burj.
Return to your Hotel.
Drive to Delhi (approx. 3 ½ hrs drive). On arrival you will be check into at Hotel. Where we will be holding day use rooms till departure.
Later in evening showcase of the oberoi Gurgaon & trident Gurgaon followed by farewell dinner at amaranth.
Late night you will be met and transferred to the international airport.

Visa
Click to view Visa information
General Terms
Please note that these packages are customizable, which means that you will be able to make changes to the itinerary/activity if you so desire. The final payment will be calculated as per the itinerary and inclusions reflected on the confirmatory e-mail sent to you.
Please expect to receive your vouchers 72 hours before your departure date (subject to full payment of your package cost).
Personal expenses such as laundry, telephone calls, room service, alcoholic beverages, mini bars etc., are not included.
In case your package needs to be canceled due to any natural calamity, weather conditions etc. Dook Travels shall strive to give you the maximum possible refund subject to the agreement made with our trade partners/vendors.
The passenger names in the booking form should be exactly as per passports. Dook Travels will not bear any liability for the name change fee, if incorrect names and ages have been added at the time of booking.
Please note that your package includes baggage as per airlines policy. Any addition in baggage will be charged separately.
Standard check-in time at the hotel is normally 2:00 pm and check-out is 11:00 am. An early check-in, or a late check-out is solely based on the discretion of the hotel.
In case the selected hotel is unavailable for booking, an alternate arrangement will be offered to the customer in another hotel of a similar category.
Certain hotels may ask for a security deposit during check-in, which is refundable at check-out subject to the hotel policy.This amount has to be deposited by the traveler.
Please note that Day at Leisure essentially implies that no sightseeing activities have been included for that day.
Kindly be on time for your activities, tours and transfers. Dook Travels will not be liable for missing any activity thus for any refund against it in such cases.
No refund either in part or in full will be made for any unused part of the services provided in the package.
The package price doesn't include special dinner or mandatory charges at times levied by the hotels especially during New Year and Christmas or any special occasions. Dook Travels shall try to communicate the same while booking the package. However Dook Travels may not have this information readily available all the time.
Our package price does not include GST and TCS. Applicable GST and TCS will be charged over and above the package price.
For queries regarding cancellations and refunds, please refer to our Cancellation Policy.
For any paid activity which is non-operational due to any unforeseen reason, we will process the refund & should reach the guest within 30 days refund requisition. Also, for any activity which is complementary and not charged to Dook Travels & guests, no refund will be processed.
Our package prices are on twin sharing accommodation basis thus published prices are applicable for minimum two persons and multiple of two thereon.
As per RBI guideline every foreign traveler has to provide us his PAN details. The Dollar component of package price will be taken out of your BTQ (Basic Travel Quota).
The tour cost does not include any Overseas Insurance Premium, but we strongly recommend buying Overseas Insurance Policy. The same after issuance is non refundable.
These terms are general terms for our tour packages.Any term mentioned in proposal shall be considered part of it and in case of discrepancy term mentioned in proposal shall prevail.
Disputes, if any, shall be subject to the exclusive jurisdiction of the courts in New Delhi.
Payment Policy
Payment schedule depends on destination, time of booking, inclusions, airline and hotel payment policy etc thus it is specific to your package bookining.
Payment schedule will be part of our proposal to you for the package.
If payment is not made as per the schedule provided in the first booking confirmation e-mail, Dook Travels reserves the right to cancel the booking after attempting to get in touch with you. Refunds would be as per the package cancellation policy.
Cancellation Policy
Once Booking received : INR 5000 (Per PAX) + actual Ticket cancellation + Hotel cancellation as per hotel policy+Visa fee if visa is applied.
60 – 45 Days prior to departure : 25 % of land cost + INR 5000 (Per PAX) + actual Ticket cancellation+Visa fee if visa is applied.
45 – 30 days prior to departure: 50% of land cost + INR 5000 (Per PAX) + actual Ticket cancellation+Visa fee if visa is applied.
30 – 10 days prior to departure: 75% of land cost + INR 5000 (Per PAX) + actual Ticket cancellation+Visa fee if visa is applied.
Within 10 days: Full.