Indian Forts And Palaces Tour 20 Nights
A true passage to India
Pkg Id

0000157

Destinations

10

Duration

20 Nights

Attractions

11

Price
Journey through India's heartland covering the most spectacular cities and towns. Discover the hubs of spirituality, base cities for exploring the wilderness and world class gourmet cities. Experience the contrasts and the diversity in the country and do not forget to try out the local cuisines of every place you disembark.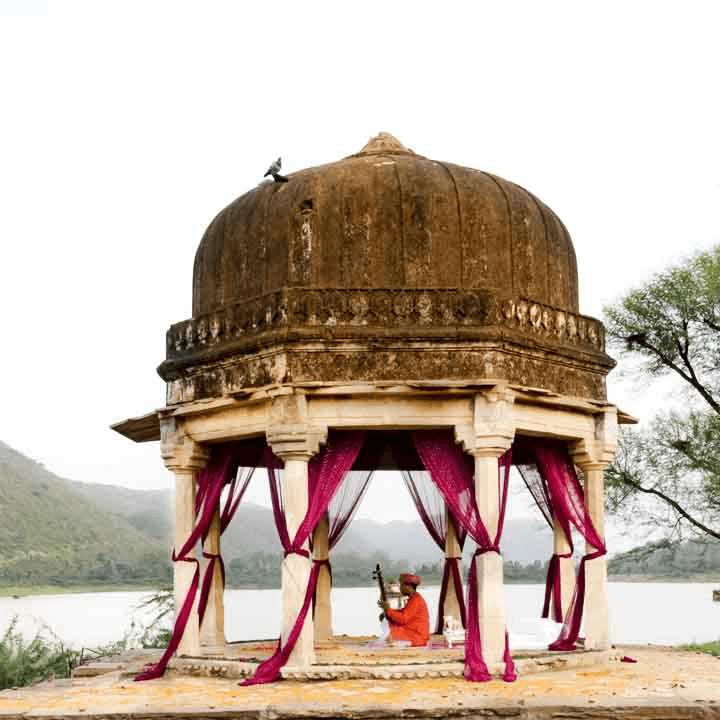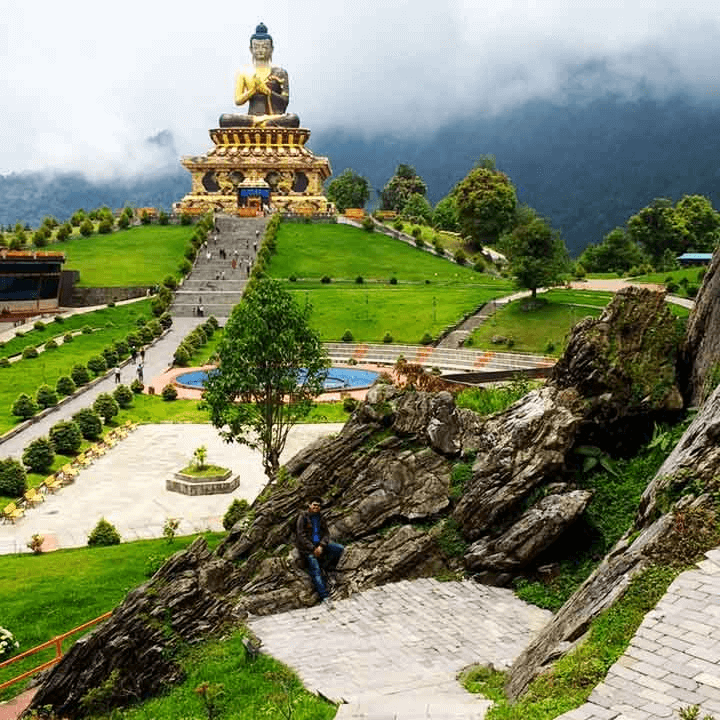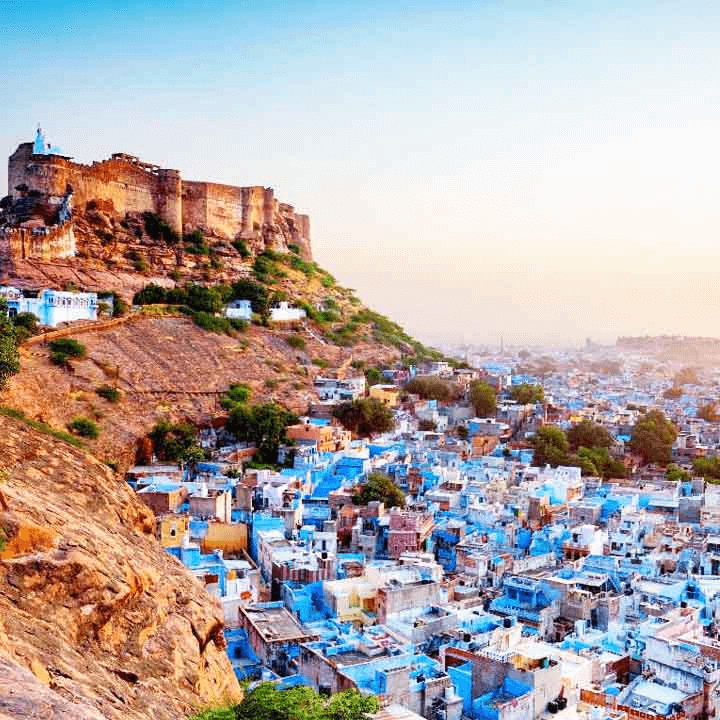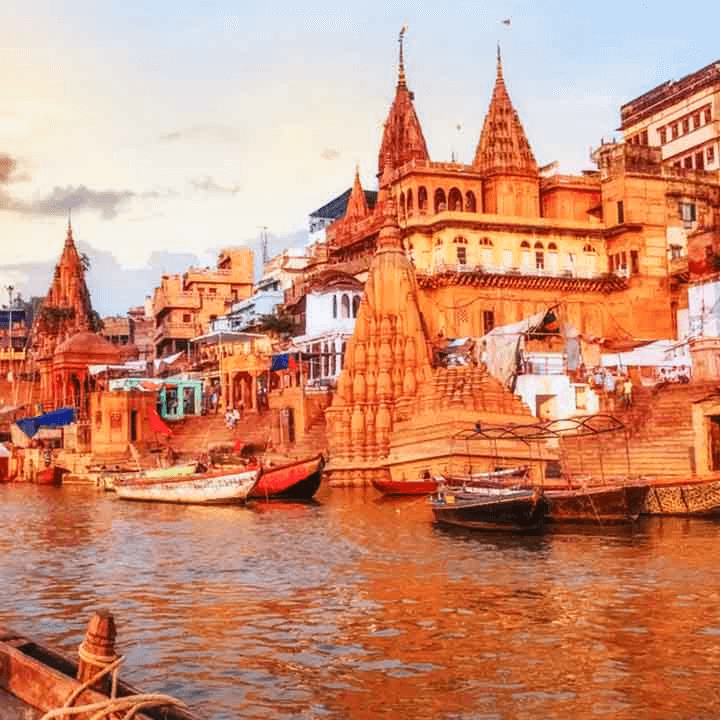 1
Arrive Mumbai
Upon arrival in Mumbai.
You will be welcomed by your Dook Travels India host and chauffeured to the hotel Taj Mahal Palace and Towers.
Mumbadevi or Mumbai, from which we get Bombay, was a part of the dowry of Catherine Braganza when she married Charles II in 1661. Bombay remained isolated till the Suez Canal was opened.
After which trade Bombay overtook Calcutta as the main port due to the proximity to the European countries.
Today, Bombay is a beautiful harbour studded with hilly islands and a palm-fringed shore, rising gradually to the peaks of the mountain ranges – truly worthy of being the 'Gateway of India'.
Besides being a major port of India, Bombay is also a thriving industrial centre.
A cosmopolitan city, it owes its prosperity to the industry and enterprise of its population of about eight million. It is the commercial capital of India.
Spend Two nights at Hotel Taj Mahal Palace and Towers.
Accommodation is in Luxury Grand / Palace Wing Sea Facing Room.
Your stay is on Bed and Breakfast basis.

2
Mumbai
Morning proceed on a city tour visiting the main highlights of Mumbai.

It will includes drive by the colonial part of Mumbai viewing the heritage buildings representing periods when the British were here, the Victoria terminus, now known as the Chhatrapati Shivaji Terminus.
Also visit Mani Bhawan, Prince of Wales Museum now known as the Chhatrapati Shivaji Museum, and make a photo stop at the famous Dhobi Ghats for photo opportunity.
Prince of Wales Museum: The museum houses an extensive collection of fascinating 18th and 19th century miniature paintings.
Marine Drive: This sweeping avenue resplendent with a thousand lights resembles a diamond studded necklace hence is known as the "Queen's Necklace" .
Malabar Hill: Malabar hill has attractive residences, the government house, and the ruins of Walkeshwar temple built sometime between 810 and 1260 AD.
Mani Bhawan: Mahatma Gandhi's Bombay base from 1917 to 1934.
Dhobi Ghats Photo stop only: Photo opportunity at the Dhobi Ghats, where laundry from all over Mumbai is brought to be soaped, soaked, boiled and beaten.
During the tour you would also do market tour of Mumbai visiting various important markets.
Mumbai's heart lies not in its monuments but in its bazaars (markets).
Crawford Market: Renamed as Mahatma Jyotiba Phule market though popular as Crawford Market.
section selling well-bred pets for the animal lover segment of customers.
You'll also get an inside look at the Jain community, visit a Panjra Pole (animal shelter) – and you'll finally figure out what this 'sacred cow' thing is all about!
Zaveri Bazaar: One of the most important shopping destinations in Mumbai is the Zaveri Bazaar. The shops in this market sell all types of Jewellery.
antique and silver ornaments, intricately designed with diamonds and other precious gems.
Fashion Street: Just as the name suggests, Fashion Street is a bustling street filled with the latest fashion merchandise.
Chor Bazaar: Chor Bazaar, which means 'thieves market', is situated in the south of Mumbai. It is one of the biggest flea markets in India.
Mangaldas Market (cotton/silk market): This market is every fabric lover's heaven, once here you are bound to fall in love with the colors and vast variety of styles available in Indian wear.
Evening Proceed on a walking tour of Heritage building of Mumbai.
All Heritage sites are located close to your Hotel, where you will see the gothic style architecture of the University and High Courts.
It is an extraordinary conglomeration of domes, spires, Corinthian columns and minarets.
3
Mumbai- Delhi- Agra
Morning departure transfer from Hotel to Airport for flight to Delhi.
On arrival in Delhi, you will be met at the aero bridge and will be assisted in baggage collection. And you will be driven straight to Agra. (approx. 03 ½ Hours' drive) . Agra is where Emperor Shah Jahan engraved his immortal love for his Empress in marble, the Taj Mahal.
On arrival you will drive straight to your hotel – Oberoi Amarvilas and check-in
The hotel is located 600 meters from the Taj Mahal and all the rooms, suites, lobby, bar and lounge offer breathtaking views of the monument.
An interlude at The Oberoi Amarvilas is truly unforgettable.
After check-in and some rest, you will be taken for a guided sightseeing of Taj Mahal at Sunset: Taj Mahal Said to be one of the most elegant and a harmonious building in the world, Taj Mahal is the manifestation of the wealth and luxury of Mughal art as seen in its architecture, garden design, painting, and calligraphy.
Spend Two Nights at Oberoi Amarvilas.
Accommodation is in a Premier Room with balcony.
Your stay is on Bed and Breakfast Basis.

4
Agra
Re- Visit Taj Mahal at Sunrise.

Return to the hotel for Breakfast.
Later you will be taken for a guided sightseeing tour of Agra visiting Agra Fort
Agra Fort: The red sandstone Agra Fort was renovated and converted into a palace during Shah Jahan's time, and reworked extensively with marble and pietra dura inlay. Notable buildings in the fort include the Pearl Mosque, the Diwan-e-Am and
Diwan-e-Khas (halls of public and private audience), Jehangir's Palace, Khaas Mahal, Sheesh Mahal (mirrored palace), and Musamman Burj.
Itmad-Ud-Daulah: - After Taj Mahal and Agra Fort, the monument that is most important in Agra is the Tomb of Itmad-Ud-Daulah or "Baby Taj" as it is called sometimes. A highly ornate edifice, this mausoleum is considered as the imminent precursor of the Taj Mahal as far as elaborate carvings and inlay work are concerned.
5
Agra- Amanbagh
Morning you will be met and driven to Aman bagh ( 220 Kms / 04 ½ hours)
Aman bagh: Built within a walled enclosure, on an oasis of fertile soil, benefits lucratively from the natural feed of a nearby lake, resulting in an exotic and diverse display of perennials: statuesque palms, aged eucalyptus, and fruit bearing trees.
Styled along authentic architectural Moguls-era-lines, Aman Bagh pays grand tribute to its remarkable ancestors through its eloquent, unique interpretation of a grand Haveli.
Aman Bagh is a secluded and luxuriant 'portal', offering visitors the opportunity to discover and explore the fascinating remnants of an extraordinary local history, as well as the colourful culture and wildlife that flourishes today.
Spend Three Nights at the Aman Bagh. Accommodation is in a Courtyard Haveli Suite.
Your stay is on Bed and Breakfast Basis.

6
Agra- Amanbagh
Indulge in the various activities at the resort. Proceed for excursions like :The Sunset Cow dust tour.
Excursion To Somsagar lake.
Excursion to Ajab Garh Fort and temple, Baba Kapoor shah Mosque and Bhangarh.
Guided excursions can be organized from Aman Bagh on foot which can culminate in meditation, Yoga and / Or Breakfast next to the lake. The walk up to the lake takes approximately 40 Minute.
There are a variety of facilities at the Aman Bagh like: The Spa: The Spa at Aman Bagh provides a complete wellness experience with yoga and meditation on offer, for all levels of experience.
Highly-skilled therapists provide a range of treatments, as well as facials, massages, scrubs and traditional henna art.
Treatments use Aman Spa products which are made from the purest of organic ingredients.
Organic Garden: an organic garden provides the majority of Aman Bagh's herbs and vegetables, so salads are not only safe from contamination, but deliciously fresh.
Guests may feel free to request a tour of the garden with one of Aman Bagh's chefs.

7
Amanbagh- Jaipur
This morning after a leisurely breakfast you will embark on a 02 Hours' drive to Jaipur.
Jaipur was founded in 1728 by Maharaja Sawai Jai Singh; Jaipur is where modernity and tradition exist side by side.
Amber Fort Palace at Amber- Upon arrival in Jaipur, you will check-in at the hotel – Taj Rambagh Palace.
In the finest tradition of Rajput hospitality, the Rambagh Palace offers its guests a taste of royal living – a luxury and extravagance that was once the sole preserve of kings.
"The Jewel of Jaipur" Ram Bagh Palace, which has been a home to generations of royals, and was converted into a hotel in 1972.
Later in the afternoon you will proceed for a guided city tour of Jaipur visiting: City Palace: The City Palace, a wonderful combination of Mughal and Rajput forms of architecture, is now partly a museum housing miniature paintings, manuscripts, Mughal carpets, musical instruments, royal costumes and weapons, giving Observatory Tower or the Jantar Mantar was built between 1728 and 1734 .
Hawa Mahal (Photo stop only): perhaps Jaipur's most famous building; the Hawa Mahal is the pink sandstone façade of a palace built for the ladies of the harem by Sawai Pratap Singh.
In the evening will be driven to the Dera Amer camp for an Elephant ride followed by Dinner.
The Camp is located at the foothills of the Aravali Range and surrounded by the wilderness of a reserved forest with no urban civilization in the vicinity.
Spend Two Nights at Taj Rambagh Palace Accommodation is in a Palace Room.
Your stay is on Bed and Breakfast Basis.
8
Jaipur
This morning you will proceed on a guided Sightseeing tour of the Amber Fort.
Amber Fort is located 11 km from Jaipur. It was the ancient citadel of the ruling Kachhawa clan of Amber, before the capital was shifted to present day Jaipur.
Amber Fort is known for its unique artistic style, blending both Hindu and Muslim (Mughal) elements, and its ornate and breathtaking artistic mastery.
Afternoon proceed to visit the Local bazaars for shopping.
Visit the Johri Bazaar: Johri Bazaar implies Jewellery market.
This is the principle market for shopping on Diwali. Johri Bazaar resembles a lady with make up on Diwali. The spot looks astonishing with light. It's an amazing show that draws in guests from all over India.
Evening you will be transferred to the airport for your flight to Mumbai.
Udaipur: Dotted with marble palaces, hibiscus - laden gardens and fountain pavilions, Udaipur appeals to the imagination of poets and painters, travelers and writers like no other city in the country
The city's inherent romance and beauty and its remarkable past redolent with episodes of heroism and Splendour, continue to enthral the visitor even today
On arrival at Udaipur airport you will be met and chauffeured to the hotel Oberoi Udaivilas
Adorning the banks of Lake Pichola and standing witness to the historic City Palace, The Oberoi Udaivilas captures all the romance and Splendour of a royal era
Later proceed for a Guided Sightseeing tour of the City palace, the fine house of Maharajas of Udaipur
City Palace in Udaipur was built by the Maharana Udai Singh
It is located on the east bank of the Lake Pichola and has several palaces built within its complex
You will also visit the crystal gallery and the Jagdish Temple
Crystal Gallery: Located in Fateh Prakash Palace, these unique museum houses a collection of crystal items like ornaments fountains, vases, crockery, furniture and beds
This fascinating show can be appreciated at the Durbar Hall through a guided tour
In the evening proceed on a private motor launch cruise on the placid waters of Lake Pichola
From the boat you will be able to view the city of Udaipur as it rises majestically above the lake in the middle of the Rajasthan desert
Spend Two Nights at the Oberoi Udaivilas. Accommodation is in a Premier Room
Your stay is on Bed and Breakfast Basis.
9
Udaipur
Morning you will proceed on a visit to the Temples at Eklingji and Nagda. (approx. 45 mins – one way)

Eklingji, the city dotted with temples, is 45minutes drive to the North of Udaipur. It is a complex of 108 ancient temples, incised out of sandstone and marble.

The temple, was built in 734 AD, to propagate the blessings of Lord Shiva. Eklingji and Nagda temples are an architectural marvel.

Later drive back to Udaipur and rest of the day is at Leisure. In the evening you can indulge in some Spa Treatments at the Hotel on Direct Payment Basis
10
Udaipur – Mihirgarh
Morning you will be driven to Mihirgarh (260 Kms / approx. 05 ½ Hours).
En route visiting Ranakpur Temples.
On arrival check-in at Mihir Garh Resort. Mihir Garh provides a haven of great comfort, with 9 large suites, each with adjoining sitting rooms and all stunningly decorated in soft, earthy colors and with a Moroccan/ African/ Rajasthani air.
Each has its own courtyard and glorious terrace facing out to the surrounding countryside and with either a plunge pool or a Jacuzzi
Spend Two Nights at the Mihir Garh.
Accommodation is in an Alishaan Suite.
Your stay is on Bed and Breakfast basis.
11
Mihirgarh – Bishonoi Village Safari - Jodhpur - Mihirgarh
This morning you will proceed for a Jeep Safari to Bishnoi Village.

The Bishnois are followers of a 15th century sage and are passionate environmentalists.

Their creed is contained in 29 (bis noi) principals.

Their faith bids them to protect every living being, if necessary with their lives, and the rare black buck thrives in their region.

Their efforts are evident in the large number of wild animals that can be seen during this Safari including the rare black bucks, chinkara deer, blue bulls, desert fox and Demoiselle Cranes to just name a few! You also experience the famous

opium ceremony which is an integral welcome ritual at the house of a Bishnoi along with turban tying.

Later you will be driven to Jodhpur for a guided sightseeing tour of the Mehrangarh Fort and Jaswant Thada.

Mehrangarh Fort: Encircled within the massive city walls, the majestic Mehrangarh Fort keeps watch over a maze of rooftops from its perch on a rocky mountaintop.

Bathed in yellow light at night, this imposing stronghold has the reputation of being the best maintained fort in Rajasthan, and the palace complex, with its network of courtyards, is well worth exploring.

Jaswant Thada: Sprawled in the shadow of the mountaintop fort, the Blue City also boasts the Jaswant Thada, a beautiful marble crematorium constructed for the maharajahs in the 19th century

Drive back to Mihir Garh
12
Mihirgarh – Jodhpur - Delhi
Morning at leisure for independent activities.
Later in the afternoon you will be transferred to Jodhpur Airport for your flight for Delhi
On arrival, you will be met and transferred to the Trident Gurgaon. The award winning Trident, Gurgaon, is set amongst 7 acres of landscaped gardens, walkways, courtyards, reflection pools and fountain.
The hotel is located in the central business district of Gurgaon, a part of the New Delhi National Capital Region
Its resort like ambience includes 129 rooms, 6 executive suites and a presidential suite
Spend One Night at the Trident Gurgaon.
Accommodation is in a Superior Garden View Room.
Your stay is on Bed and Breakfast basis.
13
Delhi – Raipur – Kanha
This morning you will be transferred to the New Delhi's Domestic Airport for your flight to Raipur.
On arrival at Raipur Airport, you will be met by an and beyond driver and driven for about 04 Hours to Kanha National Park (approx. 04 Hours' drive) Prime tiger wilderness, Kanha National Park was one of the first areas to be protected under.
Project Tiger, aimed at preserving this magnificent animal, and remains a renowned conservation area.
Lush sal and bamboo forests are interspersed with vast grassy meadows known as maidans, while the Banjaar River, which forms the park's south-western border, provides a steady water source for the abundant wildlife.
On arrival in Kanha, check into your lodge "Banjaar Tola". Overlooking the lush forests and grassy meadows of Kanha National Park, at Banjaar Tola Kanha Tented Camp you are one with the environment.
Admire stunning river views from the privacy of your own veranda or share the experiences of the day on dramatic decks facing the Banjaar River.
Proceed for an afternoon Game drive.
Spend Three Nights at Dook Travels Banjaar Tola Tented Camp.
Accommodation is in Luxury Tent with ensuite facilities.
Your stay is on Jungle Plan basis (cycle of 3 meals a day i.e. breakfast; lunch and dinner and scheduled game drives by shared jeeps)

14
Kanha
Experience Morning and Afternoon Game Drives.

Explore the sal and bamboo forests of Kanha National Park on early morning and afternoon game drives in an open 4x4 safari vehicle.

One of our specially trained naturalists will accompany you throughout, pointing out and explaining details about the fascinating animals and plants of the jungle.

Your early morning drive enters the park as the dawn is breaking over the jungle.

On an afternoon drive, the wildlife is settling down for the night or having a final drink at the Banjaar River or the many perennial streams that run through the park.


Watch out for the elusive leopard and listen to the calling of jackal getting ready for the hunt
15
Kanha – Raipur – Delhi
Morning game drive.

Afternoon you will be met and driven for about 04 hours to Raipur Airport to board your flight for Delhi (6E454 / Dep 1855 Hrs :: Arr 2055 Hrs / Indigo / Economy).

On arrival in Delhi, you will be transfer to Hotel Trident.

Spend One Night at the Trident Gurgaon.

Accommodation is in a Superior Garden View Room.

Your stay is on Bed and Breakfast basis
16
Delhi – Varanasi
Morning Transfer to Airport for flight to Varanasi.
Varanasi is a city situated on the banks of the River Ganges in the Indian state of Uttar Pradesh. It is one of the oldest inhabited cities in the world and probably the oldest of India.
People often refer to Varanasi as "the city of temples "," the holy city of India "," the religious capital of India, the city of lights and "the city of learning."
On arrival drive straight to Sarnath , Where Gautam Buddha .
The site houses a number of Stupas, excavated ruins of monasteries and the Ashokan pillar with the four sided lion's head which is also the national emblem of India.
Later transfer to the Taj Nadesar Palace.
Taj Nadesar Palace: Situated in one of the oldest living cities of the world, on the banks of the river Ganges, Nadesar Palace has hosted royalty, statesmen and celebrities since 1835.
The name Nadesar is derived from the Goddess Nadesari, whose shrine is located in the front of the Palace.
Evening Visit the Ghats to witness the Aarti ceremony from the boat.
Varanasi's unique culture is associated to the river Ganges, where life and death intermingle.
Spend One Night at Taj Nadesar Palace.
Accommodation is in a Palace Room.
Your stay is on Bed and Breakfast Basis.
17
Varanasi - Kolkata
Breakfast at Hotel.
Early this morning drive to the Dashaswamedh ghat to take a boat cruise by sunrise.
Continue by boat to see burning and bathing Ghats
The best time to visit is at dawn, when the river is bathed in a luminous yellow light as colourful throngs of pilgrims perform their morning devotions.
Return to the hotel for breakfast and later proceed on a temple tour of Varanasi visiting:- Durga Temple: The 18th century Durga temple is one of the most important temples in Varanasi. Built by a Bengali Maharani, this temple has Nagar Style.
The Shikhara of the temple is formed by many small spires, which are built one on the top of the other.
Bharat Mata Temple: The temple is dedicated to Mother India and built in the Mahatma Gandhi Kashi Vidyapeeth by Babu Shiv Prasad Gupt.
Mahatma Gandhi inaugurated this temple in 1936 so that the citizens could respect Mother India in statue form. The statute is built in marble.
It is a replica of undivided India in three dimensions, which has the mountains, plains and oceans in right proportion Benares Hindu University: founded by Pandit Madan Mohan Malviya, is considered to be residential university in Asia.
Late afternoon transfer to Varanasi Airport to board your flight for Kolkatta
Upon arrival at Kolkata Airport, you will be met and transferred to your hotel – The Oberoi.
18
Kolkata - Bagdogra - Glenburn
This morning you will be transferred to the Kolkata Airport for your flight to Bagdogra.
Upon arrival drive for 02 Hours to Glenburn Tea Estate with Picnic Lunch en route.
On arrival check-in at Glenburn Tea Estate.
Spend Three nights at Glenburn Tea Estate.
Accommodation is in Suite with en suite facilities.
Your stay is on Full Board basis.
19
Glenburn
Day at leisure to take part in the following activities offered by your lovely resort.
All the following activities are inclusive in your stay.
Yoga

River Rafting

Tea Tasting

Fishing

Tea Tour

Walking through Tea Fields

Picnic in Tea Fields

Visit Darjeeling

Take a ride in Toy Train in Darjeeling
20
Glenburn - Bagdogra - Delhi
This morning you will be transferred to the Bagdogra Airport for your flight to Delhi.
On arrival remain in transit as you can connect your international flight from same terminal.
21
Onward journey
Flyout - to onward journey
Accommodation at all hotels on Double Occupancy

All transfers, sightseeing and overland trips
General Terms
Please note that these packages are customizable, which means that you will be able to make changes to the itinerary/activity if you so desire. The final payment will be calculated as per the itinerary and inclusions reflected on the confirmatory e-mail sent to you.
Please expect to receive your vouchers 72 hours before your departure date (subject to full payment of your package cost).
Personal expenses such as laundry, telephone calls, room service, alcoholic beverages, mini bars etc., are not included.
In case your package needs to be canceled due to any natural calamity, weather conditions etc. Dook Travels shall strive to give you the maximum possible refund subject to the agreement made with our trade partners/vendors.
The passenger names in the booking form should be exactly as per passports. Dook Travels will not bear any liability for the name change fee, if incorrect names and ages have been added at the time of booking.
Please note that your package includes baggage as per airlines policy. Any addition in baggage will be charged separately.
Standard check-in time at the hotel is normally 2:00 pm and check-out is 11:00 am. An early check-in, or a late check-out is solely based on the discretion of the hotel.
In case the selected hotel is unavailable for booking, an alternate arrangement will be offered to the customer in another hotel of a similar category.
Certain hotels may ask for a security deposit during check-in, which is refundable at check-out subject to the hotel policy.This amount has to be deposited by the traveler.
Please note that Day at Leisure essentially implies that no sightseeing activities have been included for that day.
Kindly be on time for your activities, tours and transfers. Dook Travels will not be liable for missing any activity thus for any refund against it in such cases.
No refund either in part or in full will be made for any unused part of the services provided in the package.
The package price doesn't include special dinner or mandatory charges at times levied by the hotels especially during New Year and Christmas or any special occasions. Dook Travels shall try to communicate the same while booking the package. However Dook Travels may not have this information readily available all the time.
Our package price does not include GST and TCS. Applicable GST and TCS will be charged over and above the package price.
For queries regarding cancellations and refunds, please refer to our Cancellation Policy.
For any paid activity which is non-operational due to any unforeseen reason, we will process the refund & should reach the guest within 30 days refund requisition. Also, for any activity which is complementary and not charged to Dook Travels & guests, no refund will be processed.
Our package prices are on twin sharing accommodation basis thus published prices are applicable for minimum two persons and multiple of two thereon.
As per RBI guideline every foreign traveler has to provide us his PAN details. The Dollar component of package price will be taken out of your BTQ (Basic Travel Quota).
The tour cost does not include any Overseas Insurance Premium, but we strongly recommend buying Overseas Insurance Policy. The same after issuance is non refundable.
These terms are general terms for our tour packages.Any term mentioned in proposal shall be considered part of it and in case of discrepancy term mentioned in proposal shall prevail.
Disputes, if any, shall be subject to the exclusive jurisdiction of the courts in New Delhi.
Payment Policy
Payment schedule depends on destination, time of booking, inclusions, airline and hotel payment policy etc thus it is specific to your package bookining.
Payment schedule will be part of our proposal to you for the package.
If payment is not made as per the schedule provided in the first booking confirmation e-mail, Dook Travels reserves the right to cancel the booking after attempting to get in touch with you. Refunds would be as per the package cancellation policy.
Cancellation Policy
Once Booking received : INR 5000 (Per PAX) + actual Ticket cancellation + Hotel cancellation as per hotel policy+Visa fee if visa is applied.
60 – 45 Days prior to departure : 25 % of land cost + INR 5000 (Per PAX) + actual Ticket cancellation+Visa fee if visa is applied.
45 – 30 days prior to departure: 50% of land cost + INR 5000 (Per PAX) + actual Ticket cancellation+Visa fee if visa is applied.
30 – 10 days prior to departure: 75% of land cost + INR 5000 (Per PAX) + actual Ticket cancellation+Visa fee if visa is applied.
Within 10 days: Full.