A Spiritual And Cultural Journey 11 Nights
In search of wisdom in India's spiritual heartland
Pkg Id

0000164

Destinations

6

Duration

11 Nights

Attractions

31

Price
Witnessing an Aarti ceremony in Varanasi is a profound experience that features high on the list of most spiritual travellers. Experience this devout ritual and discover other fabled sites of devotion in India and go hunting for souvenirs in the chaotic, bustling streets of the Indian bazaars.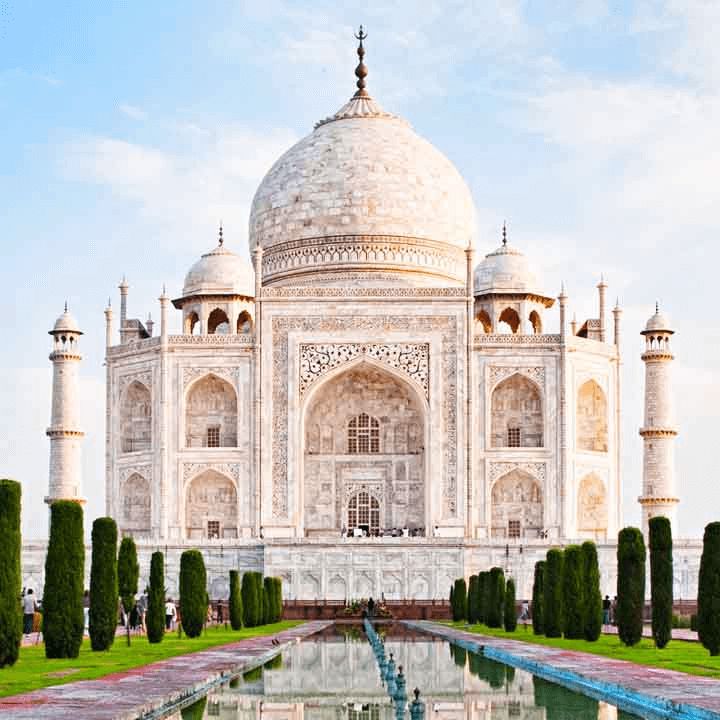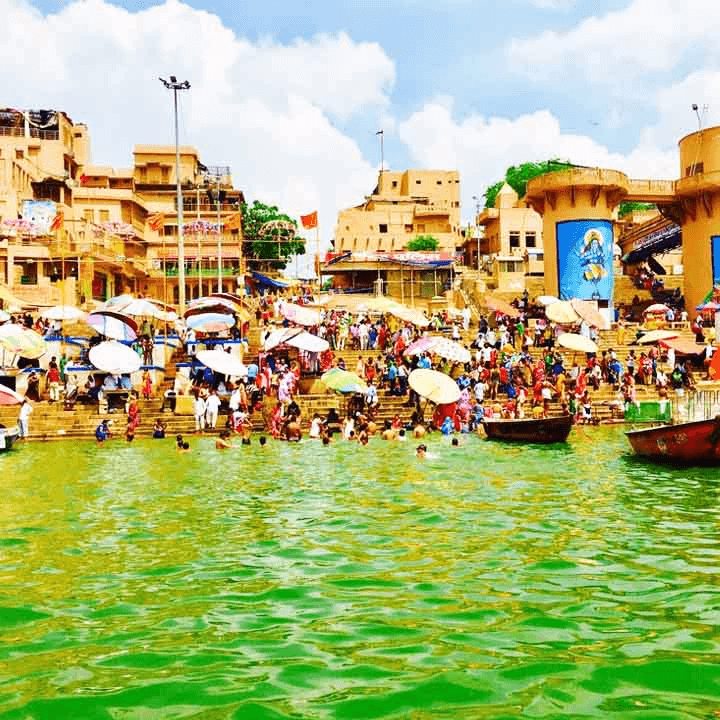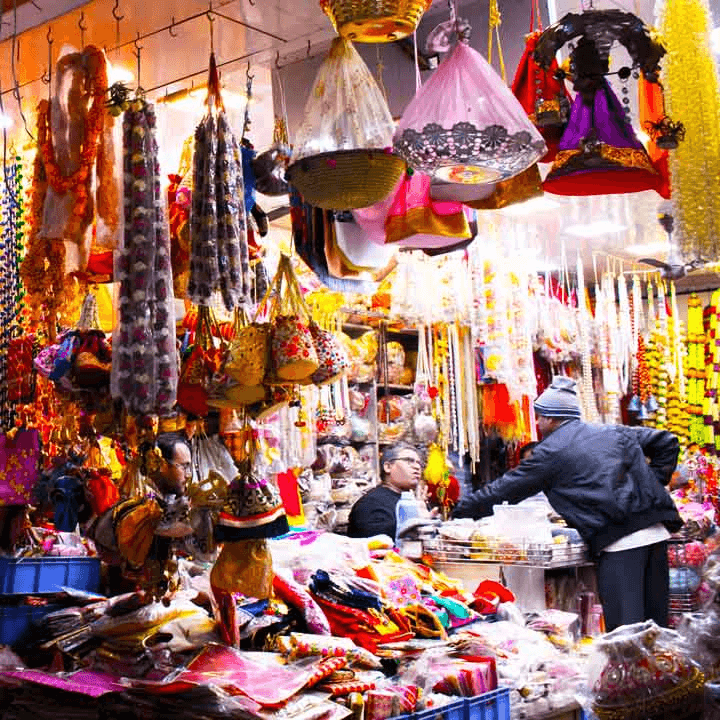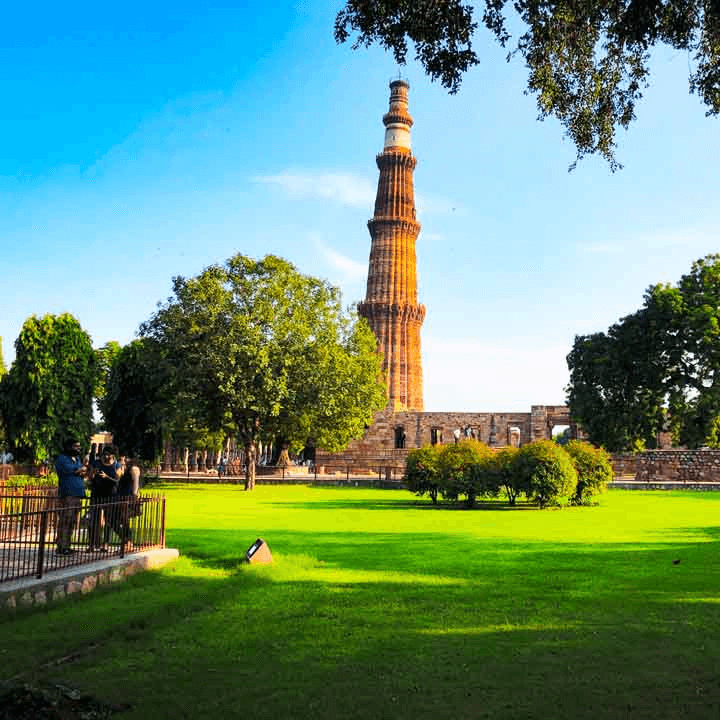 1
Arrive Delhi
Arrive into Delhi by International Flight (Flight details to advised).
Following customs & immigration formalities and baggage collection, you will be met by a representative from Dook Travels, as you exit the arrival hall.
You will be transferred to the Hotel.
Spend Two Nights at Hotel. Your stay is on Bed & Breakfast basis.
2
Sightseeing tour of Old Delhi
This morning proceed on a private sightseeing tour of Old Delhi.
It is an extensive 2.5 hour tour of Old Delhi which includes a mix of the attractions. We will cover palaces, mansions, elegant shrines and "Colourful bazaars". You will have options to see more monuments or spend more time in the narrow bazaars or explore the spiritual aspect etc.
Chandni Chowk: Chandni Chowk originally meaning moonlit square or market, it is one of the oldest and busiest markets in Old Delhi.
Spice Market: Khari Baoli is a street in Old Delhi known for its wholesale grocery and Asia's largest wholesale spice market selling all kinds of spices, nuts, herbs and food products like rice and tea. The market is operating since the 17th century.
Raj Ghat: A simple square platform of black marble marks the spot where Mahatma Gandhi was cremated following his assassination in 1948. A commemorative ceremony takes place each Friday, the day he was killed.
Post your experience in Old Delhi, you will now proceed towards New Delhi and visit:-
Humayun's tomb is a complex of buildings built as the Mughal Emperor Humayun's tomb, commissioned by Humayun's wife Hamida Banu Begum in 1562. It was the first garden-tomb on the Indian subcontinent, and is located in Nizamuddin East. It was also the first structure to use red sandstone at such a scale. The complex was declared a UNESCO World Heritage Site in 1993.
Qutub Minar: At 72.5 meters, this is the world's tallest brick minaret! Construction commenced in 1193 under the orders of India's first Muslim ruler Qutub-ud-din Aibak. The tower is notable for being one of the earliest and most prominent examples of Indo-Islamic architecture. It is listed as a UNESCO World Heritage Site.
You will also drive past:-
India Gate: This 42m high stone arch of triumph stands at the eastern end of the Rajpath. It bears the names of 85,000 Indian Army soldiers who died in the campaigns of WW I the North West frontier operations of the same time and the 1919 Afghan fiasco.
Rajpath: The Kings Way is another focus of Lutyens New Delhi. It is immensely broad and is flanked On either side of ornamental ponds. The Republic Day parade is held here every 26th January, and millions of people gather to enjoy the spectacle.
Rashtrapati Bhawan (President House): The official residence of the President of India stands at the opposite end of the Rajpath from India Gate. Completed in 1929, the palace like building is an interesting blend of Mughal and western architectural styles, the most obvious Indian feature being the huge copper dome. To the west of the building is a Mughal garden, which occupies 130 ha. This garden is only open to the public in February. Prior to independence this was the viceroy's residence.
Evening drive back to your hotel.
3
Transfer to Varanasi
Morning Transfer to Airport for flight to Varanasi.
Varanasi is a city situated on the banks of the River Ganges in the Indian state of Uttar Pradesh. It is one of the oldest inhabited cities in the world and probably the oldest of India. The culture of Varanasi is closely associated with the River Ganges and the river's religious importance. The city has been a cultural and religious centre in North India for several thousand years. People often refer to Varanasi as "the city of temples", "the holy city of India", "the religious capital of India", the city of lights and "the city of learning."
In the afternoon proceed for an excursion to Sarnath, Where Gautam Buddha is believed to have given his first sermon about the basic principles of Buddhism, is situated about 10 km from Varanasi. The site houses a number of Stupas, excavated ruins of monasteries and the Ashokan pillar with the four sided lion's head which is also the national emblem of India. The museum has a rich collection of sculptures comprising numerous Buddha and Bodhisattva images, considered among the finest specimens of Buddhist art.
Evening Visit the Ghats to witness the Aarti ceremony from the boat. Varanasi's unique culture is associated to the river Ganges, where life and death intermingle. The living flock the ghats, praying with the belief that bathing in the waters of the sacred river would result in the remission of their sins, while the ashes of the dead are scattered in the water to break the cycle of reincarnation.
Spend Two Nights at Hotel. Accommodation is in a Palace Room. Your stay is on Bed & Breakfast Basis.
4
Varanasi Sightseeing
Early this morning drive to the Dashaswamedh ghat to take a boat cruise by sunrise. Continue by boat to see burning and bathing Ghats. The best time to visit is at dawn, when the river is bathed in a luminous yellow light as colorful throngs of pilgrims perform their morning devotions.
Return to the hotel for breakfast & later proceed on a temple tour of Varanasi visiting:-
Durga Temple: The 18th century Durga temple is one of the most important temples in Varanasi. Built by a Bengali Maharani, this temple has Nagar Style. The Shikhara of the temple is formed by many small spires, which are built one on the top of the other.
Bharat Mata Temple: The temple is dedicated to Mother India and built in the Mahatma Gandhi Kashi Vidyapeeth by Babu Shiv Prasad Gupt. Mahatma Gandhi inaugurated this temple in 1936 so that the citizens could respect Mother India in statue form. The statute is built in marble. It is a replica of undivided India in three dimensions, which has the mountains, plains and oceans in right proportion.
Benares Hindu University: Founded by Pandit Madan Mohan Malviya, is considered to be residential university in Asia. Within University campus, Vishwanath Temple and Museum are worth a visit.
5
Varanasi to Khajuraho
This morning transfer the Airport to board your flight to Khajuraho.
On arrival at Khajuraho Airport, you will be met transfer to Hotel.
Khajuraho: The temples of Khajuraho are India's unique gift to the world, representing, as they do, a paean to life to love, to joy; perfect in execution and sublime in expression. Life, in every conceivable form has been captured and immortalized in stone. Architecturally they are unique, being very different from the temple prototype of their period.
Upon arrival at Khajuraho check in at Hotel .
Afternoon visit Eastern group of Temples.
Eastern group of temples, Originally a group of 80 temples of which about 25 remain today, the temples of Khajuraho fall into three distinct groups and belong to two different religions - Hinduism and Jainism. The temples strike a perfect balance between architecture & sculpture and represent the expression of a highly matured civilization.
6
Transfer Kahjuraho to Jhansi than Agra
Morning visit the Western Group of temples complex Originally a group of 80 temples of which about 25 remain today, the temples of Khajuraho fall into three distinct groups and belong to two different religions - Hinduism and Jainism. The temples strike a perfect balance between architecture & sculpture and represent the expression of a highly matured civilization
Later drive to Jhansi Railway Station.
On arrival transfer and check-in at Hotel.
Agra:- The city of Agra flourished under the patronage of the emperors Akbar, Jahangir and Shah Jahan and attracted artisans from Persia and central Asia. Agra is where Emperor Shah Jahan engraved his immortal love for his Empress in marble, the Taj Mahal.
Agra is still famous for handicrafts products such as inlay work on marble, carpets, jewellery, zari and embroidery work.
Spend Two nights at the Hotel Accommodation is in Premier Room. Your stay is on Bed & Breakfast basis.
7
City tour of Agra
Early this morning visit the Taj Mahal at Sunrise. Post visit return to Hotel for Breakfast.
Taj Mahal: - Said to be one of the most elegant and harmonious buildings in the world, Taj Mahal is the manifestation of the wealth and luxury of Mughal art as seen in its architecture, garden design, painting, and calligraphy.
Later proceed on a city tour of Agra, visiting Itmad-Ud-Daulah:
After Taj Mahal and Agra Fort, the monument that is most important in Agra is the Tomb of Itmad-Ud-Daulah or "Baby Taj" as it is called sometimes. A highly ornate edifice, this mausoleum is considered as the imminent precursor of the Taj Mahal as far as elaborate carvings and inlay work are concerned. Though the structure does not have much to offer architecturally, it makes a clear departure from the earlier Mughal tombs built during the period and is softer with lot of inlay carvings.
After visiting Itmad-Ud-Daulah, we will drive onto the Agra Fort, The red sandstone Agra Fort was renovated and converted into a palace during Shah Jahan's time, and reworked extensively with marble and pietra dura inlay. Notable buildings in the fort include the Pearl Mosque, the Diwan-e-Am and Diwan-e-Khas (halls of public and private audience), Jehangir's Palace, Khaas Mahal, Sheesh Mahal (mirrored palace), and Musamman Burj.
Evening re-visit Taj Mahal at sunset.
8
Transfer Agra to Jaipur
This morning after breakfast drive –5 1/ 2 hour to Jaipur Enroute Visit Fatehpur Sikri. Fatehpur Sikri is a fine example of a Mughal walled city with defined private and public areas and imposing gateways. Its architecture, a blend of Hindu and Islamic styles, reflects Akbar's secular vision as well as his style of governance.
Post visit, continue your drive to Jaipur.
Jaipur: Founded in 1728 by Maharaja Sawai Jai Singh, Jaipur is where modernity and tradition exist side by side. The walled city, vibrant with colours, houses the City Palace, an astronomical observatory and a bustling bazaar where artisans fashion puppets, silver jewellery, lac bangles and other handicrafts in their workshops. At a short distance is the Amber Fort Palace at Amber.
Upon arrival, you will drive straight to your hotel and check-in. Recreating the magnificence of princely Rajasthan, in a beautiful fort setting, with Jaipur as its backdrop;
Spend Two Nights at Hotel Accommodation is in a Premier Room. You stay is on Bed & Breakfast Basis.
9
Jaipur city tour
Start your day with the visit to the Amber Fort.
Amber Fort is located 11 km from Jaipur. It was the ancient citadel of the ruling Kachhawa clan of Amber, before the capital was shifted to present day Jaipur. Amber Fort is known for its unique artistic style, blending both Hindu and Muslim (Mughal) elements, and its ornate and breathtaking artistic mastery.
Later you will proceed for a city tour of Jaipur visiting:
City Palace: The City Palace, a wonderful combination of Mughal and Rajput forms of architecture, is now partly a museum housing miniature paintings, manuscripts, Mughal carpets, musical instruments, royal costumes and weapons, giving invaluable insight into Jaipur's royal past.
Observatory Tower or the Jantar Mantar was built between 1728 and 1734 and it houses precise instruments for measuring "the harmony of heavens". Each instrument serves a particular function and gives an accurate reading.
Hawa Mahal (Photo stop only): perhaps Jaipur's most famous building; the Hawa Mahal is the pink sandstone façade of a palace built for the ladies of the harem by Sawai Pratap Singh. The façade contains 953 small casements under a huge curve, each with a balcony and crowning arch. The windows enable cool air (Hawa) to circulate and the zenana to watch processions below without being seen.
Evening proceed to Dera Amer for an elephant ride with Dinner
Dera Amer; situated behind the hills of the famous Amer Fort is the ideal location for outdoor recreational and adventure activities in very close proximity to the city of Jaipur. The Camp is located at the foothills of the Aravali Range and surrounded by the wilderness of a reserved forest with no urban civilization in the vicinity, just a few hamlets housing the local villagers occupied by farming on the their fields bordering a pretty lake.
10
Transfer Jaipur to Udaipur
Morning departure transfer from Hotel to Jaipur Airport for flight to Udaipur .
Udaipur: Delicate, feminine and elegant, Udaipur is known by many names – City of Sunrise, Jewel of Mewar and City of Lakes. Undoubtedly one of India's most romantic cities, it nestles between the glassy waters of its famous lakes and the ancient Aravalli Hills. Although it is one of Rajasthan's largest cities, modern Udaipur manages to retain a charming small town vibe.
On arrival you will be met and transfer too Hotel.
Afternoon Proceed on a private motor launch cruise on the placid waters of Lake Pichola. From the boat you will be able to view the city of Udaipur as it rises majestically above the lake in the middle of the Rajasthan desert.
Jag Mandir: An unforgettable sight on Lake Pichola is the island of Jag Mandir. Maharana Karan Singhji built the palace in 1622 AD as a pleasure palace for royal parties and functions. This magnificent monument with its domes, marble pillars and fountains has a special approach of a row of marble elephants that seem to be guarding the island.
Visit Jagdish Temple to witness Aarti ceremony: Is one of the famous temples of Udaipur. Located in the City Palace complex of Udaipur, this temple is made in the Indo-Aryan style of architecture.
The temple is dedicated to Lord Vishnu (Laxmi Narayan), the preserver of the Universe. The gateway of this temple can be sited at a distance of 150 meters. This three-storied temple is a wonder of architecture that comprises beautifully carved pillars, decorated ceilings, painted walls and lush halls.
Spend Two Nights at Hotel. Accommodation is in a Premier Room. Your stay is on Bed & breakfast Basis.
11
City tour of Udaipur
Today morning start your day with visit to
Eklingji & Nagda Temples: is a 45 minute drive to the North of Udaipur. It is a complex of 108 ancient temples, incised out of sandstone and marble. The temple, was built in 734 AD, to propagate the blessings of Lord Shiva. Eklingji and Nagda temples are an architectural marvel.
Lunch at Devigarh. (On direct payment basis)
Devigarh: Nestled in the Aravali hills, the 18th century Devigarh palace in the village of Delwara, forms one of the three main passes into the valley of Udaipur. Devigarh, was ready for visitors after years of restoration and rebuilding. Devigarh, much like any traditional dwelling, revolves around courtyards. Each courtyard blends classical and modern design to achieve a fusion, which is peaceful yet intriguing.
Afternoon visit the City palace, the fine house of maharajas of Udaipur.
A pearl of marble and vibrant mosaics, it is marvellous example of the attention to detail and the exemplary workmanship of the Rajasthani artisans. You will also visit the crystal gallery that has an extraordinary collection of objects including a crystal bedroom set.
12
Transfer from Udaipur to Delhi Airport
Early morning departure transfer from Hotel to Airport in time to connect flight to Delhi.
On arrival in Delhi connect with to onward flight.
Accommodation on Twin / Double Sharing Basis with breakfast

Tourist vehicle for transfers and sightseeing

Meals at restaurant upon request

Sightseeing as mentioned in the itinerary
General Terms
Please note that these packages are customizable, which means that you will be able to make changes to the itinerary/activity if you so desire. The final payment will be calculated as per the itinerary and inclusions reflected on the confirmatory e-mail sent to you.
Please expect to receive your vouchers 72 hours before your departure date (subject to full payment of your package cost).
Personal expenses such as laundry, telephone calls, room service, alcoholic beverages, mini bars etc., are not included.
In case your package needs to be canceled due to any natural calamity, weather conditions etc. Dook Travels shall strive to give you the maximum possible refund subject to the agreement made with our trade partners/vendors.
The passenger names in the booking form should be exactly as per passports. Dook Travels will not bear any liability for the name change fee, if incorrect names and ages have been added at the time of booking.
Please note that your package includes baggage as per airlines policy. Any addition in baggage will be charged separately.
Standard check-in time at the hotel is normally 2:00 pm and check-out is 11:00 am. An early check-in, or a late check-out is solely based on the discretion of the hotel.
In case the selected hotel is unavailable for booking, an alternate arrangement will be offered to the customer in another hotel of a similar category.
Certain hotels may ask for a security deposit during check-in, which is refundable at check-out subject to the hotel policy.This amount has to be deposited by the traveler.
Please note that Day at Leisure essentially implies that no sightseeing activities have been included for that day.
Kindly be on time for your activities, tours and transfers. Dook Travels will not be liable for missing any activity thus for any refund against it in such cases.
No refund either in part or in full will be made for any unused part of the services provided in the package.
The package price doesn't include special dinner or mandatory charges at times levied by the hotels especially during New Year and Christmas or any special occasions. Dook Travels shall try to communicate the same while booking the package. However Dook Travels may not have this information readily available all the time.
Our package price does not include GST and TCS. Applicable GST and TCS will be charged over and above the package price.
For queries regarding cancellations and refunds, please refer to our Cancellation Policy.
For any paid activity which is non-operational due to any unforeseen reason, we will process the refund & should reach the guest within 30 days refund requisition. Also, for any activity which is complementary and not charged to Dook Travels & guests, no refund will be processed.
Our package prices are on twin sharing accommodation basis thus published prices are applicable for minimum two persons and multiple of two thereon.
As per RBI guideline every foreign traveler has to provide us his PAN details. The Dollar component of package price will be taken out of your BTQ (Basic Travel Quota).
The tour cost does not include any Overseas Insurance Premium, but we strongly recommend buying Overseas Insurance Policy. The same after issuance is non refundable.
These terms are general terms for our tour packages.Any term mentioned in proposal shall be considered part of it and in case of discrepancy term mentioned in proposal shall prevail.
Disputes, if any, shall be subject to the exclusive jurisdiction of the courts in New Delhi.
Payment Policy
Payment schedule depends on destination, time of booking, inclusions, airline and hotel payment policy etc thus it is specific to your package bookining.
Payment schedule will be part of our proposal to you for the package.
If payment is not made as per the schedule provided in the first booking confirmation e-mail, Dook Travels reserves the right to cancel the booking after attempting to get in touch with you. Refunds would be as per the package cancellation policy.
Cancellation Policy
Once Booking received : INR 5000 (Per PAX) + actual Ticket cancellation + Hotel cancellation as per hotel policy+Visa fee if visa is applied.
60 – 45 Days prior to departure : 25 % of land cost + INR 5000 (Per PAX) + actual Ticket cancellation+Visa fee if visa is applied.
45 – 30 days prior to departure: 50% of land cost + INR 5000 (Per PAX) + actual Ticket cancellation+Visa fee if visa is applied.
30 – 10 days prior to departure: 75% of land cost + INR 5000 (Per PAX) + actual Ticket cancellation+Visa fee if visa is applied.
Within 10 days: Full.