A Nordic Aurora Galore
Pkg Id

0000526

Destinations

2

Duration

7 Nights

Attractions

10

Price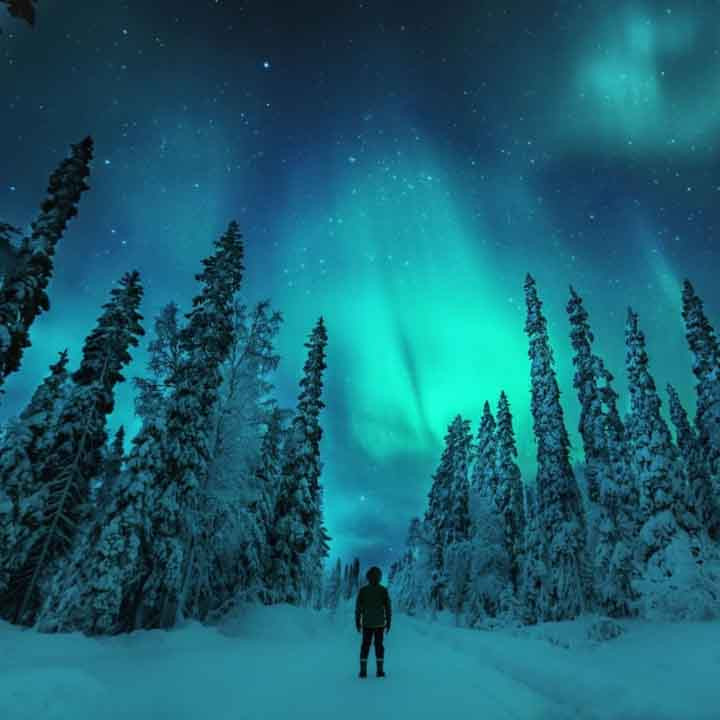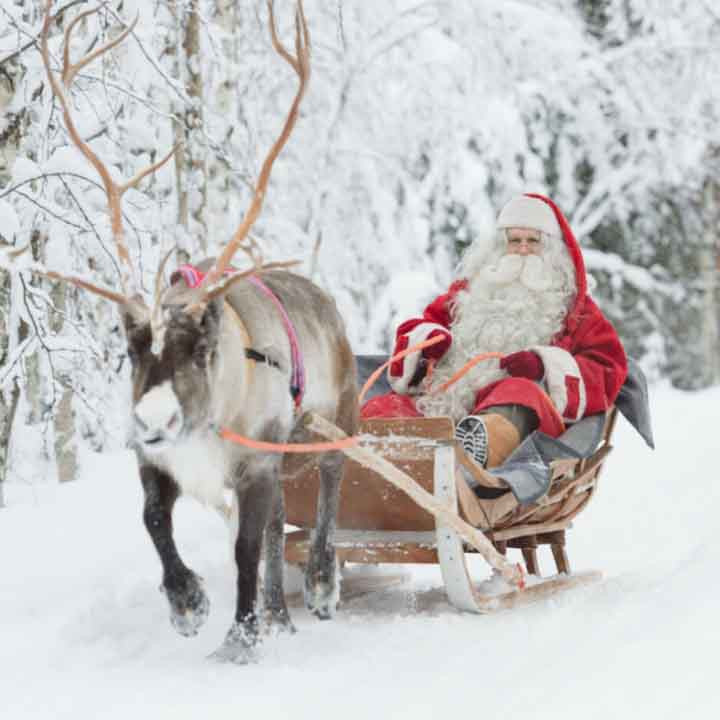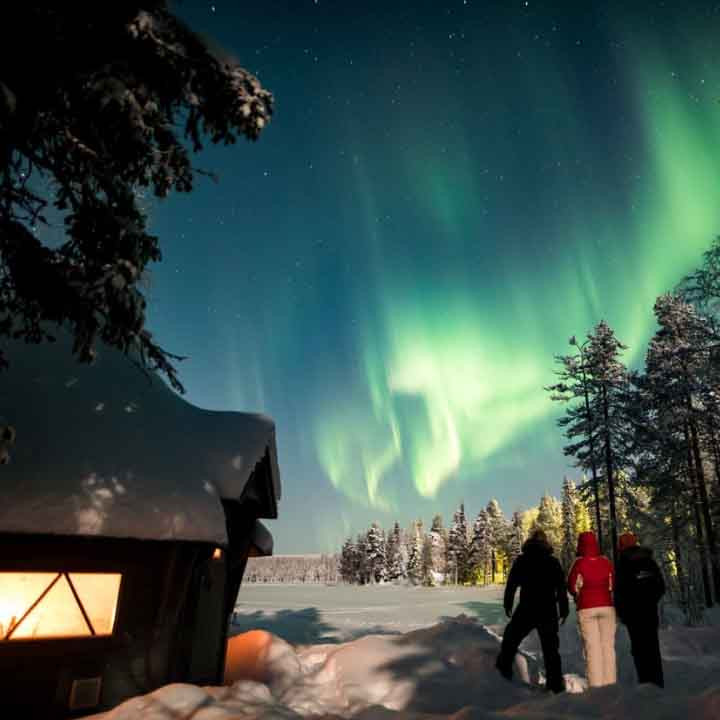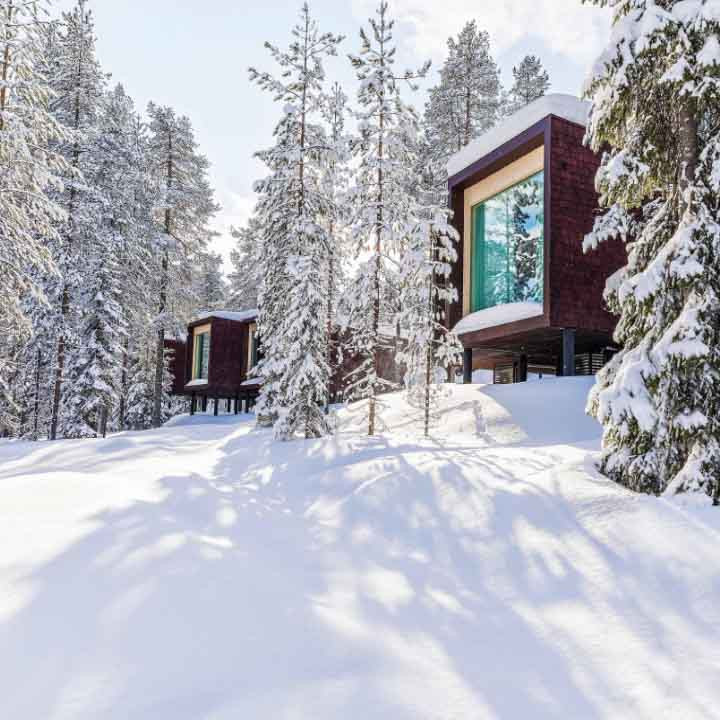 1
In the Original Hometown of Santaclaus
Arrival at Rovaniemi airport and private transfer to the city hotel.
Afternoon/evening at leisure.
Return back to Hotel.
2
Visiting Santa and Crossing Arctic Circle
Breakfast at Hotel.
Private transfer to Santa Claus Village to meet Santa Claus and his trusted elves.
We will also get to officially cross the Arctic Circle.
Be sure to post a letter from Santa Claus' Main Post Office and let your loved ones experience the magic of Finnish Christmas letter delivered from the Arctic Circle.
Evening at leisure.

3
Aurora Hunting in Levi
Breakfast and checkout.
Private transfer to bus station and board the premium coach bus to Levi.
Private transfer to the Levi hotel right next to the skiing slopes.
Embark on an aurora expedition with an aurora expert driving around scoping out the best places to spot the Northern lights.
Return back to Hotel and Overnight.
4
Need for Speed
Breakfast at Hotel.
Prepare for a truly memorable dog sledding experience! This sporty husky safari takes you out into the Lappish wilderness along with eager dog teams.
Before departing, you'll be instructed on how to control your sled.
After the safari ends, you get to enjoy hot berry juice by an open fire while listening to fascinating stories about the lovable huskies.
Transfers back and forth are done by bus.
You have the afternoon at leisure to explore Levi at your own pace and ride the scenic Gondola up the slopes.

5
Onwards to Paris of the North
Breakfast at Hotel.
Transfer to bus station and premium coach bus transfer to Tromsø and check in to your scenic hotel, and stay right by the quayside in Tromso, lovingly nicknamed the 'Paris of the North', and enjoy fantastic views from the hotel.
Tromsø is a culture city and hub for adventure on land and sea.
You have the evening at leisure.

6
Chasing Northern Lights
Breakfast at Hotel.
Join our expert guides for a Northern Lights chase as we drive up to 2.5 hours away from the city center to escape the light pollution and find clear skies.
The guides also help you take portrait photos Once we find clear skies, we will serve hot drinks along with biscuits as we wait for the Northern Lights to occur.
Return to the accommodation.

7
SamiI - Reindeer Experience
Breakfast at Hotel.
Spend a day with the Sami, the indigenous people of the North.
Even though the Sami are now part of modern society, they maintain ancient traditions such as joik, handicrafts and reindeer husbandry. Indulge in a close-up experience of their colourful culture and history and try the oldest form of transport in the north - Reindeer transport.
Join us for an authentic experience at our wilderness centre Camp Tamok. Our adventure will start with a short transfer by minibus to our Sami Camp. This fascinating cultural adventure includes reindeer sledding, introduction in lasso throwing, storytelling about the Sami culture and feeding the reindeer.
Return to accommodation.

8
Fly Back Home
Breakfast at Hotel.
Take the airport bus from right in front of the hotel.
Onwards departure for the international flight.

As per mentioned in itinerary

As per mentioned in itinerary

English speaking tour guide

As per mentioned in itinerary
Visa
Click to view Visa information
Please note that these packages are customizable, which means that you will be able to make changes to the itinerary/activity if you so desire. The final payment will be calculated as per the itinerary and inclusions reflected on the confirmatory e-mail sent to you.
Please expect to receive your vouchers 72 hours before your departure date (subject to full payment of your package cost).
Personal expenses such as laundry, telephone calls, room service, alcoholic beverages, mini bars etc., are not included.
In case your package needs to be canceled due to any natural calamity, weather conditions etc. Dook Travels shall strive to give you the maximum possible refund subject to the agreement made with our trade partners/vendors.
The passenger names in the booking form should be exactly as per passports. Dook Travels will not bear any liability for the name change fee, if incorrect names and ages have been added at the time of booking.
Please note that your package includes baggage as per airlines policy. Any addition in baggage will be charged separately.
Standard check-in time at the hotel is normally 2:00 pm and check-out is 11:00 am. An early check-in, or a late check-out is solely based on the discretion of the hotel.
In case the selected hotel is unavailable for booking, an alternate arrangement will be offered to the customer in another hotel of a similar category.
Certain hotels may ask for a security deposit during check-in, which is refundable at check-out subject to the hotel policy.This amount has to be deposited by the traveler.
Please note that Day at Leisure essentially implies that no sightseeing activities have been included for that day.
Kindly be on time for your activities, tours and transfers. Dook Travels will not be liable for missing any activity thus for any refund against it in such cases.
No refund either in part or in full will be made for any unused part of the services provided in the package.
The package price doesn't include special dinner or mandatory charges at times levied by the hotels especially during New Year and Christmas or any special occasions. Dook Travels shall try to communicate the same while booking the package. However Dook Travels may not have this information readily available all the time.
Our package price does not include GST and TCS. Applicable GST and TCS will be charged over and above the package price.
For queries regarding cancellations and refunds, please refer to our Cancellation Policy.
For any paid activity which is non-operational due to any unforeseen reason, we will process the refund & should reach the guest within 30 days refund requisition. Also, for any activity which is complementary and not charged to Dook Travels & guests, no refund will be processed.
Our package prices are on twin sharing accommodation basis thus published prices are applicable for minimum two persons and multiple of two thereon.
As per RBI guideline every foreign traveler has to provide us his PAN details. The Dollar component of package price will be taken out of your BTQ (Basic Travel Quota).
The tour cost does not include any Overseas Insurance Premium, but we strongly recommend buying Overseas Insurance Policy. The same after issuance is non refundable.
These terms are general terms for our tour packages.Any term mentioned in proposal shall be considered part of it and in case of discrepancy term mentioned in proposal shall prevail.
Disputes, if any, shall be subject to the exclusive jurisdiction of the courts in New Delhi.
Payment Policy
Payment schedule depends on destination, time of booking, inclusions, airline and hotel payment policy etc thus it is specific to your package bookining.
Payment schedule will be part of our proposal to you for the package.
If payment is not made as per the schedule provided in the first booking confirmation e-mail, Dook Travels reserves the right to cancel the booking after attempting to get in touch with you. Refunds would be as per the package cancellation policy.
Cancellation Policy
Once Booking received : INR 5000 (Per PAX) + actual Ticket cancellation + Hotel cancellation as per hotel policy+Visa fee if visa is applied.
60 – 45 Days prior to departure : 25 % of land cost + INR 5000 (Per PAX) + actual Ticket cancellation+Visa fee if visa is applied.
45 – 30 days prior to departure: 50% of land cost + INR 5000 (Per PAX) + actual Ticket cancellation+Visa fee if visa is applied.
30 – 10 days prior to departure: 75% of land cost + INR 5000 (Per PAX) + actual Ticket cancellation+Visa fee if visa is applied.
Within 10 days: Full.