Incredible journeys to Ethiopia with DOOK!
No matter your travel style, we have a Ethiopia package tailored for you
Ethiopia Tour Packages
Explore Ethiopia with DOOK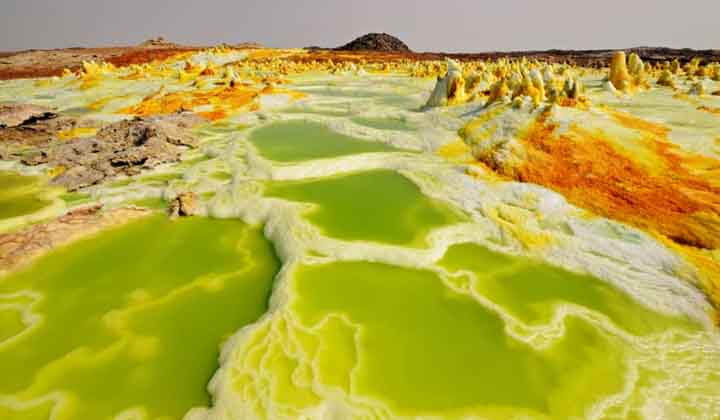 Ethiopia: The land of origin

Explore the cradle of humanity with Dook's Ethiopia Tour Packages!

Ethiopia is a country located in the Horn of Africa and is the second-most populous nation in the African continent. With a population of over 111 million people, Ethiopia is home to over 80 distinct ethnic groups, each with its own unique culture and history. The country has a long and proud times past, having been the host of the earliest known human ancestor, Lucy.

Ethiopia is also the birthplace of the first human-formed kingdom in the region, the Aksumite kingdom. Over the centuries, the Aksumite kingdom was replaced by other powerful empires, including the Ethiopian Empire, which lasted from 1270 to 1974. Book Dook International's Ethiopia Tour Packages to experience the history of mankind.

Famed for its diverse wildlife as well, Ethiopia has many endangered species living in its national parks. A few of the more popular tourist attractions include the ancient churches of Lalibela, the rock-hewn churches of Tigray and the Simien Mountains National Park. Dook International will make sure you experience all this with our Ethiopia Packages.

Capital: Addis Ababa
Languages: Afar, Amharic, Oromo, Somali, Tigrinya, Harari, Sidama
Currency: Birr
Driving Side: Right
Best Time to Travel: October through June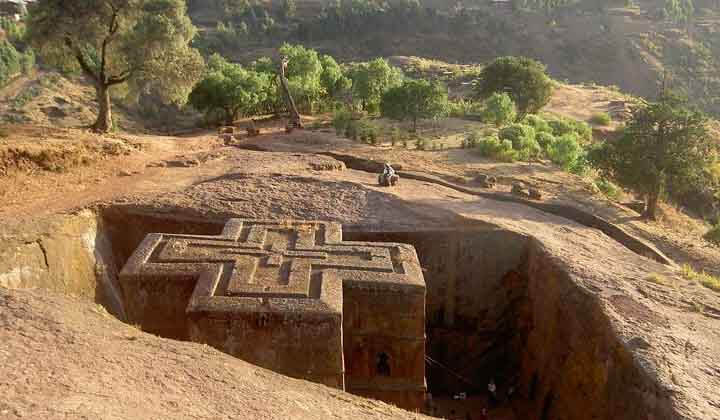 Explore Ethiopia

1. Danakil Depression, hottest place of the Planet

Near the border with Eritrea is where you'll find the Danakil Depression in northern Ethiopia. Parts of Danakil are located 100 meters below sea level, making it both the lowest spot on Earth and one of the hottest. Only 4x4 cars can navigate the terrain, thus tourists are forced to camp at designated locations every night. Those who venture to what is arguably one of Ethiopia's top tourist destinations among our Ethiopia Holiday Packages and you will be treated to some of the world's most spectacular scenery. Dallol Sulphur Springs is a photographer's paradise, and both Mount Ayalu and Erta Ale, two active volcanoes, feature expansive lava lakes.

2. Lalibela, Birthplace of the Ethiopian culture

Lalibela was conceived and constructed by King Lalibela as a second Jerusalem. In addition to being the birthplace of medieval and post-medieval Ethiopian culture, the ancient city of Lalibela is of paramount importance in Ethiopia. One of the holiest cities in all of Ethiopia. Lalibela is a peaceful and sacred destination that will renew your spirit on your Ethiopia Tour. The experience of visiting a location like Lalibela could cause you to re-evaluate your position on various issues. Dook International will make sure to do these things, and your trip will be one for the books.

3. Addis Ababa, the capital city of Ethiopia

Considering its status as the nation's capital, Addis Ababa is automatically at the top of our list of Ethiopian metropolises in our Ethiopia Tour Packages. This center of technology and commerce is home to people from many walks of life and cultural backgrounds. Addis Ababa is a beautiful city because of various ways in which it bridges the gap between the past and the present. In Addis Ababa, tourists may see historic sites, go shopping and sample delicious traditional Ethiopian foods and drinks. The accommodations are safe and cheap and getting around the city is a breeze. Some of Addis Abeba's most lavish dining establishments can be found in the swanky international hotels that call themselves by names like Regency, Hilton and Radisson Blu. This is without a doubt the most stunning city in all of Ethiopia.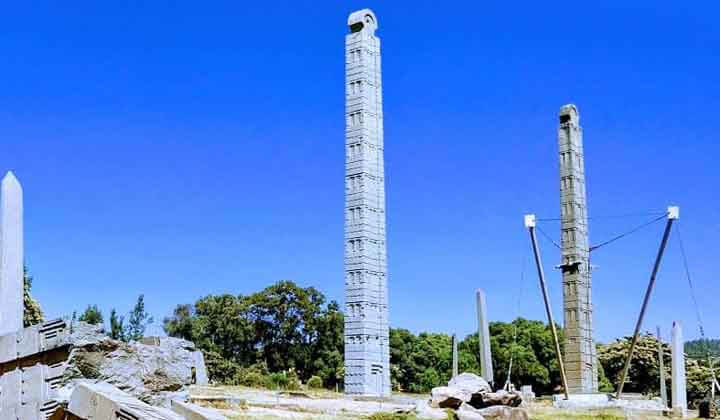 4. Holy City of Aksum, city with opulent history

If you've taken a course on the development of human society, you've probably heard about Axum. Considered the world's first Christian kingdom, this ancient city in Ethiopia is rich in history. As the Aksumite kingdom expanded, it became a thriving commercial and religious hub. According to folklore, the city was the home to the queen of Sheba, earning it the moniker "Queen of Sheba Bath reservoir." Axum is rich in historical resources, including museums, rock art (including the Lioness of Gobedra), and other archaeological monuments. Whether you are a history buff or an architecture enthusiast, Dook International has all the right packages for you with our Ethiopia Packages.

5. Mekelle, the trigary region of Ethiopia

Mekelle is located in northern Ethiopia, in the Tigary region. Gheratta Rock, World Sun Ethiopian tours, Derg Bombing Monument (for those who lost loved ones in the Derg bombing in Hawzien), Martyr's Memorial (also for those who lost loved ones at the hands of the Derg government), Yohannes IV Museum (an Italian-designed stone palace built for Emperor Yohannes, now turned museum), Black Rose Lounge Bar, Agobo Ethiopia tours done on cam and Yohannes IV Museum are just a few of the many attractions and vacation Mek'ele is widely regarded as one of Ethiopia's most picturesque locations and will be the best memory in your Ethiopia Tour.

Top Bucket List Experiences in Ethiopia

1. Visit the picturesque Awash National Park

Set in the dry acacia savanna of the Rift Valley, this picturesque national park is roughly 200 kilometers from Addis Ababa. The Awash River formed a stunning gorge, 150 m deep, which serves as the southern boundary of the park and features a huge waterfall. Lake Beseka and the stunning blue pools fed by the nearby Filwoha Hot Springs are two more attractions. The beauty and birds in Awash are more popular draws than the game viewing, despite the fact that 80 mammal species have been reported there. With over 450 different species, Awash National Park is widely considered to be one of the best places in Ethiopia to go bird watching with our Ethiopia Tour Packages.

2. Visit the lake city of Ethiopia, Bahir Dar

Bahir Dar, one of Ethiopia's most beautiful cities, is known for its broad palm-lined boulevards and picturesque setting on a lake. Its location on Lake Tana's southern shore makes it a convenient home base for seeing the lake and other attractions like the Blue Nile Falls. The palm-lined avenues and lakeside panoramas have made this once peaceful fishing community popular among tourists in recent years. The hydroelectric dam constructed at neighbouring Tis Abay has helped transform the town into a key industrial center with convenient services for visitors in their Ethiopia Tour.

3. Know the history of the country by Visiting Harar

One of the most spectacular historical sites in Ethiopia, Harar is a vivid reflection of the country's rich and varied past. Established in the late 1st millennium BC, this city in eastern Ethiopia has grown to become an Islamic stronghold. Since its founding, Harar has been ruled by 72 different Imams, each of whom contributed to the development of the city's distinctive customs. This historic city, founded in the 1540s, is one of the most important Muslim pilgrimage destinations and is home to 90 mosques and many other interesting attractions. One of the town's oldest customs is now one of its most popular tourist draws, every day, a local citizen is chosen at random to leave the city walls and call the local Hyenas, who he then feeds by hand. You can be one of those if you choose our incredible Ethiopia Packages.

4. Explore the Bale Mountains in search of an Ethiopian Wolf

Ethiopia's abundant wildlife, including chances to get "up close and personal" with endangered species, should be recognized on any list of things to do in Ethiopia.
The Sanetti Plateau in Bale Mountains National Park is the greatest place to witness one of the around 500 remaining wild Ethiopian wolves. Other endangered animals found there include black-maned lions, honey badgers and several kinds of monkeys. Keep an eye out for monkeys with bleeding hearts. The trip with Dook International takes you past the Rift Valley's beautiful lakes, true African communities filled with the hum of Tuk-Tuks and verdant bamboo groves. Choose our Ethiopia Holiday Packages today!

5. Relax on a boat ride on Lake Tana

Visiting historic monasteries to practice meditation is a must if you have this on your list of things to do in your lifetime with our Ethiopia Tour Packages. Tana, Ethiopia's largest lake, is the beginning of the Blue Nile, the country's most important river. It is possible to visit 20 monasteries, some as old as the 1300s, all within the space of a single boat ride on the lake. The Ura Kidane Mihret Monastery is one of the most visited. You'll find it on the verdant Zege Peninsula and the splendor of its furnishings will leave an indelible impression.

6. Visit the Erta Ale Volcano

Of course, nature itself provides awe-inspiring attractions in Ethiopia, such as stunning settings for some of the best climbing and hiking vacations in all of Africa. Erta Ale is a reasonably difficult walk, but you'll need local guides (it's an active volcano, after all) and clothing suitable for the high temperatures and humidity that persist throughout the year and reach their climax in the summer.

Visit this incredible place today by booking one of Dook International Ethiopia vacation packages from India

Explore the stunning Simien Mountains and the lunar terrain of the Danakil Depression, two of Ethiopia's many World Heritage Sites by choosing the best Ethiopia Tour Packages at Dook International. Touring Ethiopia with our incredible Ethiopia Holiday Packages reveals a raw Africa at its dramatic and alluring best, from the lofty peaks of the Simien Escarpment and its charismatic, endemic wildlife to the flamingo-studded Soda Lakes of the Great Rift Valley. Other highlights include lake monasteries at the source of the Blue Nile and lip plates, scarification and body painting in the villages of the Omo Valley.