Incredible journeys to Australia with DOOK!
No matter your travel style, we have a Australia package tailored for you
Australia Tour Packages
Explore Australia with DOOK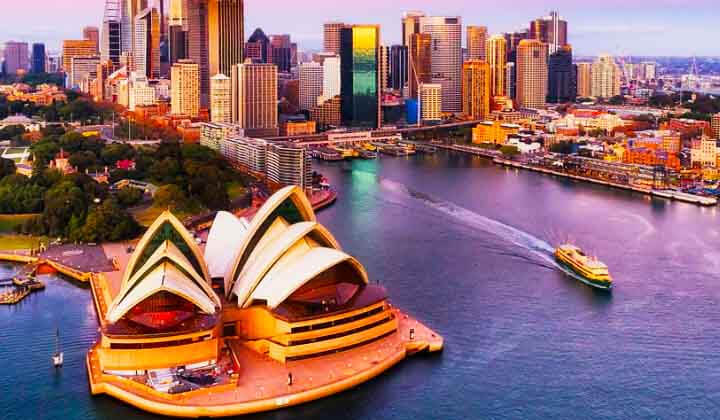 There's nothing quite like the amazing "Australia"

Get beguiled by its treasures with Dook's Australia Holiday Packages

Endless sunshine glittering upon the irresistible beaches, a melange of dramatic red deserts, the rainforests as well as the iconic cities offering something extraordinary, ancient cultures showcased through the most emblematic landmarks and so much more that's truly delightful- how could anyone just get enough of Australia? The world's smallest continent and largest island, Australia is a land of incredible contrasts and breathtaking beauty. As a remotely attractive yet highly developed country, Australia has charmed visitors with its unique wonders and unmatchable wildlife. Indeed, it is one of those few countries that no matter your travel choice, budget or age, can deliver an experience as no other holiday destination can. But is it worth taking those long flights from India to visit this country? It definitely is a 'Yes'! And if you are planning an Australia Tour with Dook, you are sure to tick off all your bucket list goals and return with a longing to explore more.

A country as vast as the United States, Australia is home to some of the most unusually appealing destinations as well as the "never-seen-before" wildlife in the world; the reason why it is also known as the "land of kangaroos". There's an abundance of wilderness and wild nature and enjoy in seclusion accompanied by some amazingly developed cities and small towns for you to hop and explore. Sydney, one of Australia's prettiest cities, lures the visitors with its dramatic expanse of beaches like Bondi as well as the landmark attractions like Harbour Bridge and the Sydney Opera House, whereas Melbourne locks you in with its vibe as you'll find no better place to sip a cocktail a chic rooftop bar or watch the eye-pooping street art in awe. Apart from plenty of iconic attractions and regions that you can add to your Australia Tour Packages, the "must-visits" in the country include the Great Barrier Reef, Ayers Rock, Cable Beach, Surfers Paradise Beach, Perth and Margaret River, Kangaroo Island, the island state of Tasmania and more.

Read on ahead to find out more about what makes the travellers tick Australia in most of the bucket lists. If planning a tour soon, get in touch with Dook and choose from our wide range of Australia Tour Packages from India.

Capital: Canberra
Languages: English
Currency: Australian dollar
Driving Side: Left
Best Time to Travel Australia: The high season here is between December to February For those looking for budget and away-from-the-crowd traveling, June to August is an ideal period!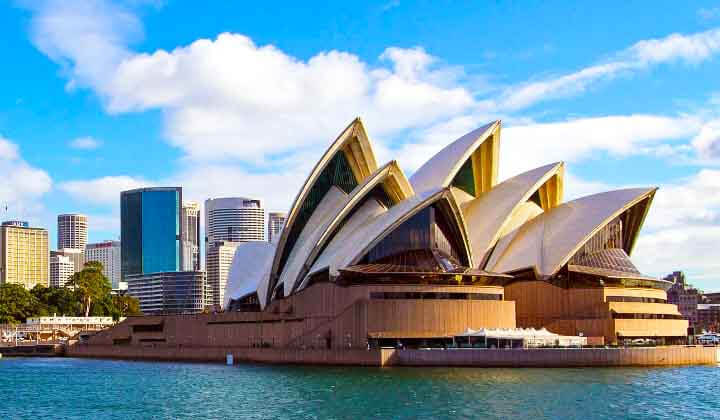 Explore Australia:

Even though the travel websites and articles mention most about the conventional attractions like The Great Barrier Reef, Sydney Opera House and Gold Coast, there are some other spectacular marvels that you must add to your Australia bucket list right away. While in Australia, you must not miss these gems- Great Ocean Road, known for its spectacular formations of limestone stacks running beside a stunning stretch of the turquoise ocean; Blue Mountains National Park, ideal for a day trip; Fraser Island, ideal for its weather, rainforests, freshwater lakes and coloured sand cliffs; Sydney's Harbour Bridge that is indeed an Instagram-worthy landmark; Kakadu National Park, known for its Aboriginal rock art; Philip island known for its famed Penguin Parade and so much more that's worth more than just a mention!

Top it all off with a laid-back beachy feel, lush green environs, amazing road trips and welcoming people, it's no wonder why Australia scores on the top of bucket list destinations around the world. Want to create your own adventures in Australia? Australia Packages by Dook definitely offer you all this and more.

1. Sydney: Pretty and postcard-perfect

Australia's largest city, the capital of New South Wales with the largest airport in the country and a massive number of attractions, Sydney is undoubtedly the first preferred stop on most Australia Tour itineraries. Even though much of its charm revolves around the dramatic stretches of beaches, the places like the immense Harbour Bridge and the Sydney Opera House skirting the azure waters surely do justice to all those pictures of Sydney you see on the postcards. Once you move further into this spectacular city, you'll be amazed by its versatility- from a wealth of outdoor activities, diverse art galleries to music and buzzing food scenes, Sydney easily rivals any other city in the world.

Be it your trip to the 'not-to-miss' iconic attractions, a stroll in the beautiful Rocks Market, a wine tasting tour in the Hunter Valley, a sunbathing or surfing sesh at Bondi Beach, a ferry trip to Manly, a needed escape to The Blue Mountains, exploratory museum visits, or the exciting coastal walks along the dramatic expanse of its blue waters, Sydney surely enchants you with its vibe.

At Dook, we have already added the top favourites to our Australia Holiday Packages through our thoughtfully curated itineraries.

2. Melbourne: The pulsating heart of Australia

A fantastic city on the southern coast of Australia, Melbourne is the capital of the state of Victoria and is the second most visited after Sydney. Considered to be the one that you don't want to miss out on while on an Australia Tour, this beautiful and pulsating city is a perfect combo of all things trendy, tasty and totally worth it! This modern metropolis is known for its exhilarating sports and events, bustling laneways, trendy neighborhoods, thriving art and food scenes and it is no wonder why it comes to life after the sun goes down.

Once here, you can feed your soul to its eye-pooping street art, to the plethora of dishes served at en vogue restaurants and cafes, to some amazing wines at the rooftop bars, to the markets and an array of museums and so much more. After you've dined and wined, taking a road trip along the Great Ocean Road while moving a few hours away to see wild koalas, incomparably beautiful rock formations and walking along the coastlines or a quick visit to Yarra Valley, will always be a good idea.

There's a lot more awaiting you in this magnificent city; book from our collection of Australia Tour Packages today and get your Melbourne marvels added to the itinerary.

3. Perth: A beacon of vitality

This capital of Western Australia is superbly positioned on the banks of the Swan River and the nearby swathes of natural bushland make Perth a city centered on great outdoors and adventure options. While on one side you'll see the lively laneways, shiny towers, museums and galleries, on the other end, you'll be captivated by open green spaces and manicured parks radiating the infectious beauty of the city. Top it off with beautiful summer weather, awesome locals, massive vineyards, alfresco dining scenes and an incomparable natural backdrop, you'll not be surprised how Perth makes for an exciting fit for your Australia Vacation Packages.

While here, you can discover the walking trails at Kings Park, pose with the camera-friendly quokkas on Rottnest Island, admire fountains and the surrounding Swan River at the Elizabeth Quay, have a nice vegetarian Indian buffet at Annalakshmi Restaurant, sip a coffee while enjoying the sunset at Cottesloe, delve in the historical vibes at Fremantle markets, head to the off-beaten path of Perth Hills and add in a lot more to your Australia Tour itinerary.

4. Queensland: The one that's adventurously blessed

From the grubby outback to the place where the world's oldest rainforest meets the world's largest, UNESCO-listed Great Barrier Reef, Queensland is indeed full of surprises. Even though people usually choose Queensland for its famed 'Gold Coast' and of course the reef for adventures and outdoor fun, it is a lot more beyond what meets the eye. You can't say you've been to Australia until you've visited Queensland.

Featuring the best that the places here like Brisbane, Gold Coast, Sunshine Coast, Cairns and the entire state has to offer, here are some places you can't afford to miss- Boodjamalla National Park, The Great Barrier Reef, Undara Lava tubes, Daydream Island, Burleigh Heads National Park, Millaa Millaa Falls, Airlie Beach, Skyrail Rainforest (Cableway), Noosa Beach, Movieworld (Gold Coast), Gallery of Modern Art (GOMA) at Brisbane and the list is precisely endless.

5. Victoria: Packed with pleasant surprises

Being the smallest of Australia's states certainly does not restrict Victoria to an abundance of experiences it offers to visitors. This state is home to some of the most dramatic coastlines in the world along with pristine beaches, alpine mountain ranges, picturesque fishing towns as well as spa towns, a choice of historic wineries and what not! Victoria, being a day trip away from Melbourne, spoils you with plenty of exploration choices and some quintessential Aussie wilderness that you can treat yourself with.

Apart from the Great Ocean Road coastal drive and of course, its sensational food and wine, Victoria is famous for its town of Port Fairy, the Grampians National Park, Gippsland, the historic Goldfields, the Mornington Peninsula, Murray River, The Dandenongs and more.

6. Tasmania: A tranquil country in itself

Known for its rejuvenating capital city of Hobart and a parade of outdoor activities, Tasmania is a unique island state of Australia that is both rustic and paradisical in nature. This heart-shaped island is filled with everything beautiful and soul-soothing, be it the green valleys, quiet towns or pristine coastlines, making this place a perfect to pause, take a breath, connect with nature and reconnect with your inner self, seeking peace amidst the daily hustle-bustle.

You'll be enchanted by the beautiful small towns such as New Norfolk, Tyanna, Campbell Town, Richmond and the rest of Tasmania's top tourist destinations including Salmon Ponds, Mt Field National Park, Bruny Island, Dove Lake, Port Arthur, Burnie, Russell Fall, Lady Baron Fall, Horseshoe Fall, Oyster Farm, Sorell, MONA, Cradle Mountain and more.

Top Bucket List Experiences in Australia:

From hip to classic, natural wonders to man-made marvels, outdoor adventures to resort getaways, you'll find everything best to enjoy as Australia is nothing less than a delight in disguise. To help you jot down favourites for Australia Packages, Dook has listed some of the best, not-to-miss bucket list experiences below:

1. Dive down under the Great Barrier Reef
2. Make your way through the secluded white beaches and dive sites in the Daintree Rainforest
3. Take home loads of postcard-perfect pictures captured in front of the Harbour Bridge
4. Attend the Adelaide Festival
5. Check yourself in for an unforgettable musical experience at the Sydney Opera House
6. Get awed by the fiery red lichen-covered boulders at the Bay of Fires
7. Hit the Bondi and have a beachy time like never before
8. When in Australia, do not miss seeing the huge red monolith- Uluru
9. Sip a cocktail or a coffee at one of Melbourne's rooftop bars
10. Take a road trip along the Great Ocean Road
11. Have some hammock time at Daydream Island
12. Hand feed kangaroos and emus at Featherdale Wildlife Park
13. Explore Hobart and visit Museum of Old and New Art (MONA)
14. Wander along the white sand of the Freycinet National Park
15. Have a luxury island break in the Whitsundays
16. Hang yourself off The SkyPoint Climb
17. Slurp fresh oysters on Bruny Island
18. Take a self-guided walking tour to Cradle Mountain
19. Watch in awe Queensland's hidden secret- Cobbold Gorge, Savannah Way
20. Take a Sky Rail to Kuranda where you shop for some worthy local handicrafts
21. Cuddle Koalas while enjoying sunsets at Maggie Island
22. Explore the vineyards in Perth
23. Meet with the diverse Australian flora and fauna at the Kangaroo Island
24. Do not miss the beaches and bars in the Gold Coast region
25. Take a scenic cableway ride through the spectacular Blue Mountains
26. Witness the popular Penguin Parade at Phillip Island
27. Discover the tidal pools and shipwrecks at the Fraser Island
28. Taste the locally brewed beverages at the irresistible bars in Hobart
29. Spend a day in one of Australia's most beautiful coastal coves- Byron Bay
30. Treat yourself to the thundering waterfalls and impressive rocky gorges at Kakadu

Australia is enormous; why not explore it with DOOK?

The days you will spend here in this vast and perfectly positioned country will be some of the best to recall and cherish. Whether you are here with your family to spend quality time or travelling with your spouse seeking a romantic beach getaway or even taking a solo trip with a curiosity to explore the unexplored, Australia will offer just the best. To help you satiate your wanderlust for Australia, Dook has created a wide range of Australia Tour Packages from India. Select from our personalized Australia Holiday Packages and check yourself in for an experience of a lifetime!