Exotic Vietnam Tour
Pkg Id

0000532

Destinations

2

Duration

7 Nights

Attractions

17

Price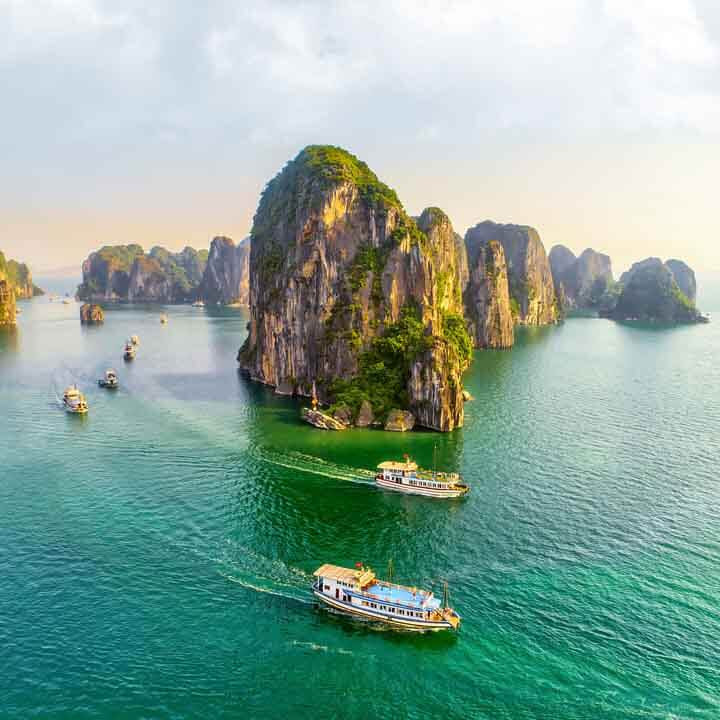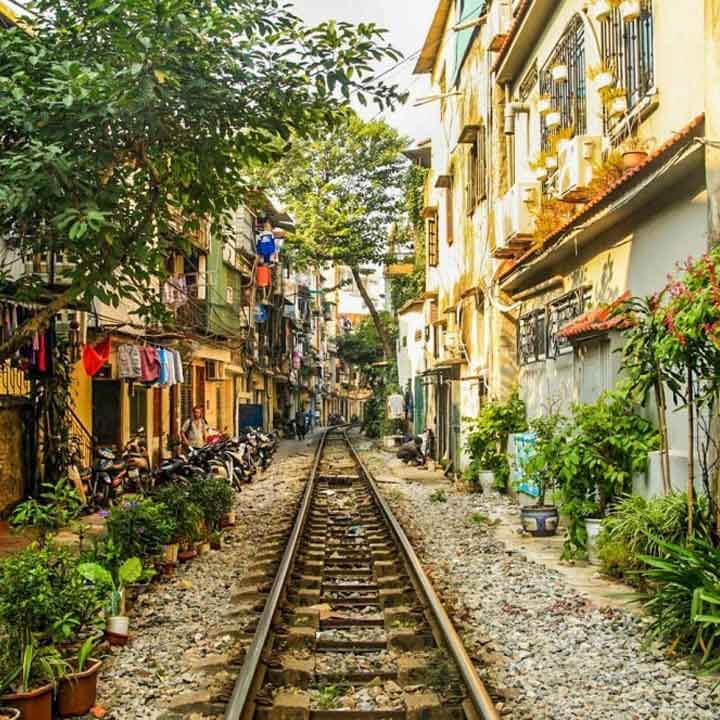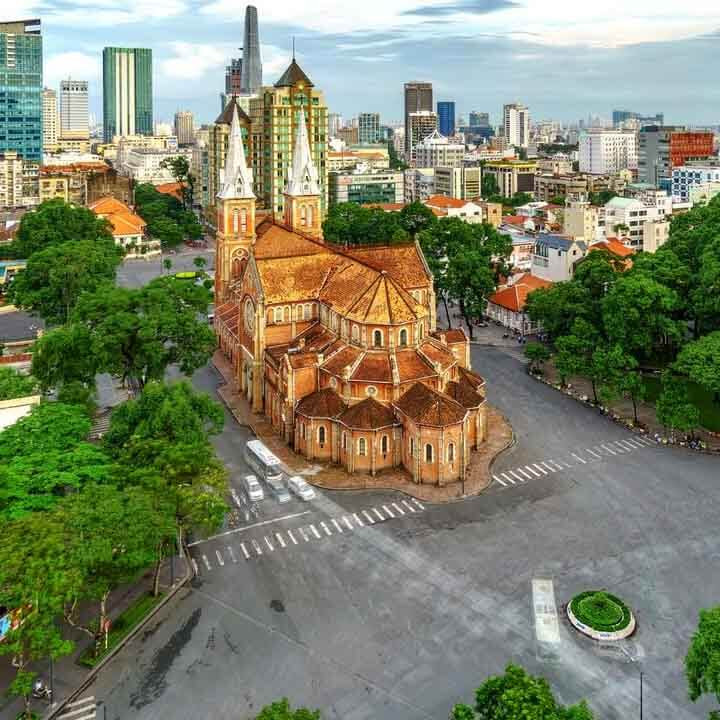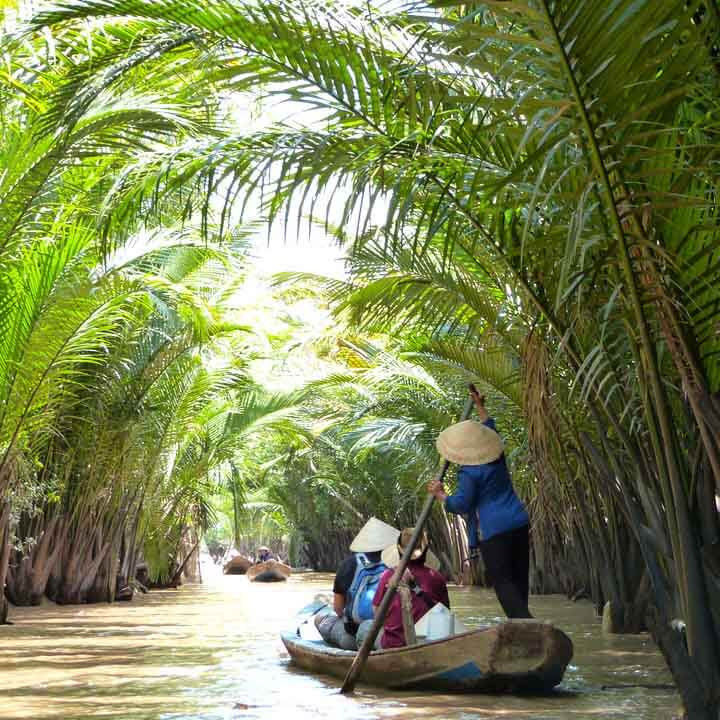 1
Hanoi Arrival City Tour
On arrival at Hanoi's Noi BaiInternational airport, you will be greeted by our guide and transferred to thehotel for check in.
Regular check in time: from 14:00.
Early check in is not included.
Then, we will take a trip tovisit: beautiful Tran Quoc Pagodalocated on the shores of West Lake and visit to Ho Chi Minh complex, includingHo Chi Minh's Mausoleum – the final resting place of Vietnamese great father orUncle Ho, President Ho Chi Minh's stilt house- where he lived on and off from1958 to 1969. The next place to move to is One Pillar Pagoda – a group ofstructures consisting of a pagoda and a tower built in the middle of a squarelake.
After that, back to downtown forrefreshment by Hoan Kiem Lake, visit Hoan Kiem Lake (Restored Sword Lake) withNgoc Son Temple before taking a walking tour through the Old Quarter, alsoknown as the 36 streets, this bustling area of narrow streets is home toliterally thousands of small businesses and shopkeepers. It's a great place toexplore with plenty of photo opportunities.
Return back to Hotel and Overnight stay.
2
Hanoi- Ha Long Bay- Transfer by Cruise Bus
Breakfast at hotel.

08:30 Transfer from Hanoi - Ha Long bay.

11:30 Arrive La Casta Halong Office in Tuan Chau Harbour, Halong, QuangNinh.

12:30 Tourists get on the ship and check in the cabin. The crew brief asummary of the schedule and safety regulations while having a welcome drink.

13:30 Lunchtime. Tourists have lunch meals that cooked by 5-star chefswhile enjoying thespectacular Halong scenery.

15:45 Tourists have many choices to experience: Rest on sundeck/ privatebalcony, relax in the 4-season jacuzzi (outdoor swimming pool), explore Ba TraiDao area (Three Peaches Area) and swim on the clear green beach, visit thenatural lagoon or kayak on the bay.

17:00 Tourists join the Sunset party (with drinks, fruit, cakes) or freeto entertainment

19:00 Dinner time. The premium buffet is served with a variety of localseafood and other

delicious dishes.

20:00 Tourists play a "lucky game "

Squid fishing or chill at the bar with a cocktail or free to retire.

Overnight on the cruise.
3
Ha Long Bay- Hanoi
06:30 Breakfast time. Enjoy sunrise with a cup of tea or coffee.Tourists have bread,

noodle,.at the restaurant.

08:15 Tourist visit Ao Ech area (Frog Lake area) - King Kong filminglocation (in 2018), free to kayak around the area and explore the exotic bay.

09:30 Check-out room and pay the bill.

10:15 Brunch time.

Tourists have meals with those cooked by specialrecipes on the way back to the harbour.

Relax on the cruise.

11:30 Check out the cruise.



4
Hanoi - Flight to Ho Chi Minh- City Tour
Arrival in TanSon Nhat airport, meet our guide and transfer to the hotel to check in.

Breakfast at Hotel.

Regular check intime: from 02:00

Then,we take a trip to visit Independence Palace,also known at the Reunification palace, was built on the site of the formerNorodom palace.
The Independence palace is a widely known landmark of Ho ChiMinh City and was designed by the architect Ngo Viet Thu.
Continue seeing thebeautiful structures from the French Colonial times such as the Notre DameCathedral, the historic Central Post Office.
Followed by the remarkable site of the War Remnants Museum the museum has a vast display of theboth the Indochina wars.
Return back to Hotel and Overnight stay at Hotel.
5
Mekong Delta Tour
7:20 – 7:40 Start from Ho Chi Minh Cityand depart to My Tho.

Breakfast at Hotel.

On arrived at MyTho, visit the Vinh Trang Pagoda, a sacred place that is also one of the toplocal sights.
Continue on to the harbor, where you'll board a boat to explorethe Delta region.
During the cruise on the Tien River you'll see the Phoenix,Unicorn, Dragon and Tortoise islands, and fishing villages, stilt houses andfruit plantations along the river. Stop at one of the islets for lunch in anorchard garden.

Afterwards, you'll continue on yoursightseeing tour of the attractions of Ben Tre. A sampan ride will take youalong the natural canals in the shadows of water coconut trees. You'll get areal sense of the charm and tranquility of the area.

Stop to visit a coconutfudge family business, taste some of their products and buy your favorite candiesin the workshop. Savor fresh fruits as you sip honey tea and enjoy SouthernVietnamese folk music performed by locals.

Take the bus and back Ho chi Minh City.
6
Ho Chi Minh - Flight to Siem Reap
Breakfast at Hotel.


Then you will befree at leisure until your transfer for flight to Siem Reap.

Arrival in SiemReap, transfer to hotel, check in and take a rest.
7
Angkor Wat Temple Tour
Breakfast athotel.

After breakfast,visit to The South Gate of Angkor Thom: Bayob Temple, The Royal Enclosure,Phimeanaka, Elephant and Leper King Terrace. Continue visit to Ta Promh (thejungle temple.
After lunch, visit to Thommanan, Chaosay Tevoda, Ta Keo: small,attractive temple in very good condition, built all the same time as AngkorWat.
Continue to Angkor Wat: The "7 the Wonders 'of the World". World HeritageSite since 1992, famous for its beauty and splendor.
Angkor Wat features thelongest continuous bas-relief in the world, which runs along the outer gallerywalls and narrates stories from Hindu mythology.
Continue visit to BakhengHill: Sunset viewing on the top of the hill.
Bakheng is the first major templeto be constructed in the Angkor area; this temple-mountain offers extraordinaryviews.
Overnight in Siem Reap.
8
Fly Back Home
Breakfastat hotel.

Today is your own dayat leisure until your transfer to the airport for the departure flight to home.



As per mentioned in itinerary

As per mentioned in itinerary

English speaking tour guide

As per mentioned in itinerary
Visa
Click to view Visa information