Incredible journeys to Vatican City with DOOK!
No matter your travel style, we have a Vatican City package tailored for you
Vatican City Tour Packages
Explore Vatican City with DOOK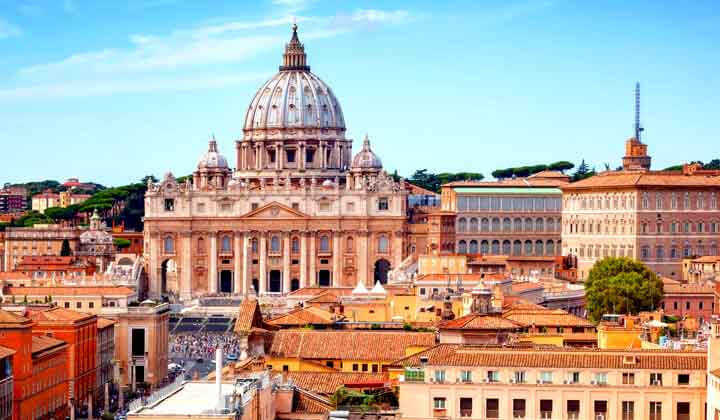 Vatican City is a unique destination, full of history, art, and culture! It's also one of the most impressive places on earth. Travel with Dook International's Vatican City Tour Packages, and experience all that it has to offer without worrying about the trip arrangements. Apart from sight-seeing, we provide you with hotel booking options. You can choose from our list of top-notch hotels near Vatican City landmarks such as St Peter's Basilica and the Sistine Chapel. Our tours also include free transportation services from the airport to Vatican City! Meals, guides, transportation within the city are other amenities that are included within our packages.

Things to know about Vatican City

Vatican City is a fascinating place! If you're interested in history and religion, the place will surely enthrall you. First of all, Vatican City is home to the Pope, the head of the Catholic Church. The Pope has his own private apartment inside the Apostolic Palace, which is one of the most beautiful buildings in Europe. It was built during the Renaissance period and is a great showcase for artistic creativity.

The Vatican also houses other important people who work for the church. The cardinals oversee the synagogues of different geographical regions around the world and then, there are bishops who oversee different dioceses across Italy or other countries in Europe.


If you're interested in learning more about Catholicism or even just getting some insight into how things work behind the scenes at the Vatican, this Vatican City Tour is definitely worth visiting!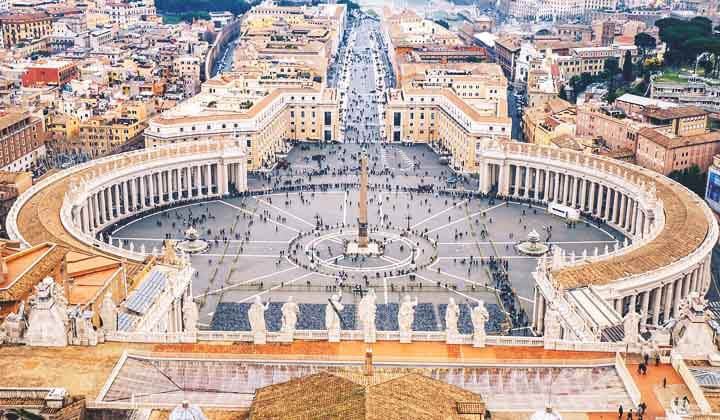 Best Experiences in Vatican City

With Dook International's services, you'll have an amazing time exploring the city and its many historic landmarks. You can learn about all the different parts of the city, from its history to its architecture. You'll also have a chance to see some of the most distinguished monuments in the world, as well as get an insider's perspective on what it's like to live there. Dook International has been helping people experience this city for years now through the Vatican City Packages and thus, we guarantee you are in safe hands!

Top Attractions in Vatican City

As we all know, Vatican City is a world-famous tourist attraction and a major center of Christianity. The Vatican Museums are home to over 250,000 works of art, ranging from ancient Egyptian and Roman treasures to modern art. Vatican City also has other great attractions, including St. Peter's Square, which is filled with statues from all over the world. It is considered as one of the most beautiful public squares in Europe. The city also has plenty of museums, including the Museum of Modern Art and the Vatican Museum, which houses some of the most famous works of world-renowned artists. Take up our Vatican City Holiday Packages and get your trip customized to see the amazing Vatican landmarks as per your preference.

Plan a Trip to Vatican City

If you want to visit this beautiful city, plan your trip carefully! You'll want to book your air tickets and tours in advance and make sure you have at least three days for your visit.

Best Travel Experiences in Vatican City

Visiting Vatican City will be an incredible experience for anyone who loves art, history and architecture. It has been a place of worship since its beginning, and it continues to be one of the most enlightening places in the world today. You can learn about the history of this sacred place through our guides. You will also learn about the popes and their reigns as well as many other religious leaders who have lived here throughout the centuries.

From your first steps into St. Peter's Square to walking down the iconic Via Della Conciliazione, you'll find yourself surrounded by fantastic architecture, stunning mosaics, and awe-inspiring art.

The Vatican Museum is not to be missed either! It houses a collection of works from ancient Egypt to modern art. And if you want more than just a glimpse at some of the world's most famous paintings, check out the Sistine Chapel!

Coming to food culture, there are many great restaurants you can visit with our Vatican City Packages where you can sample some of Rome's best cuisine without breaking the bank!

Top Things to Do in Vatican City

If you plan on visiting the city, here are some things to do on your Vatican City Tour:

● Visit the Vatican Museums and explore the 54 exhibits. It includes the extraordinary artwork of Raphael, Leonardo da Vinci and Michelangelo. Out of all the museums, some of the prominent ones are the Raphael Rooms, the Vatican History Museum, the Map Gallery, and the Sculpture Gallery.

● Explore the Sistine Chapel which showcases the amazing artwork of Michelangelo. The most famous is Michelangelo's Last Judgment showcased on the east ceiling of the chapel. The chapel dates back to 1483 and was ordained under Sixtus IV.

● The world-famous St. Peter's Basilica church dates back to the 17th century. The synagogue's artwork encompasses the majestic Pieta. This is the only artwork that Michelangelo signed. Furthermore, there is Bernini's St. Peter's Baldachin placed above the High Altar. Climbing St. Peter's Basilica Dome is another favourite activity of tourists. The dome was designed by Michelangelo.

● Visit the Vatican City of the dead, the Necropolis. There are numerous mausoleums and shrines dating back to the Roman era. It is the burial place of the first pope who was also one of the twelve apostles. Another important site to explore in this region is the Temple of Emperor Constantine.

● Vatican Grottoes located below the St. Peter's Basilica is a site to behold. It is a collection of modern and archaic tombs along with ancient artwork and relics. It is said there are a total of 100 tombs.

● Visit the Vatican Mosaic Studio. History says that Pope Gregory XIII brought Venetian mosaic artists to teach trade to Roman craftsmen during the late 16th century. They decorated parts of St. Peter's Basilica and restored the 10,000 square meters of mosaics in Saint Peter's Basilica.

● Take a stroll in the Vatican Gardens and wander in St. Peter's Square. It is one of the most gorgeous and largest squares in the world. If we compare the size, it is large enough to fit 3,00,000 people. Some of the intriguing attractions it boasts are the Egyptian obelisk, 140 beautiful statues, the Doric colonnades, and so on and so forth!

For those who are on a tight budget, here are a few fun things to do:
● Meet the Pope on the weekly 90-minute appearances
● Attend a Mass at St. Peter's Basilica
● Take a photo with a Swiss Guard
● Send a postcard to your friends and family back home.

Have some fun in Vatican City at night with our Vatican City Holiday Packages by attending an open tour of the Vatican Museums and taking a stroll along the beautiful paths of the Vatican City.

What to Buy in Vatican City?

Vatican City is a great place to visit, but there's more to it than just the art and architecture. Here are some of the best things to buy in Vatican City:

● Vintage Time-Keeping Objects, Ceramics and Glassworks, Vatican-Inspired Jewellery, and Pope Francis' Inspired Socks are some of our best picks. You can also look for Engraved Marble Tablets, Holy Water Bottles, Pantheon Leather Goods, Vatican Books, Italian Cheeses, and Postcards.

What to Eat and Drink in Vatican City?

When you're on your Vatican City Tour, it can be hard to know what to eat and drink. There are so many options! Let us ease up your dilemma:

● Cannoli, Fettuccine Alfredo, Tiramisu, Gelato, and Chicken & Mushroom Risotto, are some of the common traditional dishes here. If you wish to explore more of the culinary culture, try the Yellowfin Tuna Fillet, Eggplant Parmigiana, Tofu Insalata, Zucchini with Rich Ricotta, Italian Pizza and Antipasto.

Top Reasons to Visit Vatican City

The Vatican is a city, but it's not like any other city you've been to before. It's got history, but not all old stuff. It enjoys art, but you will get to witness more than the paintings on the walls and sculptures in the gardens. It has music, but it's not just classical music or opera or jazz. It has an architecture that is beautiful and awe-striking and it's also practical and functional. Vatican City is more than just a place to visit. It is a place to learn about what makes us human and how we can make our world better for ourselves and others.

Travelling Tips for Travellers

Vatican City is one of the promising places to visit and travelling with Dook's Vatican City Packages will be the cherry on the cake in terms of experience. Here are some tips for travelers who want to see the Vatican City:

● Bring your passport with you. You'll need it to enter certain areas, like St. Peter's Basilica and other churches in Vatican City.

● Plan your trip around Holy Week, which is from Palm Sunday through Easter Sunday. This is a busy time but it's worth it because you'll get the chance to see many of the sights that are typically closed during the rest of the year.

● Bring cash in smaller denominations if possible because ATMs are not as common around Vatican City as they are elsewhere in Italy or Europe. However, they can still be found in some locations like St Peter's Square or near major tourist attractions. Pack as lightly as possible, you're going to be walking all day, and even more, if you want to see everything!

Travel to Vatican City with Dook International and you'll be treated like royals. We guarantee that our flights, hotels and our services will be of top-notch. With our exceptional Vatican City Tour Packages and competitive prices, you'll be able to enjoy the best vacation of your life without breaking the bank.