Incredible journeys to Sweden with DOOK!
No matter your travel style, we have a Sweden package tailored for you
Sweden Tour Packages
Explore Sweden with DOOK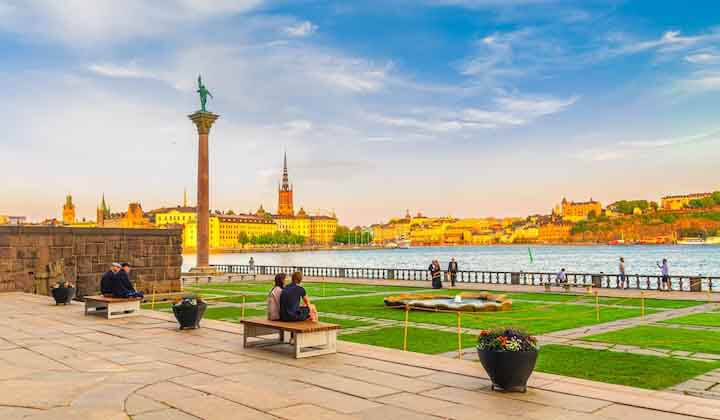 Sweden: A nordic country with boreal mountains and icy lakes!

Swarm across Sweden's greenery, culture, and ice hotel to Södermalm with Dook's Sweden Tour Packages

Sweden is a country that has always been known for its magnificence, however, known for its ingenuity as well. That's why we think you'll love exploring this country, which lies on the southern tip of the Scandinavian Peninsula with Dook's Sweden Tour Packages.

The first thing that might catch your eye is how green everything is even in winter! The lush forests and rolling hills support a population of more than 10 crores of people, which makes it one of the most densely populated countries in Europe. But there will still be plenty of room for you to explore. You can hike through beautiful forests and lakes or even climb snow-covered mountainsides.

If you're looking for something to do while your feet are wet, try finding a traditional Swedish bathhouse, also known as kallbadhus, where you can relax in the warm water while enjoying some music or reading a book. You'll find these throughout Sweden's cities and towns. They are especially popular during summer, so don't miss out if you're planning on visiting during warmer months. For Indian travelers, it will be the best path to beat the heat your body dealt with back home! Thus, take up our Sweden Tour Packages from India to land on the best deal!

Another thing worth checking out is Sweden's art scene: The country has many museums with exhibits from all around the world including works by famous artists like Monet and Picasso! If you want to know a bit more about Sweden before packing your bags, here are some of the necessary highlights.

Capital: Stockholm
Languages: Swedish, Sámi, Finnish, Meänkieli, Romani, Yiddish
Currency: Swedish krona
Driving Side: Right
Best Time to Travel: From May till September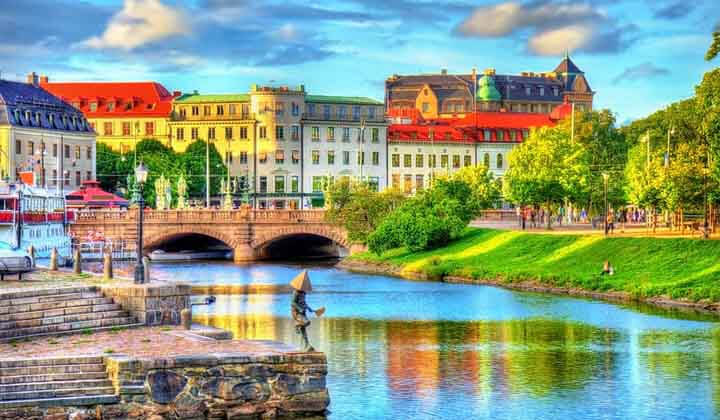 Explore Sweden

Sweden is known for its clean, green landscapes and friendly people. It's also one of the most progressive countries in the world with an impressive number of women in leadership positions. If you're interested in seeing what Sweden has to offer, there's no better way than by traveling to some of its amazing cities with our Sweden Packages!

1. Stockholm - The land covered with islands and bridges

Stockholm is a city that celebrates innovation, creativity, and the unbridled pursuit of the next big thing. It is home to some of the world's most famous museums, like the Vasa Museum and Stockholm Modern. If you're looking for a place to check out some free live music, you can't go wrong with the Royal Dramatic Theatre or the Nobel Assembly Hall.

Stockholm, Sweden's capital city has a rich history, including a long period of rule by the Vikings and its status as Sweden's political and economic center. Today, Stockholm's culture is similarly vibrant and diverse. The city is known for its modern architecture, but it also has plenty of old buildings built during the 17th-century renaissance that you will explore with our Sweden Holiday Packages!

2. Gothenburg - The land of Dutch-style canals and leaf-capped avenues

Gothenburg is a city that's all about the people and it's easy to see why. The city has a rich history, with many of its buildings dating back to the early 1900s and beyond. It's also a vibrant place, with an active nightlife and an array of museums and other cultural attractions that draw in tourists from around the world. This is reflected in the city's architecture, which ranges from modern skyscrapers to historic wooden homes. The city's natural beauty makes it a great place for outdoor activities like hiking and biking, as well as for getting lost in its maze of winding streets and alleyways.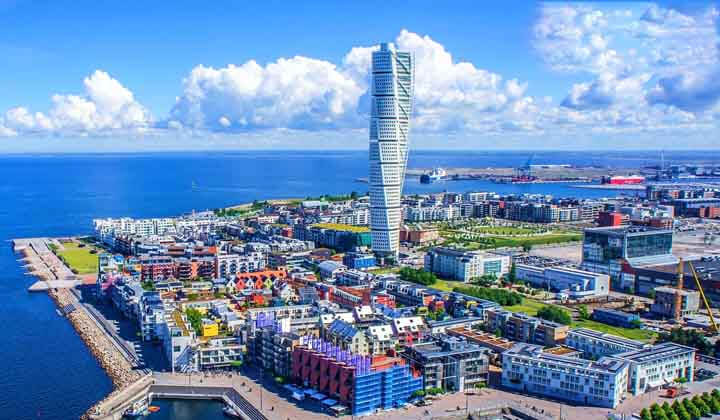 3. Malmo - The home to an award-winning library

Malmo is a city full of surprises, from its artistic community to its vibrant nightlife. Starting from street art to bookstores, Malmo is home to a diverse array of artists and creatives who are constantly pushing the boundaries of what they can produce. Renowned for its nightlife scene, it's the perfect place to enjoy drinks with friends or meet new people over dinner. The restaurants here are some of the best in Scandinavia, and there are plenty of parks and outdoor spaces where you can spend quality time on your Sweden Tour. Malmo has much more to offer than just art and food! Starting from walking at the Stortorget Square, praying at the Sankt Petri Kyrka, relaxing at the Ribersborgs Kallbadhus to enjoying a picnic at Slottsträdgården, you'll find yourself inspired by all the opportunities for adventure that come with exploring this beautiful part of Sweden!

4. Helsingborg - The land of the 600 - year old medieval Kärnan tower

Famous for its old town, the city of Helsingborg in Sweden is a historic city. It is also a famous coastal destination among tourists. The 12th-century gothic-style cathedral Mariakyrkan is one of the oldest and largest city churches in Sweden. From Sofiero Palace to the Dunkers, Helsingborg is full of attractions! Wandering the Fredriksdal Museum & Gardens, visiting the Kullaleden Helsingborg national forest, and relaxing at one of its many beaches are some of the tourist-favorite activities here!

5. Karlskrona - The military base town of Sweden

Karlskrona is a city in Sweden with a rich past and civilization. Known for its beautiful architecture, its home to one of the world's largest medieval cathedrals. Apart from the natural beauty and cultural heritage, the 17th-century naval town is a UNESCO World Heritage Site. The town is still used by the military and you can go on a tour of the naval museum with our Sweden Holiday Packages. From enjoying the serenity of the Dragsö and Trossö Island to visiting the Amiralitetskyrkan, Ulrica Pia Christian Church, Hoglands Park, or Blekinge museum, the city is purely fabulous!

Top Bucket List Experiences in Sweden

Sweden has a long and rich history. It is home to the Vikings who left their mark on the region by building their homes out of wood and stone and who traded with the rest of Europe. Sweden also has a long history of being a great place for artists and musicians. Witnessing the natural beauty of the land, lakes, and waterfalls is a wholesome experience. The influx of tourists since its earliest days makes up an important part of its culture. Moreover, the basket of experiences in your Sweden Tour will always be full. Here are a few of our top experiences that you should not miss, no matter how short your stay is!

1. Go Island hopping with our customized Sweden Holiday Packages

The geographical location of Sweden is what makes the land such a fascinating tourist destination. Some of the cities in Sweden connect to some of the most beautiful islands in the world. Stockholm is one such city that will take you to a paradise where life would be surreal! Do you know the Stockholm archipelago has over 30,000 islands? So, if you are looking for a cozy vacation or an adventurous Sweden Tour, sail a boat to any of these islands and witness your travel dream come true!

2. Hit the trail when in Sweden

Not a history or sightseeing fan! Well, you can still have double the fun! Put on your shoes, fill up your water bottle, put on some sunscreen, and hit the road! Sweden has some of the best hiking trails. If you are more into urban hiking, consider visiting the Royal National City Park in Stockholm. Rural walkers can visit the natural reserves or the hiking routes available in every city of Stockholm!

3. Go on a cruise at the Göta Canal

One of Sweden's most enterprising projects, the Göta Canal connects the two largest lakes of Sweden, Vättern and Vänern to the Baltic Sea. Coast-to-coast crossing with the Trollhättan Canal, your cruise will take you amidst the evergreen countryside, pristine villages, and other points of attractions. Not only that, but to add some more fun you can rent a boat on your own and go exploring with our Sweden Tour Packages!

4. Witness the mesmerizing Northern Lights on your Sweden Tour

Sweden is one of the few places tourists choose to witness the aurora borealis. Visible from September to March, witnessing this colorful celebration of lights in the dark sky is one of the top-five bucket list experiences for travel enthusiasts. Plan your visit to the Abisko National Park, to get the best view of the Northern Lights. Another destination you can choose for this experience is Kiruna, the northernmost city in Sweden. If lucky, you can also put on your snowshoes or go on a dog sled ride to gaze at the colorful skies from every direction!

5. Enjoy the culinary delights of Sweden at its core

Sweden not only boasts about its historical monuments and natural wonders but also proudly represents its food culture! Touring the vineyards and tasting some amazing wines along the way or hunting the autumn truffle on Goyland and going on a seafood tour, our Sweden Packages will take you on one of the best culinary tours. Kanelbulle, the cinnamon bun is a must-try here! Some other options that you can consider are Filmjölk, Oat milk latte, Toast Skagen and Foraged berries, to name a few. Moreover, you cannot choose to skip the seafood dish, Herring, once you smell it!

Do you know about the Swedish tradition 'lördagsgodis' or 'Saturday sweets'? Well, it's time for you to experience it with Dook's Sweden Holiday Packages

Sweden is a beautiful country, with striking scenery and rich culture. It's the perfect destination for an adventurous vacation. Dook's Sweden Tour Packages can help you plan your trip to Sweden, whether you're looking for a relaxing weekend getaway or an internationally-themed vacation. We offer tours of Sweden's natural wonders, historical sites and cultural events. Our travel specialists will work with you to create an itinerary that suits your interests and preferences, as well as your traveling companions. For Indian travelers, Dook International has a wide range of Sweden Tour Packages from India. It is specially designed to suit the needs and customs of Indian travelers!
Explore More: Top Attractions in Sweden