Senegal, a country in West Africa, is a beautiful tourist destination that offers a vast natural landscape, vibrant culture, and colonial heritage. Home to several UNESCO World Heritage Sites, this country has numerous Senegal tourist attractions to explore. It doesn't have to boast its marvelous attractions as it already allures tourists with the promise of spectacular nature, charming towns, and affectionate locals. From teeming cities to sparkling beaches, colonial heritage, ancient ruins, and national parks, Senegal has something for every traveler. There are many reasons why Senegal is a top choice for travelers who want a quiet escape. You can even take a journey into the past and learn about the country's history. Besides the Senegal tourist places, the country's nightlife is one of the main highlights. You will find it as enchanting as its day-life. Heart-warming encounters with locals and other visitors are what make the time more enjoyable. Another highlight of this country is its capital city- Dakar. Often known for its lively atmosphere and bustling street markets, Dakar is a perfect fusion of culture and creativity. Dakar falls among the list of best places to visit in Senegal. From colonial architecture to vibrant art scenes, Dakar has so much to offer your wanderlust soul. If you are a history enthusiast who likes to dig, Goree Island is a place of wonder for you. It is a must-visit destination if you want to learn about Senegal's past. This UNESCO World Heritage Site was once known as West Africa's slavery capital. Today, tourists come here to explore the House of Slaves. This museum pays tribute to the dark history. Goree Island is one of the best Senegal tourist spots that offer an impactful experience. It allows you to reflect on the past and celebrate the strength of the Senegalese people.

The natural beauty of Senegal enchants every nature lover. The Pink Lake is one of the natural wonders of Senegal that attracts a lot of tourists. It gets its name from the pink hue brought about by the high salt content in the water. This lake is among the other spectacular Senegal attractions that offer a truly unique experience to visitors. Another natural treat in this list is Saloum Delta. It is an awe-inspiring ecosystem of mangroves, wildlife, and islands. You can embark on a boat tour through Saloum Delta to witness birds, dolphins, and other marine life. How can someone forget to visit Senegal's stunning coastlines? No vacation is complete without experiencing the charm of its beaches. The town of Saly is one of the best places to visit in Senegal for a resort destination. Offering pristine sandy beaches, a range of stunning accommodations, and an array of water activities, Saly captivates the attention of many tourists throughout the year. Be it wildlife, coastal towns, culinary experience, or music, Senegal is a secret gem of Africa that you must unearth.

If reading about Senegal's aura, you decide to visit, do check out Dook's tour packages. We have attractive offers on Senegal travel packages. Our Senegal tour packages offer everything, including each of the above tourist attractions. All you need to do is get ready for an out-of-the-world experience.

Best Tourist Places to Visit in Senegal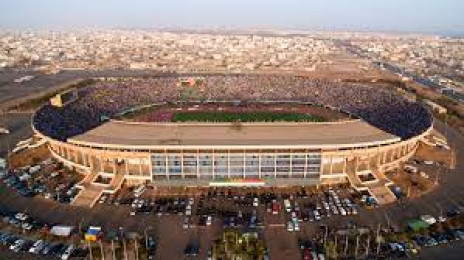 Leopold Sedar-Senghor Stadium
Things to Do in Senegal
Do what makes you happy