Incredible journeys to Rwanda with DOOK!
No matter your travel style, we have a Rwanda package tailored for you
Rwanda Tour Packages
Explore Rwanda with DOOK
Rwanda: Comprehend the Heart of Africa

Discover the land of thousand hills with Dook's Rwanda Tour Packages

Rwanda is a picturesque East African country renowned for its rich cultural heritage and natural beauty. Its lush green hills, rolling landscapes and stunning views make it a sought-after destination for travellers seeking an adventurous and culturally immersive experience.

One of the main attractions on your Rwanda Tour is its mountain gorillas, which are found in the Volcanoes National Park. Gorilla trekking has become a popular activity for tourists visiting the country, providing an opportunity to see these magnificent primates up close. The gorillas, known for their gentle demeanour and familial bonds, are an unforgettable sight.

Besides gorillas, Rwanda is also home to numerous other wildlife species. It includes elephants, lions and more than 700 bird species, making it an ideal destination for nature enthusiasts and bird watchers. With Dook's Rwanda Tour Packages, explore and visit all of this flora and fauna. In addition to its wildlife, Rwanda boasts several natural wonders. It includes the scenic Nyungwe Forest National Park, the largest montane forest in East and Central Africa. It offers a chance to explore its diverse flora and fauna, including primates and birds.

Rwanda's cultural heritage is equally rich, with many historical sites and cultural attractions showcasing the country's fascinating history and traditions. The visitors with our Rwanda Packages can explore the country's traditional dance and music, visit the Nyanza King's Palace and learn about Rwandan history at one of many museums in the country.

For those seeking a more rejuvenating experience with our Rwanda Holiday Packages, the country offers a range of luxury lodges and spas and activities like hiking, kayaking and cycling. Whether you're looking for adventure, cultural immersion, or simply a chance to unwind and enjoy the country's beauty, Rwanda has something for everyone.

Rwanda is a small country with a big heart and its warm and welcoming people are why tourists keep coming back. The visitors on their Rwanda Tour will find that Rwandans are friendly, hospitable and eager to share their culture with those who are interested. This spirit of generosity and kindness extends to the country's tourism industry, with hotels, lodges and tour operators all providing top-notch service to make visitors feel at home.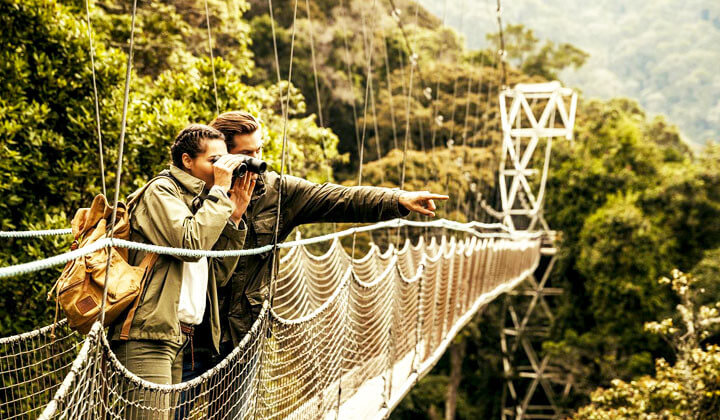 Rwanda is a hidden gem that offers visitors a unique blend of natural beauty, rich cultural heritage and modern amenities. With its gorillas, wildlife and mesmerizing scenic beauty, it's a destination that promises to leave a lasting impression on all who visit. If you're looking for a new and exciting travel destination, plan your Rwanda Tour with Dook International for an experience of a lifetime.

General Information for your Rwanda Tour:

Capital: Kigali
Languages: Kinyarwanda, English and French
Currency: Rwandan franc
Driving Side: Right
Best Time to Travel: June to September

Explore Rwanda

The country's stunning natural beauty is another reason why Rwanda is quickly becoming a popular destination for tourists. From the lush green hills and magnificent landscapes to the sparkling lakes and rivers, there is no shortage of alluring scenery to take in with our Rwanda Tour Packages.

For those interested in learning more about Rwanda's history and culture, there are several fascinating cultural attractions on your Rwanda Tour.

In addition to its rich history and cultural heritage, Rwanda is an excellent destination for adventure. From gorilla trekking and wildlife watching to hiking, kayaking and mountain biking, there is a wealth of outdoor activities to enjoy. The visitors can also try fishing, rock climbing and even hot air ballooning. Dook's Rwanda Packages offer a chance to experience Rwanda from a new perspective.

Below is a list of destinations which are a must-to-have in your Rwanda Holiday Packages: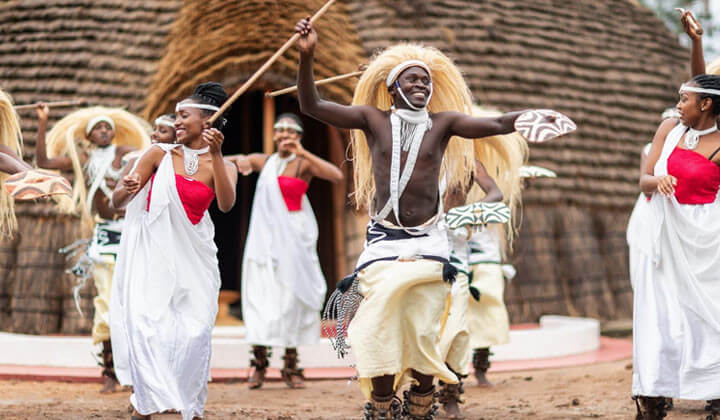 1. The Virunga Mountains: Home of the Gorillas

The Virunga Mountains, located in the northern part of Rwanda, are a true natural wonder and a must-to-visit destination for any traveller. With Dook's Rwanda Packages, you have the chance to come one-o-one with the critically endangered mountain gorillas, one of the world's most magnificent primates. The gorillas are known for their intelligence and social behaviour and you will be amazed by your close encounters with these magnificent creatures. During your visit, you will also have the chance to explore the splendid scenery of the surrounding hills and valleys, where you can take in the peace and tranquillity of the region.

2. Nyungwe Forest: Nature at its Best

Nyungwe Forest is an unspoiled wilderness area in southwestern Rwanda and is considered one of the most extensive remaining mountain forests in Central Africa. With our Rwanda Tour Packages, you can explore this rich and diverse ecosystem, where you will find a vast array of wildlife and plant life. The forest is home to over 200 species of birds and is a prime destination for birdwatching and chimpanzee trekking. With its many trails and peaceful surroundings, Nyungwe Forest is the perfect destination for anyone seeking an authentic wilderness experience.

3. Kigali: The incredible Capital

As the capital city of Rwanda, Kigali is a vibrant and bustling hub of culture, history and commerce. With Dook's Rwanda Holiday Packages, you can explore this modern city and immerse yourself in its rich culture and history. From its many museums and art galleries to its diverse restaurants and bustling markets, Kigali offers a unique experience for travellers. It is the perfect starting point for your Rwanda adventure. Whether you're interested in the country's history and culture or simply looking for a taste of modern Africa, Kigali is a city you won't miss.

Top Bucket List Experiences in Rwanda

1. Immerse yourself in Rwanda's wonderful culture

Rwanda is a country that is rich in culture and tradition and one of the best ways to experience it is with our Rwanda Tour Packages. Immerse yourself in the local way of life by visiting traditional villages, participating in cultural tours, or attending traditional dance and music performances. Take in the history and heritage of Rwanda by visiting several museums and art galleries in the capital city of Kigali. Learn about the country's rich cultural heritage through its art, music, dance and storytelling. You will also have the opportunity to meet and interact with local communities and learn about their customs, traditions and ways of life. This unique and enriching experience will deepen your understanding and appreciation of Rwandan culture.

2. Explore the countryside with splendid scenic drives

With its marvellous landscapes and picturesque villages, Rwanda is a feast for the eyes. Experience it all with Dook's Rwanda Holiday Packages, which includes scenic drives through the countryside. With a guided tour, you will stop at some of the most beautiful and serene locations in Rwanda. It includes the rolling hills of the Akagera National Park, the stunning Lake Kivu and the lush greenery of the Nyungwe Forest. You will also have the opportunity to visit local villages and take in the local culture, including traditional dance and music performances, local markets, and cultural tours. This is an excellent way to experience Rwanda's natural beauty and cultural richness.

3. Explore the wonderful wilderness

Rwanda is home to a wealth of wildlife, including lions, elephants, hyenas, and many more species. This makes it a prime destination for wildlife enthusiasts and nature lovers. On your Rwanda Tour, you will have the chance to see these magnificent animals in their natural habitats and experience the thrill of a lifetime. Join a guided wildlife safari and explore the heart of Africa, seeing the incredible wildlife that calls this region home. Observe lions as they hunt, watch elephants roam through the savannah and marvel at the beauty of the hyenas as they run through the wilderness. This is an experience that you will always remember.

4. Refresh your soul at Lake Kivu

Another top destination with our Rwanda Tour Packages is Lake Kivu. This stunning lake is one of the largest in Africa and is located in the western part of the country. Rolling hills and green forests surround it and its calm waters offer a peaceful escape from the hustle and bustle of everyday life.

One of the main attractions of Lake Kivu is its water activities. The visitors can take a boat tour to explore the lake and its surroundings or go fishing for the many species of fish that call the lake home. The lake is also famous for water sports such as kayaking, windsurfing and paddle boarding.

In addition to its water-based activities, Lake Kivu is also known for its lush scenery and friendly local communities. The visitors can hike along its many trails or simply relax on the sandy beaches and enjoy the views. The lake is surrounded by traditional villages for those interested in cultural experiences. Here the visitors can learn about the local way of life and relish traditional Rwandan cuisine.

5. Savour the Delicious Cuisine of Rwanda

When it comes to food and drink, Rwanda offers a range of dining options to suit all the tastes and budgets. Whether you're looking for street food or fine dining, you'll find something to suit your palate with Dook's Rwanda Tour Packages. The country is known for its delicious traditional dishes, such as brochettes (kebabs) and plantains, as well as its world-class coffee and tea. The visitors can also sample a range of local beers and spirits, including the popular banana beer and the potent local gin, Waragi.

It's time to meet the Gorilla of Rwanda with Dook International

Rwanda is a destination that truly has something for everyone. With our special Rwanda Holiday Packages, experience every bit of it, from its rich cultural heritage and stunning natural beauty to its friendly people and wealth of outdoor activities, and many more. Plan your Rwanda Tour with Dook International as your travel partner and you can be sure that your trip to this magnificent country will be unforgettable.