Incredible journeys to Romania with DOOK!
No matter your travel style, we have a Romania package tailored for you
Romania Tour Packages
Explore Romania with DOOK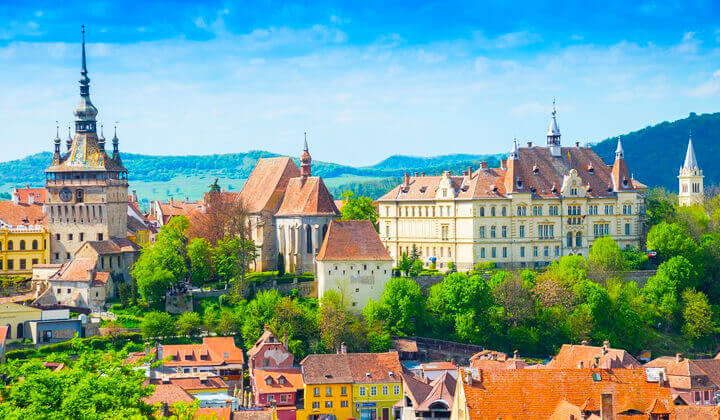 Romania is the 12th largest country in Europe sitting at the crossroads of Central, Eastern and Southeastern Europe. Romania shares its borders with Ukraine in the north, Hungry in the west, Bulgaria in the south and Moldova in the east. Romania is a great travel destination. One must go for a vacation on a Romania Tour. Romania is a great mix of plains, hills and mountains making it a favorite travel destination for all. You can buy the best Romania Tour Package and explore this beautiful place on earth.

Romania Tours - Explore Best of Romania

Romania is a great mix of natural and cultural beauty. Carpathian is the mountain in Romania extending over 600 miles. Carpathian is glacial, karstic, volcanic and structural in different terrains of it. Different ranges of the Carpathian Mountain with variety of landscapes are a great source of outdoor adventures. You can go for hiking, climbing, biking and river rafting also. You can enjoy a great time at some of the beautiful ski resorts there by grabbing the best Romania Packages. Romania also borders the Black Sea to the southeastern part of it stretching over 150 miles. Sandy beaches on the eastern and south-eastern coast of it are one of the major tourist destinations for a great trip to Romania. Romania is a country of lakes too. There are more than 3400 lakes in Romania. There are glacial lakes like Zanoaga which is the deepest lake in Romania. There is also Tusnad Lake which is the only volcanic lake in Romania. All these and more put together have made Romania a favorite travel destination for the visitors from all parts of the world. Romania was 32nd in the world in terms of tourism's contribution in the economy.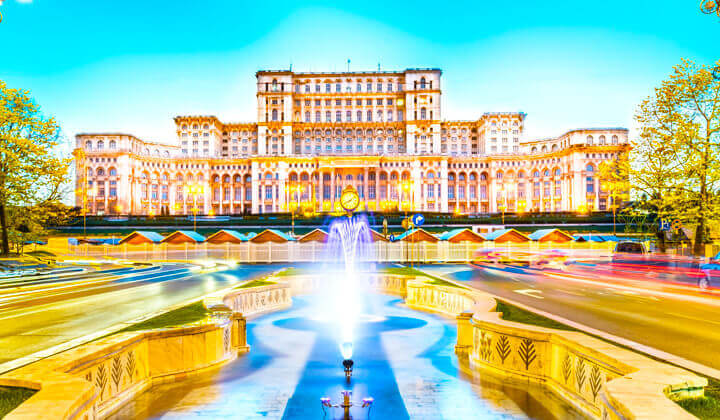 Tourist Places and Things to Do in Romania

Romania is a unique place in many ways. It has extremely urban and cosmopolitan capital city, several medieval towns, long lines of Black Sea coast, and great combinational of natural beauty and cultural heritage. Everyone who goes for a Romania Tour has wonderful memories to take back and share with everyone.

Central Romania which is popularly known as Transylvania is an exciting tourist attraction in Romania. What have always attracted everyone about Transylvania are the legends, history and medieval town's Gothic castles. On your trip to Romania with the best Romania Tour Package, you must see some of the super popular and enticing towns here which include names like Sighisoara, Brasov and Sibiu. Castles, churches, centuries old houses are marvelous showcase of architectural brilliance which every visitor admire to the fullest.

Most popular and visited cities of Romania are Bucharest, Brasov, Sibiu, Cluj-Napoca, Timisoara, Constanta and Iasi. Some of the major tourist attractions in these cities are several centuries old castles, Scarisoara Cave and Bears Cave, Berca Mud Volcanoes, Palace of Parliament, Turda George, Cozia National Park, The Casino in Constanta, Peles Castle in Sinaia, Metropolitan Cathedral in Iasi, Palace of culture in Iasi and Putna Monastery in Bukovia. There are plenty of UNESCO World Heritage Sites in Romania as well. Some of them you can visit on your Trip to Romania are Churches of Moldavia, Dacian Fortresses of Orastie Mountains, and Historic Center of Sighisoara, Danube Delta and Wooden churches of Maramures.

You can also enjoy lot of outdoor activities on your Romania Tour Package from India especially if you love to explore more than regular stuffs. You can enjoy skiing in Carpathian mountain ranges ski resorts. Hiking is a great experience in Carpathian. Black Sea resorts give you wonderful opportunity to enjoy swimming from North to South. Other than this you can enjoy rural Romania and you should not forget to go for the water channels of Danuba Delta where you can experience a stay in traditional villages where you reach only by boats. Thus, you can expect a great travel experience when you go for a Romania Tour from India.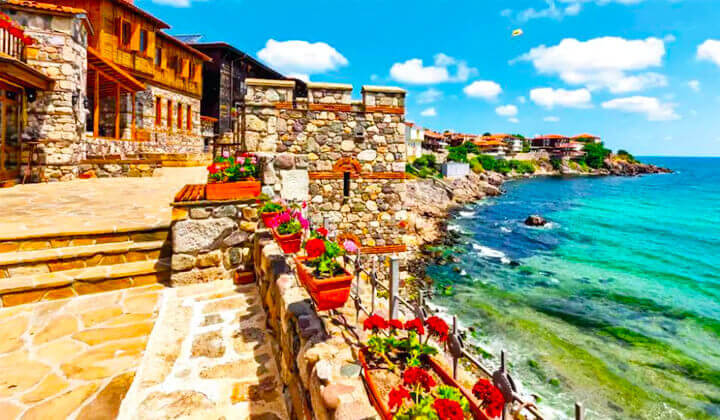 Bucharest Tour Package - The Little Paris

Bucharest is the capital city and also the largest city in Romania. Bucharest is basically the entry point into Romania. Bucharest's culture depicting old part of the city's story and modern nightlife showing ultramodern side of it, are super attractions for the visitors. There are wonderful museums, theaters, opera houses and lot of options of bar and night clubs. On your Bucharest Tour, you are up for a great trip. A bustling metropolis not just in Romania but in entire Europe, Bucharest offers plenty of options to the visitors.

Infrastructure, connectivity and mode of transports are superb in the city. There are Turkish, Italian, French Chinese and Indian cuisine available to serve your tongue and bey. There are lot of shopping malls with names like Baneasa shopping city and AFI Palace Cotroceni. Entertainment lovers can enjoy wonderful concerts and performances from renowned artists. Walking Tour is quite an experience in Bucharest. You can easily get accustomed to the city when you walk. Now, you simply should buy the best Bucharest Package and enjoy a great travel destination.
Tourist Places and Things to Do in Bucharest

With best Bucharest holiday package, you can explore some of the beautiful places in the city. You can visit Parliament Palace to start with. This is in the center of the city and most attractive thing about the building is that this is the largest parliament building in the world. Then you can go to Old Center where you can feel the historical heart of the city. There are 19th century's buildings, ruins of Wallachian prince's medieval court and many churches here. You can also explore Revolution Square, The arch of triumph, Romanian Atheneum, Village Museum, Museum of Romanian Peasant and lot of churches and monasteries in the city also.

You must visit Romania, a fairy tale kind of place on planet earth. You just need the Best Romania Tour Package and rest you simply need to be there to feel a place which cannot be matched with any other place in the world.