An Introduction To South India 09 Nights
Daydreaming in the diverse South India
Pkg Id

0000165

Destinations

5

Duration

8 Nights

Attractions

9

Price
Absorb the diverse culture of Southern India tripping through the wonderful cities of this spectacular region. Absorb the sights of the spiritual centers of Madurai and Tanjore and discover the history of French colonialism in Puducherry. Soak in the elated vibe of the universal city of Auroville and tangle your taste buds with the delicious cuisine of Chettinad.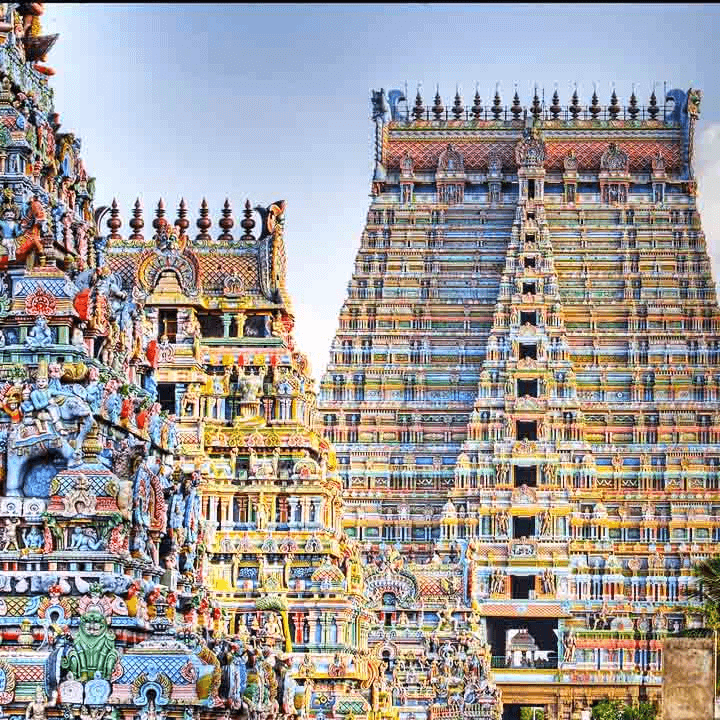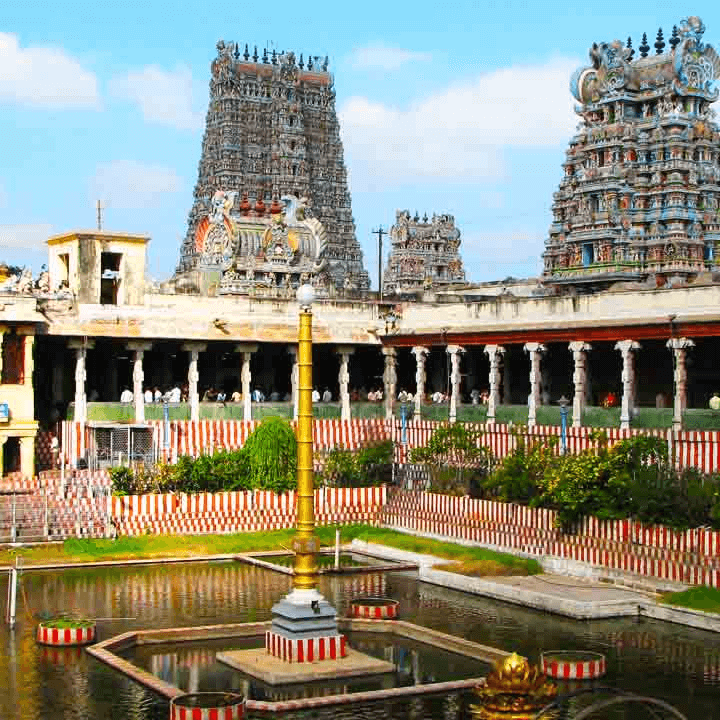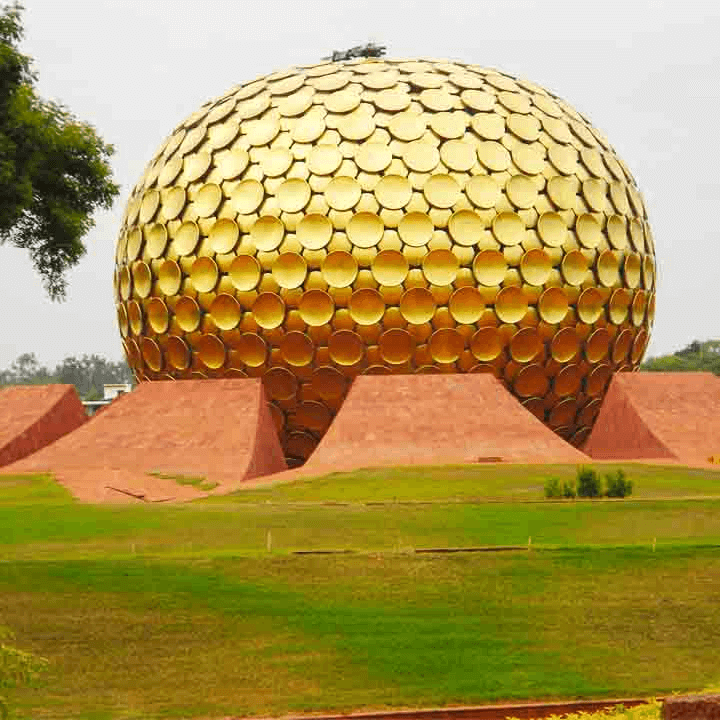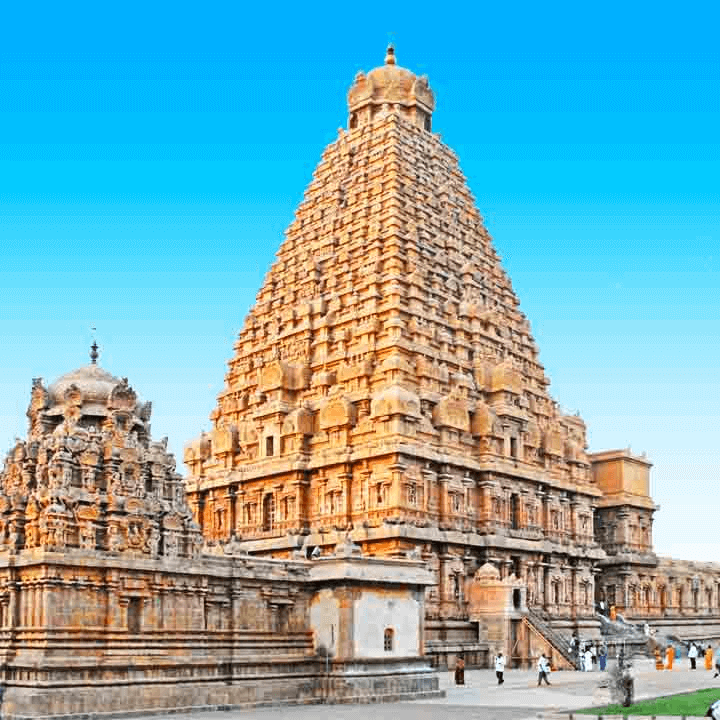 1
Arrive Chennai
Chennai: Modern Chennai grew out of a small fishing village called Madraspatnam, when the East India Company chose the location for a new settlement way back in 1639. It is the fourth largest metropolis in India. Chennai is an important centre for Carnatic Music and hosts a large cultural event. The city has a vibrant theatre scene and is an important centre for the Bharatanatyam, a classical dance form.
Afternoon proceed on a half day excursion to Mahabalipuram
This spectacular site situated on the Bay of Bengal, extends across a boulder strewn landscape and comprises rock-cut caves and monolithic shrines, structural temples and huge bas reliefs that are considered the greatest examples of Pallava art.
The spectacular Shore temple, perched dramatically on a promontory by the sea, has survived the ravages of time and erosion. Built for Vishnu by Mamalla, Narasimha Varman-I the 7th century Pallava king, the two Shiva shrines were added later.
The temple has a low boundary wall, with rows of seated nandis surrounding it. Inland from the shore temple, in the village centre is the celebrated bas relief of Bhagiratha's Penance. Carved on an immense rock with natural vertical cleft symbolizing the Ganges, the panel depicts in great detail the story of the sacred river's descent from the sky.
On the ridge southwest of Bhagiratha's Penance are cave temples. The Mahishasuramardini Cave Temple has a graceful portrayal of Goddess Durga on her lion mount, subduing the buffalo-headed demon Mahisha. It has been classified as a UNESCO world Heritage Site.
2
Chennai
Morning proceed on sightseeing tour of Kanchipuram.
Kanchipuram, one of the seven sacred cities of India and centre for the production of Kanjeevaram silk. It was successively the capital of the Pallavas, the Cholas and the Rayas of Vijayanagar. During the 6th and 7th centuries some of the best temples in the city were built by the Pallavas. The city was also a great seat of learning. Sri Sankaracharya, Appar, Siruthonder and the great Buddhist Bhikku, Bodhidharma, lived and worked here.
You would also have time for shopping Silk Sarees. Afternoon at leisure for independent activities.
3
Chennai – Pondicherry
Morning drive to Pondicherry enroute visiting Auroville. (150 Kms / 2 ½ Hours).
Auroville: - is a universal township in the making for a population of up to 50,000 people from around the world. The concept of Auroville - an ideal township devoted to an experiment in human unity - came to the Mother as early as the 1930s. In the mid 1960s the Sri Aurobindo Society in Pondicherry proposed to Her that such a township should be started. She gave her blessings. The concept was then put before the Govt. of India, who gave their backing and took it to the General Assembly of UNESCO. In 1966 UNESCO passed a unanimous resolution commending it as a project of importance to the future of humanity, thereby giving their full encouragement.
On arrival in Pondicherry, check-in at Hotel .Evening visit Aurobindo Ashram.
The ashram lends Pondicherry a spiritual feel; it is the place where the great Indian philosopher Aurobindo Ghosh lived and died. Set up in 1926 by Sri Aurobindo. Aurobindo's philosophy is derived in a combination of yoga and modern science. Aurobindo Ashram is instrumental in giving Pondicherry the title of a spiritual town. It is also the place where Saint Aurobindo's disciple and companion Mirra Alfassa from Paris, who later came to be known as The Mother, lived and died.
4
Pondicherry to Kumbakonam
Morning drive to Kumbakonam (165 Kms / 3 ½ Hours) enroute visiting Temples at Chidambaram & Gangaikonda Cholapuram Temple.
Chidambaram Temple is a Hindu temple dedicated to Lord Shiva. Chidambaram Temple is one of the five holiest Shiva temples, each representing one of the five natural elements;
The temple complex spread over 50 acres in the heart of the city. It is an ancient and historic temple dedicated to Lord Shiva Nataraja and Lord Govindaraja Perumal, one of the few temples where both the Shaivite and Vaishnavite deities are enshrined in one place.
Gangaikonda Cholapuram Temple: The name may sound long, but it literally means "The Town of the Chola's who conquered the Ganges". It was the capital of the Chola's when they flourished and their empire stretched from the Bengal to Ceylon.
The Chola emperor Rajendra I (1012-1044) built this Gangaikonda Cholapuram temple dedicated to Lord Shiva with an imposing gopuram that can be seen miles around.
On arrival at Kumbakonam, check-in at Hotel.
5
Kumbakonam
Morning start your Temple tour with the visit to Darasuram Temple.
Darasuram: Airavateeswara temple was constructed by the Chola ruler Raja Raja Chola II in the 12th century(1160-1162 A.D). This temple is one of the finest examples of Dravidian. The gopuram of this temple is 85ft high and has exquisite architecture, sculptures and paintings.
The main deity of the Temple is known as Airavateeswara means Airavatham is an Elephant in white colour), vahana of the king of gods, Indira. Airavatham cursed by sage Durvasa to change white to black. While suffering Airavatha came to this temple for worship, after worship the Airavatha turns to it white colour and got the cure for the curse.
Nageswaran temple: Nageswaran temple is about 2 kms from Kumbakonam. Also known as "Koothandavar kovil".Chola dynasty constructed this temple during 12th century. This temple stands as a great marvel of Chola's architecture, building technology. The design and orientation are structured in such a way that it allows the sun rays inside the temple only during the month of Chithirai. The Karuvarai of Nageswaran temple has similarity with that of Sarangapani temple,as it is made in the form of a chariot. The temple consists of two Gopurams in the eastern and western directions.
Kashivshwanath Temple: The Main deity Kashi Vishwanath resides in the temple with the Goddess Vishalakshi Amman. The navakanniyar in this temple are the 9 holy rivers. It is believed that the mahamaham function is closely associated with the 9 presiding deities namely Ganga, Yamuna, Narmada, Saraswati, Kaveri, Godavari, Tungabhadra, Krishna and Sarayu.
Sarangapani Temple : Sarangapani Temple is considered one among three major shrines of Lord Vishnu and it was renovated during the period of Nayaka Kingdom of 16th century. Sarangapani Temple consists of only one holy tank, known as Porthamarai Kulam. The Karuvarai and Vimana are made with 12 Sculptured columns shaped like a Chariot.
6
Kumbakonam – Tanjore – Chetinad
Morning drive to Chettinad (188 Kms / 4 Hours) enroute visiting Temple at Tanjore.
Brihadeswara Temple at Tanjore: Thanjavur emerged as the stronghold of Tamil culture in the eleventh century, with Chola King Raja Raja I at the helm. The Cholas built more than 70 temples in Thanjavur, with the most outstanding one being the Brihadeswara Temple. Its importance is acknowledged by the fact that it's now a UNESCO World Heritage site. The temple, which turned 1,000 years old in 2010, is a symbol of the unrivalled power and might of the Cholas.
It's also one of the oldest temples dedicated to Lord Shvia in India. Constructed solely out of granite, the temple's Dravidian architecture is imposing and precise. Its dome rises to over 60 meters, and the passage around the sanctum is adorned with Chola frescoe.
After visit continue your drive to Chettinad.
Chettinad is well known for its Chettinad Cuisine & Mansions. On arrival check-in at Chidambaram villa's
Accommodation is in Deluxe Room with ensuite facilities. Your stay is on bed and breakfast basis
7
Chetinad
Morning proceed on a tour of Chettinad Mansion and visit the local Market
Chettinad, a once powerful business community located in the heart of Tamil Nadu. More than 100 years ago it was a region consisting of 96 villages filled with huge country homes of the Nattukottai Chettiars, a community considered to be the pioneers of modern banking. Their palatial mansions were stuffed with imported period furniture, chandeliers, curios and paintings from around the world.
Later you will be taken to see the art of making tiles of Chettinad, these tiles is a traditional activity at Chettinad. The raw materials used for making these tiles are the local soil, cement, baby jelly and synthetic oxides. It is unique and supreme, as it comes in a variety of colors and patterns made by a distinctive process of making tiles.
Remainder of the day at leisure for independent activities.
8
Chetinad – Madurai - Chennai
Morning drive to Madurai (90 Kms / 02 Hours).
Madurai: is home to the most impressive and important temple in south India --the Meenakshi Temple. The ancient southern Indian city of Madurai that has earned the sobriquet, 'Athens of the East', is a place of great historical importance. Said to be the oldest city in South India. Madurai stands on the banks of the sacred river Vaigai, eternalized in Lord Shiva's exploits in the 'Halasya Purana'
On arrival visit Meenakshi Temples
Meenakshi Temple: Meenakshi at Madurai, popularly known as the Meenakshi Temple, was built during the reign of Chadayavarman Sundara Pandyan in the 12th century. The imposing 9-storey tower was built between the 13th and 16th century. During the 200-year reign of Nayakka rulers, many Mandapams (covered structure with pillars) were constructed in the temple premises, like the Hall of Thousand Pillars, Puthu Mandapam, Ashta Sakthi Mnadapam, Vandiyoor Theppakulam, and Nayakkar Mahal. The temple, as it stands today, was built between 12th and 18th century. After visiting the Temple, visit one of the largest Tailor Market of South India, located close to Meenakshi Temple.
Later transfer to Madurai Airport in time to board flight to Chennai
On arrival in Chennai, transfer to Hotel located close to the Airport
Accommodation is in Deluxe Room with en-suite facilities.Your stay is on bed and breakfast basis
9
Depart Chennai
Morning departure transfer from Hotel to Chennai Airport in time to board your flight back home.
Accommodation on Twin / Double Sharing Basis with breakfast

Tourist vehicle for transfers and sightseeing

Meals at restaurant upon request

Sightseeing as mentioned in the itinerary
General Terms
Please note that these packages are customizable, which means that you will be able to make changes to the itinerary/activity if you so desire. The final payment will be calculated as per the itinerary and inclusions reflected on the confirmatory e-mail sent to you.
Please expect to receive your vouchers 72 hours before your departure date (subject to full payment of your package cost).
Personal expenses such as laundry, telephone calls, room service, alcoholic beverages, mini bars etc., are not included.
In case your package needs to be canceled due to any natural calamity, weather conditions etc. Dook Travels shall strive to give you the maximum possible refund subject to the agreement made with our trade partners/vendors.
The passenger names in the booking form should be exactly as per passports. Dook Travels will not bear any liability for the name change fee, if incorrect names and ages have been added at the time of booking.
Please note that your package includes baggage as per airlines policy. Any addition in baggage will be charged separately.
Standard check-in time at the hotel is normally 2:00 pm and check-out is 11:00 am. An early check-in, or a late check-out is solely based on the discretion of the hotel.
In case the selected hotel is unavailable for booking, an alternate arrangement will be offered to the customer in another hotel of a similar category.
Certain hotels may ask for a security deposit during check-in, which is refundable at check-out subject to the hotel policy.This amount has to be deposited by the traveler.
Please note that Day at Leisure essentially implies that no sightseeing activities have been included for that day.
Kindly be on time for your activities, tours and transfers. Dook Travels will not be liable for missing any activity thus for any refund against it in such cases.
No refund either in part or in full will be made for any unused part of the services provided in the package.
The package price doesn't include special dinner or mandatory charges at times levied by the hotels especially during New Year and Christmas or any special occasions. Dook Travels shall try to communicate the same while booking the package. However Dook Travels may not have this information readily available all the time.
Our package price does not include GST and TCS. Applicable GST and TCS will be charged over and above the package price.
For queries regarding cancellations and refunds, please refer to our Cancellation Policy.
For any paid activity which is non-operational due to any unforeseen reason, we will process the refund & should reach the guest within 30 days refund requisition. Also, for any activity which is complementary and not charged to Dook Travels & guests, no refund will be processed.
Our package prices are on twin sharing accommodation basis thus published prices are applicable for minimum two persons and multiple of two thereon.
As per RBI guideline every foreign traveler has to provide us his PAN details. The Dollar component of package price will be taken out of your BTQ (Basic Travel Quota).
The tour cost does not include any Overseas Insurance Premium, but we strongly recommend buying Overseas Insurance Policy. The same after issuance is non refundable.
These terms are general terms for our tour packages.Any term mentioned in proposal shall be considered part of it and in case of discrepancy term mentioned in proposal shall prevail.
Disputes, if any, shall be subject to the exclusive jurisdiction of the courts in New Delhi.
Payment Policy
Payment schedule depends on destination, time of booking, inclusions, airline and hotel payment policy etc thus it is specific to your package bookining.
Payment schedule will be part of our proposal to you for the package.
If payment is not made as per the schedule provided in the first booking confirmation e-mail, Dook Travels reserves the right to cancel the booking after attempting to get in touch with you. Refunds would be as per the package cancellation policy.
Cancellation Policy
Once Booking received : INR 5000 (Per PAX) + actual Ticket cancellation + Hotel cancellation as per hotel policy+Visa fee if visa is applied.
60 – 45 Days prior to departure : 25 % of land cost + INR 5000 (Per PAX) + actual Ticket cancellation+Visa fee if visa is applied.
45 – 30 days prior to departure: 50% of land cost + INR 5000 (Per PAX) + actual Ticket cancellation+Visa fee if visa is applied.
30 – 10 days prior to departure: 75% of land cost + INR 5000 (Per PAX) + actual Ticket cancellation+Visa fee if visa is applied.
Within 10 days: Full.