Incredible journeys to Iceland with DOOK!
No matter your travel style, we have a Iceland package tailored for you
Iceland Tour Packages
Explore Iceland with DOOK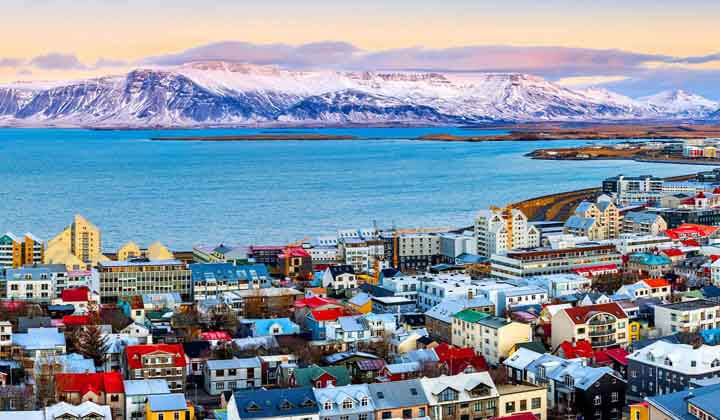 Iceland, the land of Blue Lagoon

Groove all-night at Reykjavík with Dook's Iceland Tour Packages

Iceland is a country that is truly like none other. Starting from the incredible natural beauty to the unique culture, Iceland will leave you in awe at every turn. As you travel through this mysterious land, you'll discover that it's not just the unique geography and stunning landscapes that make it so special. It's also the people who live there and the way they approach life.

The people of Iceland are some of the friendliest and most welcoming you'll ever meet! They love sharing stories about their country, their culture and their history with travelers from all over the world. Starting from Reykjavik to Akureyri, these friendly locals will help you get lost in a world full of adventure! You'll be amazed at how much fun you can have exploring all these incredible places!

With Dook Travels' Iceland Packages, you can dive into a geothermal pool and feel the hot water on your skin as steam rises all around you! You can also go hiking through windswept mountains while admiring views of glaciers and volcanoes in every direction! On your Iceland Tour, you cannot miss our drive along rugged coastline roads! Make sure to stop at amazing viewpoints along the way!

Capital: Reykjavík
Languages: Icelandic
Currency: Icelandic króna
Driving Side: Right
Best Time to Travel: July and August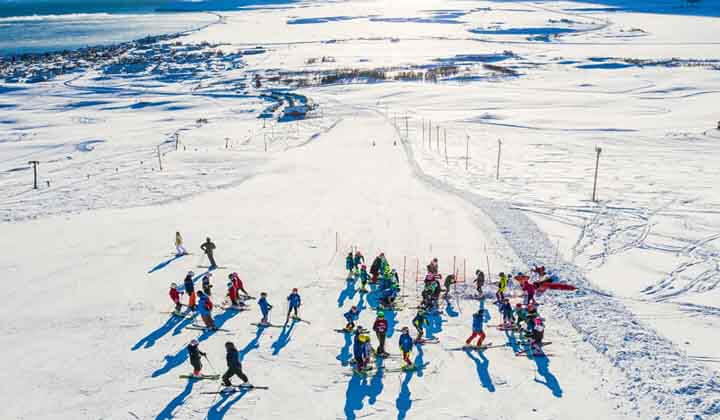 Explore Iceland

Iceland is a place where the elements are constantly in flux. The weather can go from calm and sunny to blizzard and icy in the blink of an eye. The terrain constantly changes as you travel through it. Icelanders have had to learn how to adapt to these conditions and their rich culture reflects that. They have a deep respect for nature and they're careful about how they interact with it. They don't use any fertilizers in their farms because they believe it would harm the soil's ability to absorb nutrients from natural sources like volcanic ash. They take advantage of the fact that Iceland is geologically active by mining its metals and using them in its infrastructure. They also harness energy from renewable sources like hydroelectric dams or geothermal heat pumps when possible so that they can continue preserving this unique landscape for future generations.

However, there's another reason why Icelanders value their landscape so highly. It reminds them of home. Just like how we might look back fondly at our childhood home or favorite vacation spot as adults, Icelanders think about growing up on their island nation fondly and with good reason! Here are a few cities you must visit with our Iceland Holiday Packages.

1. Reykjavík, the capital city of Iceland

Reykjavík has a population of just over 200,000 people. It's located on the tip of the island and is surrounded by water on three sides. Its location makes it a perfect place to explore nature as well as the city itself. The city has many museums and galleries that are worth visiting, including the National Museum of Iceland and the Icelandic Phallological Museum. The Settlement Exhibition is also an excellent choice for those who want to learn more about Icelandic culture and history. The city's architecture is unique in that it blends traditional Nordic styles with modern designs. This makes it one of the most interesting places for tourists to visit in Europe!

2. Akureyri, the skiing city in Iceland

Akureyri is a city that has the best of all worlds. It's quiet and peaceful, with a population that is friendly and welcoming. However, it also has its fair share of nightlife and entertainment, with plenty of places to go in the evening. It's a great place for families as well as people who are looking for a more lively experience. Akureyri is also a great place to go skiing on your Iceland Tour. The weather here is relatively mild but it can still get pretty cold at night! Pack warm clothes if you plan on heading out into nature during your stay in Akureyri!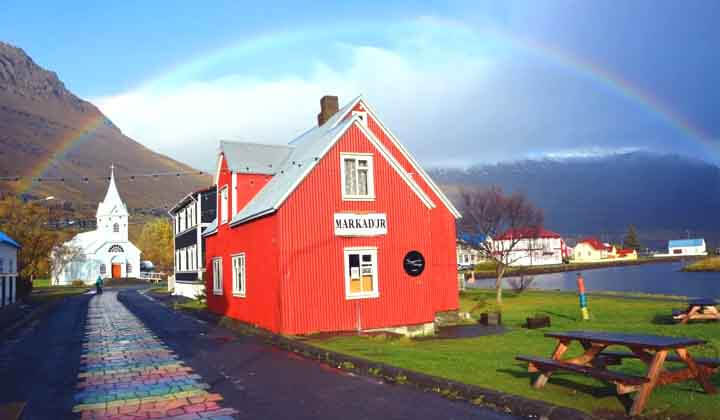 3. Seydisfjordur, the city hosting the famous Pride Parade

Seydisfjordur is a small yet flourishing town in Iceland. It is surrounded by mountains and fjords and the scenery is absolutely breathtaking. The town itself has a population of about 680 people. The main industries in Seydisfjordur are fishing, tourism, and food processing. There are several interesting sights to see with our Iceland Packages. Watch the sculpture of Tvísöngur or click some snaps at the Gufu waterfall. The breathtaking architecture of the chapel Seyðisfjarðarkirkja can never go unnoticed. Lake Fjarðará, Skálanes natural reserve and Bjólfur mountain peak are some of the sites you can visit with our Iceland Holiday Packages.

4. Húsavík, the city of the Icelandic Whales

Húsavík is a small town in Iceland known for its whale-watching tours, which are an incredible way to explore this beautiful country. Húsavík is a great place to visit if you want to see whales, but it's also worth going there just to experience the culture and history of Iceland. There are many museums that offer tours through different parts of history, such as the Exploration Museum or the Ystafell Transportation Museum. There are also various waterfalls and mountain peaks that you can visit on your Iceland Tour. Goðafoss Waterfall, Dettifoss Waterfall, Krafla and Húsavíkurfjall are some of them!

5. Ísafjörður, home to Dynjandi Waterfall

Ísafjörður is a small town in the Westfjords, but it's got big ideas. The town has managed to keep its charm despite the fact that it's been growing rapidly over the last few years. It's located at a crossroads between two fjords and the area is known for its beautiful nature surrounding mountains, waterfalls, volcanoes and an abundance of natural resources. The town has become a hotbed of creativity thanks to its rich culture and welcoming atmosphere. It's easy to see why so many people have chosen this place as their home. It also has the country's best hiking and biking trails.

6. Selfoss, the city on river Olfusá

Selfoss is an amazing place to visit. It's got a wide range of things to do, from hiking mountains and taking in the views to touring the local museum and learning about local culture. The city also has plenty of restaurants serving up delicious Icelandic fare at reasonable prices. Selfoss is also close enough to Reykjavik that you can easily take day trips into town for some sightseeing or shopping. Finally, Selfoss boasts one of the most beautiful natural hot springs in Iceland! Selfosskirkja, the Lutheran church is a must-visit. You can also take up our customised Iceland Holiday Packages and go on a heritage tour to Turf House!

Top Bucket List Experiences in Iceland

Iceland is the land of fire and ice. It's a place where you can experience the best of both worlds. On one hand, you'll find hot springs, geysers, and volcanoes that will leave you speechless. On the other hand, some glaciers will make you feel like you're in a different world altogether. Moreover, when it comes to travel, we know that there is no better way to take in all of Iceland's beauty than with our Iceland Tour Packages. Our Iceland Tour allows you to see everything without having to worry about driving or getting lost on the road. And what's more? You don't have to go at it alone! With Dook International, you can go with a group of friends or family members who share your love of adventure! Here are some of the best bucket list experiences you must never miss.

1. Go ice-caving and glacier hiking

Iceland is a country of extremes. Its home to one of the world's largest glaciers and active volcanoes. The country is also home to some of the most active geothermal areas in the world. What better place to go hiking and ice-caving than Iceland? You can hike on glaciers created by volcanic eruptions, or you can explore the caves formed by hot springs just a few inches below your feet. During summertime, you'll get to see some glaciers turn into rivers of blue as they melt and maybe even hear thunderous avalanches!

2. Watch the Northern Lights while lying on the Icelandic grounds

Iceland is known for its natural beauty, but one of the most striking sights there is the Northern Lights. You can see the Aurora Borealis from late October to mid-April. The lights are caused by solar winds interacting with charged particles in Earth's atmosphere and they're visible in many northern locations around the world. While they're certainly impressive and beautiful wherever you see them, there's something magical about seeing them in Iceland. There's just something about being out there that makes it feel like you're experiencing something truly unique. It's a feeling that will stick with you long after your Iceland Tour is over and one that will make you want to come back again someday!

3. Snorkelling, Snowmobiling, or a tour to Golden Circle- Experience the best of Iceland's adventures

The Golden Circle is an incredible sight to see. With the archaic Thingvellir National Park, the active Geysir Geothermal Area and Gullfoss waterfall, it's a great place to visit. There are so many things to see and do with our Iceland Holiday Packages that it can be overwhelming! Why not go snowmobiling or snorkeling, if you're looking for something a little less stressful, but just as adventurous? You'll be able to explore the beautiful countryside and enjoy some time in nature without having to worry about planning your trip or getting lost on the way there with us!

4. Dive into one of Iceland's Natural Hot Pools

Iceland is the place for you if you've ever wanted to take a dip in a natural hot pool. The country's natural hot pools are formed when hot water from underground volcanic activity rises to the surface and mixes with cold water from lakes or rivers. These pools come in many shapes and sizes. Some are large enough to accommodate groups of people and some are small pools that can only hold one person at a time. No matter what kind of natural hot pool you're looking for, you will have an experience worth sharing!

5. Ride an Icelandic Horse

Go horsing around in the 'Land of Fire and Ice'! Iceland is a magical place. It's a place where you can ride through fields of glittering snow, surrounded by mountains so tall that they touch the sky. It's also a place where you can take a dip in an outdoor hot tub, followed by a steamy sauna, followed by an ice-cold dip in a river. So if you want to experience all of this magic the royal way, then go horseback riding in Iceland!

6. Go Whale Watching with our Iceland Tour Packages

Iceland's remote location makes it a great place to go whale watching. The country is home to dozens of species of whales, including humpback and minke whales. The best time for whale watching is between May and September when the weather is warmest and the water is mostly clear. The best place to see whales is at the Whales of Iceland museum. You can also see them from land on the Snæfellsnes Peninsula and in the Westfjords region. Make sure you book your tour early if you're going to be in Iceland during whale season! There are only a few companies that offer these tours each year, so they fill up quickly. In addition, many of them require reservations months in advance.

Befriend an Arctic Fox with Dook on your Iceland Tour

Iceland is a magical place, and the best way to see it is with Dook's Iceland Tour Packages. We offer tours that are all-inclusive. You get to see everything you want to, as in the order. We take care of everything from transportation to accommodations with even throwing in a few surprises along the way. You'll get to explore amazing natural wonders like the Blue Lagoon, which is famous for its healing power. It's an incredible experience and there's no better way to do it than with Dook's!