Incredible journeys to Fiji with DOOK!
No matter your travel style, we have a Fiji package tailored for you
Fiji Tour Packages
Explore Fiji with DOOK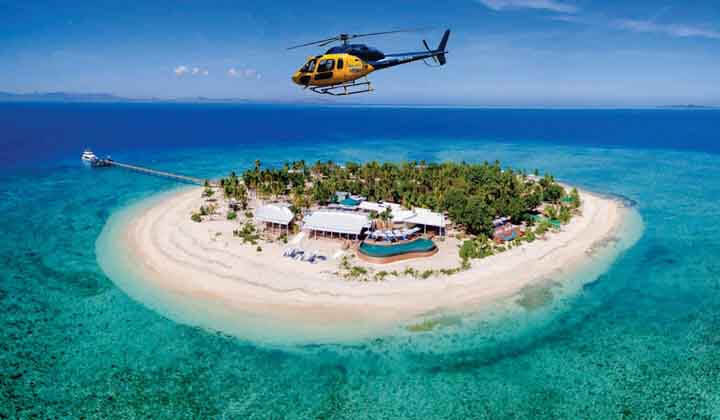 Fiji: A Tropical Paradise

Explore the immaculate beaches with Dook's Fiji Holiday Packages

Fiji is a tropical paradise renowned for its stunning natural beauty, diverse culture, and warm hospitality. Located in the heart of the South Pacific, this collection of over 330 islands offers adventure and relaxation, making it one of the most popular tourist destinations in the world. From its pristine beaches to its lush tropical forests, Fiji is a truly enchanting place that will leave a lasting impression on anyone who visits.

One of the first things you will notice on your Fiji Tour is the stunning scenery. This archipelago is a nature lover's dream with its crystal-clear waters, primeval beaches, and lush tropical forests. Whether you're looking to swim in the ocean, hike through the jungle, or simply relax in a hammock and soak up the sun, Fiji has something for everyone.

The islands have a long history of human habitation and have been inhabited by the Melanesian people for over 3,500 years. The islands were visited by European explorers in the late 1700s and became a British colony in 1874. Fiji gained independence in 1970 and became a republic in 1987. Fiji is a culturally diverse nation with a growing tourist industry and a vibrant economy.

Snorkelling and diving are the most popular activities included in our Fiji Tour Packages. With its abundant coral reefs, diverse marine life, and crystal-clear waters, Fiji is one of the world's top destinations for underwater exploration. From exploring shipwrecks to swimming with colorful fish and sea turtles, there is no shortage of exciting experiences below the surface.

Another popular activity in your Fiji Tour Packages is visiting its many islands. From the bustling city of Suva to the serene beaches of Yasawa, each of Fiji's islands has its unique personality and charm. Visitors can explore traditional Fijian villages, visit ancient ruins, and sample the delicious local cuisine. There is truly something for everyone in Fiji, regardless of whether you're interested in history, culture, or simply soaking up the sun.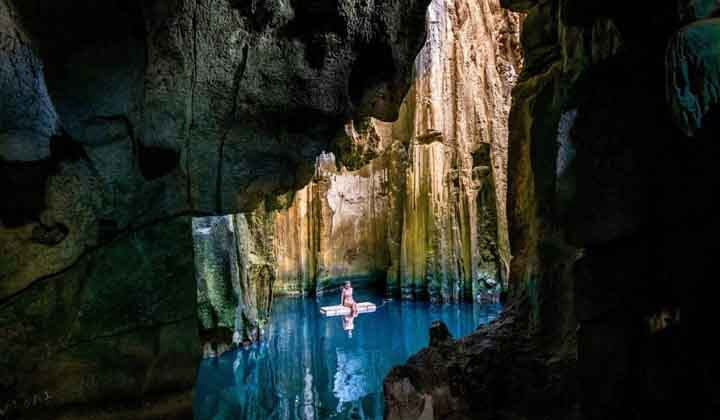 It consists of more than 300 islands, of which 106 are inhabited. The largest islands are Viti Levu and Vanua Levu, home to most of the country's population. The islands are volcanic in origin and are surrounded by coral reefs and lagoons. The climate is tropical and characterized by high temperatures and high humidity. The geography of Fiji is diverse and deserves to be explored on your Fiji Tour, with mountainous terrain, coastal plains and lush forests providing habitat for a wide range of plant and animal species.

Fiji is also home to a rich cultural heritage deeply intertwined with its natural beauty. From the traditional Fijian customs and rituals to the colorful tribal art and music, visitors can experience a truly authentic glimpse into the heart of this fantastic culture on their Fiji Tour. Whether you're participating in a traditional Fijian dance, sampling local cuisine, or learning about the island's rich history and traditions, Fiji never has a dull moment.

If you're looking for a place to relax and unwind, Fiji is the best destination for you. From its luxurious resorts to its hidden coves and secluded beaches, this archipelago offers a world of peace and tranquillity. Book one of our Fiji Packages if you're looking to simply lounge on the beach, take a yoga class, or enjoy a massage. There is no shortage of opportunities to recharge and rejuvenate in Fiji.

Fiji offers a wide range of experiences for visitors, whether they're looking for a relaxing escape, an adrenaline-fueled adventure, or a cultural experience. With its stunning natural beauty, rich cultural heritage, and warm, friendly people, Fiji is a destination that truly offers something for everyone. Plan your trip to Fiji now with one of Dook Travels' many Fiji Holiday Packages.

Capital: Suva
Languages: Fijian, English
Currency: Fijian dollar (FJD)
Driving Side: Left
Best Time to Travel: May to October

Explore Fiji

Fiji is a tropical paradise that is truly like none other. With its stunning natural beauty, rich cultural heritage and warm hospitality, this archipelago is a must-to-visit destination for anyone looking for a unique and unforgettable experience.

Whether you're an adventurous traveller looking to explore the islands or simply looking for a relaxing escape from the hustle and bustle of daily life, our Fiji Tour Packages has something for everyone. From its world-class beaches and snorkeling opportunities to its rich cultural experiences and serene hideaways, Fiji is a place where you can truly escape from the ordinary and immerse yourself in the beauty and wonder of the South Pacific.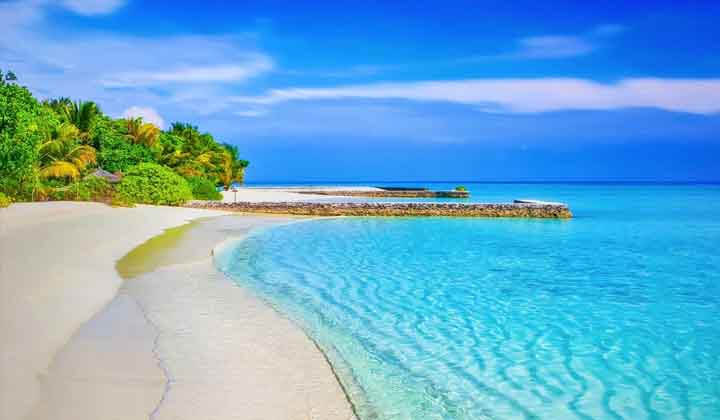 Below is a list of must-to-have destinations in your Fiji Packages

1. Mamanuca Islands, a Vibrant Retreat

The Mamanuca Islands are a chain of 20 breathtakingly beautiful islands located off the west coast of Fiji's main island of Viti Levu. These islands are known for their sparkling turquoise waters, pristine white sand beaches, and vibrant coral reefs, making them a paradise for snorkeling and diving.

With our Fiji Packages, you can enjoy a range of water-based activities, such as swimming, fishing, kayaking, and stand-up paddle boarding, or simply relax on the beach and soak up the sun. The islands are also home to a number of world-class resorts, providing guests with comfortable accommodations and a range of dining options.

2. Yasawa Islands, the Volcanic Islands

The Yasawa Islands are a chain of volcanic islands that are renowned for their rugged beauty and serene atmosphere. Visitors on their Fiji Tour can explore the islands by foot, boat, or even by kayak, and experience a true sense of Fijian life by staying in a traditional Fijian village.

The Yasawas are also home to some of the best beaches in Fiji, with crystal-clear waters and vibrant coral reefs that make them a popular destination for snorkeling and diving. Visitors can also hike to the top of Mount Yasawa, which offers panoramic views of the surrounding islands or visit the Sawa-i-Lau Caves, considered one of Fiji's most significant cultural sites.

3. Nadi, a Lively City

Nadi is the third largest city in Fiji and is known for its bustling streets, vibrant markets, and lush gardens. Visitors to Nadi can explore the city's many temples and Hindu shrines, sample the local cuisine, and take a scenic drive to the nearby Sabeto Hot Springs and Mud Pool.

The city is also a hub for shopping, with a number of local markets and shops selling everything from traditional Fijian handicrafts to modern souvenirs. With Dook's Fiji Holiday Packages, we'll ensure that you visit every hidden attraction of this city. In addition to its cultural attractions, Nadi is a popular destination for those looking to participate in adventure activities, such as white-water rafting, zip-lining, and mountain biking.

4. Suva, the Capital of Fiji

Suva, the capital of Fiji, is located on the southeast coast of Viti Levu. This city is a hub of activity, with a thriving arts scene, bustling streets, and a rich history that is reflected in its many colonial-era buildings. With our Fiji Tour Packages, visit the Fiji Museum, which provides an in-depth look at the country's cultural and historical heritage.

You can also stroll through the city's Botanical Gardens, which are home to a wide variety of exotic plants and wildlife. Suva is also a popular destination for those looking to participate in water-based activities, such as snorkeling, diving, and fishing, and for those looking to sample the local cuisine, a delicious fusion of Indian, Chinese, and Fijian flavours.

5. Denarau Island, a man-made wonder

Denarau Island is a man-made island located just a few minutes from Nadi that is home to some of the best resorts in Fiji. This island is a popular destination for those looking for a relaxing escape, with plenty of opportunities for golfing, shopping, and dining. The island is a must-have in your Fiji Packages. Visitors to Denarau Island can also participate in a range of water-based activities, such as snorkeling, diving, and kayaking, or simply relax on the beach and soak up the sun.

Top Bucket List Experiences in Fiji

1. Get in touch with nature snorkeling and diving in Fiji

With its crystal-clear waters and vibrant coral reefs, Fiji is a top destination for snorkeling and diving. Whether you are an experienced diver or a first-timer, you will find a range of dive sites and snorkeling spots to choose from, each offering its own unique underwater experience.

Some popular snorkeling and diving spots you can visit with our Fiji Tour Packages include the Rainbow Reef, the Great Astrolabe Reef, and the famous Yasawa Island Group. Divers can explore stunning underwater caves, encounter schools of colorful fish, and swim alongside sea turtles, reef sharks, and manta rays. Snorkelers can enjoy the same vibrant underwater world but from the surface.

2. Explore the beaches with Surfing

Fiji offers a range of surfing experiences for surfers of all levels, from beginner-friendly waves to more challenging breaks. Natadola Beach is a popular spot for beginner surfers, with its long, rolling waves and warm waters. More experienced surfers, on their Fiji Tour, can head to the famous waves of Cloudbreak and Restaurants, where they can tackle the powerful and challenging surf. No matter your skill level, you'll find a wave to suit you in Fiji.

3. Witness the Incredible Culture of Fiji

Fiji is a melting pot of cultures, and visitors can experience this unique blend of influences through a range of cultural experiences with our Fiji Packages. From visiting traditional Fijian villages and experiencing a traditional Fijian kava ceremony to visiting the Fiji Museum in Suva and learning about the country's history and cultural heritage, there is something for everyone. Visitors can also attend a Fijian dance performance or learn how to cook traditional Fijian dishes, further immersing themselves in the local culture.

4. Relax and refresh with luxury spas and wellness activities

Fiji is a land of relaxation and rejuvenation; visitors can take advantage of this through a range of spa and wellness experiences. Choose from luxury spas offering a range of treatments and therapies to more natural and holistic experiences, such as yoga classes and outdoor spa treatments. Our Fiji Holiday Packages offer something to those seeking a relaxing escape. Whether you're looking to indulge in a massage, soak in a hot tub, or simply unwind by the pool, Fiji has a variety of options to help you unwind and rejuvenate.

5. Participate in exciting adventure activities

For those seeking an adrenaline-fueled adventure on their Fiji Tour, Fiji has a range of activities to choose from. From white-water rafting and kayaking to mountain biking, hiking, and zip-lining, visitors can experience the thrill of the great outdoors in Fiji. Whether you're a seasoned adrenaline enthusiast or just looking for a new challenge, you'll find plenty of opportunities to test your limits in Fiji.

6. Explore the allure of nature with wildlife watching

Fiji is home to a diverse range of wildlife, including tropical birds, monkeys, and a variety of marine life. With Dook's Fiji Holiday Packages can take part in wildlife-watching tours, go bird-watching, or simply relax on the beach and watch the dolphins and whales playing in the ocean. Fiji offers a unique and unforgettable wildlife-watching experience with its lush forests and clear waters. Whether you're looking to spot rare birds or watch the monkeys swinging through the trees, you'll be surrounded by wildlife in Fiji.

It's time to wander to the glorious beaches of Fiji with Dook International

Fiji is a tropical paradise known for its stunning scenery, diverse culture, and warm hospitality. With Dook's Fiji Tour Packages, experience everything from snorkeling and diving in its crystal-clear waters to exploring its many islands. With our Fiji Packages, there is never a shortage of activities to experience in Fiji. Plan your Fiji Tour with Dook International and immerse yourself in the local culture through traditional Fijian customs, art, and music.