Singapore: A Blend Of Nature, Culture And Modernity!
Experience a feast for the senses in one of the biggest Asian melting pots
Pkg Id

0000244

Destinations

1

Duration

4 Nights

Attractions

7

Price
Explore a collision of cultures and an union of modernity and nature in one of the greenest cities in the world. Explore the modern marvel city of Singapore and discover the charm of this small, fascinating and inclusive country.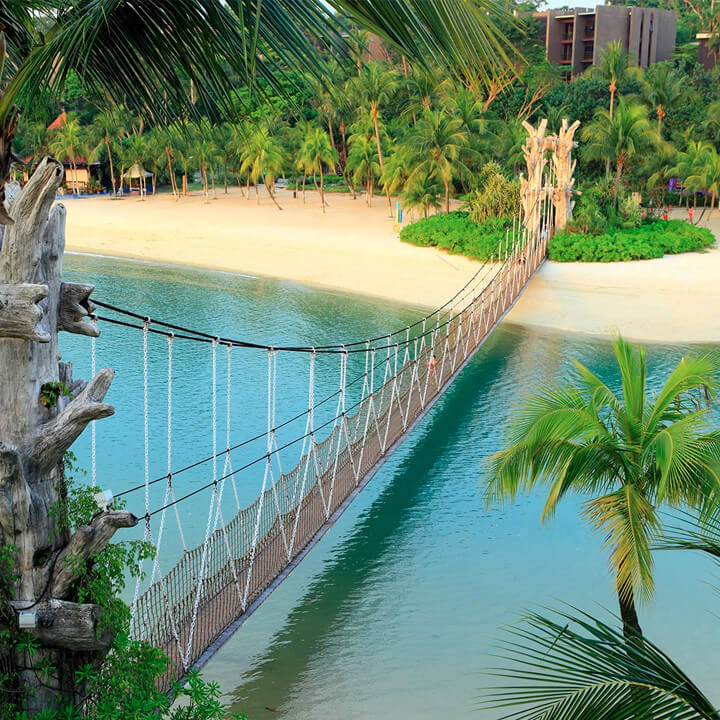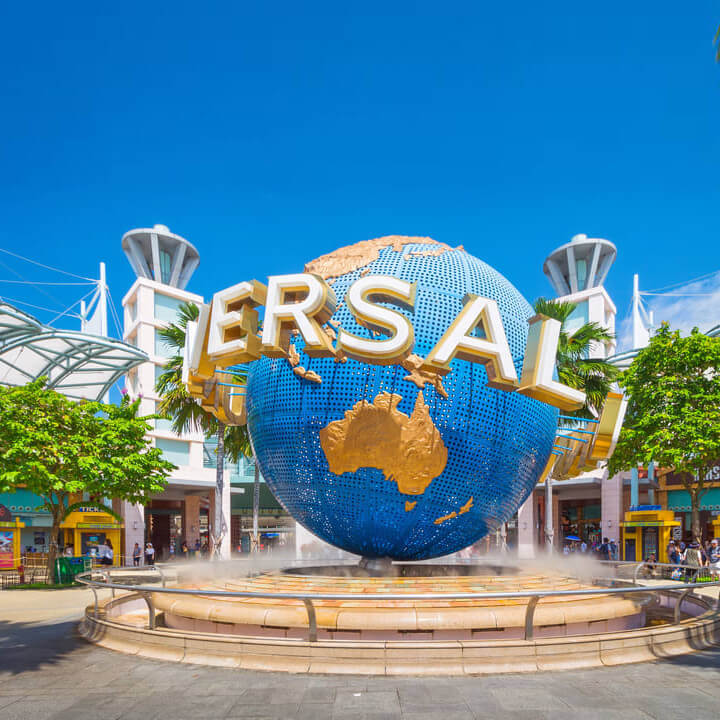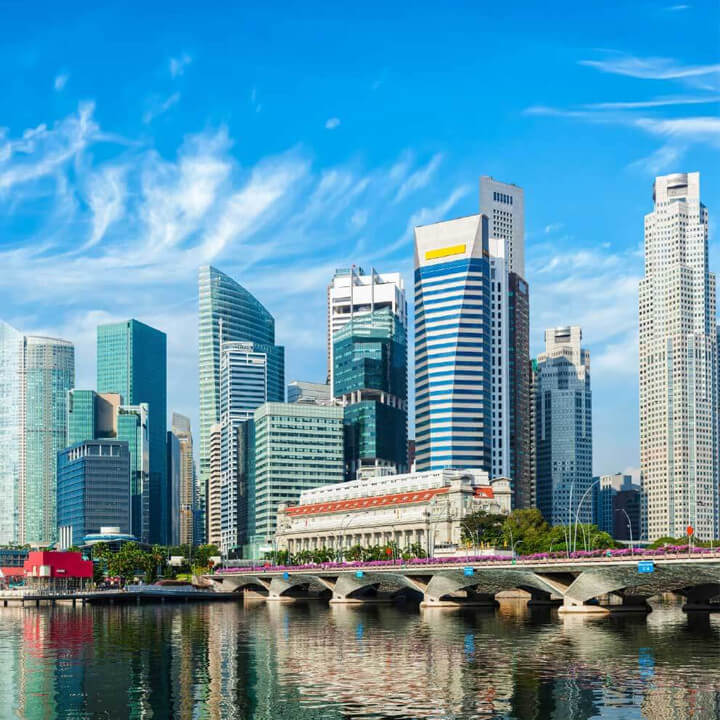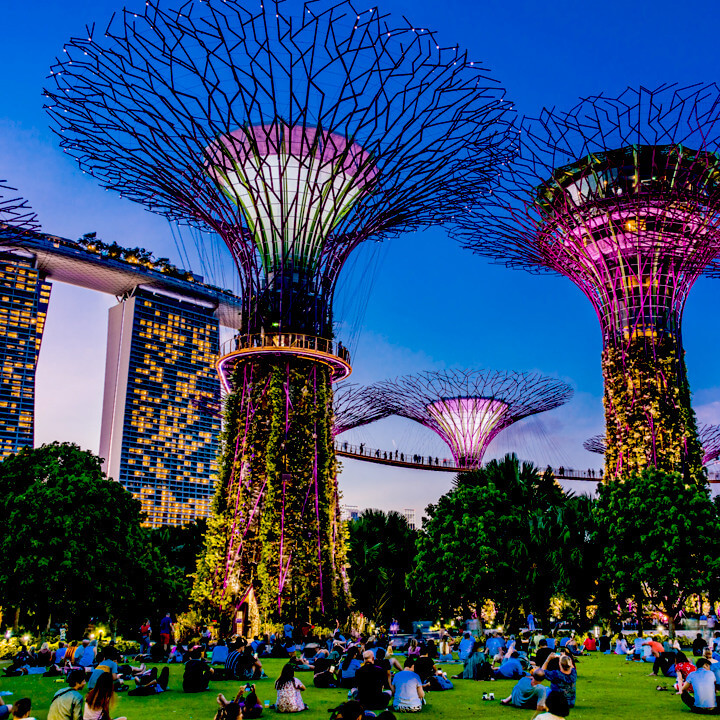 1
Singapore Arrival
Pickup from Singapore Changi International Airport and transfer to the Hotel.
Check in to the Hotel.
After fresh n up get ready to go for night safari (Operating hours are from 6.30 PM to 12 AM).
Night safari is the world's first nocturnal zoo and is one of the most popular tourist attractions in Singapore.
The night safari currently houses over 900 animals representing over 100 species, of which 41% are threatened species.
Back to hotel and overnight stay.

2
City Tour & Sentosa Island
Breakfast at the hotel.
Pickup from hotel and transfer for full day tour.
Singapore city tour: Take a Singapore city tour to orient yourself with popular districts like Chinatown, Little India and Marina Bay. A great activity for the start of your trip, this half-day tour introduces you to top attractions like the Merlion, colonial landmarks like City Hall and cultural sites like Thian Hock Keng Temple and many more beautiful sites.
Post Lunch- Sentosa Island: Sentosa island, is an island located of the southern coast of Singapore's main island.
Attractions include 2km long sheltered beach, Madame Tussauds (Wax Museum), an extensive cable car network, fort siloso, the universal studios theme park and many more.
Back to hotel and overnight stay.

3
Universal studios
Breakfast at the hotel.
Pickup from hotel and transfer for day tour of Universal Studios. Universal Studios is a theme park located within resorts world sentosa on sentosa island, Singapore. There are a total 28 attractions of which 18 are specially designed for this park. Moreover, there are 7 theme zones -- Hollywood, Sci-Fi City, New York, Ancient Egypt, Far Far Away, Madagascar, and The Lost World.
Back to hotel and overnight stay.
4
Singapore Parks
Breakfast at the hotel.
Pickup from the hotel for full day tour of Singapore Zoo + River Safari.

Singapore Zoo was previously known as Singapore Zoological Gardens and locally known today as Mandai Zoo and it is also managed by the neighboring Night safari, River safari and the Jurong Bird Park there are about 350 species of animal in the zoo.
POST LUNCH
River Safari is a River – themed zoo and aquarium located in Singapore. This attraction is the fourth zoo in Singapore, along with the Singapore zoo, Jurong Bird Park and Night Safari all of which are managed by wildlife reserves Singapore.
Back to hotel and overnight stay.

5
Gardens by the Bay & Fly Back
Breakfast at the hotel.
Pickup from the hotel for half day tour of Gardens by the bay.
The Gardens by the bay is a nature park. Its flower dome is the largest glass green house in the world. Gardens by the bay were part of the nation's plans to transform its "Garden City "to a "City in a Garden".
Cloud Forest: A mysterious world veiled in mist ; the cloud forest is a 35 metre tall mountain cover in lush vegetation, shrouding our breath-taking indoor waterfall and hidden floral gems. And learn about rare plants and their fast-disappearing environment.
Back to hotel.
Rest and get prepared for your evening flight back to home.
Return with wonderful memories

As per mentioned in itinerary

As per mentioned in itinerary

As per mentioned in itinerary

As per mentioned in itinerary

As per mentioned in itinerary
Visa
Click to view Visa information
General Terms
Please note that these packages are customizable, which means that you will be able to make changes to the itinerary/activity if you so desire. The final payment will be calculated as per the itinerary and inclusions reflected on the confirmatory e-mail sent to you.
Please expect to receive your vouchers 72 hours before your departure date (subject to full payment of your package cost).
Personal expenses such as laundry, telephone calls, room service, alcoholic beverages, mini bars etc., are not included.
In case your package needs to be canceled due to any natural calamity, weather conditions etc. Dook Travels shall strive to give you the maximum possible refund subject to the agreement made with our trade partners/vendors.
The passenger names in the booking form should be exactly as per passports. Dook Travels will not bear any liability for the name change fee, if incorrect names and ages have been added at the time of booking.
Please note that your package includes baggage as per airlines policy. Any addition in baggage will be charged separately.
Standard check-in time at the hotel is normally 2:00 pm and check-out is 11:00 am. An early check-in, or a late check-out is solely based on the discretion of the hotel.
In case the selected hotel is unavailable for booking, an alternate arrangement will be offered to the customer in another hotel of a similar category.
Certain hotels may ask for a security deposit during check-in, which is refundable at check-out subject to the hotel policy.This amount has to be deposited by the traveler.
Please note that Day at Leisure essentially implies that no sightseeing activities have been included for that day.
Kindly be on time for your activities, tours and transfers. Dook Travels will not be liable for missing any activity thus for any refund against it in such cases.
No refund either in part or in full will be made for any unused part of the services provided in the package.
The package price doesn't include special dinner or mandatory charges at times levied by the hotels especially during New Year and Christmas or any special occasions. Dook Travels shall try to communicate the same while booking the package. However Dook Travels may not have this information readily available all the time.
Our package price does not include GST and TCS. Applicable GST and TCS will be charged over and above the package price.
For queries regarding cancellations and refunds, please refer to our Cancellation Policy.
For any paid activity which is non-operational due to any unforeseen reason, we will process the refund & should reach the guest within 30 days refund requisition. Also, for any activity which is complementary and not charged to Dook Travels & guests, no refund will be processed.
Our package prices are on twin sharing accommodation basis thus published prices are applicable for minimum two persons and multiple of two thereon.
As per RBI guideline every foreign traveler has to provide us his PAN details. The Dollar component of package price will be taken out of your BTQ (Basic Travel Quota).
The tour cost does not include any Overseas Insurance Premium, but we strongly recommend buying Overseas Insurance Policy. The same after issuance is non refundable.
These terms are general terms for our tour packages.Any term mentioned in proposal shall be considered part of it and in case of discrepancy term mentioned in proposal shall prevail.
Disputes, if any, shall be subject to the exclusive jurisdiction of the courts in New Delhi.
Payment Policy
Payment schedule depends on destination, time of booking, inclusions, airline and hotel payment policy etc thus it is specific to your package bookining.
Payment schedule will be part of our proposal to you for the package.
If payment is not made as per the schedule provided in the first booking confirmation e-mail, Dook Travels reserves the right to cancel the booking after attempting to get in touch with you. Refunds would be as per the package cancellation policy.
Cancellation Policy
Once Booking received : INR 5000 (Per PAX) + actual Ticket cancellation + Hotel cancellation as per hotel policy+Visa fee if visa is applied.
60 – 45 Days prior to departure : 25 % of land cost + INR 5000 (Per PAX) + actual Ticket cancellation+Visa fee if visa is applied.
45 – 30 days prior to departure: 50% of land cost + INR 5000 (Per PAX) + actual Ticket cancellation+Visa fee if visa is applied.
30 – 10 days prior to departure: 75% of land cost + INR 5000 (Per PAX) + actual Ticket cancellation+Visa fee if visa is applied.
Within 10 days: Full.