Incredible journeys to Macau with DOOK!
No matter your travel style, we have a Macau package tailored for you
Macau Tour Packages
Explore Macau with DOOK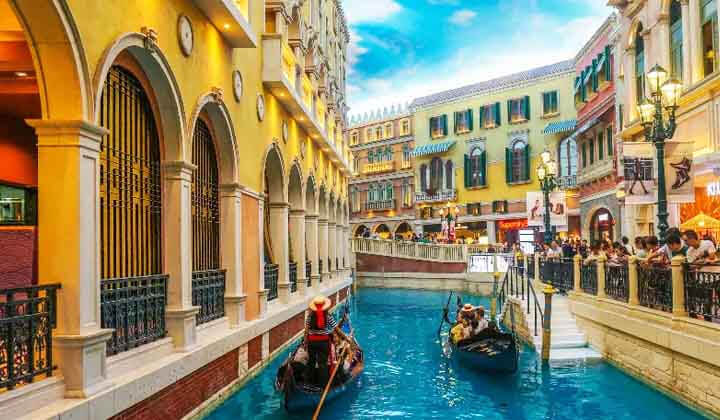 Macau is one of the most popular tourist destinations in the world and for good reason too! It is an exciting city with plenty to do, regardless of where your interests lie. While the city is synonymous with gambling, there is far more to the city than meets the eye. Lakhs of visitors check out Macau every year, and you too can visit by booking one of Dook International's Macau Holiday Packages for your vacation this holiday season! Simplify your Macau Tour with one of our Macau Tour Packages and have a stress-free time to make the most of the city!

Things to know about Macau

Macau is fondly known as the Vegas of Asia and in many ways, it lives up to that title. It is a historic peninsula, and it is an autonomous administration region on the coast of China. Contrary to popular belief, it is not considered a separate country and comes under Chinese domain. It is known for its casinos and gambling culture but there is more to do and see than just gamble. It has a deep and rich history that is visible throughout the city as well as other tourist activities such as museums and shopping malls. Booking one of our Macau Packages ensures that you get the full picture of the city!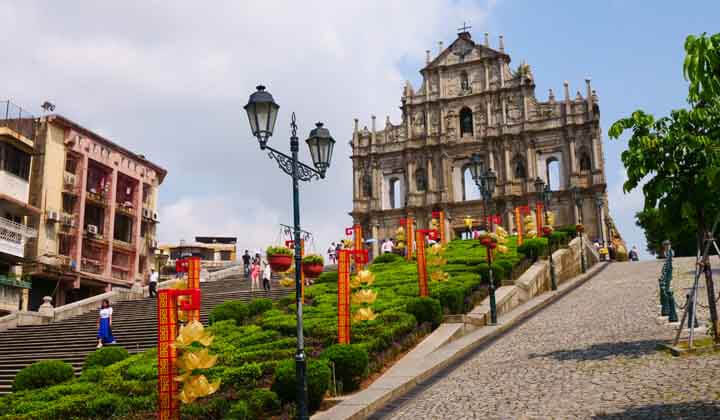 Top Experiences in Macau

Macau is a city of true glamour and glitz. Under this luxurious blanket, you will find a city absolutely drenched in heritage and culture. Macau has had a brush with colonialism which is seem in the Portuguese influences throughout the city. When you book one of Dook International's Macau Holiday Packages, you will get to see this unique cultural hybrid manifest itself in all corners of the city. The Macau Peninsula is in and of itself a UNESCO World Heritage Site, as it is a beautiful, old city centre. You can choose to experience it any way you want, either in a high adrenaline manner or a more laidback way.

Top Attractions in Macau

The top attractions in any Macau Tour are without a doubt the historical sits in the Macau Peninsula. These include what remain of the Church of St Paul, the Church of St Joseph and Guia Fortress and Chapel. You could also check out the Ka Ho Church of Our Lady of Sorrows or the Chapel of Our Lady of Penha, all of which are culturally and historically significant sites. There are also some famous libraries such as the Sir Robert Ho Tung Library, which is truly a sight to see.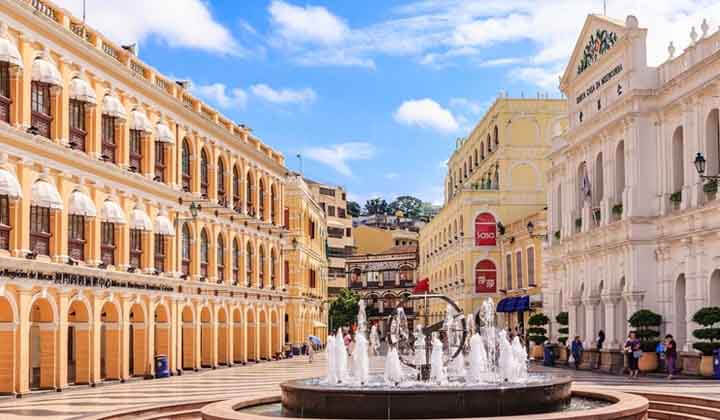 Plan a Trip to Macau with Dook

The Macau Peninsula is a great travel experience without a doubt. However, planning out your entire Macau Tour could seem like a lot of work, especially due to all the sights that you could see. However, you don't have to worry, Dook International has got all bases covered with all our Macau Tour Packages that make sure your trip will have absolutely no hitches.

Best Travel Experiences in Macau

When travelling through Macau, your best option is to go see all the historic sites as they hold a lot of significance and besides that, they are gorgeous to look at and photograph. To make sure you don't miss out on any of these sights, prebook one of our Macau Holiday Packages before your trip! This is an absolute must visit destination for anybody who is a history buff or loves architecture, but you would have a great time here even if you love partying and a good time.

One of the most treasured icons in Macau is the Ruins of the Church of St Paul. The tall façade and the stairway are all that is left of this church from the 17th century. However, it is still a very interesting place to visit as it depicts an important milestone of Christianity in Asia. When you go there by booking one of Dook's Macau Packages, you will get to see statues and engravings that make up a Bible of the poor, intended to assist in the illiterate in understanding Christianity and the lives of saints.

Another great stop on your Macau Tour would be the Church of St Joseph. It is sometimes overseen in the tourism circuit, but it is without a doubt one of Macau's most beautiful examples of baroque architecture that was influenced by tropical styles as well. It was created in the mid 16th century, it has a scalloped canopy and a staircase that leads to a courtyard from where you can see the front of the church and the dome. This dome is the oldest one ever built in China. The interior is decorated lavishly and has stunning columns and pillars, along with three altars.

Guia Fortress and its chapel can be found at the highest point of the peninsula. It presents you with a gorgeous, panoramic view of the city that you cannot find elsewhere. The Chapel of Our Lady of Guia has retained almost all of its original features, and it has frescoes that have both Portuguese and Chinese details, making it one of the most important chapels in all of Asia. If this kind of heritage is something you're interested in, you must book one of our Macau Tour Packages so you can see this sight yourself in person.

You can also visit the Chapel of Our Lady of Penha, that perches gracefully atop Penha Hill. It used to be a place of pilgrimage for Portuguese sailors in the 17th century as it was started by survivors of a ship that had narrowly escaped capture by the Dutch. The courtyard contains a marble statue of Our Lady of Lourdes that faces the ocean and there are symmetrical staircases that lead to a grotto of the aforementioned saint. There is the bishop's residence attached to the chapel but this area is closed off to visitors. You may not be able to see the Bishop's Palace but you can see the rest of the location by booking one of our Macau Holiday Packages.

Top Things to Do in Macau

When in Macau, you can experience how the locals lived here historically by taking a trip to Taipa Village. The heritage of the district is best preserved in this quaint, southern village. Traditional Chinese businesses and a few top-notch restaurants are housed in a complex maze of alleyways, while colonial homes, churches, and temples dot the wider major roadways. The major pedestrian thoroughfare, Rua da Cunha, is lined with hawkers offering free samples of beef jerky and Macanese almond biscuits, as well as tiny cafes selling egg tarts and serradura pudding. By booking one of our Macau Packages, you will get to see how the people lived and experience a bite of history.

When you are on your Macau Tour, it is important to see the intricate libraries in the city as they are very famous. You can start with the Sir Robert Ho Tung Library which was founded in the 19th century and is an absolutely charming little building. The colonial style building was given a modern extension in 2006, by adding a new four-storey structure made out of glass and steel as well as Piranesi inspired bridges that connect the old house with the newer part.

You can swing by the Senate Library, which is the oldest and most lavish library in all of Macau. It is an adaption of the 18th century library in the Convento de Mafra that is present on the outside of Lisbon. While it is much smaller than the original library, it has a baroque style ceiling with dark wood bookcases that are closely reminiscent of the original. It has a collection of 19,000 books in Portuguese, French and English. Make sure to note that photos are not allowed inside the library! If libraries are your idea of a good time, prebook one of our Macau Holiday Packages ahead of time!

Best Places to Eat & Drink in Macau

While making the most of Dook International's Macau Tour Packages, you will surely feel hungry from all the sightseeing, so take a stop to experience Macau's food culture. A popular destination is a branch of Hong Kong's Fook Lam Moon. This place is known as the tycoons' canteen, and it certainly lives up to the name in both quality and price. Given that this is an opulent casino restaurant, the cuisine favours seafood specialties such dried abalone and sea cucumber, which are served to such a high standard that it has received numerous awards, including Michelin stars.

Best Shopping Places in Macau

Due to its inherently lavish nature, Macau is a great place for all your shopping needs. Your Macau Tour wouldn't be complete without buying souvenirs for yourself and all your friends and family awaiting you back home. A great place for tourist would be the Cunha Bazaar, a four-storey shop on the corner of Taipa Village's pedestrian street. It has a great collection of made-in-Macau gifts, T-shirts, candies and more! There are also traditional foods here and the whole first floor is dedicated to goods that include Macau's mascot, Soda Panda.

Why Travel to Macau?

One of the most intriguing travel destinations in Asia is Macau, which combines the alluring influences of Chinese and Portuguese culture with evocative heritage buildings, slick modern resorts, and an unrivalled culinary scene. You may discover more about the blending of Chinese and Portuguese cultures, architectural legacies, and regional cuisine by travelling to Macau. Visit historic architectural treasures, take a leisurely stroll through ornately tiled plazas and cobbled streets, and savour authentic Macanese food. If you would like to witness this cool blend of cultures, make sure to use one of Dook International's Macau Packages to get the most out of your holiday!

Travel Tips for Travelers

When travelling to Macau, keep an eye on your personal belongings, such as credits cards, passports, and other small paraphernalia, when you're in huge crowds. While it is a relatively safe city, there are still reports of pickpocketing in tourist destinations so stay alert!

Since there is a lot to do and see in Macau, planning out your Macau Tour could be a bit daunting, especially keeping in mind the variety of options in accommodation and attractions. To make things as easy as possible for yourself, book one of Dook International's Macau Tour Packages ahead of your trip!