Botswana is an exquisite African country that captivates the attention of tourists. The diverse wildlife, pristine wilderness, and enchanting landscapes add charm to this place. Being the least populated country in Africa, Botswana is heaven for safari and nature lovers. Known for exciting adventures and incredible Botswana tourist attractions, it's hard to find a country like Botswana. The best part about this country is its fewer crowds. Being an underrated country, very few people travel to Botswana. This fact makes it more popular among tourists who love to visit remote locations. Botswana has the maximum population of elephants in the world. These elephants are one of the top Botswana attractions. Moreover, the locals of this country are very warm and welcoming. No feeling is better than visiting a place that feels like home. Being surrounded by kind and beautiful people, you enjoy more and instantly connect with them through culture and traditions. If you are in Botswana, you should miss out on watching the mesmerizing sunrise and sunset. The awe-inspiring vistas it creates are from out of the world. Besides visiting famous Botswana tourist places, you will be surprised to see sustainable luxury. The modern comfort and luxury experience is beautifully designed with an authentic sustainable design & materials. Botswana offers a perfect getaway for someone who loves nature, wildlife, and adventure.

Okavango Delta is one of the best places to visit in Botswana for wildlife watching. It is the largest inland delta in the world, which is the Africa trip's highlight. This unspoiled wilderness is home to countless natural habitats. Okavango Delta is also made it to the UNESCO World Heritage Site List. Chobe National Park is another secret gem on the top Botswana tourist attractions list. It is the most stunning wildlife-watching site in Botswana for safaris. Home to innumerable elephants, big cats, giraffes, zebras, and buffaloes, Chobe National Park is heaven for safari-goers. The Kalahari Desert tops the list of Botswana tourist places that can never go unexplored. If you are in Botswana, don't forget to visit the Kalahari Desert. Its spectacular dunes, glittering salt pans, beautiful grasslands, and pristine river valleys are a sight to behold. If you love stargazing, Makgadikgadi Pans National Park is the best place to visit. Here you can try horseback riding and quad biking over the lunar-like landscape. Manyelanong Game Reserve is one of the most spectacular Botswana tourist spots. This reserve is home to an extended population of the endangered Cape Griffon vulture. Manyelanong is one of the three places in the country where you can find vultures. Botswana is filled with so many unmissable tourist attractions that you must see.

Plan a trip to Botswana and unearth a completely new world where nature and it's being live. If you decide to go to Botswana for a holiday, check out Dook's holiday packages. We have interesting Botswana tour packages that you must try. Our holiday packages include every single attraction in Botswana- from Chobe National Park to Manyelanong Game Reserve. So, grab your deals and fly to Botswana for a fulfilling vacation.

Best Tourist Places to Visit in Botswana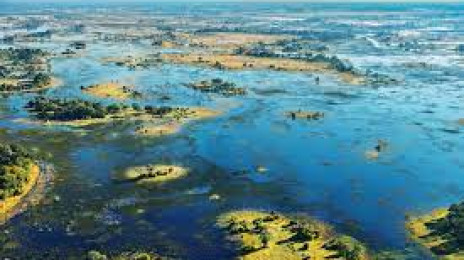 Things to Do in Botswana
Do what makes you happy