Incredible journeys to Bosnia and Herzegovina with DOOK!
No matter your travel style, we have a Bosnia and Herzegovina package tailored for you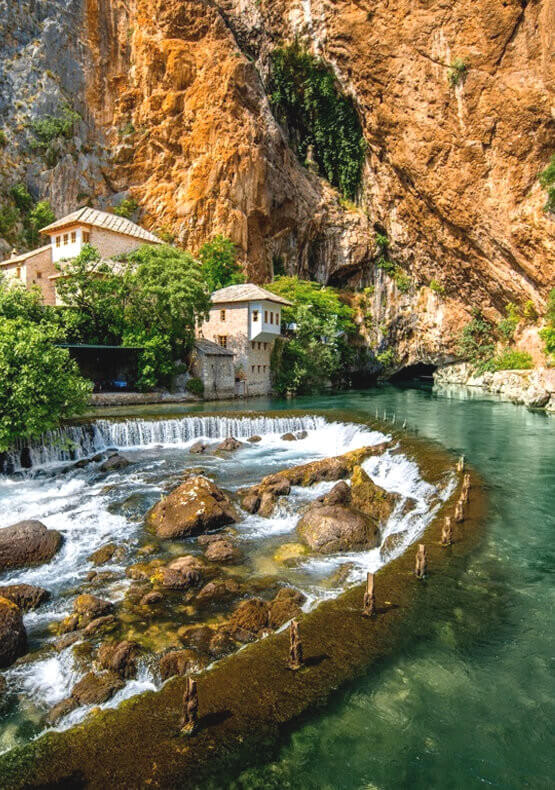 Tour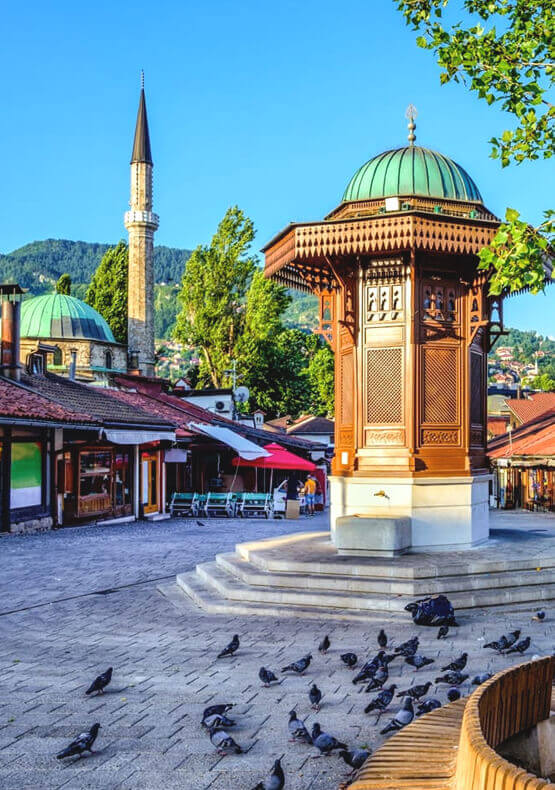 Tour
Bosnia and Herzegovina Tour Packages
Explore Bosnia and Herzegovina with DOOK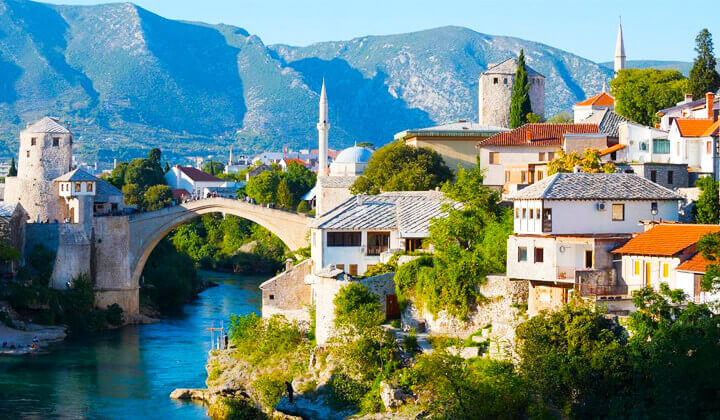 Bosnia and Herzegovina is a country located in Southeastern Europe informally known as BiH or simply Bosnia. One of the countries in Balkan Peninsula, Bosnia and Herzegovina shares borders with Serbia to the east, Croatia to the north, west and south and Montenegro to the southeast. In rest parts of it, Bosnia and Herzegovina is mountainous while the northeast part is mainly flat. The country is almost landlocked with abundance of natural beauty. You can explore the beautiful landscape of Bosnia and Herzegovina on planned Bosnia Tours.

Bosnia has a rich historical heritage as well. The land had permanent human settlement in the Neolithic age, about 12000 years ago which was followed by Illyrian and Celtic civilizations populating the land of Bosnia. Much later Bosnia was annexed into Ottoman Empire from mid-15th to late 19th century after which it became a part of Kingdom of Yugoslavia and after the 2nd World War Bosnia got full republic status in the new setup of Socialist Federal Republic of Yugoslavia and Bosnia was independent in 1992 after the dissolution of Yugoslavia. So, one can really dig deep into Bosnia history especially if interested on Bosnia and Herzegovina Tours.
---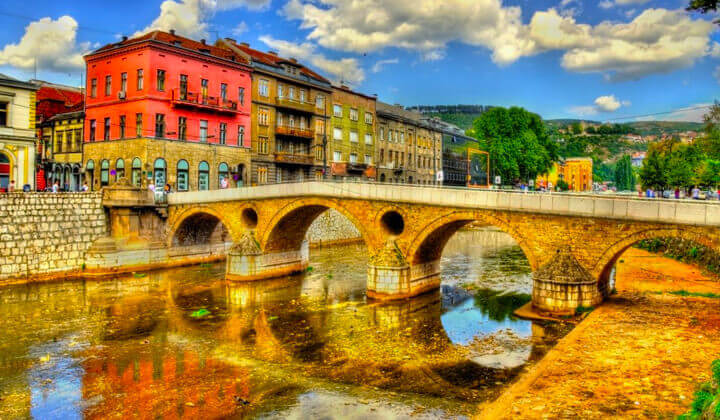 Bosnia and Herzegovina Tourism

Renowned for its cultural and natural heritage, Bosnia in recent years has become one of the top favorite tourist destinations in Europe among the visitors. Bosnia and Herzegovina is often termed as 'Land of Wonders' for obvious reasons. Bosnia is a fast growing nation and boasts of delicious cuisine, adventure and winter sports, electrifying music, beautiful architecture and lots of popular festivals, not just in Bosnia but entire southeastern Europe. With the best Bosnia Packages, you are entitled to enjoy all of this and more.

Weather during May, June and early September is ideal for a visit when the temperatures are moderate. February and March is great time for exploring winter activities. If outdoor activity rushes your blood on a trip, then you must enjoy hiking, snowshoeing in the mountains here, along with meeting mountain villagers. Ottoman architecture is a must see attraction for every tourist coming to Bosnia.

Bosnia Tour Packages: Plan the Perfect Trip to Bosnia

Bosnia and Herzegovina has become a must see place for cultural travelers. Bosnia is a great blend of European and West Asian influences where you experience a great convergence of the two continents. Bosnia is also a land of metropolis and rural communities both. Snowshoeing lovers cannot miss a trip to Bosnia either as Bosnia is one of the Europe's best snowshoeing place. What you need to explore the best of Bosnia and Herzegovina is Bosnia Tour Package.

Your sightseeing list should include names like Sarajevo, Mostar, Blagaj, Travnik, Pocitelj, Trebinje, Jajce, Stolac, Drina River and more. With the best Bosnia Holiday Package you are guaranteed once in a lifetime travel experience in Bosnia.
---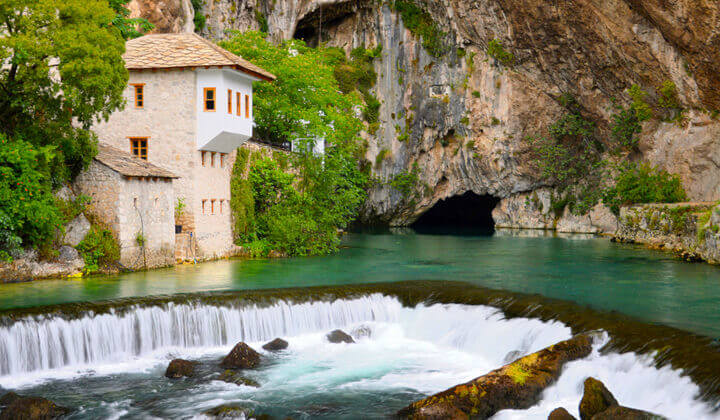 Must-Visit Tourist Destinations in Bosnia and Herzegovina

1. Sarajevo

Capital city of Bosnia, Sarajevo is a perfect symbiosis of past and current times. The city is located between the east and west of the world. On Sarajevo Tours, you can witness the amalgamation of several civilizations that left over several cultural and religious impacts in the city. This reflects on a single street of Sarajevo where there is a mosque, a synagogue and a catholic and Orthodox Church. Even the architect of the city is blend of several styles which include Ottoman, Austro-Hungarian and other styles.

Sarajevo is also a place which saw several wars and World War I commenced here. So, all those who love to explore war history should go for a Sarajevo Trip. Sarajevo is known for its cultural varieties, sport loving people and festival hosting traditions.

2. Mostar

Mostar is one of the most popular attractions, thanks to its splendid natural beauty, beautiful Ottoman architecture and Stari Most, the world famous UNESCO World Heritage Site in Mostar, an old bridge built in 16th century by Ottoman. Mostar has plenty of other things as well to attract visitors and the list includes several traditional restaurants, local markets and other historic buildings. Stunning landscape surrounding Mostar awaits all travel enthusiasts from the world. Some of the sites to visit in Mostar are the stone bridge, Naretvariver, war photo exhibition, Ottoman Muslibegovic house & museum and more.

3. Blagaj

Blagaj is a great combo of urban and rural structures of Bosnia and Herzegovina. This small village town is located in southeast region and merely 12 KM away from the town of Mostar. Bosnia is full of fairy tale places and Blagaj is a part of that list. Blagaj boasts of beautiful nature and Ottoman architecture. A relaxing place, Blagaj has several places of interests for visitors and Dervish Monastery tops the chart. Darvish Monastery was built in 16th century at the source of Buna River and the view of the site is breathtaking as the river flows right from the cave between the steep cliff wall and Dervish Monastery is built literally into the rocks. You have got to see it to believe it.

4. Travnik

Travnik is 90 KM away from the capital city Sarajevo. The soul of Tranvik is Stari Grad, the old town which has Ottoman center with mosques, centuries old buildings and only sundial of Bosnia. You must walk this old town to sense what life like in 18th century during Ottomans time was. Several restaurants in this old town of Travnik, will give you plenty of food choices along with a good time. Don't forget to pay a visit to Tranvik with Best Bosnia Tour Package.

5. Pocitelj

Pocitelj is yet another magnificent wonder of medieval, Ottoman- Mediterranean architecture and nature. Popularly known as 'Pearl of Herzegovina', Pocitelj is located at the left bank of beautiful Neretva Riverabout 30 KM south of Mostar. This fortified historic village is populated with less than 1000 people. The village is an absolute wonder, made in natural Karst during the middle ages when it was the administrative center of Dubravazupa.

The fort of Pocitelj is the major attraction of the village. This fort was built between 15th and 18th centuries and needs your attention to its details when you arrive here on Bosnia Tours with best Bosnia Tour Package from India.

6. Trebinje

Trebinje is a small city on the bank of Trebinje River in the southernmost part of Bosnia and Herzegovina. Right near Montenegro and popular Croatian city Dubrovnik, Trebinje is a great place to break your journey and stop for a while especially when you are travelling between Dubrovnik and Mostar. You can make the most of your Herzegovina Tours by visiting Trebinje. You cannot miss a walk across Trebisnjica River which once used to be the longest underground river in Europe, to reach Arslanagic Bridge, the most famous landmark of Trebinje.

7. Jajce

Jajce is a small city in Bosnia and holds historical and cultural significance in the country. Built in 14t century Jajce once served as capital of independent Bosnia Kingdom during that time. Though not so popular among visitors, Jajce has been home to several medieval kings, Ottoman governors and more. Thus it has huge footprint of different cultures. However, the most famous attraction of Jajce is a natural beauty known as Pilva Falls located right in the center of the town. You should include Jajce in your list of places to visit in Bosnia on Bosnia and Herzegovina Tours.

8. Stolac

Stolac town is located in Herzegovina-Neretva Canton in the region of Herzegovina. Stolac falls on the tourist route crossing Herzegovina and linking the mountains of Bosnia with coastal regions of Bosnia and Herzegovina, Montenegro and Dubrovnik. Stolac is for those who love to explore an authenticity, discover archaeology and uncover historical layers of it. Stolac is the oldest town in Bosnia and Herzegovina. Placed in the Valley of Bregava River, Stolac is also known for its ecological diversity and not to be missed on your Trip to Bosnia.

Other Top Tourist Places in Bosnia and Herzegovina Include:

09. Drina River
10. Una National Park
11. Visegrad
12. Tuzla
13. Kupres
14. Medjugorje
15. Ilidza
16. Konjic
17. Kravica Waterfall
18. Pliva Waterfall
19. Jahorina
20. Brcko
21. Banja Luka
22. Bihac
23. Blidinje Nature Park
24. Lukomir Mountain Village
25. Sutjeska National Park
26. Neum
27. Prokoško Lake
28. Trebinje
29. Tara Canyon
30. Lukomir
31. Volujak Mountain
32. Vjetrenica Cave

Explore More! Attractions in Bosnia
---
Sarajevo Tour Packages - Explore the Best of Sarajevo!

A city that has seen wars, where World War I began and where bullet holes still can be seen also happens to be the prime tourist destination of Bosnia and Herzegovina. Sarajevo is the capital city of Bosnia and Herzegovina. City reminds visitors of the war that caused the fallout of Yugoslavia but it has grown and has lot of vibrancy as well. You can discover the vibrancy of the city with best Sarajevo Tour Package.

Now an enigmatic city and a world class tourist destination, Sarajevo has several places to visit on Sarajevo Holiday Packages. Some must see places are Latin Bridge, Bascarsija, Sarajevo City Hall, Sarajevo Cable Car, National Museum of Bosnia and Herzegovina, Tunnel of Hope, Historical Museum of Bosnia and Herzegovina, Sacred Heart Cathedral, Ferhadija Pedestrian Street and more.

Must-Visit Tourist Places in Sarajevo

1. Latin Bridge

Latin bridge is the place in Sarajevo where Word War I started as result of assassination of Archduke Franz Ferdinand of Austria by Gavrilo Princip in 1914 at the northern end of Latin Bridge. You can stand at the bridge and imagine the incident even now as things around the bridge are unchanged after the assassination. This fine example of Ottoman bridge over Miljacka River is a famous place in Sarajevo. Latin bridge is also one of the oldest bridges still standing in the city of Sarajevo. On Sarajevo Tours, this can most probably be the first place you visit.

2. Bascarsija

Spending some time in bazaars is always a good experience. Bascarsija is a famous old bazaar in Sarajevo and also the cultural center of the city. This oriental bazaar was built in 15th century and it is located on the bank of Miljacka River in Stari Grad. You must go inside some important buildings here especially GaziHusrev-beg Mosque and Sahat Kula. You can definitely spend some time shopping local souvenirs here on a Sarajevo Trip.

3. Sarajevo City Hall

Sarajevo city hall is also known as Vijecnica. The city hall is a great example of a place in Sarajevo where several civilizations met. Built during Austro - Hungarian occupation in 1891, the Sarajevo city hall was seriously destroyed in 1992 but it was restored and reopened in 2014. The colorful restored interiors of the city hall with stained glass ceiling are great view. Don't forget to see Sarajevo 1914-2014 exhibition here.

4. Sarajevo Cable Car

Those looking for best experience in Sarajevo when they get here with best Sarajevo Tour Packages must grab the opportunity to enjoy Sarajevo cable car experience. Sarajevo cable car connects the old part of the city with Trebevic Mountain. Sarajevo Cable car reopened only last year in 2018 offers lot of panoramic views of the city.

5. National Museum of Bosnia and Herzegovina

Located in center of Sarajevo, National Museum of Bosnia and Herzegovina is a treasury of ancient and modern history of Bosnia and Herzegovina. Visit the museum as it houses the priceless Sarajevo Haggadh illuminated manuscript. Also the main building houses superb Greek pottery and Roman mosaics. There is a small but beautiful botanical garden at the back of the main building as well along with an exceptional collection of medieval stone funerary monuments.

6. Tunnel of Hope

Tunnel of hope is a historic place in Sarajevo. This was the only link to outside world during Siege of Sarajevo from 1992-55 in the middle of Bosnian war when Bosnian Serb forces surrounded Sarajevo. This 800 m long with height and width of little over 1 m under the airport runway is a popular tourist attraction in Sarajevo. You can also visit Sarajevo Tunnel museum here with best Sarajevo Holiday Packages.

7. Sacred Heart Cathedral

Commonly known as Sarajevo Cathedral, Sacred Heart Cathedral in Sarajevo is the largest cathedral in Bosnia and Herzegovina. Located in the old town district, this is the seat of Arch Bishop of Vrhbosna and a place of catholic worship. The building is also considered as a symbol of Sarajevo as parts of the building design are also parts of the flag and seal of Sarajevo Canton.

Other Top Tourist Sights in Sarajevo Include:

08. Historical Museum of Bosnia and Herzegovina
09. Ferhadija Pedestrian Street
10. The Yellow Fortress
11. Avaz Twist Tower
12. PijacaMarkale
13. Old Sarajevo Clock Tower
14. Sarajevo War Tunnel
15. SebiljBrunnen (Fountain)
16. GaziHusrev Beg Mosque
17. Katedrala Sarajevo
18. Sarajevo Tunnel Museum
19. Jewish Museum
20. Eternal Flame
21. Emperor's Mosque

Explore More! Attractions in Sarajevo

Dook International's Best Bosnia and Herzegovina Tour Packages

You can get all the best packages for great Bosnia Tours with Dook International. Our Bosnia and Herzegovina Tour Packages offer best airfare and booking, comfortable stay at best hotels in Bosnia and Herzegovina hotels, exciting sightseeing and fun-filled activities, food of your choice and much more. You can buy Bosnia and Herzegovina Tours and enjoy a great vacation with us.