Bhutan Tour
Pkg Id

0000649

Destinations

4

Duration

5 Nights

Attractions

10

Price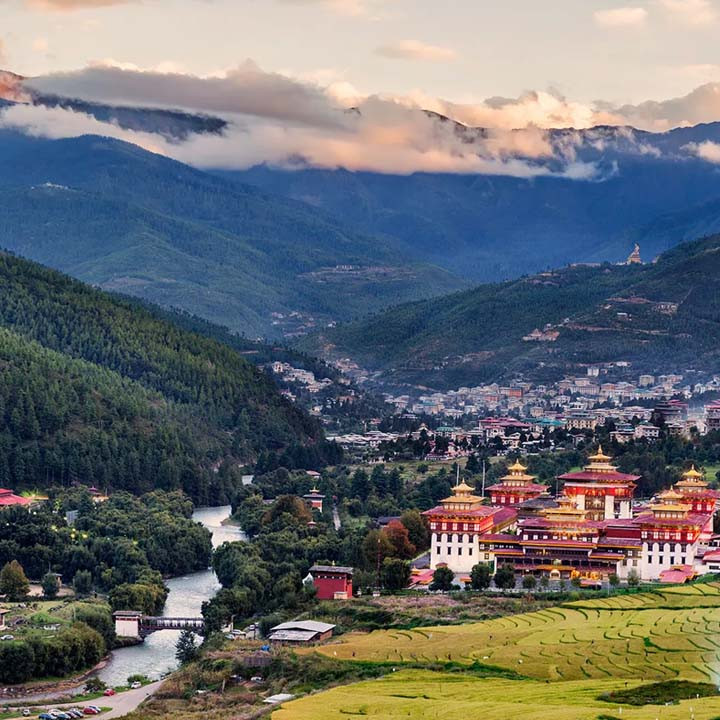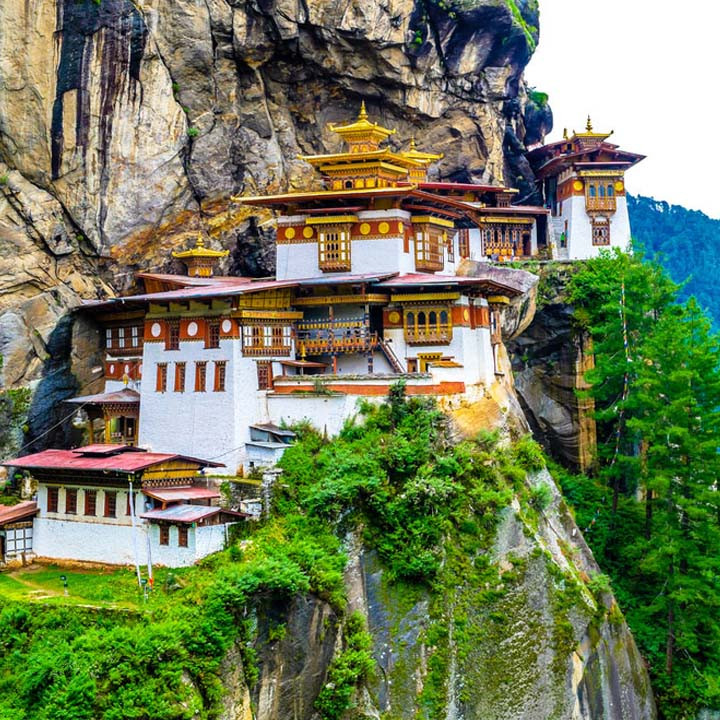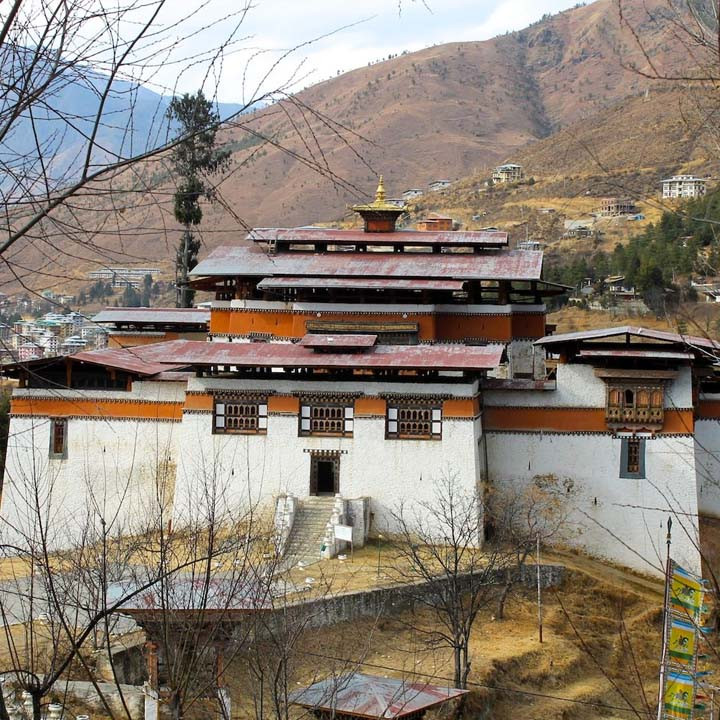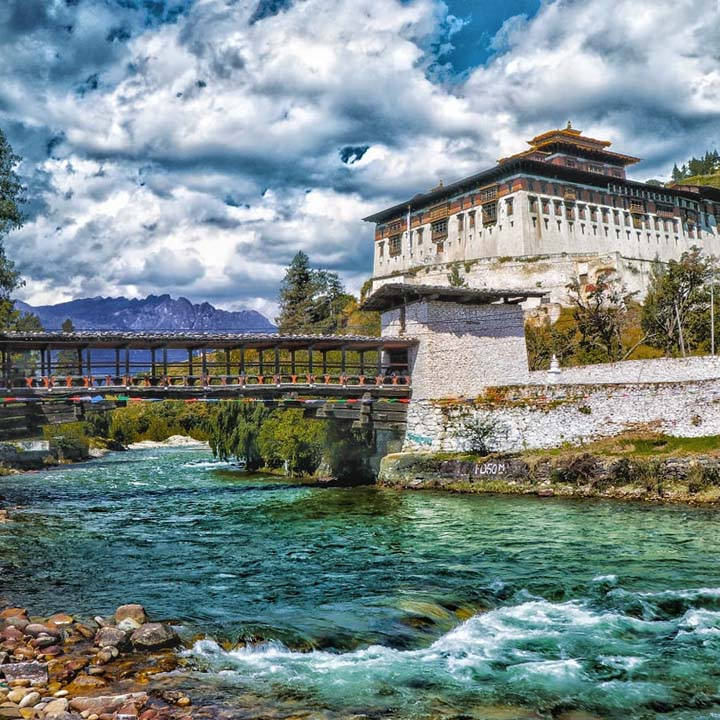 1
Arrive- Bagdora
On arrival at Bagdogra airport, you will be met & transferred to Phuentsholing followed by immigration process.

Phuentsholing is the gateway to the South, Phuentsholing is a thriving commercial centre on the northern edge of the Indian plains. Situated directly at the base of the Himalayan foothills, it is a fascinating mixture of Indian and Bhutanese, a perfect example of mingling of people and their culture.

Later drive to Thimphu.

Drive to Thimphu

Enroute

stop at Chuzom, the confluence of Thimphu and Paro rivers. Three different style of stupas; Tibetan, Nepalese and Bhutanese adorn this confluence.
On arrival in Thimphu, check into the Hotel.
The capital town of Bhutan and the centre of Government, religion and commerce, Thimphu is a unique city with unusual mixture of modern development alongside ancient traditions. With the population of about 90,000 it is perhaps still the world's only capital city without a traffic light.
Later visit to Trashichhoedzong: This impressive fortress/monastery houses Secretariat building, the throne room of His Majesty, the King and various government offices. It is also the summer residence of Chief Abbot and central monk body.

Overnight at the hotel in Thimphu.
2
Thimpu
After breakfast, sightseeing in Thimphu valley including visit to the following:

Buddha Point (Kuensel Phodrang).

Located at a short drive from Thimphu city centre, visitors can get a good overview of the Thimphu valley from the Buddha point (Kuensel Phodrang).

You can pay your obeisance and offer prayers to the Buddha, the largest statue in the country and then walkaround and take a glimpse of the valley.

King's Memorial Chorten

continuously circumambulated by people, murmuring mantras and spinning their prayer wheels. Construction of this landmark was the idea of Bhutan's third king, His Majesty Jigme Dorji Wangchuk ("the father of modern Bhutan") who has wished to erect monument to world peace and prosperity. Completed in 1974 after his untimely death, it serves both as a memorial to the Late King and as a monument to peace.

The National Library, housing an extensive collection of priceless Buddhist manuscripts; the Institute for Zorig Chusum (commonly known as the Painting School) where students undergo a 6-year training course in Bhutan's 13 traditional arts and crafts.
Later visit Textile Museum, which provides insight into Bhutan's one of the most distinct art form. Also visit Simply Bhutan, a living museum and studio encapsulating the cultural heritage of the Bhutanese people.
Return to Hotel and Overnight stay.
3
Thimpu-Paro
After breakfast, check-out

from the hotel and drive to Paro along scenic highway, Enroute visit Simtokha Dzong, the oldest fortress of the country built in 1627which now houses the School for Buddhist studies.

On arrival in Paro, check into the Hotel.

After lunch, proceed to visit Ta Dzong, originally built as Watchtower, which now houses National Museum. The extensive collection includes antique Thangkha paintings, textiles, weapons & armour, household objects and a rich assortment of natural and historic artifacts.

Ta Dzong visit immediately followed by a short walk down the trail to visit Rinpung Dzong (ParoDzong), meaning("fortress of the heap of jewels"), which has a long and fascinating history. Along the wooden galleries lining the inner courtyard are fine wall paintings illustrating Buddhist lore such as four friends, the old man of long life, the wheel of life, scenes from the life of Milarepa, Mount. Sumeru and other cosmic Mandala.

Overnight at the hotel in Paro.
4
Paro
After breakfast excursion to Taktshang Monastery or Tiger's Nest (approx. 5 hours walk): It is one of the most famous of Bhutan's monasteries, perched on the side of a cliff 900mabove the Paro valley floor.
It is said that Guru Rinpoche arrived here on the back of a tigress and meditated at this monastery and hence it is called 'Tiger's Nest'. This site has been recognized as a most sacred place and visited by Shabdrung Ngawang Namgyal in 1646 and now visited by all Bhutanese at least once in their lifetime.
On 19 April, 1998, a fire severely damaged the main structure of building but now this Bhutanese jewel has been restored to its original Splendour.
Afternoon drive to Drukgyel Dzong, a ruined fortress where Bhutanese warriors fought Tibetan invaders centuries ago. The snowy dome of sacred Chomolhari, "mountain of goddess'' can be seen in all her glory from the approach road to the Dzong.
Evening, visit the 7th century Kyichu Lhakhang, one of the 108 temples built in the Himalayas by Tibetan King, Songtsen Gampo. The building of this temple marks the introduction of Buddhism in Bhutan.
Overnight at the hotel in Paro.

5
Paro- Phuentsholing
After breakfast, check out from the hotel& enjoy the scenic drive to Phuen

tsholing.

Upon arrival; check into the Hotel. The gateway to the south, Phuentsholing is a thriving commercial centre on the northern edge of the Indian plains.

Situated directly at the base of the Himalayan foothills, it is a fascinating mixture of Indian and Bhutanese, a perfect example of mingling of people and their culture.

Overnight at the hotel in Phuentsholing.
6
Phuentsholing – Bagdogra
Breakfastat the hotel followed by the immigration clearance, you will be dropped atBagdogra airport to board your flight for onward journey.
As per mentioned in itinerary

All transfers and sightseeing as per the itinerary

As per mentioned in itinerary

As per mentioned in itinerary
Visa
Click to view Visa information
Please note that these packages are customizable, which means that you will be able to make changes to the itinerary/activity if you so desire. The final payment will be calculated as per the itinerary and inclusions reflected on the confirmatory e-mail sent to you.
Please expect to receive your vouchers 72 hours before your departure date (subject to full payment of your package cost).
Personal expenses such as laundry, telephone calls, room service, alcoholic beverages, mini bars etc., are not included.
In case your package needs to be canceled due to any natural calamity, weather conditions etc. Dook Travels shall strive to give you the maximum possible refund subject to the agreement made with our trade partners/vendors.
The passenger names in the booking form should be exactly as per passports. Dook Travels will not bear any liability for the name change fee, if incorrect names and ages have been added at the time of booking.
Please note that your package includes baggage as per airlines policy. Any addition in baggage will be charged separately.
Standard check-in time at the hotel is normally 2:00 pm and check-out is 11:00 am. An early check-in, or a late check-out is solely based on the discretion of the hotel.
In case the selected hotel is unavailable for booking, an alternate arrangement will be offered to the customer in another hotel of a similar category.
Certain hotels may ask for a security deposit during check-in, which is refundable at check-out subject to the hotel policy.This amount has to be deposited by the traveler.
Please note that Day at Leisure essentially implies that no sightseeing activities have been included for that day.
Kindly be on time for your activities, tours and transfers. Dook Travels will not be liable for missing any activity thus for any refund against it in such cases.
No refund either in part or in full will be made for any unused part of the services provided in the package.
The package price doesn't include special dinner or mandatory charges at times levied by the hotels especially during New Year and Christmas or any special occasions. Dook Travels shall try to communicate the same while booking the package. However Dook Travels may not have this information readily available all the time.
Our package price does not include GST and TCS. Applicable GST and TCS will be charged over and above the package price.
For queries regarding cancellations and refunds, please refer to our Cancellation Policy.
For any paid activity which is non-operational due to any unforeseen reason, we will process the refund & should reach the guest within 30 days refund requisition. Also, for any activity which is complementary and not charged to Dook Travels & guests, no refund will be processed.
Our package prices are on twin sharing accommodation basis thus published prices are applicable for minimum two persons and multiple of two thereon.
As per RBI guideline every foreign traveler has to provide us his PAN details. The Dollar component of package price will be taken out of your BTQ (Basic Travel Quota).
The tour cost does not include any Overseas Insurance Premium, but we strongly recommend buying Overseas Insurance Policy. The same after issuance is non refundable.
These terms are general terms for our tour packages .Any term mentioned in proposal shall be considered part of it and in case of discrepancy term mentioned in proposal shall prevail.
Disputes, if any, shall be subject to the exclusive jurisdiction of the courts in New Delhi.
Payment Policy
Payment schedule depends on destination, time of booking, inclusions, airline and hotel payment policy etc thus it is specific to your package bookining.
Payment schedule will be part of our proposal to you for the package.
If payment is not made as per the schedule provided in the first booking confirmation e-mail, Dook Travels reserves the right to cancel the booking after attempting to get in touch with you. Refunds would be as per the package cancellation policy.
Cancellation Policy
Once Booking received : INR 5000 (Per PAX) + actual Ticket cancellation + Hotel cancellation as per hotel policy+Visa fee if visa is applied.
60 – 45 Days prior to departure : 25 % of land cost + INR 5000 (Per PAX) + actual Ticket cancellation+Visa fee if visa is applied.
45 – 30 days prior to departure: 50% of land cost + INR 5000 (Per PAX) + actual Ticket cancellation+Visa fee if visa is applied.
30 – 10 days prior to departure: 75% of land cost + INR 5000 (Per PAX) + actual Ticket cancellation+Visa fee if visa is applied.
Within 10 days: Full.