Albania Tour 6 Days
Pkg Id

0000409

Destinations

3

Duration

5 Nights

Attractions

6

Price

Per person on twin sharing

(Exclusive of Taxes)

Hotel Category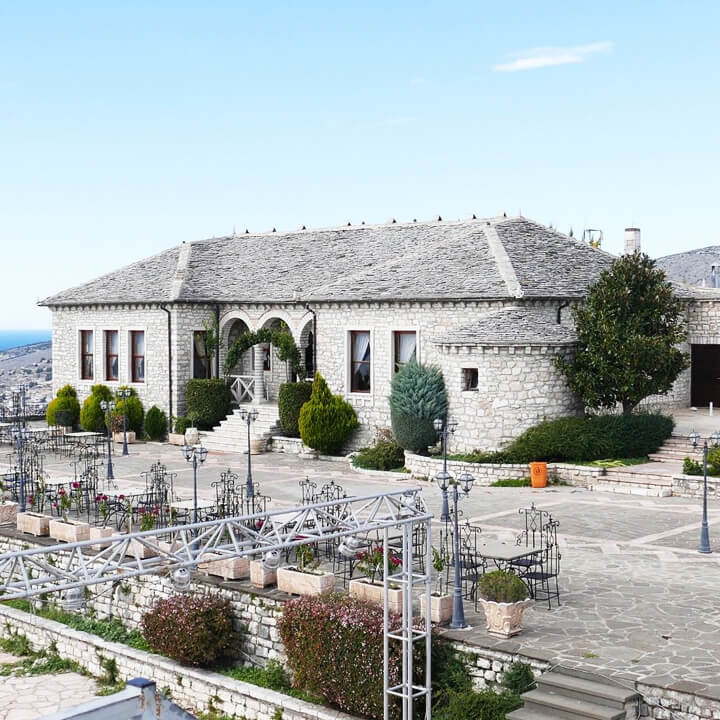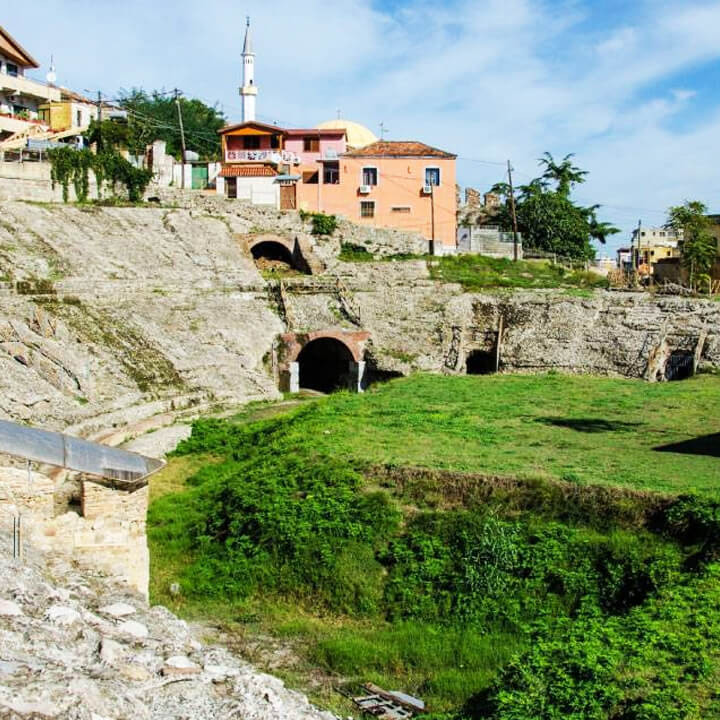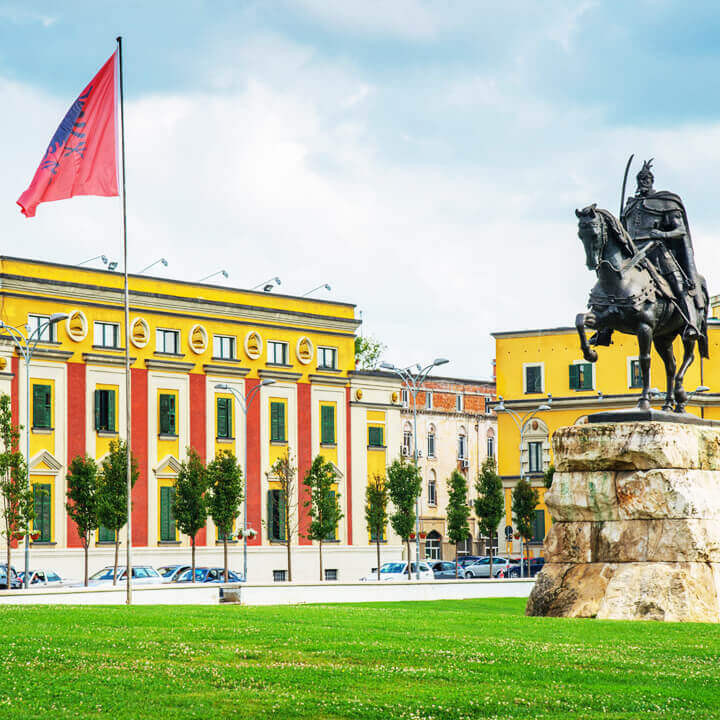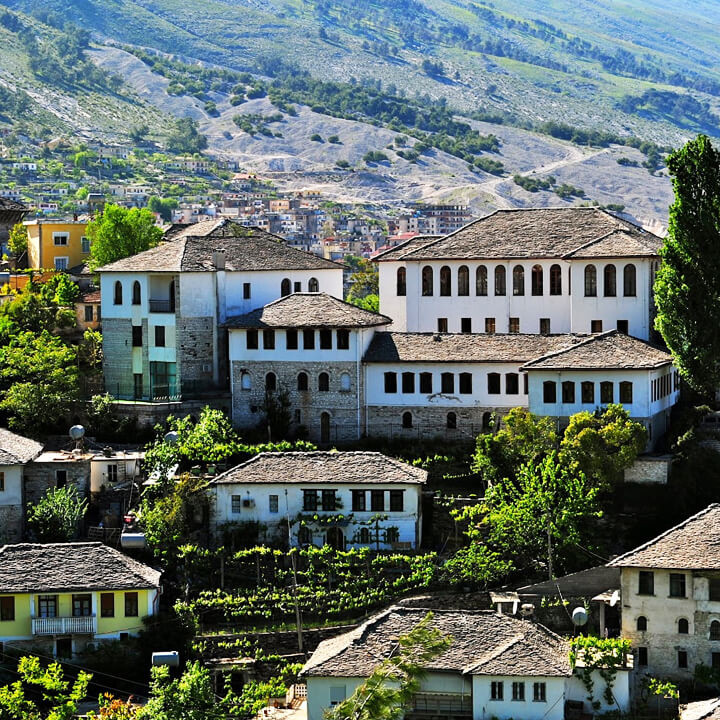 1
Airport – Tirana
Arrive at Tirana International Airport.
Pick-up from the Airport and transfer to hotel.

Check-in to the hotel and overnight stay.
Rest of the day will be free @ Leisure to explore local places at your own.

2
Tirana Waking Tour - Bovilia Lake
Breakfast at the hotel.
Located on a plain on the site of a Byzantine fortress and has been the capital since 1920 (visits to the Skanderbeg Square, Mosque of Et'hem Bey (built on 1824), the Clock Tower (built on 1822), the National Museum (the huge mosaic on front represent the Albanian history development, and the stages of this development are presented on respective pavilions), National Art Gallery, Archeological Museum (there are presented many archeological discoveries since the Stone Age up to the Medieval), the National Heroes Cemetery, Grand Park and government buildings).
Then, we depart towards Bovilla. The road is about 21 km distance where half of it is off road. We drive up the lake dam and after we reach Bovilla Lake we prepare to hike in Mount Gamti.
The track to hike is a simple level where every step gives us a more beautiful view as we reach the top. Hiking lasts about 40 minutes.
On the top of the hill there is an impressive view of the lake and the green hills surrounding it.
Drive back and overnight in Tirana at Sky2 Hotel 4* or similar. (B)

3
Kurje - Durres
After breakfast, we depart to Kruje.
We will visit the medieval city of Kruja (visit the castle and the impressive Skanderbeg Museum, Ethnographical Museum and shopping in Old Bazaar, mosques since the ottomans time.).
Then, we proceed towards Durres.
Durres is Albania's second largest city.
Durres is one of the oldest towns in the country.
Legend says that it was founded by Epidamnos, the Illyrian King of the area, who called it by his own name and named the port area after his grandson, Dyrrah.
It was for centuries the largest port on the Adriatic, and the start of the Via Egnatia to Constantinople.
We visit the Roman amphitheater and the Archaeological Museum, situated near the sea and rich in objects excavated in Durres.
Drive back and overnight in Tirana in Sky2 Hotel 4* or similar. (B)

4
Visit to Koman Lake
After breakfast today proceed for Koman.
We will drive to enter the world of the Albanian Alps.
We stop in Koman and see a huge dam built in the 1980's which encases the waters of Drini River and creates one of the biggest artificial lakes of the country.
We take the boat to Shala River.
Passing through the mountains of canyon created by the Drini River, the route reveals the wild beauty of the Albanian Alps.
We will have the opportunity to take numerous pictures of unique views of the beautiful surrounding landscape and the lake.
Enjoy the banks of the Shala River.
The high and craggy mountains present to the visitors a fantastic festival of colors in every season.
Its forests, river and creeks, flowers, characteristic dwellings, and the hospitality of its people make it an ideal place to visit. Drive back and overnight in Tirana at Sky2 Hotel 4* or similar

5
Belshi Lakes - Berat
Breakfast at the hotel.
We towards Belshi lakes.
Like a crown full of precious jewels, Belshi Lake and the Lakes of Dumrea amazes every one who is fortunate enough to experience them.
160 meters above sea level and located in the Elbasan district, the karstic lakes are well-known for their unique features and the beautifully harmonious landscapes created by their co-existence.
Then, we continue to Berat, one of the oldest inhabited regions of Albania, more than 2400 years old, and with special status from UNESCO. Visit to its castle of Berat with Onufri museum and other churches inside; Mosque of Berat and the old Bridge of Gorica, Onufri Museum and several churches and mosques.
Onufri was an Albanian master painter of the 16th .
Many of his wonderfully painted icons still remain in the museum while others can be found in churches in Albania and Greece where he worked.
Drive back and overnight in Tirana at Sky2 Hotel 4* or similar.

6
Fly Back Home
Breakfast at the hotel.
Arrive at the Airport for your flight back to home.

Air Conditioned modern van/minibus/bus and other transportation listed in itinerary

English speaking tour guide

Air Conditioned modern van/minibus/bus and other transportation listed in itinerary

As per mentioned in itinerary
Visa
Click to view Visa information
General Terms
Please note that these packages are customizable, which means that you will be able to make changes to the itinerary/activity if you so desire. The final payment will be calculated as per the itinerary and inclusions reflected on the confirmatory e-mail sent to you.
Please expect to receive your vouchers 72 hours before your departure date (subject to full payment of your package cost).
Personal expenses such as laundry, telephone calls, room service, alcoholic beverages, mini bars etc., are not included.
In case your package needs to be canceled due to any natural calamity, weather conditions etc. Dook Travels shall strive to give you the maximum possible refund subject to the agreement made with our trade partners/vendors.
The passenger names in the booking form should be exactly as per passports. Dook Travels will not bear any liability for the name change fee, if incorrect names and ages have been added at the time of booking.
Please note that your package includes baggage as per airlines policy. Any addition in baggage will be charged separately.
Standard check-in time at the hotel is normally 2:00 pm and check-out is 11:00 am. An early check-in, or a late check-out is solely based on the discretion of the hotel.
In case the selected hotel is unavailable for booking, an alternate arrangement will be offered to the customer in another hotel of a similar category.
Certain hotels may ask for a security deposit during check-in, which is refundable at check-out subject to the hotel policy.This amount has to be deposited by the traveler.
Please note that Day at Leisure essentially implies that no sightseeing activities have been included for that day.
Kindly be on time for your activities, tours and transfers. Dook Travels will not be liable for missing any activity thus for any refund against it in such cases.
No refund either in part or in full will be made for any unused part of the services provided in the package.
The package price doesn't include special dinner or mandatory charges at times levied by the hotels especially during New Year and Christmas or any special occasions. Dook Travels shall try to communicate the same while booking the package. However Dook Travels may not have this information readily available all the time.
Our package price does not include GST and TCS. Applicable GST and TCS will be charged over and above the package price.
For queries regarding cancellations and refunds, please refer to our Cancellation Policy.
For any paid activity which is non-operational due to any unforeseen reason, we will process the refund & should reach the guest within 30 days refund requisition. Also, for any activity which is complementary and not charged to Dook Travels & guests, no refund will be processed.
Our package prices are on twin sharing accommodation basis thus published prices are applicable for minimum two persons and multiple of two thereon.
As per RBI guideline every foreign traveler has to provide us his PAN details. The Dollar component of package price will be taken out of your BTQ (Basic Travel Quota).
The tour cost does not include any Overseas Insurance Premium, but we strongly recommend buying Overseas Insurance Policy. The same after issuance is non refundable.
These terms are general terms for our tour packages.Any term mentioned in proposal shall be considered part of it and in case of discrepancy term mentioned in proposal shall prevail.
Disputes, if any, shall be subject to the exclusive jurisdiction of the courts in New Delhi.
Payment Policy
Payment schedule depends on destination, time of booking, inclusions, airline and hotel payment policy etc thus it is specific to your package bookining.
Payment schedule will be part of our proposal to you for the package.
If payment is not made as per the schedule provided in the first booking confirmation e-mail, Dook Travels reserves the right to cancel the booking after attempting to get in touch with you. Refunds would be as per the package cancellation policy.
Cancellation Policy
Once Booking received : INR 5000 (Per PAX) + actual Ticket cancellation + Hotel cancellation as per hotel policy+Visa fee if visa is applied.
60 – 45 Days prior to departure : 25 % of land cost + INR 5000 (Per PAX) + actual Ticket cancellation+Visa fee if visa is applied.
45 – 30 days prior to departure: 50% of land cost + INR 5000 (Per PAX) + actual Ticket cancellation+Visa fee if visa is applied.
30 – 10 days prior to departure: 75% of land cost + INR 5000 (Per PAX) + actual Ticket cancellation+Visa fee if visa is applied.
Within 10 days: Full.