Vibrant Turkey - Group Tour
Pkg Id

1000109

Destinations

2

Duration

5 Nights

Attractions

12

From

Delhi

Ending At

Istanbul

Price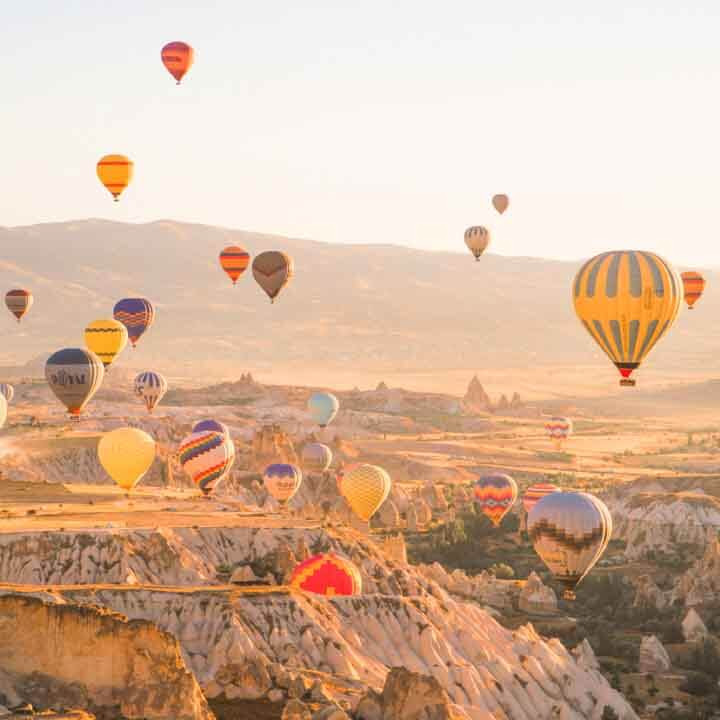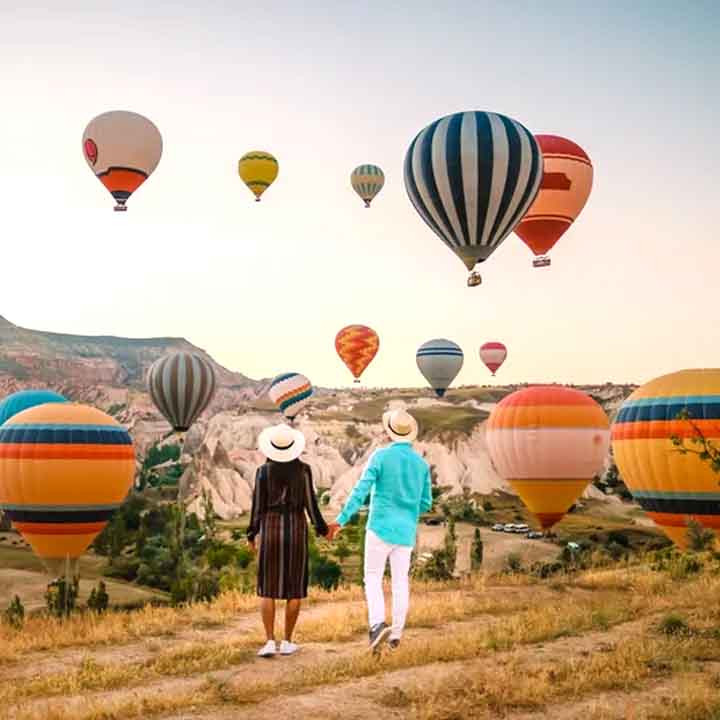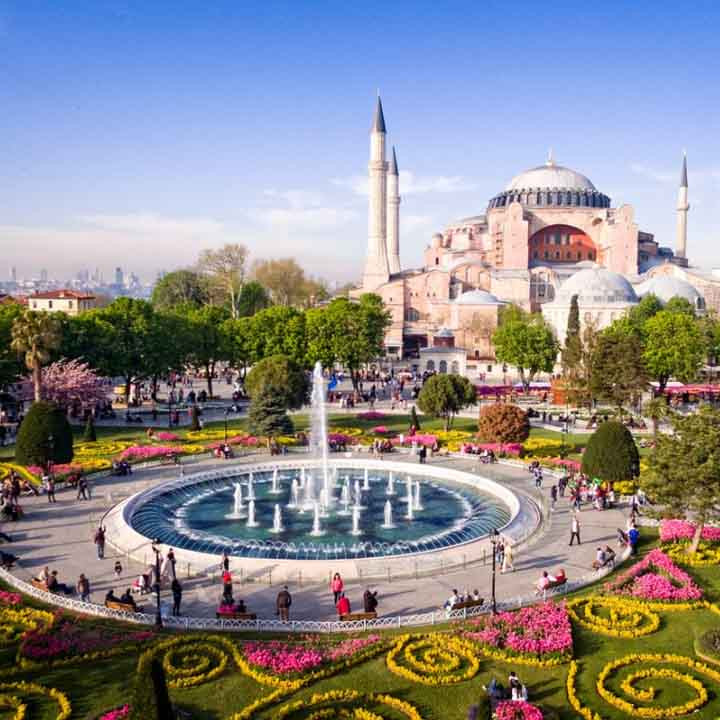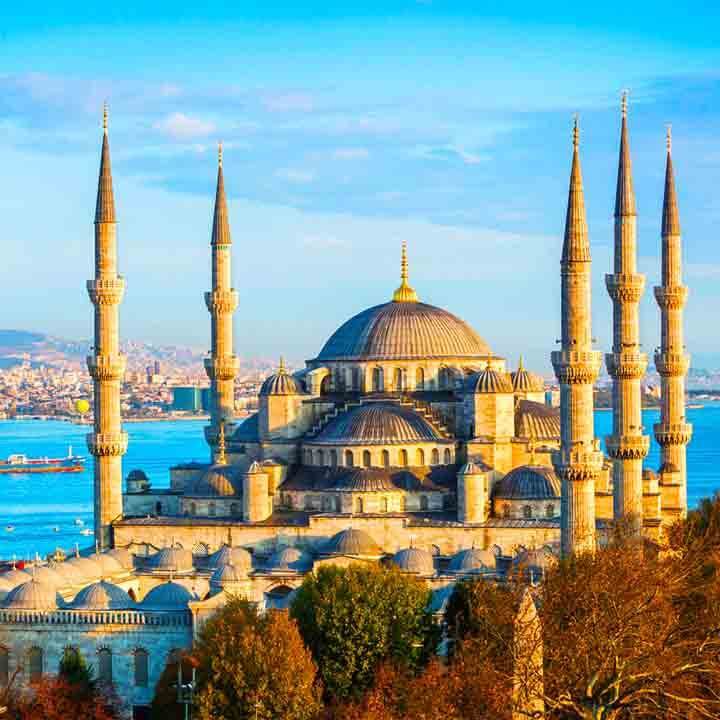 1
Welcome to Istanbul + Panoramic Tour
Arrival atAirport.
Transferfrom Airport to Hotel.
13:00lunch.
Check into the hotel.
17:00Assemblyat lobby. Start tour.
Visit Taksim Square, the heart of Istanbul, and the location of numerous historical events and demonstrations, then stroll down the shopping and nightlife hub of Istiklal Street on this 2-hour walking tour. Accompanied by a local guide, explore the Taksim and Nevizade districts, discover the area's hidden passageways and little-known sights, and walk down to see the Galata Tower.
Free time – can explore night activities at you own.
Optional Tour (Bosphorus Dinner cruise with drinks and Turkish night show)
Overnight in hotel.
2
City tour
Breakfast in Hotel.
10:00 Pick up from hotel for full day Istanbul tour.
Visit- Hippodrome-Ancient Hippodrome was the scene of chariot races, with the three monuments; the Obelisk of Theodosius, the bronze Serpentine Column and the Column of Constantine, Sultanahmed Imperial Mosque (Blue Mosque)- Across from Hagia Sophia Grand Mosque, it was built in the 16th century by the architect Mehmet, is known as the BLUE MOSQUE because of its magnificent interior decoration of blue Iznik tiles, Hagia Sophia Grand Mosque (Inside)- The Hagia Sophia Grand Mosque, previously known as the Church of Divine Wisdom, is simply the best of its kind! Hagia Sophia Grand Mosque is the greatest surviving example of Byzantine Architecture. For 1000 years, it was once the largest church in the world, decorated with stunning 6th century golden mosaics.
Lunch at Indian Restraunt.
After lunch continue the tour in old city: Top Kapi Palace (Inside)- The great palace of the Ottoman sultans from the 15th to the 19th centuries. The palace houses an exquisite collection of crystal, silver, and Chinese porcelain. Robes worn by the sultans and their families, the famous jewels of the Imperial Treasury, miniatures, and the Holy Mantle; enshrining relics of the Prophet Mohammed, Shopping in Grand Bazaar- Grand Bazaar of Istanbul is one of the oldest and largest markets in the world. The Bazaar encompasses 64 streets, 4000 shops, restaurants, and banks, making it almost its own little city. It is often considered to be among the very first shopping malls in the world.
Free time – can explore night activities at you own.
Overnight stay in hotel.

3
Princes Island Tour
Breakfast atthe hotel.
10:00 Tour to Princess Island.
Cruisethe beautiful Marmara Sea to Princes' Island by boat. Buyukada (grand island) the largest island of Prince's Islands in theMarmara Sea.
Orientationtour of the island with one of the public electrical vehicle.
Lunch atlocal restaurant ( local cuisine, drinks are excluded).
After lunchfree time on the island. In the late afternoon cruise back to the Istanbul.
Free time – can explore night activities at you own.
overnight in hotel.

4
Istanbul- Cappadocia
Breakfast in Hotel.

Transfer from hotel to Istanbul airport.

Flight to Cappadocia.

Arrive Kayseri airport and transfer to Cappadociahotel.

Lunch at Indian restaurant.

Free time – can explore night activities at you own

Overnight in hotel.
5
Cappadocia Tour
Breakfast in Hotel

Full day Cappadocia tour

OzkonakUnderground City-On the northern slopes of Mount Idis, as youhunch to stroll the tiny corridors of this ancient city you'll feel very bigcompared to the people who once lived here. Likely built in the Byzantine era,though perhaps even older, Özkonak Underground City was rediscovered in the'70s by a local farmer who wondered where his excess crop water was going.Turns out it was going into a huge subterranean city stretching ten floors deepand able to house 60,000 people.

Reaching a depth of 40 meters in total, todayonly the first four floors of Özkonak Underground City are open. As you wanderthe tiny corridors, you'll see the sophistication of the city which had abuilt-communication system made up of pipes that connected all 10 levels. Lookout for holes in the walls too — these provided ventilation in the event thatÖzkonak city would have to close itself off to the outside world if enemiestried to invade. The underground city also had its own winery and water well,and if enemies did get too close, well Özkonak's inhabitants were more thanready to pour hot oil on them through secret holes designed for that verypurpose.

CavusinValley-The quietCappadocian village of Çavuşin is famous for three things: beautiful churches,abandoned rock houses, and great hiking opportunities. The village is dominatedby its cliff from which a clutter of empty cave houses spill down precariously,making for a fun place to explore. The area of the village where people livetoday is nice and quiet — most people work in agriculture and you'll see thatthe little cafe by the mosque is the local hotspot.
LoveValley-Love ValleyCappadocia is a place of natural wonders. Home to giant, tricky shapedmonuments that were left by mother nature and are now a huge hit amongsttourist.
DevrentValley – Imagination Valley

DevrentValley (also spelled as Devrent Valley) reveals many different rock formations. The small fairy chimneys in the valley form a lunar landscape, or moonscape,by their strange look. The valley also has many animal shaped rocks. It lookslike a sculpture zoo made by nature. Some of the most important, or the easiestseen animal shapes are camel, snake, seals, and dolphin. If you let yourimagination run free you will find many others. It is like looking at cloudsand seeing a dragon. There is even a rock pillar which looks like Virgin Mary,holding Jesus Christ

ThreeBeauties-One of the most important symbols ofCappadocia, the Legend of Three Beauties takes its name from the fairy chimneyof two adults and a child. So why have we defined these fairy chimneys as adultsand a child? When you learn the legend, you will fully understand what we mean.
Pasabaglar– Monk Valley

This breath-taking valley isfamous for its having wonderful landscape and the best various collection offairy chimneys in Cappadocia. With this aspect, it reminds of the people's mindthat the fascinating place looks like the museum of fairy chimneys. Also itsextraordinary scene creates a metaphysical world by relaxing the spirit ofvisitors.

Free time – can explore night activities at you own

Overnight in hotel.
6
Fly Back Home
Breakfast in Hotel

Checkout from the hotel. Transfer to Kayseri airport.

Flight to Istanbul.

Return flight from Istanbul.
Visa
Click to view Visa information
Please note that these packages are customizable, which means that you will be able to make changes to the itinerary/activity if you so desire. The final payment will be calculated as per the itinerary and inclusions reflected on the confirmatory e-mail sent to you.
Please expect to receive your vouchers 72 hours before your departure date (subject to full payment of your package cost).
Personal expenses such as laundry, telephone calls, room service, alcoholic beverages, mini bars etc., are not included.
In case your package needs to be canceled due to any natural calamity, weather conditions etc. Dook Travels shall strive to give you the maximum possible refund subject to the agreement made with our trade partners/vendors.
The passenger names in the booking form should be exactly as per passports. Dook Travels will not bear any liability for the name change fee, if incorrect names and ages have been added at the time of booking.
Please note that your package includes baggage as per airlines policy. Any addition in baggage will be charged separately.
Standard check-in time at the hotel is normally 2:00 pm and check-out is 11:00 am. An early check-in, or a late check-out is solely based on the discretion of the hotel.
In case the selected hotel is unavailable for booking, an alternate arrangement will be offered to the customer in another hotel of a similar category.
Certain hotels may ask for a security deposit during check-in, which is refundable at check-out subject to the hotel policy.This amount has to be deposited by the traveler.
Please note that Day at Leisure essentially implies that no sightseeing activities have been included for that day.
Kindly be on time for your activities, tours and transfers. Dook Travels will not be liable for missing any activity thus for any refund against it in such cases.
No refund either in part or in full will be made for any unused part of the services provided in the package.
The package price doesn't include special dinner or mandatory charges at times levied by the hotels especially during New Year and Christmas or any special occasions. Dook Travels shall try to communicate the same while booking the package. However Dook Travels may not have this information readily available all the time.
Our package price does not include GST and TCS. Applicable GST and TCS will be charged over and above the package price.
For queries regarding cancellations and refunds, please refer to our Cancellation Policy.
For any paid activity which is non-operational due to any unforeseen reason, we will process the refund & should reach the guest within 30 days refund requisition. Also, for any activity which is complementary and not charged to Dook Travels & guests, no refund will be processed.
Our package prices are on twin sharing accommodation basis thus published prices are applicable for minimum two persons and multiple of two thereon.
As per RBI guideline every foreign traveler has to provide us his PAN details. The Dollar component of package price will be taken out of your BTQ (Basic Travel Quota).
The tour cost does not include any Overseas Insurance Premium, but we strongly recommend buying Overseas Insurance Policy. The same after issuance is non refundable.
These terms are general terms for our tour packages. Any term mentioned in proposal shall be considered part of it and in case of discrepancy term mentioned in proposal shall prevail.
Disputes, if any, shall be subject to the exclusive jurisdiction of the courts in New Delhi.
Dook will try to operate each group tour on best effort basis. In case Dook is not able to operate the group for insufficient no. of passengers, Dook will refund 100% money to travelers. Except for this Dook will not have any other liability
Payment Policy
Payment schedule depends on destination, time of booking, inclusions, airline and hotel payment policy etc thus it is specific to your package bookining.
Payment schedule will be part of our proposal to you for the package.
If payment is not made as per the schedule provided in the first booking confirmation e-mail, Dook Travels reserves the right to cancel the booking after attempting to get in touch with you. Refunds would be as per the package cancellation policy.
Cancellation Policy
Once Booking received : INR 5000 (Per PAX) + actual Ticket cancellation + Hotel cancellation as per hotel policy+Visa fee if visa is applied.
60 – 45 Days prior to departure : 25 % of land cost + INR 5000 (Per PAX) + actual Ticket cancellation+Visa fee if visa is applied.
45 – 30 days prior to departure: 50% of land cost + INR 5000 (Per PAX) + actual Ticket cancellation+Visa fee if visa is applied.
30 – 10 days prior to departure: 75% of land cost + INR 5000 (Per PAX) + actual Ticket cancellation+Visa fee if visa is applied.
Within 10 days: Full.