Safest & Best Places To Travel in 2021-22
COVID-19 Free Upcoming Holidays Across Central Asia and Eastern Europe
The pandemic outbreak has a great impact on our lives. It's been quite a few months, where we are kind of stuck at home. However, cases are increasing day on day, but the recovery rates have now increased and we are adapting ourselves with the new normal which is being protected with all the necessary protective gear available with us. People are willing to move out of their houses. As for living, one cannot stay at home for quite a long period. And we want to explore new places, as being homestay has developed stress in our lives. All we need is a relaxing holiday where we can find ourselves and loved ones away from this negativity. With Dook International, this is possible now. We are coming up with COVID-19 free holidays.
These are the places you can plan your holidays with us, we assure you to give the highest safety for your entire journey along with giving an ultimate experience for it.
10 Best Travel Destinations to Visit in 2021-22
1. Serbia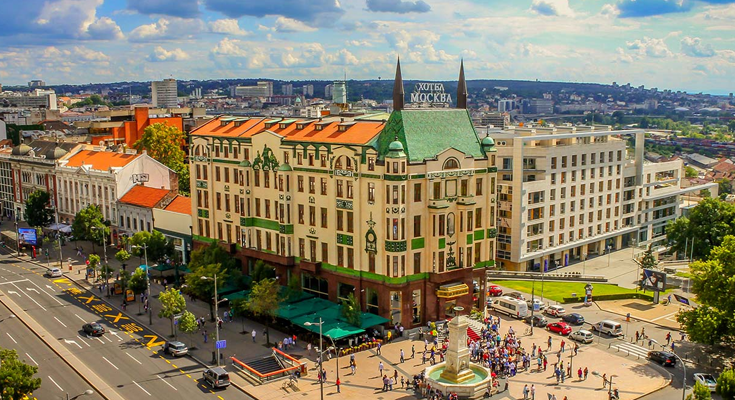 Serbia is a country located in the Balkans, in southeast Europe. It shares borders with several countries like few to be named Hungary, Romania, Bulgaria, Bosnia Croatia, etc. The Capital city of Serbia is Belgrade. It is one of the largest and oldest cities in South-Eastern Europe.
Serbia has everything to offer you, be its scenic views of nature, modern city, culture in whichever way you want to explore it. Apart from its richness its history and culture Serbia is known for its different adventure activities. It has activities that can give an adrenaline rush to adventure seekers. Along with it, adventure seekers can explore diverse caves and potholes.
The cities you would like to visit when you are in Serbia are Belgrade, Sremski Karlovci, and Novi Sad.
Explore More: Top Attractions in Serbia
2. Georgia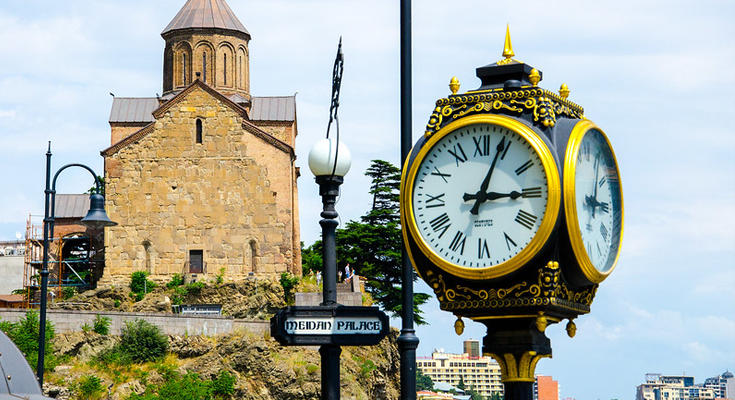 Georgia is located at the intersection of Asia and Europe. It shares its boundaries with Russia, Turkey, Armenia, and Azerbaijan. Georgia has high valleys, wide basins, and health spas with famous mineral water, caves, and waterfalls to offer tourists. Tbilisi is the capital city of Georgia which is located on the banks of river Mtkvari in a valley surrounded by hills. It is known for its rich history and culture. Tourists can witness the historical themselves as they walk in the streets. Georgia is also famous for its handcrafts toys and other products. It caters all segments of tourists, based on the theme in whichever way tourists want to explore.
When you are in Georgia places you must visit Aerial Tramway, Narikala Fortress, Tbilisi funicular, Dry bridge, Mteshka old city, Jvari Monastery, Mount Kazbek etc.
Explore More: Top Attractions in Georgia
3. Belarus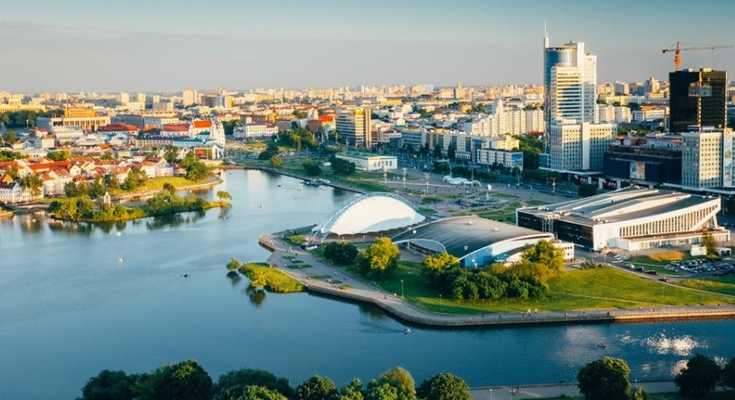 Belarus is located in Eastern Europe. It covers 90 % of forests and has lush vegetation and mesmerizing countryside. This is the right place for nature lovers as it consists of many wildlife sanctuaries and national parks. This country is not as popular amongst travellers as it is still undiscovered by travel enthusiasts. Other than its natural green lush beauty it is popular for its numerous forts, castles, in Minsk, there are monuments, buildings, and architectures.
Places to visit when in Belarus: Braslav Lake, Mir Castle, Minsk, Lida City, Nyasvizh Castle, Belovezhskaya Pushcha National Park, Museum of Great Patriotic War, Gomel Palace, etc.
Read More: Places to Visit in Belarus
4. Uzbekistan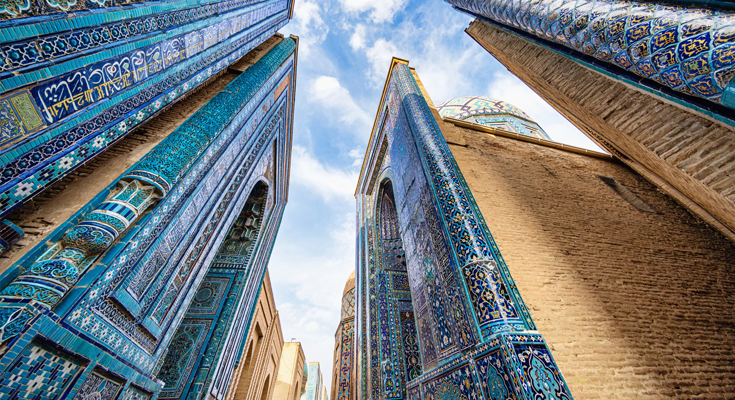 Uzbekistan is located in Central Asia. It shares borders with Kazakhstan, Aral Sea, Turkmenistan, Tajikistan, Kyrgyzstan, and Afghanistan too. Uzbekistan has a vast area which comprises desert and mountains and less than 10 % which is engaged with irrigation, river valleys, and oases. Uzbekistan has very potential tourism as it is linked with eastern and western civilization. It is famous for its archeological, architecture, and natural treasures. Tashkent is the capital city of Uzbekistan.
Places to visit when in Uzbekistan: Tashkent, Bukhara, Samarkand, Khiva
5. Azerbaijan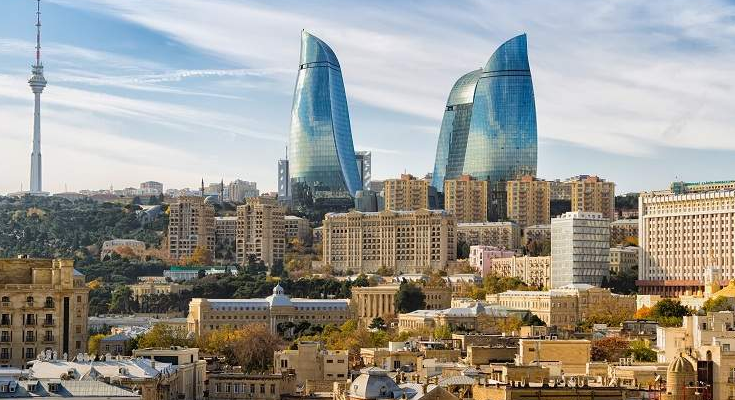 Azerbaijan is located in Eurasia Region. It is a small country with a total area of 86,600 sq. It shares borders with the Caspian Sea, Georgia, Russia, Iran, and Armenia. The capital city is Baku. This country is majorly surrounded by mountains except for its eastern part which has a shoreline Caspian Sea. The most famous Burning Mountain Yanar Dag is in Azerbaijan. It burns all round the year as it is surrounded by natural gas.
Places to visit while you are in Azerbaijan: Shehidler Khiyabany, Complex of Shivan Shah, Yanardag, Gala, Open-air archeological, Ethnographic museum graphic complex.
6. Ukraine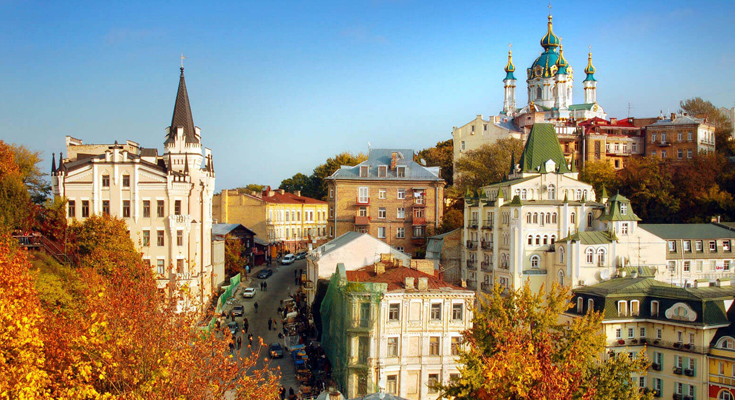 Ukraine is located in Eastern Europe. It shares boundaries with Belarus, Hungary, Moldova, Poland, Romania, Russia, and Slovakia. The capital is Kiev. This is the second-largest country in terms of area in Europe after Russia. Different regions of Ukraine have different natures. Mountains are found in the western sides and extreme south. It has the most scenic ancient cities, castles, countryside, and vibrant cities. Some of the major attractions are Lviv, Chernivtsi, Sofiyivski Park in Uman.
Explore More: Top Attractions in Ukraine
7. Latvia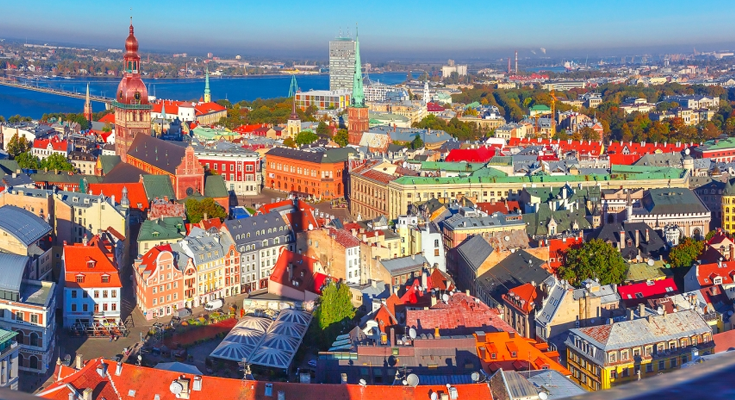 Latvia is a famous tourist place in Europe. It shares boundaries with Belarus, Estonia, Lithuania, and Russia. The capital city is Riga. Riga is known for its historic significance and Architecture. Major attractions include Gauja National Park, Jurmala, Kuldiga, Turaida Museum-Reserve, Cesis, and Liepaja, etc. Latvia has numerous beaches, Natural beauties, and castles, rural and urban civilization. Riga has beautiful river views and is very famous amongst young people for its nightlife.
Some of the popular attractions are Town hall square, St. Peter Church, Riga Motor Museum, Taka Spa, etc.
Explore More: Attractions in Latvia
8. Estonia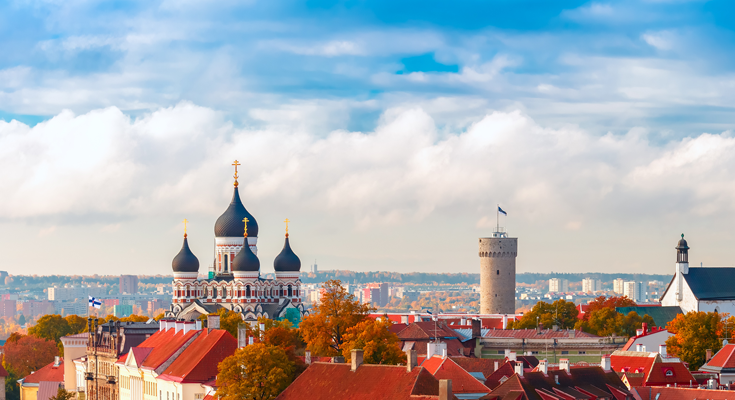 Estonia is located in Northern Europe. It shares boundaries with Latvia and Russia. The capital is Tallinn. Estonia is famous amongst tourists for its natural beauty and scenic views. It has a rich cultural heritage and beautiful islands. 50%of the Estonia area is the forest which is the greenest country in Europe. Popular sightseeing includes the capital city Tallinn, Tartu, Parnu, Narva, Oteppa, Rakvere, Kumu, and much more. It is one of the smallest Baltic States amongst 3.
Explore More: Attractions in Estonia
9. Lithuania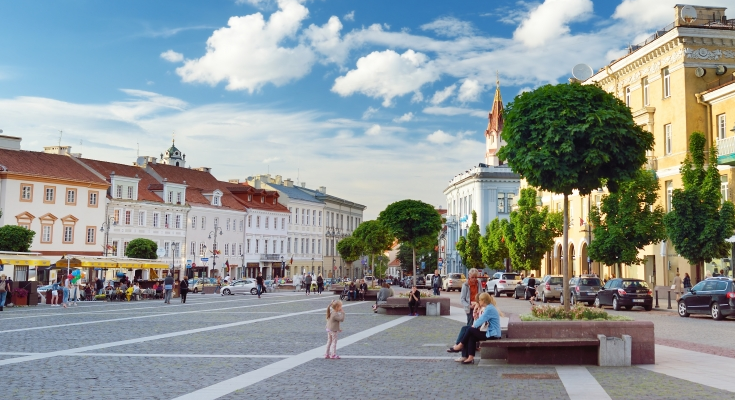 Lithuania is one of the Baltic States in Europe. It is located on the shores of the Baltic Sea. Vilnius is the capital city of Lithuania. It shares boundaries with Belarus, Latvia, Poland, and Russia. It is known for its historic legacy, beautiful beaches, sterile nature, spa resorts, etc. Places to visit when in Lithuania are: Kaunas, Kalipeda, Panevezys, etc. It has lots of seaside resorts, pilgrimage sites. A bicycle tour is one of the most popular activities in Lithuania.
Explore More: Attractions in Lithuania
10. Finland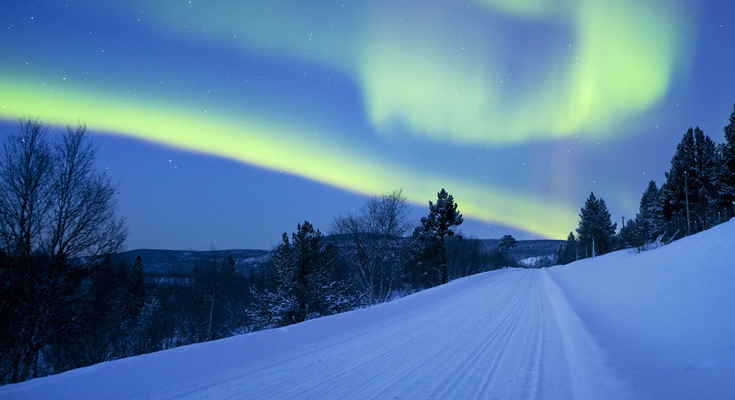 Finland is situated in Northern Europe. It shares borders with Norway, Sweden, and Russia. The capital of Finland is Helsinki. It's a beautiful and greenest country on the planet. Finland has numerous lakes, Islands and about 70 percent of the country is covered with Forest. Northern light or white night experience is one of its kinds of experience, which should not be missed when you are in Finland. The country needs to be explored by boat rides, bicycle rides, and by walking as well. Major attractions are Jyavaskyla, Finnish Lapland, and Santa Claus village, Alnad, Levi, Turku, and Nuuksio National Park.
Explore More: Attractions in Finland
Why Travel With Dook International
As countries are opening up for travel, safety is the foremost thing that people are looking for while stepping out of the house. At Dook International, We ensure delivering services with the highest safety standards. We want our customer experience to be the best in terms of safety and hygiene. We will make the customers stay at the best properties which offer safety and hygiene. COVID test is mandatory for travellers travelling from different locations. Moreover a COVID-19 negative certificate. Things which we highly suggest from our end, wherever you are planning to travel please ensure to check the guidelines of the country you are going to visit. As it is kept on changing every minute with passing days. Things are getting normal and soon travel would be back again.
You want to travel for business purposes, honeymoon, family trip or be it individual, we will cater your needs as per your requirement. Just give us a quick call at 011-40001000 and we will be in touch with you. Get your best deals with Dook International now!